1954 BSA A10
Pre-Unit 650 Twin
---
1954 BSA A10 Golden Flash
1954 BSA A10 BACKGROUND
Like every other British motorcycle manufacturer at the time, BSA was following Triumph's lead in the parallel twin race. Triumph introduced the first parallel twin, the 500 Speed Twin in 1938, but World War II intervened, curtailing all civilian production. It wasn't until 1946 that the rest of the industry started catching up. BSA hit the market with their own 500 twin, the A7. But Triumph quickly upped the ante, punching their own 500 out to 650cc with their new 1950 Thunderbird. Of course BSA had to counter, and counter they did, with their own 650 twin, (also an expansion of their existing 500 twin), the 1950 A10.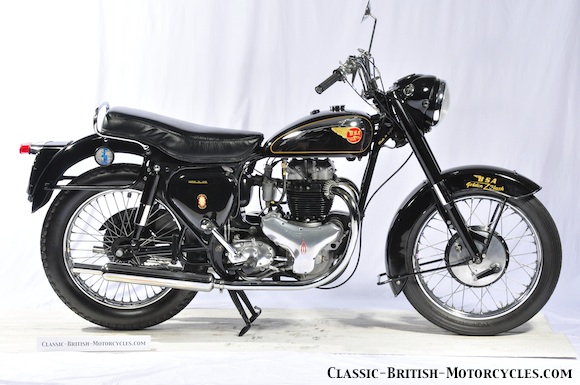 1954 BSA A10 ENGINE DESIGN
The engine was fairly conventional and closely followed the A7s architecture. The A7 had already been well-proven, so many typical teething problems inherent in anew design could be avoided. So, like the 500 A7, the new 650 A10 had vertically-split aluminum crankcases arranged in non-unit fashion with a typical 4-speed gearbox. However, they called is 'semi-unit' because instead of the usual non-unit construction method of moving the gearbox back and forth to affect primary chain tension, the A10 used a slipper tensioner within the primary chaincase to adjust the chain. This made for a much more rigid structure and greatly simplified the process. The A10 had a cast iron cylinder block and removable cylinder head with a revised allow rocker box up top. The head had an integral intake manifold that accommodated its single Amal carburetor. There was a single camshaft behind the cylinders with the pushrods running through a central tunnel integral to the cylinder block. It was a powerful machine in its day, easily capable of 100 mph top speed, and could run the quarter mile in 16 seconds (laughable today, but impressive in 1951).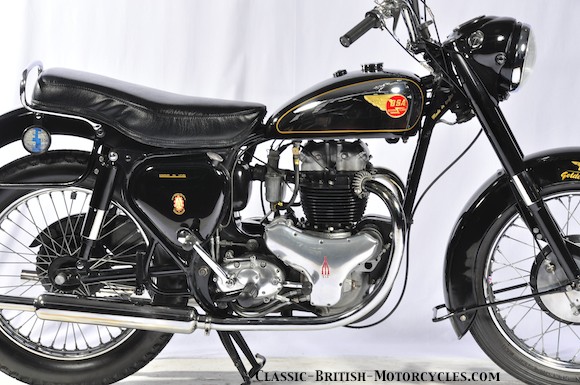 1954 BSA A10 FRAME & RUNNING GEAR
1954 was the first year to benefit from a new frame with swing-arm rear suspension, replacing the old plunger-type. The front suspension was via telescopic forks with hydraulic damping. They had a hinged rear fender to aid in tire changes. As with the engine, much of the running gear was carried over from the 500cc A7 line, and so proved to be robust and reliable. 1954 was also the first year for a new BSA A10, the twin-carb 650 Road Rocket.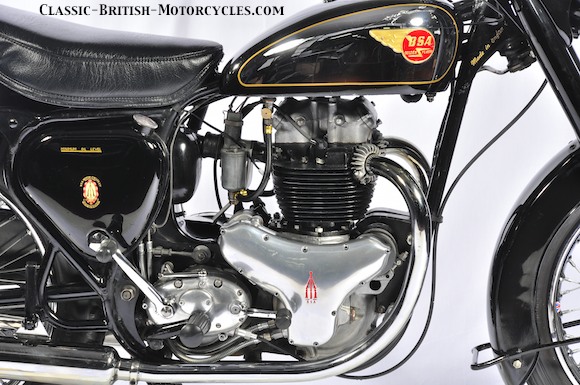 1954 BSA A10 GOLDEN FLASH
From its launch in 1950, the BSA A10 came standard in a black and chrome color scheme. But as an option, they offered a very distinctive gold-over-chrome with red pinstriping theme that gave the BSA A10 Golden Flash its name. They were otherwise mechanically identical to the standard black-and-chrome A10s. Staring in 1954, the A10 Golden Flash became the entry-level 650, with the new twin-carb, higher-performance 1954 BSA A10 Road Rocket now occupying the top tier of the A10 hierarchy.
---
1954 BSA A10 SPECIFICATIONS
Engine type

Displacement

Bore & Stroke

Compression

Carburetor

Primary drive

Clutch

Final drive

Gearbox

Ratios, overall:

1st, Bottom

2nd

3rd

4th, Top

Wheelbase

Seat height

Ground clearance

Tires, front

Tires, rear

Fuel capacity

Curb weight

PERFORMANCE

1/4 mile

Top speed

Air-cooled OHV vertical twin

646cc

70mm X 84mm

6.5:1

1- Amal

1/2″ X.305 single-row chain

Multi-plate, wet

5/8″ X 3/8″ chain

BSA constant-mesh 4-speed, foot shift

—-

11.67:1

7.95:1

5.47:1

4.52:1

56.5″

31″, unladen

5.0″, unladen

3.25″ x 19″

3.50″ x 19″

4.25 gal

443 lbs

16.0 sec @ 80 mph

100 mph