1953 Triumph T100 Tiger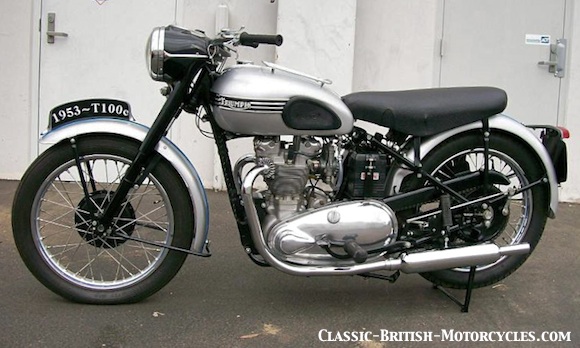 1953 TRIUMPH T100 TIGER LEADS THE PACK
At the end of World War II, civilian production of motorcycles ramped up quickly to tap into the tremendous pent up demand for transportation. 1946 was Triumph's first postwar model year. The 5T Speed Twin, its best seller prior to, and after the war, had gone from halo status to commuter bike as engine performance improved in the competition. By renewal of civilian production in 1946, the Speed Twin was becoming a "commuter bike", looked up less as a fast, sexy road warrior and more as a way to get to work each day. That's where the Tiger T100 came in. With hotter cams and higher compression, it was faster by every measure, and was regarded as THE high-performance motorcycle of its era…at least for a few short years. Again the competition was getting better, and faster, by the year. Even Triumph's own models would compete with the Tiger T100. In 1950 Triumph debuted its first 650, the 1950 6T Thunderbird ,but in the 500 class, the 1953 Triumph T100 Tiger was still one of the stars of the show.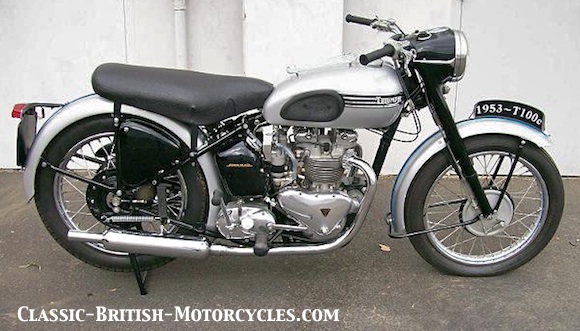 1953 TRIUMPH T100 TIGER LAYOUT
Like just about every other motorcycle built in England at the time, the 1950 Triumph T100 Tiger was largely a carry-over from the pre-war models. They ran the same basic engine and gearbox, and the rigid frames were identical. However, the big difference, and the big news in 1946 was the adoption of telescopic front forks, replacing the old girder forks, and the option of a (now infamous) sprung rear hub. The sprung hub was sort of an interim solution in the rear suspension-department. Triumph wasn't quite ready to abandon their trust old rigid frame, so they came up with a new rear hub that incorporated several springs set radially around the axle within the hub itself that were supposed to absorb the bumps. That sort of happened, but what they also got was a sloppy rear wheel that tended to move in other directions than that for which it was designed. As long as they were in good condition and properly set up, they weren't too bad. But worn out, or out of adjustment, they could severely impair the handling of the bike.. Fortunately, the 1953 Triumph T100 was the last year for the rigid frame, replaced in 1954 with a new frame with swing-arm rear suspension.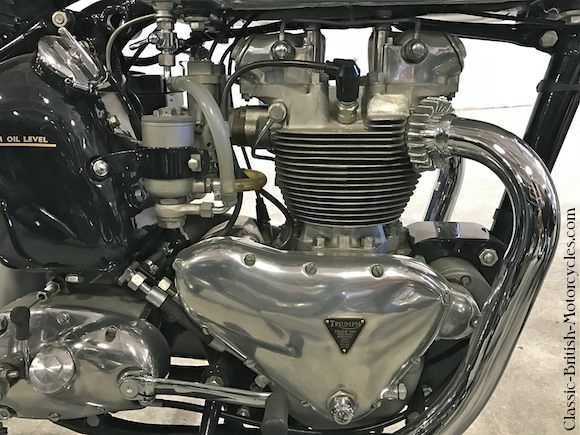 ---
1953 Triumph T100 Tiger
SPECIFICATIONS
---
Engine type

Displacement

Bore & Stroke

Compression

Carburetor

Ignition

Engine output

Primary drive

Clutch

Gearbox

Ratios, overall:

1st, bottom

2nd

3rd

4th, top

Final drive

Frame type

Wheelbase

Seat Height

Ground Clearance

Suspension, front

Suspension, rear

Brake, front

Brake, rear

Tire, front

Tire, rear

Fuel capacity

Curb weight

Air-cooled OHV vertical twin, non-unit

498cc / 30.5 ci

63mm X 80mm / 2.48″ X 3.15″

7.6:1

1- Amal Monobloc, Type 276

Lucas magneto

32 bhp @ 6500 rpm

1/2″ X .305″ chain

Multi-plate, wet

4-speed, non-unit, right foot shift

12.20:1

8.45:1

5.95:1

5.00:1

5/8″ X 3/8″ chain

Brazed-lug, full cradle, rigid

55.75″ / 141.6 cm

30.5″ / 77.5 cm

5.0″ / 12.7 cm

Telescopic fork, hydraulic damping

Sprung rear hub, rigid frame

7″ SLS drum

7″ SLS drum

3.25″ X 19″ Dunlop

3.50″ X 19″ Dunlop

4 gal / 18 liters

375 lbs / 170 kg