1953 Matchless G9
500 Twin
1953 MATCHLESS G9 BACKGROUND
Like everyone else in the British motorcycle industry at the time, when Triumph rocked the world with their 1938 Speed Twin, the world's first modern 500cc vertical twin, AMC (Associated Motor Cycles), parent company of Matchless, and AJS, developed a new 500 vertical twin for both brands. As always, there would be a Matchless version and a nearly-identical AJS version. The Matchless was designated G9 and had the magneto mounted in front of the cylinders, and the AJS version was called the Model 20 and mounted the magneto behind the cylinders. They were painted and trimmed differently, but otherwise they were identical mechanically. They were launched at the 1948 Earls Court Motorcycle Show in London. The first year's production went almost entirely to the hungry US market. By 1949, production had ramped up to the point that UK-market bikes became available.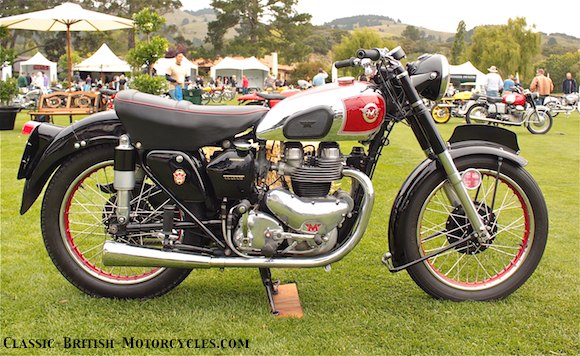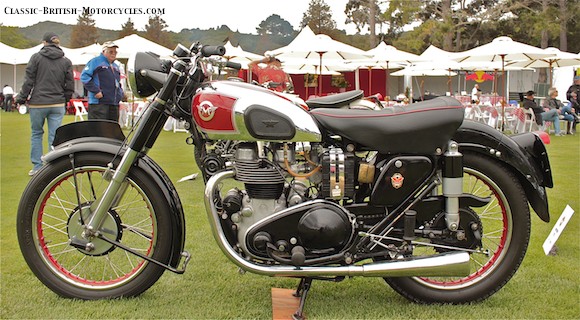 1953 MATCHLESS G9 ADVANCED DESIGN
AMC felt they should improve upon Triumph's design, and so added a center main bearing to the crankshaft, which added immense strength and rigidity when compared to the deflection-prone cranks in the Triumph, and every other British vertical twin that followed. All except the Matchless and AJS twins had only the two outer main bearings with a huge central flywheel supported only by the rod journals. This 3-bearing setup allowed AMC to make the one-piece crank out of a heavy-duty cast iron, instead of steel. The connecting rods were made of lightweight aluminum alloy and were highly polished to remove surface imperfections that could develop into cracks under stress. The cylinder had its separate cast iron cylinder block that was sunk deeply into the alloy crankcase. The alloy cylinder heads were also two separate castings. They were well-engineered, robust machines that proved reliable even after displacement and horsepower were increased. AMC started using Burman 4-speed gearboxes the previous year in 1952. Otherwise, pretty much the rest of the bike was made up of standard equipment from AMC's vast parts bin.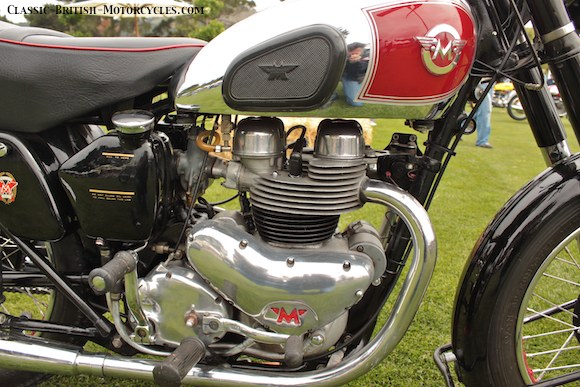 ---
1953 Matchless G9 SPECIFICATIONS
Engine type:
Displacement:
Bore & Stroke:
Compression ratio:
Horsepower @ RPM:
Fuel system:
Ignition system:
Spark plugs
Charging system:
Battery
Primary drive:
Clutch:
Gearbox:
Ratios:
1st gear (low):
2nd gear:
3rd gear:
4th (high)
Final drive:
Frame type:
Front suspension:
Rear suspension:
Front brake:
Rear brake:
Front tire:
Rear tire:
Wheelbase:
Seat height:
Dry weight:
Fuel capacity:
Top speed:
Air-cooled OHV vertical twin
498cc / 30.4 ci
66 x 72.8 mm
7.7:1
33 hp @ 6800 rpm
1- Amal 76 carburetor, 1 in.
Magneto, Lucas K2F
2- KLG FE80, 14mm thread
Lucas Generator, 6V
Lucas, 6V 12 Ah
Chain
Multi-plate, wet
Burman 4-speed, right-foot shift

2.67:1
1.77:1
1.35:1
1.0:1
Chain
Steel tube, full-cradle
"Teledraulic" forks
Swing arm w/2 "Jampot" shocks
7-inch SLS drum
7-inch SLS drum
3.25″ X 19″
3.50″ X 19″
55.25 " / 1403 mm
30.0″ / 762mm
394 lbs / 179 kg
4.5 US gal / 17L
87 mph / 140 km/h