1953 BSA B33
1953 BSA B33 BACKGROUND
The 500cc B33 and its smaller-sister the 350cc B31, were intended to be "everyman's motorcycles", which means basic transportation for budget-minded Brits just trying to get to work. As such, BSA kept costs low by sticking with the ancient plunger rear suspension, just as the rest of the BSA lineup was switching over to swing-arms. The 1953 BSA B33 would be the last with plungers, swing-arm rear suspension arrived for the 1954 model year. Another cost-saving measure was the cast-iron top end, as opposed to the all-alloy engine of the BSA Gold Star. It was heavy, and didn't conduct heat nearly as well, but it was cheap. The 499cc B33 was based on the 1945 348cc B31, which itself was based on a pre-war design. The B31 and B33 look identical from the outside, but in fact the B33 uses a larger Amal carburetor, larger heavier flywheels and a larger rear wheel and tire than the B31.
1953 BSA B33 DESIGN
The B31 and B33 were never intended to be high-performance, sporting bikes. These were workhorses, meant to lay down endless miles of smooth, reliable service, often with sidecar attached. To that end, BSA made them stronger than they needed to be. The B33's engine used a built-up crankshaft with two full flywheels riding on one roller bearing on the timing-side, and one roller bearing and and one ball bearing on the drive-side, with a caged double-roller bearing on the big end of the connection rod. Lubrication was by dry sump, the cam and timing gear was on the right, and the primary chain and clutch were on the left. Push rods actuated rocker arms in the cylinder year, acting on one intake and one exhaust valve, angled toward each other in a roughly-hemispherical combustion chamber (which was all the fashion, in those days). One Amal carburetor fed it and a Lucas mag-dyno gave it spark and light.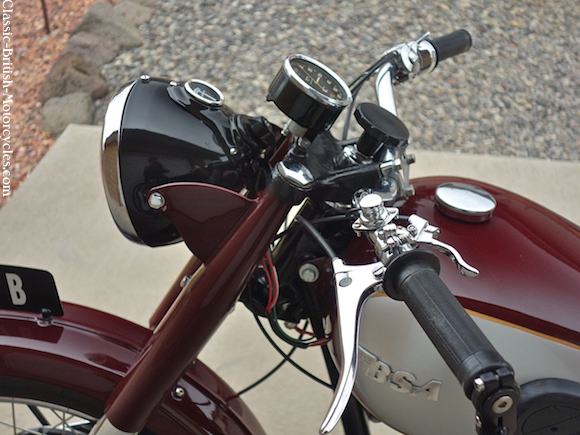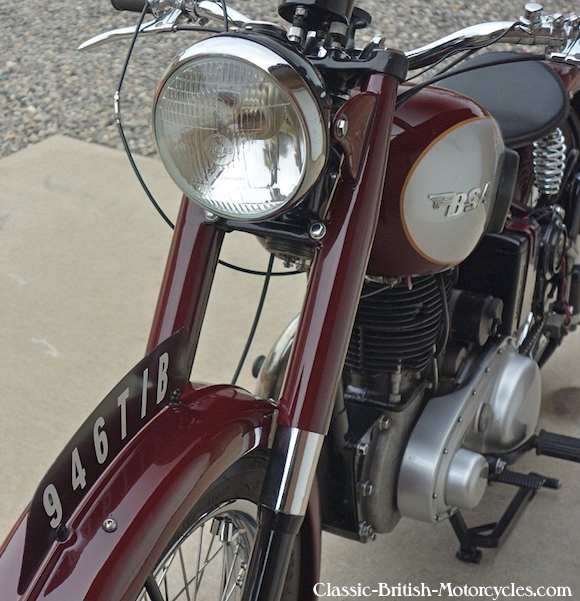 1953 BSA B33: OUR SUBJECT BIKE
This lovely example was fully restored by its owner, Michael Grimm of Colorado. Great job, Mike! After all this lovely work, he's selling it. As of this writing, April 6, 2018, it is listed for sale on our Free Classified Ads-page for just $8,000. Check it out. Here are Mike's own words about his restoration of this fine 1953 BSA B33:
"The engine was completely rebuilt: new Alpha big-end bearing, new main bearings, cylinder re-sleeved back to standard bore, NOS BSA piston. The mag-dyno was rebuilt and the gearbox overhauled. Machine has a new Amal Concentric carburetor, new rims, laced with new stainless steel spokes and new Dunlop tires.  Professionally painted in correct burgundy color, and the frame was black powder-coated. Low mileage since rebuild. Excellent running bike and perfect for a collector."
Thanks for the pictures, Mike.
---
1953 BSA B33 SPECIFICATIONS
Engine type

Displacement

Bore & Stroke

Compression ratio

Fuel system

Ignition system

Voltage regulator

Battery

Horsepower output

Primary drive

Clutch

Gearbox

Final drive

Suspension, front

Suspension, rear

Brake, front

Brake, rear

Tire, front

Tire, rear

Fuel capacity

Weight

Top speed

Air-cooled OHV single-cylinder 4-stroke

499cc

85mm X 88mm

6.8:1

1- Amal 1-1/16″ carburetor

Lucas MO1/6 magneto

Lucas MCR2

6-volt

23 bhp @ 5500 rpm

1/2″ single-row chain

Multi-plate, wet

4-speed constant mesh, right-foot shift

Chain

Telescopic fork

Plungers

7″ SLS drum

7″ SLS drum

3.25″ X 19″

3.50″ X 19″

13.5 L

374 lbs / 170 kg

81 mph / 130 kmh