1952 Triumph Thunderbird
This 1952 Triumph Thunderbird is similar to the 1950 T-Bird ridden by Marlon ABOVE: This lovely 1952 Triumph Thunderbird honors the 1953 film "The Wild One", but Marlon Brando's was black. This was a huge shot-in-the-arm for Triumph Motorcycles. To capitalize on it, they would come out with an all black 6T Thunderbird called the Triumph Blackbird.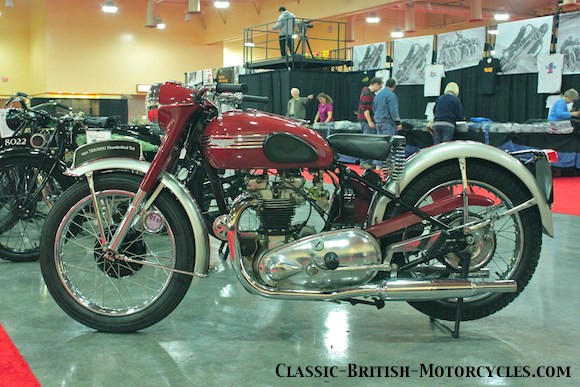 1952 TRIUMPH THUNDERBIRD – OVERVIEW
All Triumph Thunderbirds were known by the model designation "6T", referencing the 650cc engine displacement, as opposed to the Triumph Trophy 5T's 500cc's, and the "T" standing for Triumph, of course. The 1952 Triumph Thunderbird saw a switch from an Amal Monobloc carburetor to an SU Type MC2 carb in the interest of better fuel economy. This setup suited the 650 twin well & remained in service this way until 1959. The new SU carb required a new intake manifold. And a large forged steel lug was brazed into the vertical frame pedestal (behind the carburetor) that incorporated a round 'eye' through it running front-to-back to allow a connection between the single carburetor & the new Vokes D-shaped air filter. This "hole-in-the-frame" is a trademark of all 1952-58 Triumph Thunderbirds & is a way that collectors quickly identify a 6T frame.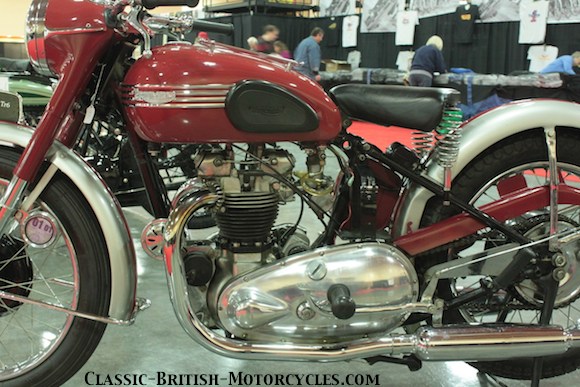 1952 TRIUMPH THUNDERBIRD – BODY WORK & TRIM
The headlight nacelle & fork covers were enlarged on the 1952 Triumph Thunderbird to accommodate a new 7-inch pre-focused block-type Lucas MCF700 headlamp with an attractive underslung pilot light attached to the fork covers. The tank now had a central welded seam, there was a new oil tank & the D-type air filter, accessible only after removing the battery & battery box.
1952 TRIUMPH THUNDERBIRD – RUNNING GEAR
Rear brake drum & sprocket were now integral on the 1952 Triumph Thunderbird, rather than bolted on, as before. Internal changes were made to the gearbox. A color-coded Lucas electrical harness was adopted for the first time & changed everything over from negative-ground to positive-ground, an English quirk that persisted well into the late 1970's.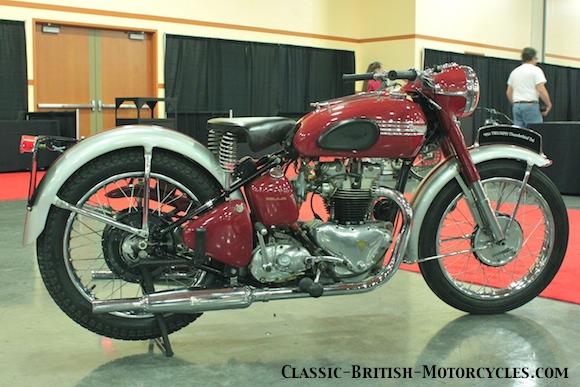 GOOD LOOKS AND FAST TOO!
This beautiful 1952 Triumph Thunderbird is made even more so by the stunning red paint job. Designer Edward Turner had an eye not only for engine design, but also for aesthetic appeal & marketing. The colors would start getting brighter & brighter as the 1950's progressed, this 1952 Triumph Thunderbird being an early example. Of course, this trend was being led by the US auto industry in the height of the "Big Fin & Chrome Trim"-era where wild 3-tone paintjobs became common. And it all worked brilliantly, as new brightly-colored cars & motorcycles flew out of showrooms.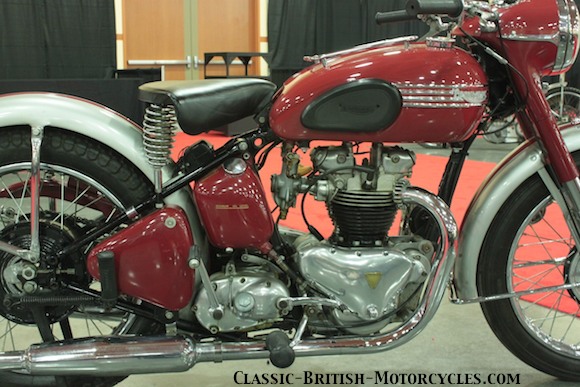 ---
Factory Panniers (Saddle Bags)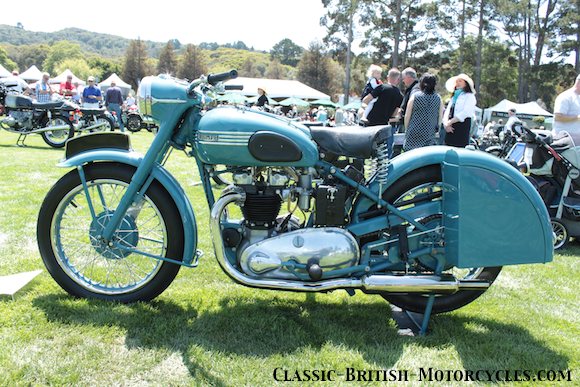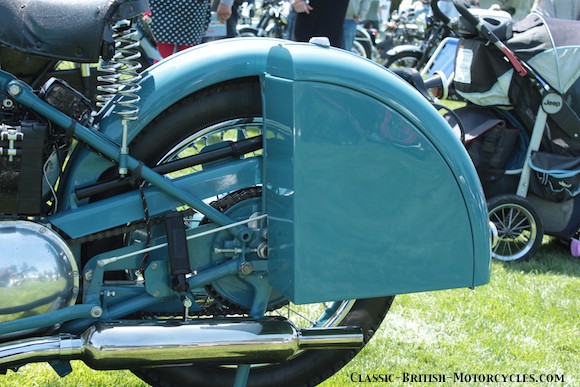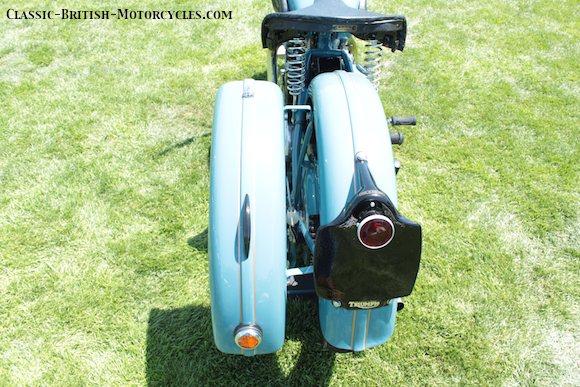 ---
1952 Triumph Thunderbird SPECIFICATIONS
Engine type

Displacement

Bore & Stroke

Compression

Carburetor

Ignition

Engine output

Primary drive

Primary sprockets

Clutch

Gearbox

Ratios, overall:

1st, bottom

2nd

3rd

4th, top

Final drive

Final drive sprockets

Frame Type

Suspension, front

Suspension, rear

Brake, front

Brake, rear

Tire, front

Tire, rear

Wheelbase

Seat Height

Ground Clearance

Fuel capacity

Dry weight

Air-cooled OHV vertical twin, non-unit

649cc / 40.0 ci

71mm X 82mm / 2.79″ X 3.23″

8.5:1 (US & export); 7.0:1 (UK)

1- Amal Monobloc, 1″

Lucas magneto

34 bhp @ 6500 rpm

1/2″ X .335″ X 5/16″ chain, 70 links

24T X 43T

Multi-plate, wet

4-speed constant mesh, right foot shift

11.9:1

8.25:1

5.81:1

4.88

5/8″ X .400″ X 3/8″ chain, 101 links

18T X 46T

Brazed lug, rigid

Telescopic fork, hydraulic damping

Sprung rear hub, rigid frame

7″ SLS drum

7″ SLS drum

3.25″ X 19″

3.50″ X 19″

55.25″ / 140.3 cm

31″ / 77.5 cm

5″ / 12.7 cm

3 Imp gal (US); 4 Imp gal (UK & export)

370 lbs / 168 kg