1951 Triumph Speed Twin
1951 TRIUMPH SPEED TWIN BACKGROUND
The Triumph Speed Twin was the world's first 'modern' vertical twin, when it was introduced in 1937 as a 1938 model. Designed by Edward Turner (who also designed the Ariel Square Four), the 500cc 5T Speed Twin was a revelation at the time. Pretty much everyone else was building big single-cylinder machines, who were already approaching their physical limits at around 500cc and 40 horsepower. Vibration was the enemy of these big singles, and the new vertical twin offered a then-radical solution: two smaller pistons, rather than one big one, rising and falling together, firing in opposing order. They were smooth, willing to rev higher and made more power. And because of Turner's design genius, they could be built with the same tooling as the old singles. The secret was no center main bearing. The 360-degree crankshaft had a large central flywheel and the whole thing was supported by just two main bearings, just like the singles. It worked great, and took the world by storm. Suddenly the world's best singles were outclassed, and virtually every other British motorcycle manufacturer rushed to market with their own vertical twins. World War II intervened of course, and none were built again until 1946. By this time, the once game-changing Triumph Speed Twin had already been eclipsed by the Triumph T100 Tiger. Also a 500 twin, and based on the same bike, the Tiger was the hotter version, essentially Triumph's hot new sport bike. This relegated the Speed Twin to second-class status as the 'cooking version' (British parlance for a low-priced commuter special). It only got worse from there. In 1950, Triumph bored and stroked the 500 out to the (649cc) 650 6T Thunderbird, and suddenly the entire 500 model line was in the back seat. In 1953, the Thunderbird too was relegated to commuter status when the hotter 650 Tiger T110 came out. It happened again in 1956 with the introduction of the 650 Triumph TR6, and again in 1959 with the ultimate sport bike of the era, the 650 Bonneville. With each of these steps, the lowly Speed Twin got bumped farther and farther down the food chain. But the 1951 Triumph Speed Twin was still fairly early in this process and as such, was a very desirable motorcycle to own at the time. It was well-built, and while not as fast as the T110 Tiger or the 6T Thunderbird, it was certainly fast enough, and probably faster than most other motorcycles of the day. Speed Twins sported a headlight nacelle and bigger fenders (mudguards) than the sportier Tiger, which would evolve by the late 1950s into the infamous "bathtub" bodywork.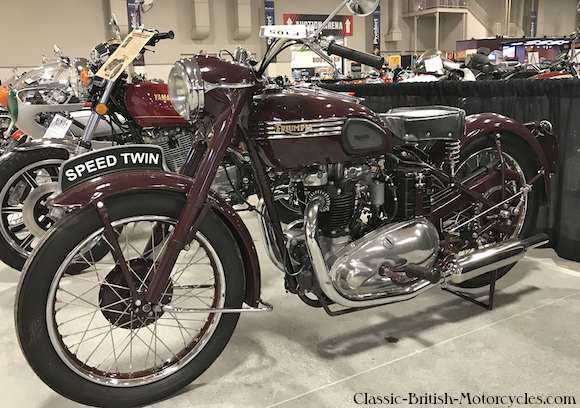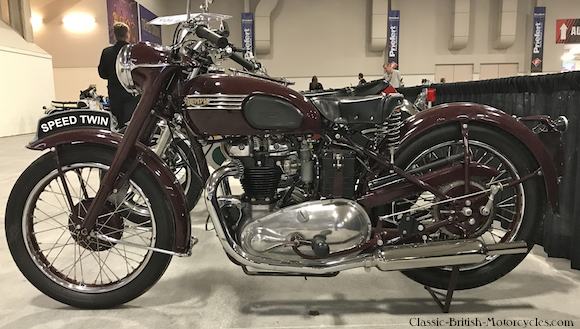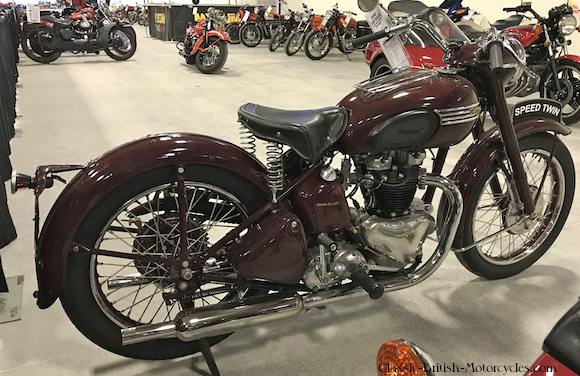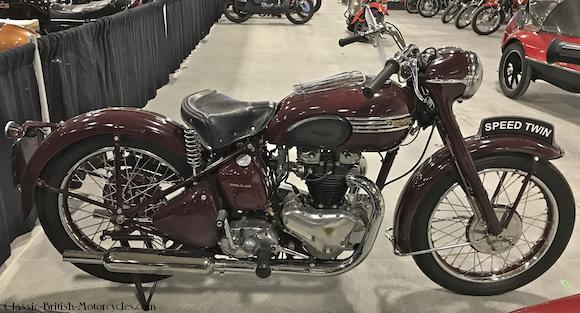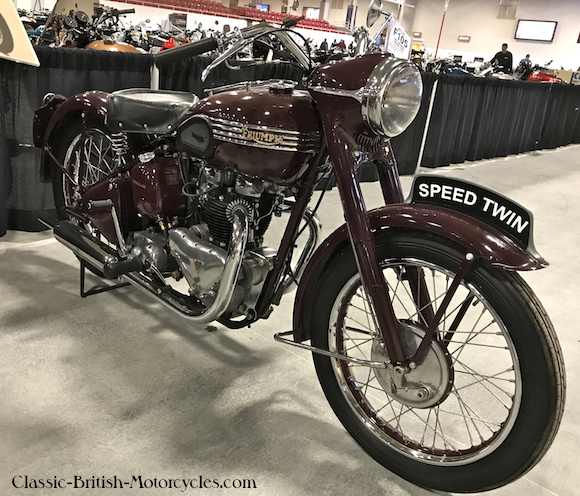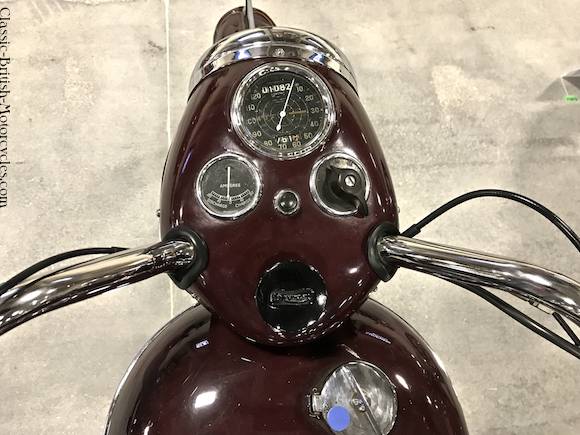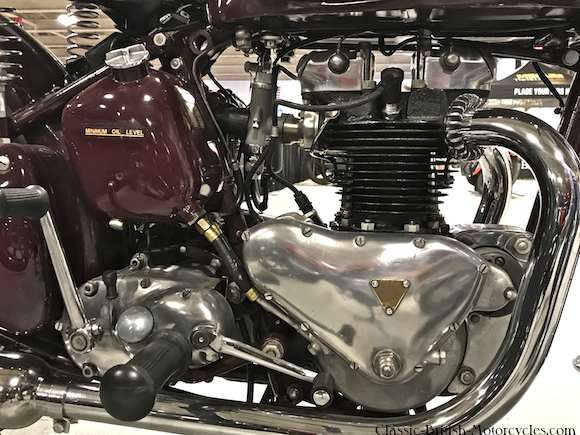 ---
1951 Triumph Speed Twin SPECIFICATIONS
Model Designation

Engine Type

Displacement

Bore & Stroke

Compression ratio

Carburetor

Engine output

Top Speed

Electrical system

Primary drive

Clutch

Gearbox

Final drive

Frame construction

Suspension, front

Suspension, rear

Brake, front

Brake, rear

Wheel, front

Wheel, rear

Wheelbase

Seat height

Ground clearance

Fuel capacity

Weight

Triumph 5T Speed Twin

Air-cooled OHV vertical twin

498cc

63mm X 80mm

7.0:1

one- Amal 15/16″

28 bhp @ 6,000 rpm

85-90 mph

6-volt, Lucas magdyno, 40watt

Chain

Multi-plate, wet

4-speed constant mesh, right-foot shift

Chain

Steel tube, brazed lug

Telescopic

Rigid frame, sprung hub (optional)

7-inch SLS drum

7-inch SLS drum

3.25″ X 19.0″ Dunlop Universal

3.50″ X 19.0″ Dunlop Universal

54.0″

29.5″

6.0″

4 Imp gal

361 lbs, dry