1951 Norton Model 7
Dominator
1951 NORTON MODEL 7 BACKGROUND
Following Triumph's lead, Norton, along with nearly every other British motorcycle manufacturer, entered the parallel twin race with its own new 500 twin in 1949. Known as the Model 7, its basic layout followed the established norm of a 2-main bearing crankshaft (no center main bearing) with its rod journals set at 360-degrees (so that the pistons rose and fell together). The single camshaft set forward of the cylinders and were chain-driven off the right side of the crank. The left side drove a primary chain, multi-plate wet clutch and gearbox. All Model 7s have a cast iron cylinder block and head with rocker boxes cast integrally into the head. In a mild state of tune, Norton perfected its twin-cylinder design, and soon began adding horsepower and displacement, as this same basic engine would serve as the basis for every Norton twin built thereafter. Growing from 500cc with the Model 7, growing from 500 to 600 to 650cc in the Dominator series, growing to 750 in the Atlas and Commando, where it grew to its final displacement as an 850. That's some engine!
1952 NORTON MODEL 7 ENGINE
This basic engine design served Norton very well over the years. It was built up, strengthened, and enlarged from its 497cc and 26-horsepower roots all the way out to 829cc (850) and 56 horses, over its 27-year lifespan. That's impressive! It certainly must have been a well-designed engine to begin with. And it was. The one-piece 360-degree crankshaft rode on a roller main bearing on the drive side (left) and a white metal bushing on the timing (right) side. The cylinder block and head were cast in iron, and the rocker shafts and enclosures were all cast integrally into the head itself, unlike Triumph's decision to house it all in removable rocker boxes. Norton's method made for a quieter, more rigid valve train, with fewer oil leaks. A single Amal Monobloc carburetor supplied fuel and a Lucas K2F magneto provided the spark. The primary chain turned a multi-plate wet clutch, which powered the 4-speed gearbox. All in all, it was a compact and fairly light package for a non-unit construction assembly. It proved to be a very durable engine, obviously capable of near-endless upgrades and enlargements. And it was a handsome piece of machinery.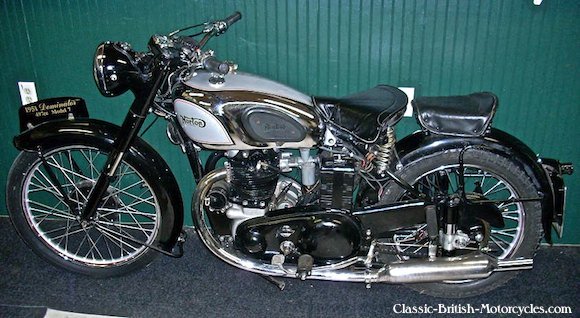 1951 NORTON MODEL 7 RUNNING GEAR
Early Model 7s used Norton's plunger-style rear suspension in a frame that was little more than a modified rigid frame. That's why they did it, it was easy and cheap, and they knew it very well. However, times were changing, and the world, led by the Brit, was adopting swing arm-style rear suspension set ups. Norton adopted it in the Model 7 line starting in 1953.
---
1951 Norton Model 7 SPECIFICATIONS
Engine type:

Displacement:

Bore & Stroke:

Compression ratio:

Fuel system:

Ignition system:

Primary drive:

Clutch:

Gearbox:

Final drive:

Wheelbase:

Seat height:

Fuel capacity:

Tire size, front:

Tire size, rear:

Suspension, front:

Suspension, rear:

Brake, front:

Brake, rear:

Weight:

Air-cooled OHV parallel twin

497cc / 30.33 ci

66.0mm X 72.6mm / 2.6″ X 2.9″

6.7:1

1X Amal carburetor

Lucas magneto

Chain

Multi-plate, wet

4-speed constant mesh, right-foot shift

Chain

1410mm / 55.5″

787mm / 31.0″

4.49 US gal / 17.0L

3.00″ x 21″

3.00″ X 21″

Teledraulic telescropic forks

Rigid

SLS drum

SLS drum

440.9 lbs / 220 kg