1950 AJS 7R BOY RACER BACKGROUND
The 7R was a factory road racer produced by AJS from 1948 through 1963. It's 348cc displacement put it in the middleweight, or 'junior' class of racing, and hence the nickname "Boy Racer". With up to 40 horsepower and weighing only 285 pounds, they were fast (120 mph top speed) and competitive on road racing circuits throughout Europe and the British Isles. 7Rs won two World Championships and the Isle of Man TT and many more victories during the mid-1950s. They even did well in competition against exotic Italian multi-cylinder machines of the day. In 1957, Bill Nilsson converted a 7R into a dirt bike and won the inaugural F.I.M. Motocross World Championship with it. 7R road racers won the 1961, 1962 and 1963 Junior Manx Grand Prix and 3 years after production ended, a 7R took second place in the 1966 Junior Manx GP. Considering the multi-cylinder competition in the mid-60s GP circuit, that's quite an accomplishment for a big 2-valve single.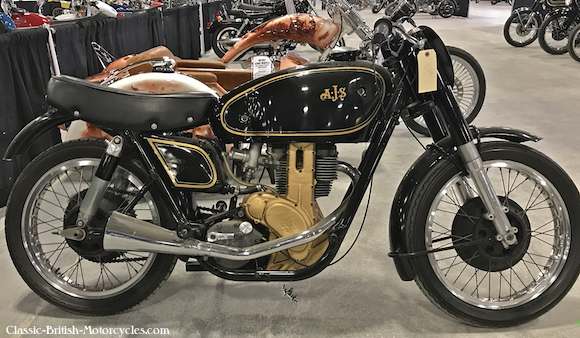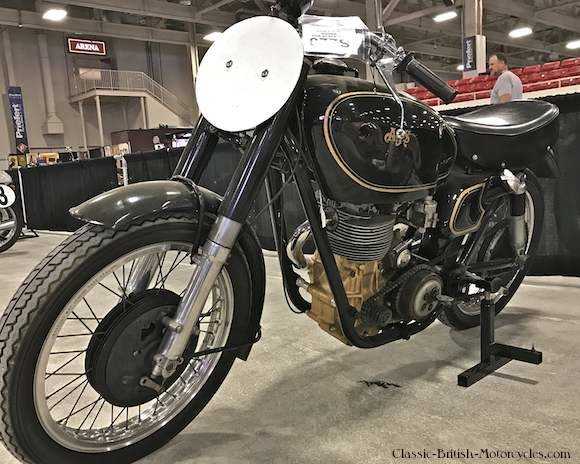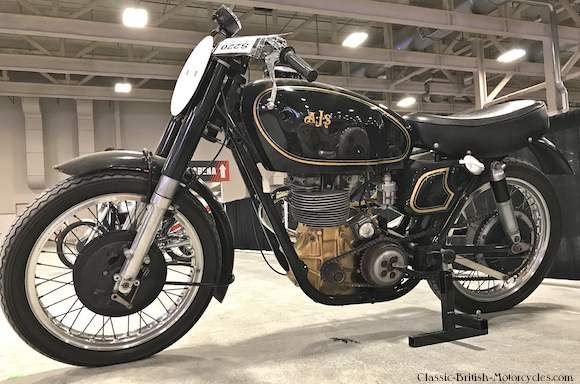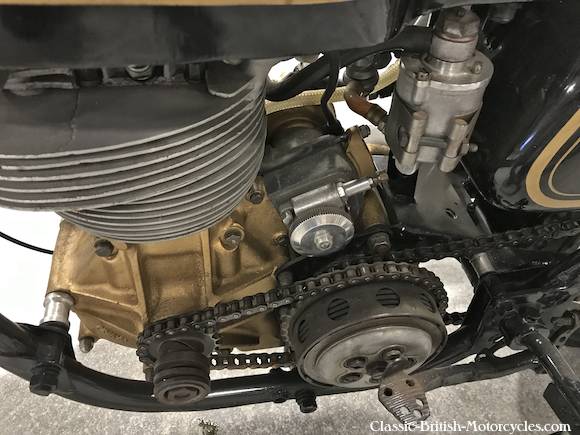 1950 AJS 7R BOY RACER ENGINE DESIGN
Designed by Phil Walker, the Boy Racer's engine had a chain-driven single overhead cam, loosely based on his earlier pre-war 'cammy' engine designs, incorporating the improved metals, and the best of what was learned during the war. The sophisticated OHC engine design allowed it to produce 37 horsepower (better than 100 hp-per-liter) at a lofty 7,500 rpm. That's a lot of revs for a long-stroke single. There were actually two different sets of bore/stroke during the life of the 7R. Early engines were heavily oversquare at with a 74mm bore and an 81mm stroke. In 1956 it was brought closer to 'square' at 75.5mm X 78mm, giving it better high-rpm performance.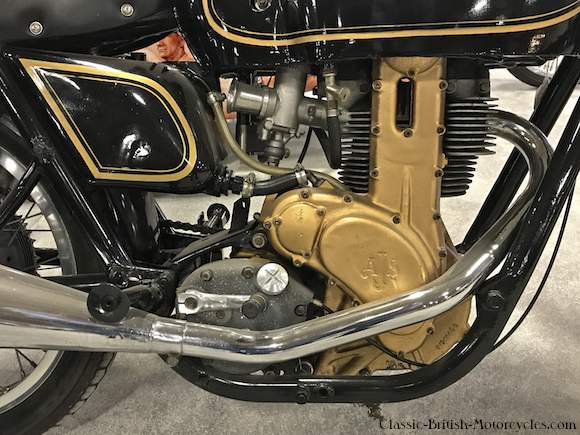 1950 AJS 7R Boy Racer SPECIFICATIONS
Engine type

Displacement

Bore & Stroke

Compression ratio

Fuel system

Ignition system

Horsepower output

Primary drive

Clutch

Gearbox

Final drive

Suspension, front

Suspension, rear

Brake, front

Brake, rear

Tire, front

Tire, rear

Weight

Air-cooled SOHC single-cylinder 4-stroke

348cc / 21.2 ci

74mm X 81mm

12.2:1

1- Amal 1-3/16″ carburetor

Lucas magneto

37 hp @ 7500 rpm

Single-row chain w/cush-drive

Ferodo multi-plate, dry

4-speed Burman

Chain

AMC Teledraulic forks

Swing amr w/2 Girling shock absorbers

8-inch SLS drum

u8-inch SLS drum

2.75″ X 19″

3.50X X 19″

285 lbs / 128 kg