1948 Triumph Speed Twin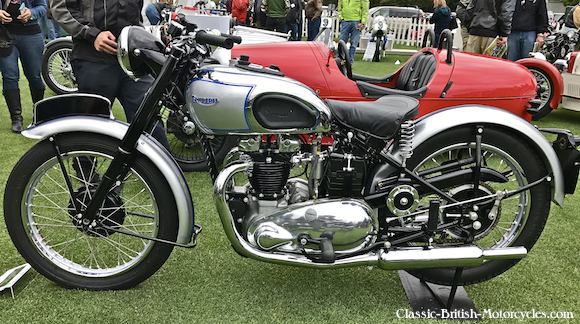 1948 TRIUMPH SPEED TWIN BACKGROUND
In a few short years, the 5T Speed Twin went from being one of the world's premium performance motorcycles to be Triumph's entry-level twin. It had been surpassed by the T100 Tiger with its higher compression and hotter cams. And soon it would be bumped down still further when the 650cc 6T Thunderbird came out in 1950. And of course, the rest of the British motorcycle industry were also pushing out bigger and faster machines each year, so the competition was growing fierce. But for now, the 1948 Triumph Speed Twin was a solid seller, and while not the fastest thing on the road, its performance was adequate for the day.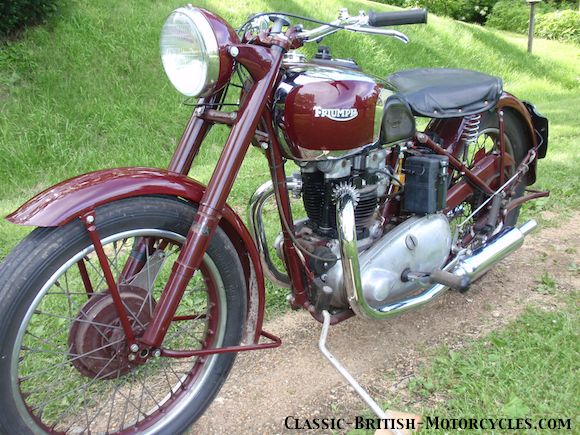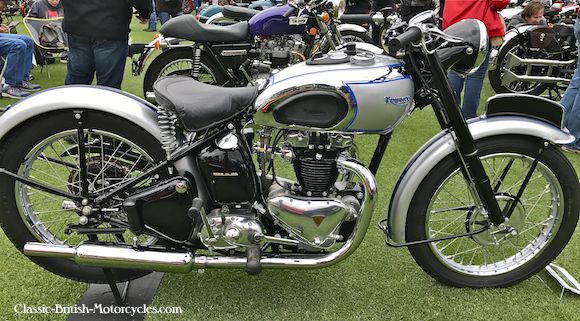 1948 TRIUMPH SPEED TWIN DESIGN
The 500cc twin retained its cast iron cylinder block and head, and was fed by a single Amal carburetor. It was of non-unit construction, with the timing gear on the right, and the primary chain and clutch on the left, as usual. The 4-speed gearbox shifted with the right foot. Triumph continued to use it's tried-and-true rigid frame, but offered a sprung rear hub as an option. The sprung hub used radially-positioned springs inside it to cushion the bumps. It was fine in theory, but tended to move in unintended ways when worn out or under extreme loads (ie: hard acceleration). It was a poor compromise solution, but one that made sense to Triumph at the time. It was a way to get some rear suspension while retaining their rigid frame, a very expensive thing to replace. The front end now had Triumph's own telescopic forks with hydraulic damping.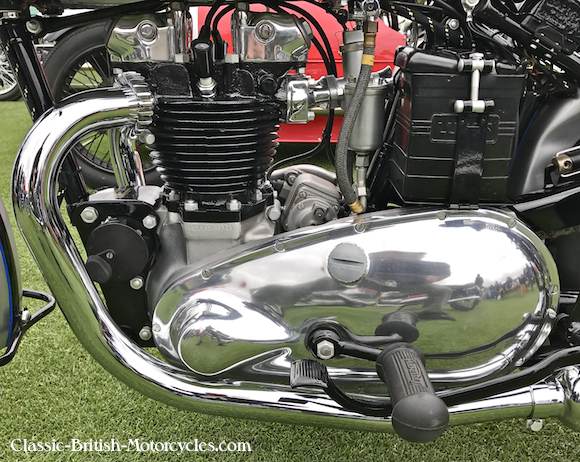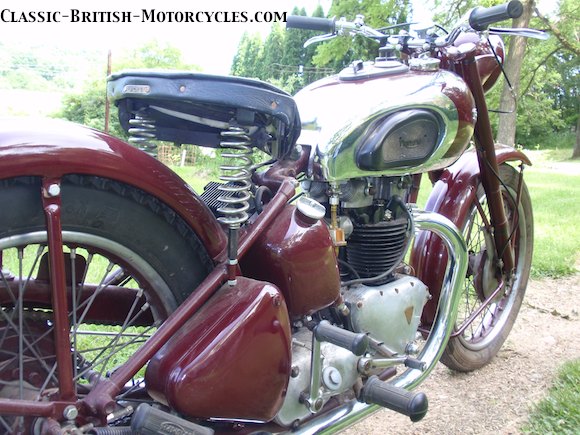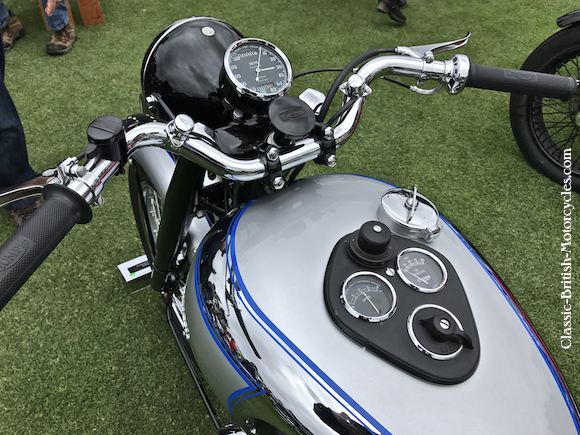 ---
1948 Triumph Speed Twin SPECIFICATIONS
Model Designation

Engine Number prefix

Engine Type

Displacement

Bore & Stroke

Compression ratio

Carburetor

Engine output

Top Speed

Electrical system

Primary drive

Clutch

Gearbox

Final drive

Frame construction

Suspension, front

Suspension, rear

Brake, front

Brake, rear

Wheel, front

Wheel, rear

Wheelbase

Seat height

Ground clearance

Fuel capacity

Weight

Triumph 5T Speed Twin

47-5T

Air-cooled OHV vertical twin

498cc

63mm X 80mm

7.0:1

one- Amal 15/16″

28 bhp @ 6,000 rpm

85-90 mph

6-volt, Lucas magdyno, 40watt

Chain

Multi-plate, wet

4-speed constant mesh, right-foot shift

Chain

Steel tube, brazed lug

Telescopic

Rigid frame, sprung hub

7-inch SLS drum

7-inch SLS drum

3.25″ X 19.0″ Dunlop Universal

3.50″ X 19.0″ Dunlop Universal

54.0″

29.5″

6.0″

4 Imp gal

361 lbs, dry