1946 Triumph Speed Twin
1946 TRIUMPH SPEED TWIN – IN WAR & PEACE
World War II had been hard on England. British motorcycle manufacturers like Triumph and BSA, did well during the war selling side-valve singles to the Army and lots of other stuff. But, war is hell, right? In 1940, the Germans bombed the Triumph factory. The bad news turned into good news however when the government paid to have a modern new factory built in the Midlands, which became the famous Meriden plant. At war's end, Triumph quickly ramped up civilian production again and the 1946 Triumph 5T Speed Twin was its best seller. The revenues generated by the Speed Twin lifted Triumph out of the doldrums and put it on the path of financial success.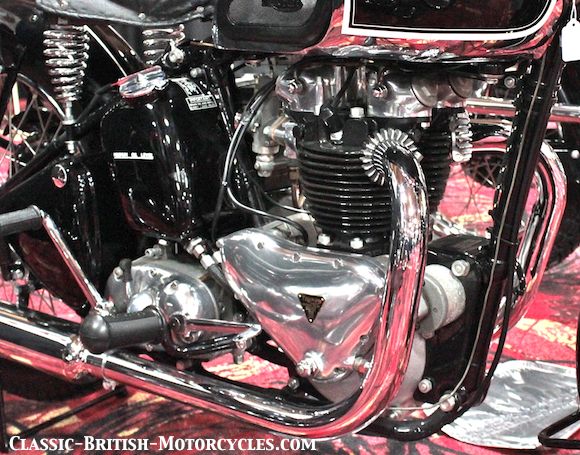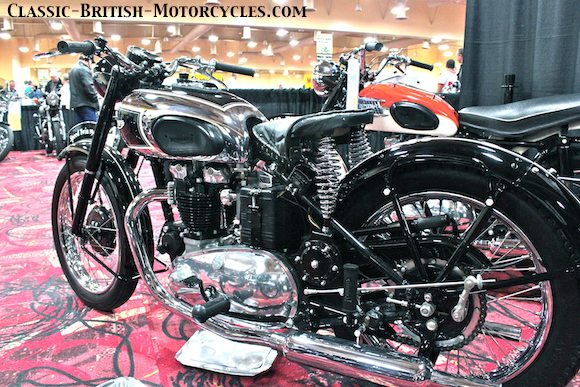 1946 TRIUMPH SPEED TWIN DESIGN
The 500cc Speed Twin had launched as a 1938 model, but the War quickly intervened. Now that civilian production renewed after the war, the 1946 Speed Twins more or less carried over from the pre-war bikes, with the exception of the front forks. Prior to the war, they used girder-style front forks. Post-war, Triumph fitted their bikes with modern telescopic forks. A huge improvement in both ride and handling, especially under heavy braking. Otherwise, it still used the same old rigid frame, and the engine/gearbox remained unchanged from before. It still used a cast iron cylinder block and head, fed by a single Amal carburetor. The Speed Twin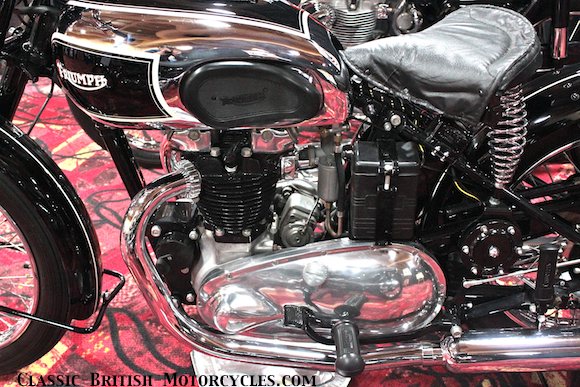 ---
1946 Triumph Speed Twin SPECIFICATIONS
Model Designation

Engine Number prefix

Engine Type

Displacement

Bore & Stroke

Compression ratio

Carburetor

Engine output

Top Speed

Electrical system

Primary drive

Clutch

Gearbox

Final drive

Frame construction

Suspension, front

Suspension, rear

Brake, front

Brake, rear

Wheel, front

Wheel, rear

Wheelbase

Seat height

Ground clearance

Fuel capacity

Weight

Triumph 5T Speed Twin

46-5T

Air-cooled OHV vertical twin

498cc

63mm X 80mm

6.5:1

one- Amal 15/16″

28 bhp @ 6,000 rpm

85-90 mph

6-volt, Lucas magdyno

Chain

Multi-plate, wet

4-speed constant mesh, right-foot shift

Chain

Steel tube, brazed lug

Telescopic

Rigid

7-inch SLS drum

7-inch SLS drum

3.25″ X 19.0″

3.50″ X 19.0″

54.0″

29.5″

6.0″

4 Imp gal

361 lbs, dry