1939 Vincent Rapide
Series A
1939 VINCENT RAPIDE BACKGROUND
Vincent head engineer Phil Irving was working on some tracings of the firm's 499cc single cylinder engine in 1936. As things got moved around, two of the tracings lined up roughly in the shape of a V-twin. With a little cajoling, he quickly lined it up enough to see that it would work. And the Vincent V-twin was born. By 1936, the new bike was in production, designated the Series A Vincent Rapide. It was, compared to later bikes, complex to build and maintain, but it was fast, very fast. By doubling their cylinder-count and displacement, the new 998cc V-twin made 45 horsepower, almost unheard of in 1936, not to mention its 110 mhp top speed. The 1939 Vincent Rapide was the last of the Series A's, with production curtained by the start of World War 2. When civilian production resumed in 1946, Vincent would introduce the new Series B Rapide with the same displacement, bore and stroke, but with a different V-angle and unit construction.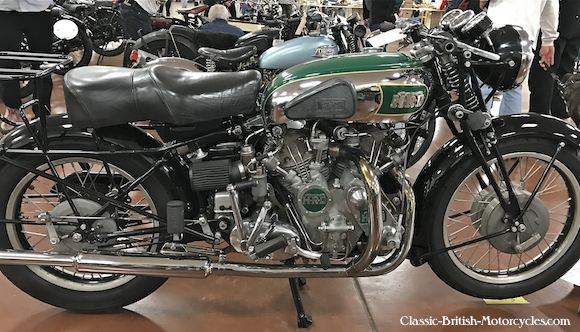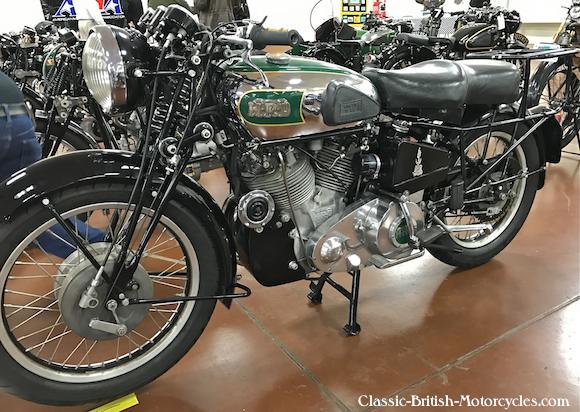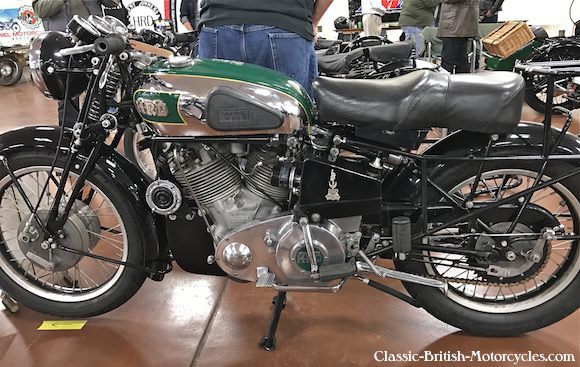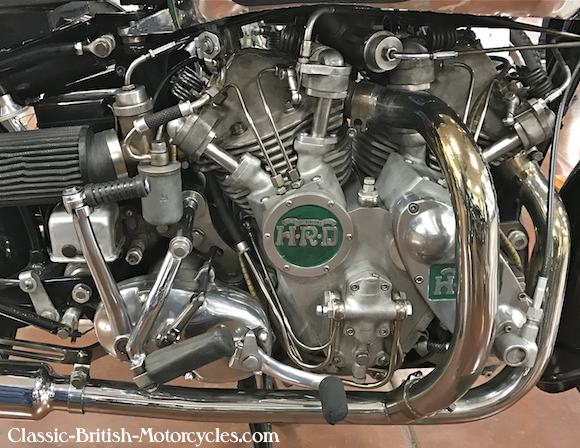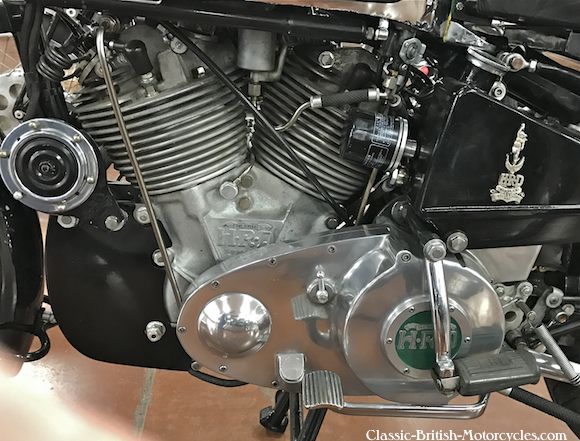 CLUBMANS ALL-BRITISH-WEEKEND
We caught up with this lovely Rapide at the 2017 Clubman's All-British Weekend motorcycle show in San Jose CA. Sponsored by the BSA Owners Club of Northern Calif (BSAOCNC.org, this was regrettably the last Clubman Show. It was a wonderful show that ran for 30 years, that unfortunately never grew any larger than a small, intimate club event. It's a shame that an all-British motorcycle show with 150-or-so gorgeous classic Brit bikes all indoors couldn't attract bigger crowds in the San Francisco Bay Area. We certainly could have used it. If classic British bikes are to survive into the future, we need to introduce a new generation of enthusiasts to them. The Bay Area is one of the biggest demographic markets in the world, so this was truly an opportunity lost, in my humble opinion.
---
1939 Vincent Rapide SPECIFICATIONS
Model designation
Years in production
Engine type
Displacement
Bore & Stroke
Compression ratio
Engine output
Primary drive
Clutch
Gearbox
Final drive
Wheelbase
Suspension, front
Suspension, rear
Brake, front
Brake, rear
Weight
Series A Rapide
1936-1939
Air-cooled 47.5-degree OHV V-twin
998cc
84mm X 90mm / 3.30″ X 3.50″
6.8:1
45hp @ 5500rpm
Triplex chain
Multi-plate, wet
Burman 4-speed w/right-foot shift
Chain
59.5″
Brampton girder forks
Cantilever swing arm w/2 dampers
2- SLS drum brakes
1- SLS drum brake 430 lbs / 200 kg