1939 Ariel Square Four
1939 ARIEL SQUARE FOUR BACKGROUND
The original Square Four was conceived by legendary motorcycle designer, Edward Turner, who later created the game-changing Triumph parallel twin. His original design for the Square Four was an OHC (Overhead Cam) design with a displacement of 500cc when it debuted in 1931. However, constant overheating problems with the rear set of cylinders forced two redesigns, the latter being a total clean-sheet design. This new Square Four ditched the OHC for simpler OHV (Overhead Valves, ie: pushrods and rocker arms) and pushed the displacement all the way out to 1000cc. It launched in 1936 as the model 4G, and this 1939 Ariel Square Four is a fine example of the 4G. It would also be the last year of civilian production until after the end of World War II. Earlier versions of the Square Four like this one had one exhaust pipe on each side, and thus were nicknamed 'two-pipe' bikes. Later Square Fours sprouted 2 exhaust pipes on each side, hence the name 'four-pipe' bikes.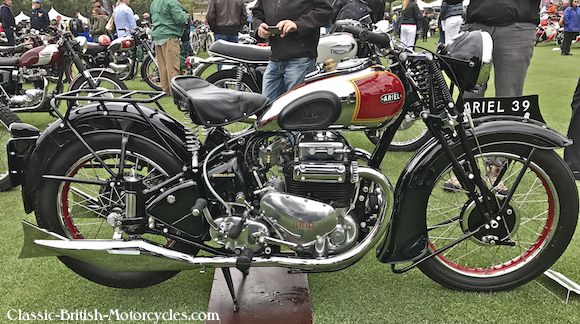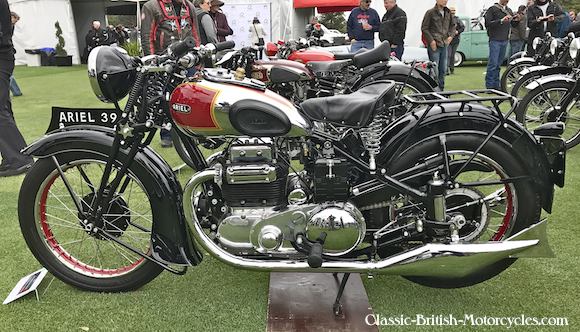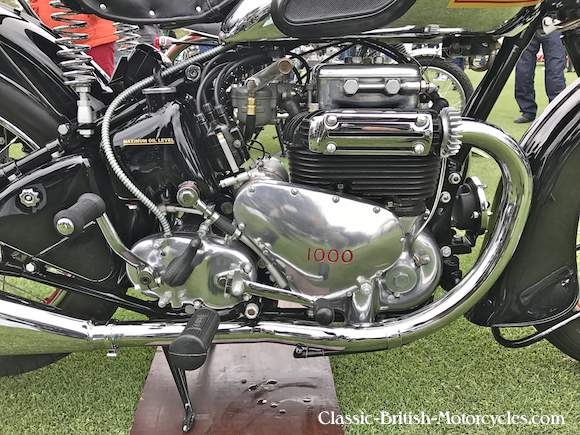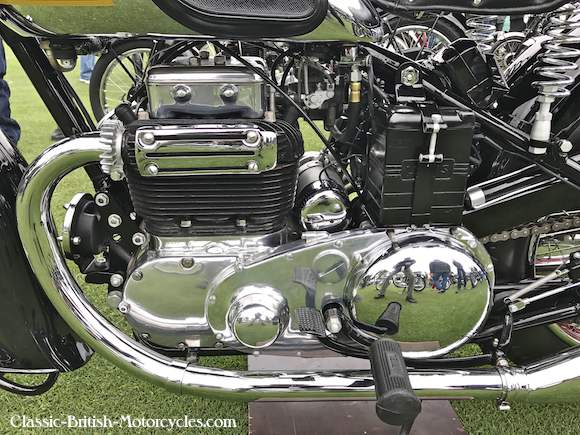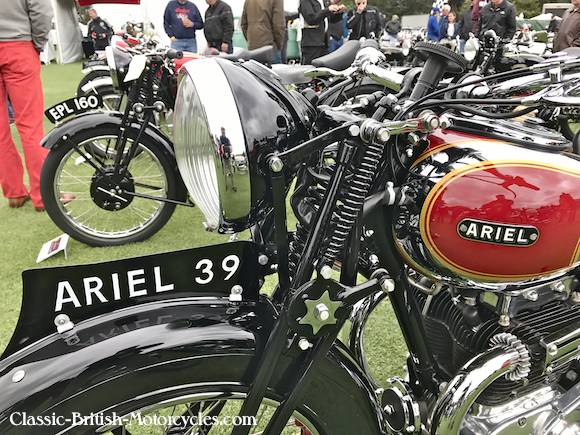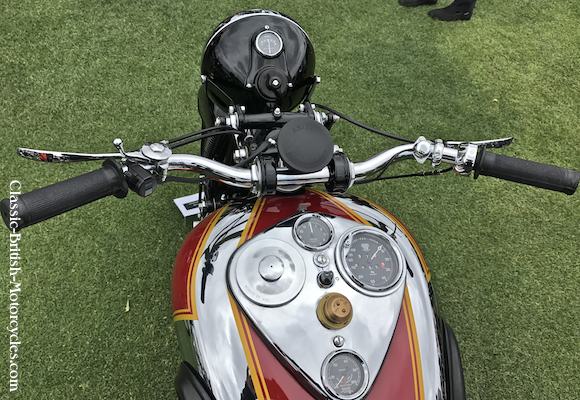 ---
1939 Ariel Square Four SPECIFICATIONS
| | |
| --- | --- |
| Engine type Displacement Bore & Stroke Compression ratio Fuel system Engine output Top speed Wheelbase Length Dry weight Primary drive Clutch Gearbox Final drive Frame type Front suspension Rear suspension Brake, front Brake, rear Tire, front Tire, rear | Air-cooled OHV square 4-cyl w/2 crankshafts 997cc / 60.84 ci 55.0mm X 78.0mm / 2.60″ X 3.10″ 6.0:1 Single carburetor, SU MC2 35 hp @ 5500 rpm 87 mph / 146 km/h 56.0″ / 1422mm 82.0″ / 2983 425 lbs / 193.0 kg Chain Multi-plate, wet 4-speed constant mesh, right-foot shifting chain Steel tube single loop Girder Austey-type plunger 7-inch (178mm) SLS drum 7-inch (178mm) SLS drum 3.25″ X 19″ (3.25-19) 4.00″ X 18″ (4.00-18) |