1934 BSA Blue Star
1934 BSA BLUE STAR SETS NEW STANDARD
Prior to the introduction of BSA's Blue Star-series, motorcycles were fairly unreliable and needed constant maintenance and oiling during long trips. The Blue Star, which launched in 1932, ushered in a new age of reliability and ride-ability, being one of the first bikes that could make a 200-mile journey without stopping for maintenance or repair. Despite its short 5-model-year run, it was a successful design for BSA, so in 1936 they offered a higher-performance version called the Empire Star. The following year, the Blue Star was gone, but the Empire Star line continued with an all-new Val Page-designed engine, that ultimately evolved into the legendary BSA Gold Star in 1938.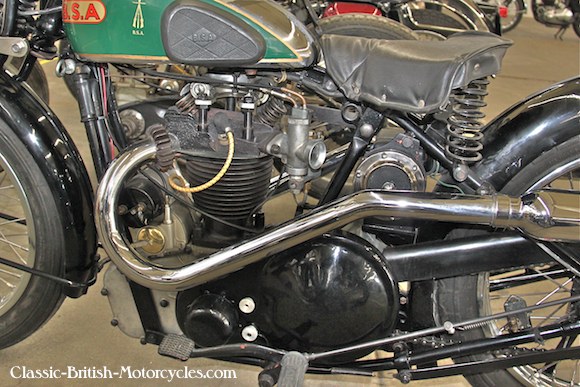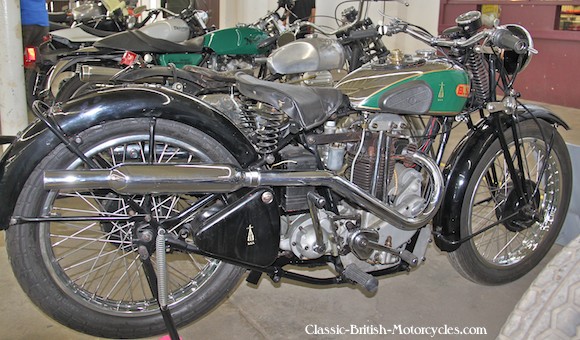 1934 BSA BLUE STAR EVOLUTION
The Blue Star was available in 250 (249cc), 350 (349cc) and 500 (499cc) variants, all based on the same air-cooled, pushrod-operated OHV, vertical single cylinder design, typical of nearly every British bike being built at the time. The 500 Blue Star produced 28 horsepower at 5200rpm. This particular bike is a 350 Competition model. 1934 was the first year for the 4-speed foot-shifted gearbox, a major improvement over the old hand-shift/foot-clutch arrangement, so aptly named a "Suicide Clutch" made famous my legions of Harley Knuckleheads (the bikes, not the riders).
ABOVE: The right-foot shifter is clearly visible here. This was the first year for foot-shift, and a major improvement over the old "suicide clutch".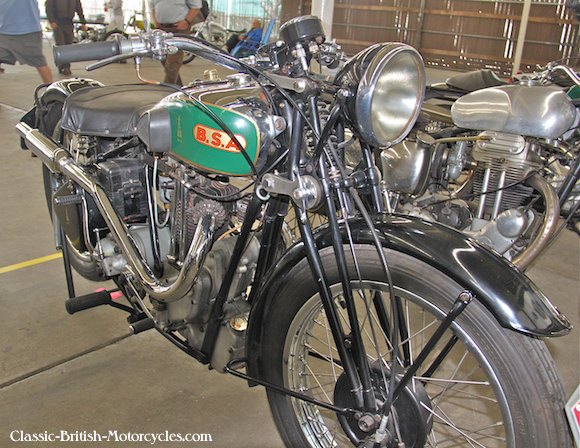 ---
1934 BSA Blue Star
SPECIFICATIONS
Make & model
Years in production
Engine type
Displacement
Compression ratio
Horsepower @ RPM
Primary drive
Clutch
Gearbox
Frame type
Rear suspension
Front suspension
Curb weight
BSA Blue Star 250, 350 & 500
1932-1951
Air-cooled OHV single
249cc, 348cc & 499cc
9.5:1
28hp @ 5200 rpm
Chain
Multi-plate, wet
4-speed, right-foot shift
Twin downtube, rigid
Rigid
Girder forks
358 lbs / 162 kg