Automotive auctions are some of the most exciting events in the world, and when it comes to big-ticket sales, it's usually the cars that steal the show. However, there have been plenty of motorcycle sales that have grabbed headlines. In fact, there's no shortage of lists documenting the most expensive two-wheeled to go under the hammer.
Because of that, this will be a list of two halves. Rather than list out the usual "top 10 most expensive motorcycles" article that we've all read a million times, how about we look at the 5 most expensive machines to go on the auction block and then take a look at five more that sold for insane prices? That way we're not just listing the same usual suspects over and over again. Let's be honest, we all know that old Vincents, Brough Superiors, Crockers, Flying Merkels, and early Harleys are worth a fortune, so why waste time covering old ground?
As much as we all love a list of one Brough Superior after another—as 7 of the current most expensive 20 motorcycles sold at auction are–they tend to get boring really quickly, which does these iconic machines a disservice.
So, let's look at 5 unusual motorcycles that sold way above their expectations, and the undisputed, most expensive, top 5 machines sold at auction.
1968 Pre-Production Sandcast Honda CB750: $222,995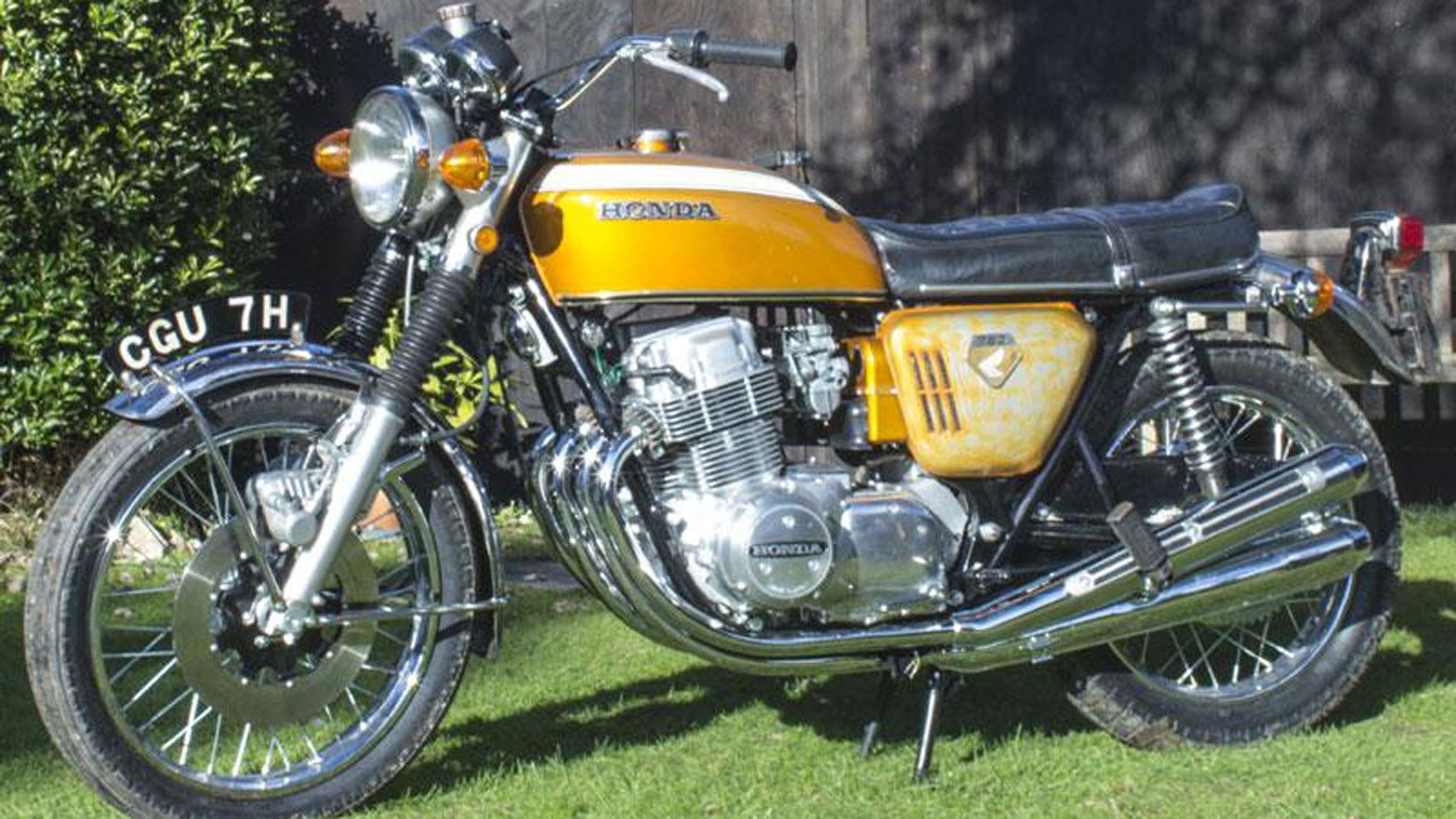 Photo Credit: Auto Week
The original Honda CB750 has gone down in history as a revolutionary model. When it first rolled onto the scene in 1969 changed the world forever. It was the world's first superbike. Now, these early models are highly sought after. The initial production run featured sand-cast cases, and any of the numbered 7,414 sand-cast models are worth a small fortune to collectors. But there are some CB750s which are worth more: the original pre-production models.
Four pre-production CB750s were shipped worldwide in 1968, and the last one to go under the hammer sold for an impressive $222,995 at auction in the UK back in 2018. Is it an insane price though? Yes, considering that the only other surviving pre-production model sold for $148,100 on eBay back in 2014.
Granted, that figure might not be as high as many others on the list, when you consider that the 1969 CB750 retailed for $1,495, it's quite the mark-up. Especially since you can buy other 1969 or early 70s models for a fraction of the price. They'd be diecast though, but they'd also be 95% cheaper.
1969 Harley-Davidson FLH Electra-Glide: $256,000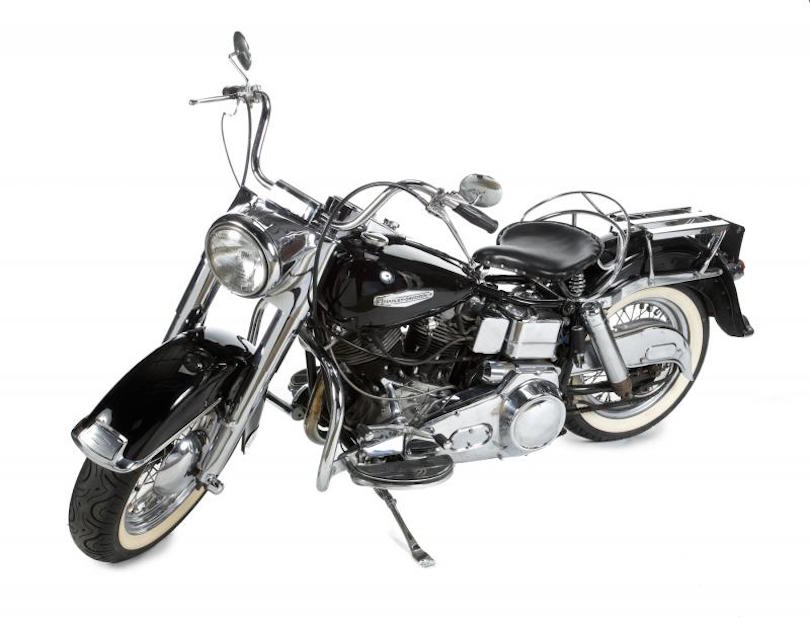 Photo Credit: The Vintagent
The 1969 Harley-Davidson Electra-Glide is a sought-after bike among collectors, but under normal circumstances, no one would pay over a quarter of a million dollars for one. So, what makes this one so special? Well, there are two reasons.
The first is that this one was owned by Hollywood legend and iconic biker Marlon Brando. Famed for bringing biker culture to the big screen in The Wild One, and as an avid biker himself, any bike owned by Brando is instantly worth more money.
The second curious thing about this motorcycle that makes it interesting to buyers is the fact that it only has 13,859 miles on the clock and is in stock condition—all except for one feature. It's got a "Shovel-Pan" engine. That's a Shovelhead top end and a Panhead bottom end. This makes it something of an anomaly. Some sleuths think it might be a 1969-and-a-half model, or perhaps it's not an original engine in there? Either way, it sold at auction for $256,000 which is a lot of money.
2013 Harley-Davidson Dyna Super Glide: $327,000
Photo Credit: Bonhams
Next, we've got another Harley that sold for a record sum. Unlike the other models on this list, this one truly is an average motorcycle that blew the estimates away when it went under the hammer in 2014 at the Bonhams Paris auctions. At the time, a new Super Dyna would set you back about $13,000, so what made this one so special?
It was owned by the Pope.
Sort of. This papal hog was gifted to the pontiff by Harley-Davidson, and while it's fun to think of Pope Francis tearing around the Vatican on his Harley, it was gifted with the expectation that it would be auctioned off for charity. And it was. The initial estimates of this relatively average bike were in the region of between $16,000 and $22,000. The fact that it actually sold for $327,000 is what makes this one worthy of note. Holy-Davidson, more like.
1992 Honda NR750: $181,500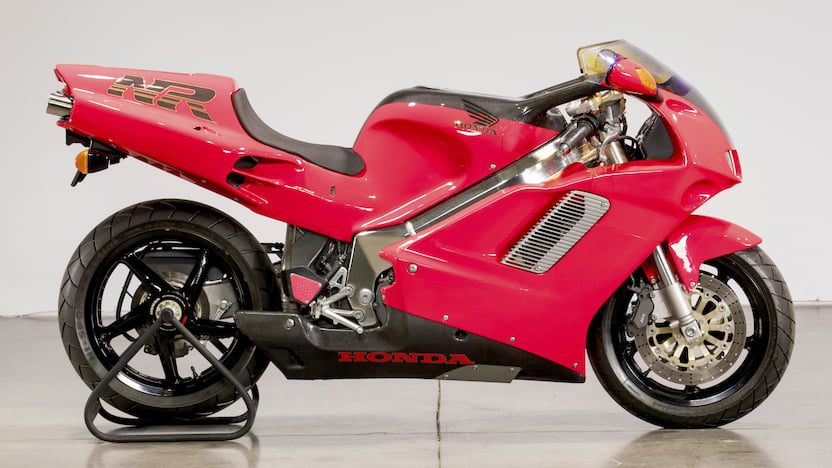 Photo Credit: Mecum Auctions
Here we have another pioneering Honda. The NR750 is proof that Honda is committed to innovation. This model was one of a limited run of 300 units that were the most exotic and most expensive motorcycles of their day. Built to compete with the dominant two-stroke racers of the time, Honda developed this unusual motorcycle to circumvent engineering rules. With only four-cylinders to play with, Honda developed this highly unorthodox 90-degree V4 engine with oval pistons and merged cylinders. In short, it's like a V8 but in V4 form.
Despite being an engineering masterpiece, and being able to produce 130 horsepower at an unbelievable 20,000 rpm, it wasn't meant to be. At the same time, Honda also produced a more competitive (and much simpler) two-stroke model, the NS500, which was better suited for Grand Prix trophy chasing. The NR750 was abandoned, and that's what has made them incredibly rare and expensive today.
The last one to sell at auction went for an incredible $181,500. It's a lot of money, but this is a seriously rare and exotic motorcycle
1959 Harley Davidson FLH "Panhead": $358,000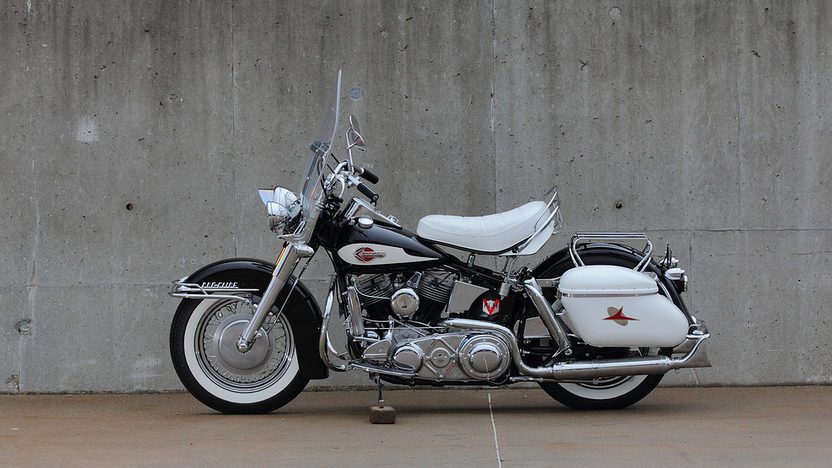 Photo Credit: Mecum Auctions
How about another Harley-Davidson? This one is a 1959 Harley-Davidson FLH "Panhead" and that's enough to make it worth some money. These older Harleys always command a high value, but this one was owned by Jerry Lee Lewis, which makes it worth a little bit more than the others. Music fans might recall that Harley gifted a pair of FLH Panheads to Jerry Lee Lewis and Elvis Presley, making for a clever marketing stunt back in the day. And it worked.
In fact, this model only ever had one owner, and that was Lewis. He put it up for auction in 2015 to give a new owner the chance of riding this amazing, and pristine, machine. Here's what the rock 'n' roll icon had to say about the bike:
"There was a time I wouldn't take a zillion dollars for it, but now it's just sitting there. You can crank that motorcycle up and she purrs like a kitten – but you have to kickstart it you know. I could probably sit on it alright today, but I wouldn't take a chance. I'm 79 years old. This bike is like a child to me, but I've decided it's time to let it go."
It sold at the Mecum auctions for an impressive $358,000.
1937 Crocker "Small Tank": $715,000
Photo Credit: Mecum Auctions
Now that we've seen some oddities, now let's look at the top 5 most expensive motorcycles that have ever gone under the hammer. Leading the way in fifth place, we have a 1937 Crocker "Small Tank". This early Crocker V-twin was designed by Al Crocker in collaboration with Paul Bigsby, of Bigsby guitar vibrato tailpiece fame. Debuting in 1936, this powerful motorcycle pre-dates the HD EL Knucklehead, but only by a few months. Armed with 60 horsepower, this Crocker could hit a top speed of 110 mph, which is serious performance for the era.
This particular model went under the hammer at the Mecum Monterey auctions in 2019. It was previously owned by a number of well-known collectors, and it was lovingly restored in 2013. The auctioneers gave it an estimate of between $600,000 and $700,000, and when the hammer eventually came down, it sold for a stunning $715,000.
1907 Harley-Davidson Strap Tank: $715,000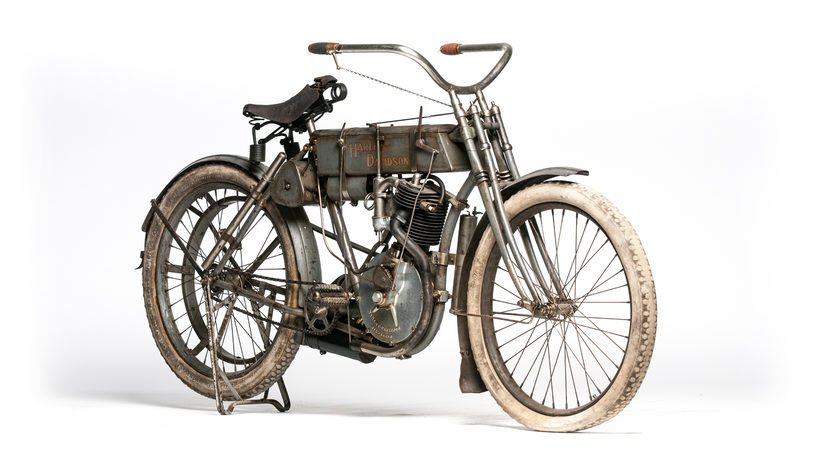 Photo Credit: Mecum Auctions
No list of insanely priced motorcycles would be complete without a few iconic Harley-Davidsons included. Now, we've had a few already, some iconic, and some less-so. This one is definitely in the less-so pile. Why? Because HD and V-twin engines go hand in hand. This one doesn't follow that trend. In fact, it predates it.
This was the 94th Harley-Davidson motorcycle to ever get built, and it hit the auction house in from-the-factory condition. Not bad considering it was built in 1907. Harley's Strap Tanks are incredibly rare and even rarer in condition like this. That's why it was one of the star attractions of the Mecum Las Vegas auctions in 2015.
Despite all the hype, it didn't manage to break its highest estimate. The auction house gave it a high-estimate of between $800,000 and $1,000,000. Unfortunately, it didn't manage to reach that threshold. Still, it sold and is one of the most expensive motorcycles ever sold at auction.
1936 Crocker "Small Tank": $825,000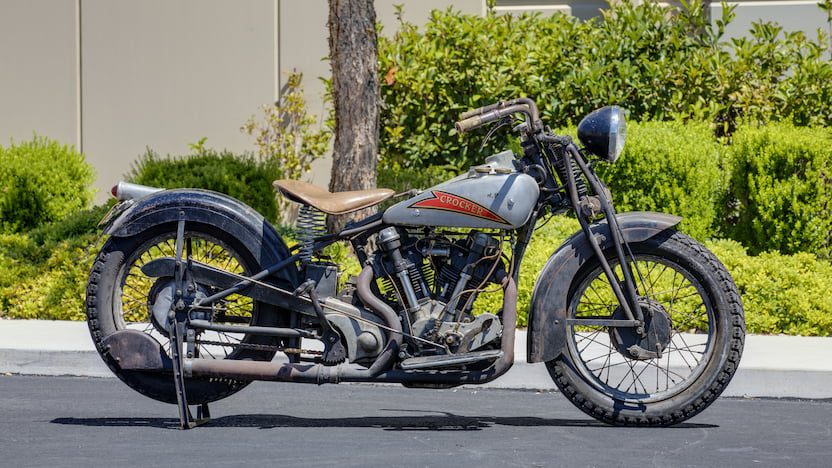 Photo Credit: Mecum Auctions
The next most-expensive motorcycle that sold for an insane price is another Crocker! In fact, it's pretty much the exact same model as the one listed a few places above, but a year older. And what a difference in price that year seems to have made.  Well, there's a little more to it than that. Naturally, as one of the first Crockers ever made, this Harley rival also has a few features that make it appealing to collectors.
The serial number, for example, is 36-61-12. That translates as "1936" for the year of production, "61" for the displacement of the engine in cubic inches (61 CI), and "12" which signifies that it was the twelfth model built that year. As it's stamped up as a number "12" this means that it was one of the original 14 hand-built Crockers that Crocker and Bigsby worked on. That's a real piece of American history right there.
When it went under the hammer at the Mecum Las Vegas auction in 2019, it was estimated to sell for between $700,000 and $800,000. It defied all expectations by breaking the estimated ceiling, selling for $825,000.
1915 Cyclone Board Track Racer: $852,000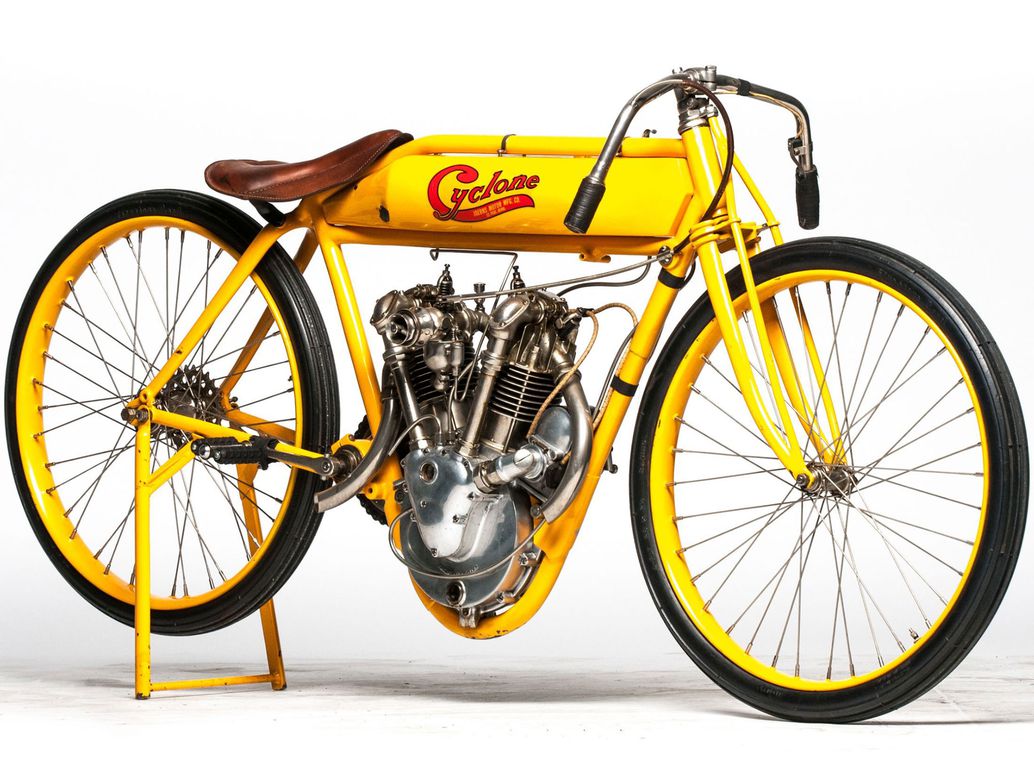 Photo Credit: Mecum Auctions
This Cyclone is a top-list mainstay for a variety of reasons. Firstly, it has long been celebrated for its exceptionally high level of engineering. Equipped with a 61 cubic inch single overhead-camshaft engine with an almost hemispherical combustion chamber and all manner of advanced components. The result was a sophisticated racing machine that could produce around 45 horsepower. That's insane, especially when you consider that the bike has no brakes. In its day, it was the fastest thing around.
That should be enough to help warrant the high price tag. But there's more. This Cyclone Board Track Racer was owned by none other than Hollywood legend and iconic motorcyclist Steve McQueen. As a celebrated racing machine, and owned by one of America's most well-known figures, it shouldn't come as a surprise to learn that this Cyclone sold for an astronomical price.
Estimates at the Mecum EJ Cole Collection in 2015 valued it between $650,000 and $750,000. The final selling price was a ridiculous $852,000.
1951 Vincent Black Lightning: $929,000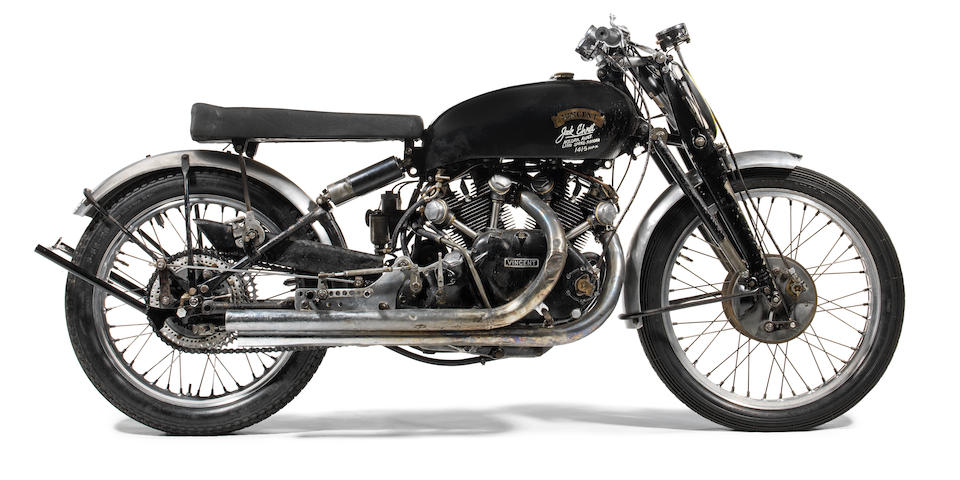 Photo Credit: Bonhams
And now for the number one motorcycle that sold for a seriously insane price at auction: the 1951 Vincent Black Lightning. Vincent motorcycles of all types are worth mega-money, from the Black Shadow to the Red Comet. They're the object of any motorcycle collector's desire. 2018 was a great year for such collectors, as four of them went on sale. Of the four, two sold at auction for roughly $350,000 apiece. A third was sold on Craigslist for a laughably low $20,000. The last one, however, sold for almost a million dollars.
This particular Vincent Black Lightning went under the hammer at the 2018 Bonhams Las Vegas auction, hosted at the Rio All-Suite Hotel and Casino, and sold for an insane and record-breaking $929,000. But what made it sell for higher than the other Black Lightnings? Firstly, Black Lightnings are very rare and only 31 were made in a short period between 1948 and 1952. Getting one in such excellent condition, with original paint, helps drive the cost. Secondly, this machine is a record-breaker. Jack Ehret rode it into the record books setting the Australian speed record back in 1953, clocking a speed of 141.5 mph.
Give the excellent condition of the bike and the impressive racing history, it's only fair that it sold for the insane price that it did.
But what of the others? Other motorcycles have been claimed to sell for higher prices. The fabled Captain America, and other private sales. However, without official verification (and proof that a deal didn't fall through, which often happens at auctions), they don't make it on this list. Yet.