Check Out These Bargain Bluetooth Intercom Systems for Your Motorcycle Helmet
For a very long time, motorcycle intercom systems have been heavy. complicated and downright inconvenient. As a result, not many bike lovers looked at using it for their journeys.
When the Bluetooth intercom systems came into the picture, they did have a few drawbacks, but with the development of technology they have evolved over the years.
Today, Bluetooth intercom systems are robust, consume less energy and are amazingly affordable.
Lexin LX-B2 Motofon BT Interphone Bluetooth Motorcycle Helmet Intercom Headset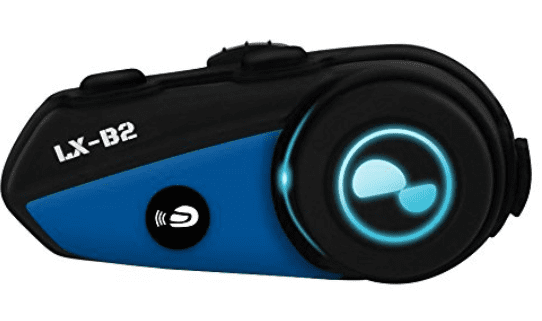 All the features that you are looking for – easy installation, good sound quality, cutting out background noise – can be found on this well-made Bluetooth intercom system that will only further enhance the fun that you have on the journey. It is packed with features, is impressively priced and is one of the most popular intercoms in the market.
Features
It provides easy access to Siri and S Voice for Apple and Samsung phones respectively, so that you can call whom you want, listen to music and get your GPS directions as well.
The lithium ion batteries give you 8 hours of talk time and 120 hours on standby.
It is waterproof, so it can survive all weather conditions.
Pros
The wearer gets easy communication that is hands-free while driving.
Functions well on high speed, up to 120 kph.
Compatible with most of the Bluetooth headsets.
Can fit most of the helmets, whether they are full face, open faced or convertible.
Cons
There have been some complaints about problems with the clamp.
TCOM-SC Motorcycle Helmet Bluetooth Headset Intercom from FreedConn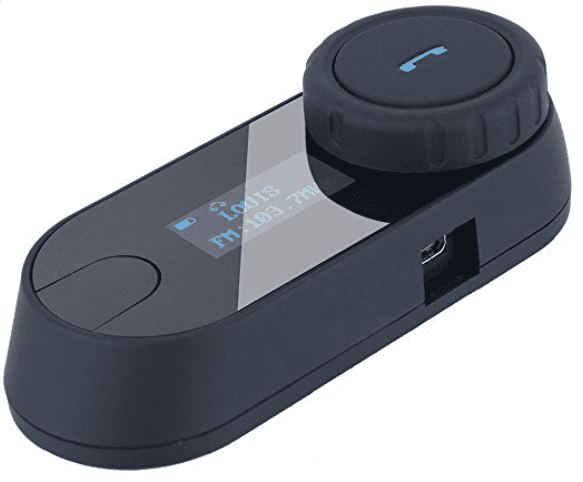 FreedConn is one of the industry pioneers when it comes to providing easy, clear and wireless communication to motorbike riders and this is one of the best products from the maker. Convenient, secure and fun to use, get this and your journeys on the bike will change for the better.
Features
The LCD screen makes it easier for the rider to get all the information that he or she is looking out for.
The Hi-Fi speakers along with Bluetooth A2DP gives you loud and clear music.
Making calls, listening to music and getting GPS directions is now a cakewalk – thanks to this Bluetooth intercom.
It can operate at a high speed of 120 km/h and a maximum distance of 800 meters. You get pairing with 3 riders and intercom facilities with 2 users simultaneously.
Pros
Easy communication with others, even while riding.
The FM radio feature allows you to listen to your favorite music and get updates on traffic and other news as you ride.
Cons
The speaker port and charge port is the same, so it cannot be used while charging.
LEXIN LX-A4 BT Interphone Bluetooth Motorbike Motorcycle Helmet Communication Intercom Headset System with Remote Control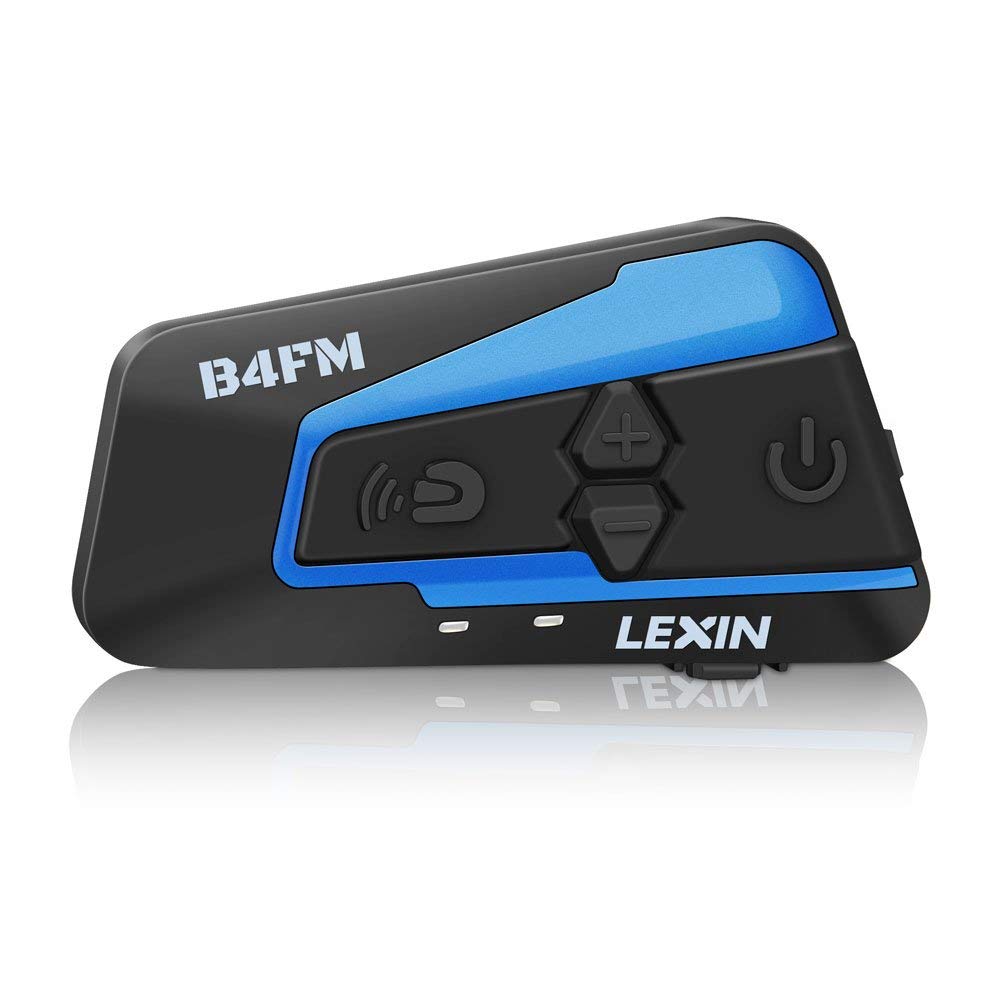 The LX-R4 is as good as one can possibly imagine. What makes it even better than the others in the market is the mounted remote control that makes operation much easier than it already is.
Features
The remote makes it possible to use all the functions without using your hands, making it an extremely safe and user-friendly product.
With a unit-to-unit range of 1200 meters, it gives you one of the longest intercom ranges.
Gives you 8 hours of talk time and can be used all day when the journey is long and the users are less in number.
Users can listen to music, get help with navigation, and make and receive calls.
Pros
4 units can be connected for communication.
Cons
Conditions and visibility may affect its performance.
LEXIN Bluetooth Motorcycle Helmet Headset Kit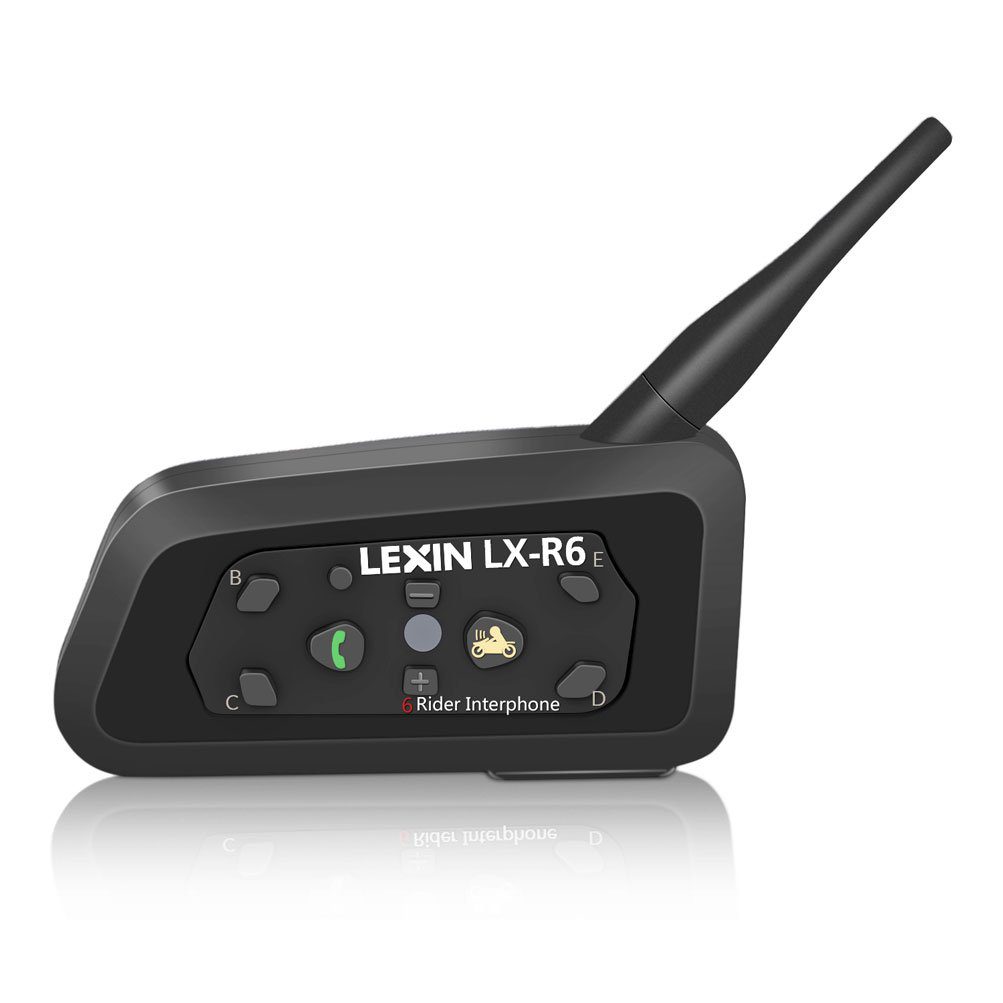 Lexin is a name to be reckoned with in the world of bluetooth intercom headsets and with this product, users get innumerable features like GPS, intercom facilities and so much more to make the rider fall in love with riding his bike – all over again! Whether you are looking for clearer voice or better quality sound for your music, this one has everything you are looking for and much more!
Features
High performance speakers give you a loud voice, unlike anything you have heard before.
Gives you a duplex rider-to-rider communication over a range of half-a-mile.
Features like making and receiving calls, navigation help, and music are available – thanks to the v2.1 connectivity.
Pros
Can be mounted easily on most of the helmets.
The set is good even for larger groups, supporting up to 6 users.
Cons
Yideng's Bluetooth Motorcycle Helmet Headset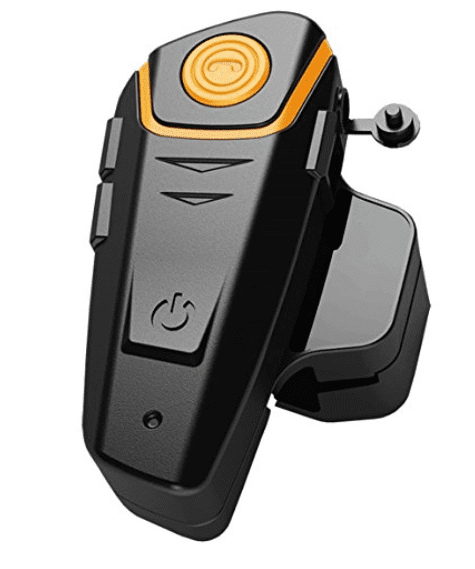 This waterproof motorcycle helmet intercom headset is meant for those who don't want to compromise on the comfort of the journey as well as the ease. With clear and reliable communication, this headset makes the trip all the more wonderful.
Features
With the advanced noise control technology, the background noise gets cancelled while making and receiving calls.
Make your ride more fun by listening to the radio, music, and getting directions to your destination.
Can function at a speed of up to 80 mph, and can connect with 2 or 3 riders over a distance of 600-1000 meters.
Make calls and use the intercom facility for up to 8 hours!
Pros
It comes with a warranty period of 1 year.
Can easily be installed and is waterproof as well.
Cons
LX-T2 BT Interphone Motorcycle Helmet Communication Bluetooth Intercom from Lexin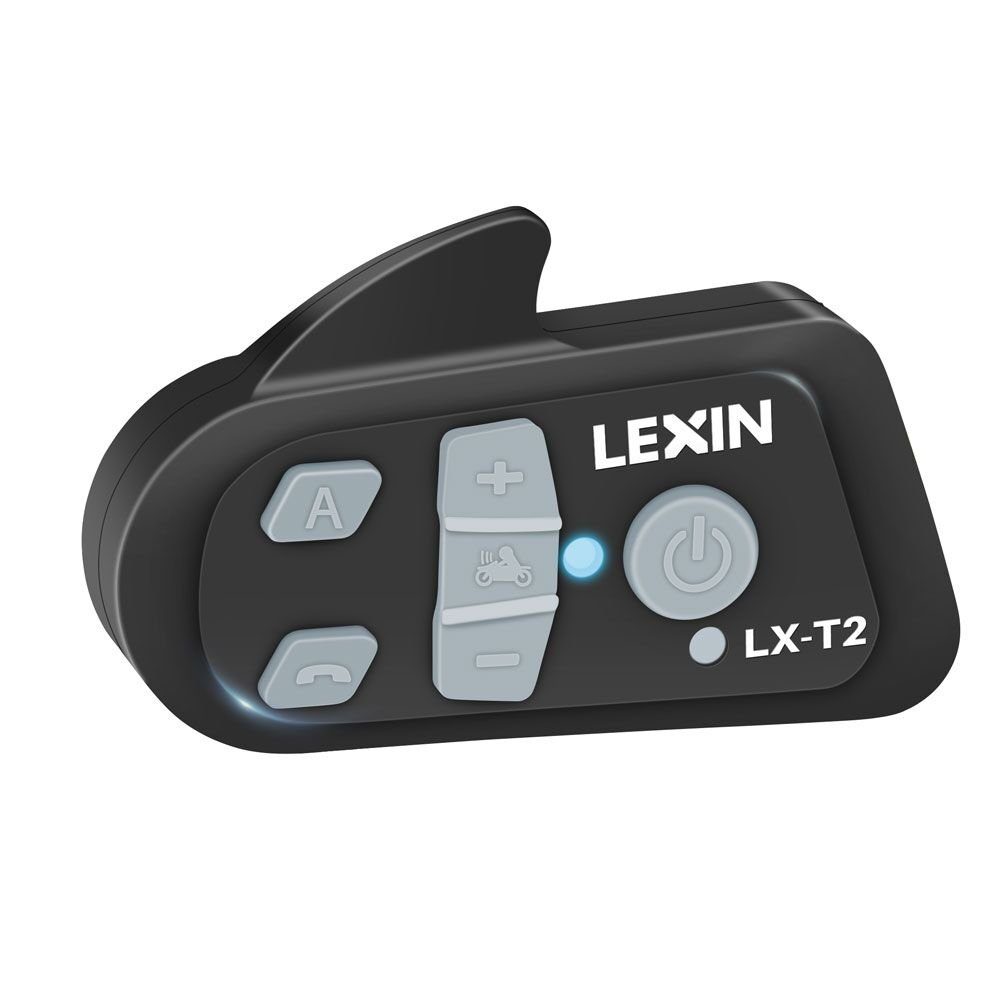 If nothing less than the best will do it for you, then you must give the LX-T2 BT a try, as it will give you everything that you deserve.
Features
The advanced noise cancellation technology makes it possible to eliminate wind noise while talking, even at a higher speed.
The high performance speakers provide a higher volume than ever before.
Listen to music, get step-by-step navigation directions, and answer and make calls through the hands-free profile, the advanced audio distribution profile, and the headset profile.
Provides user-to-user communication over a half-mile distance.
Pros
Easy to mount on most of the helmets – both open face as well as full face.
It is water-resistant so can be used in any kind of weather.
The rechargeable lithium ion/polymer batteries provide up to 8 hours of talk time.
Cons
We tried, but couldn't find any.
FDCVB Full Duplex 500M BT Interphone Motorcycle Helmets Bluetooth Intercom from FreedConn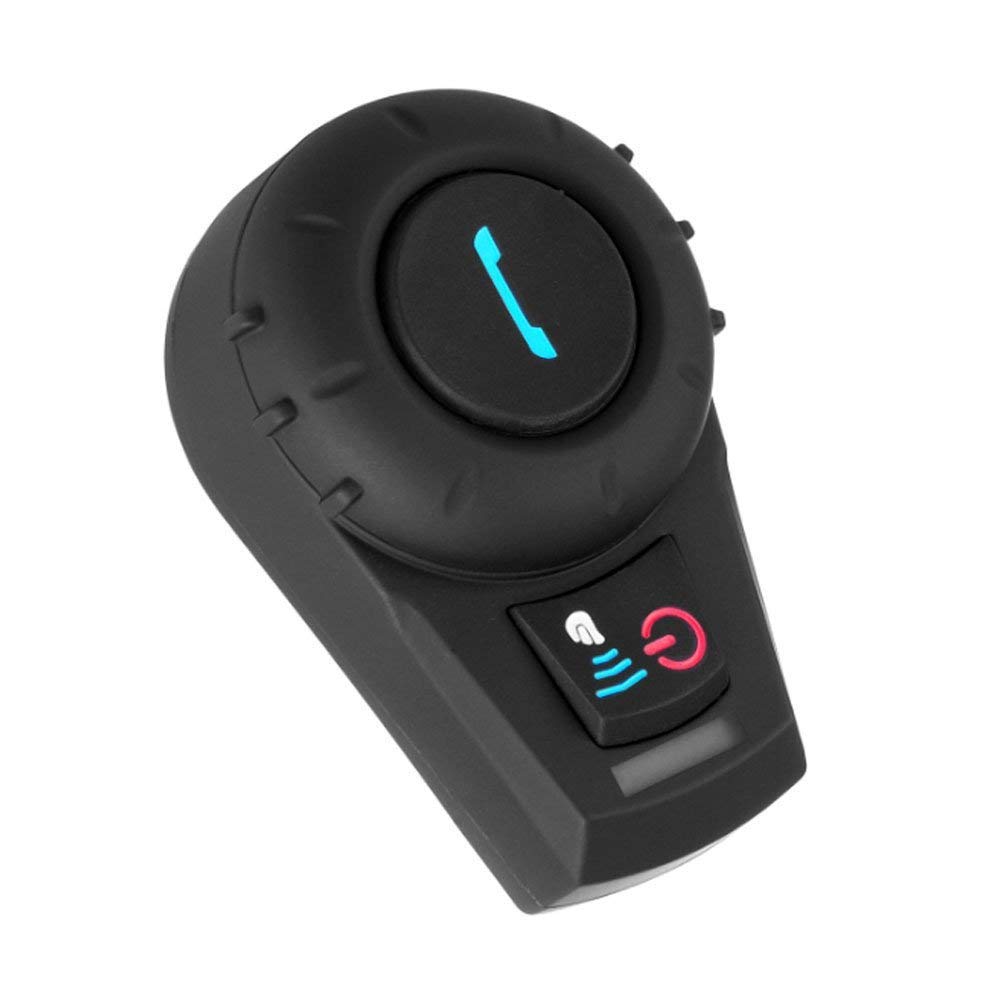 This one is pretty amazing. Read on to find out why we love this one so much.
Features
With the audio multitasking technology you can answer a call or use an intercom while listening to music or using GPS.
The device can be used hands-free, making it extremely safe on the roads.
The radio function helps you listen to your songs and stay updated when it comes to traffic and other news.
The Hi-Fi speakers and DPS echo cancellation and noise suppression technology gives you crystal clear sound.
Pros
Very easy to install and operate.
Weather resistant means it will work in all kinds of weather conditions.
Functions smoothly even at high speed up to 120 km/h, can be used over a 500 meter distance, and can be paired with 3 riders, and used by 2 of them simultaneously.
Cons
Motorcycle Helmet Bluetooth Headset Wireless Intercom Headphones from Ohmotor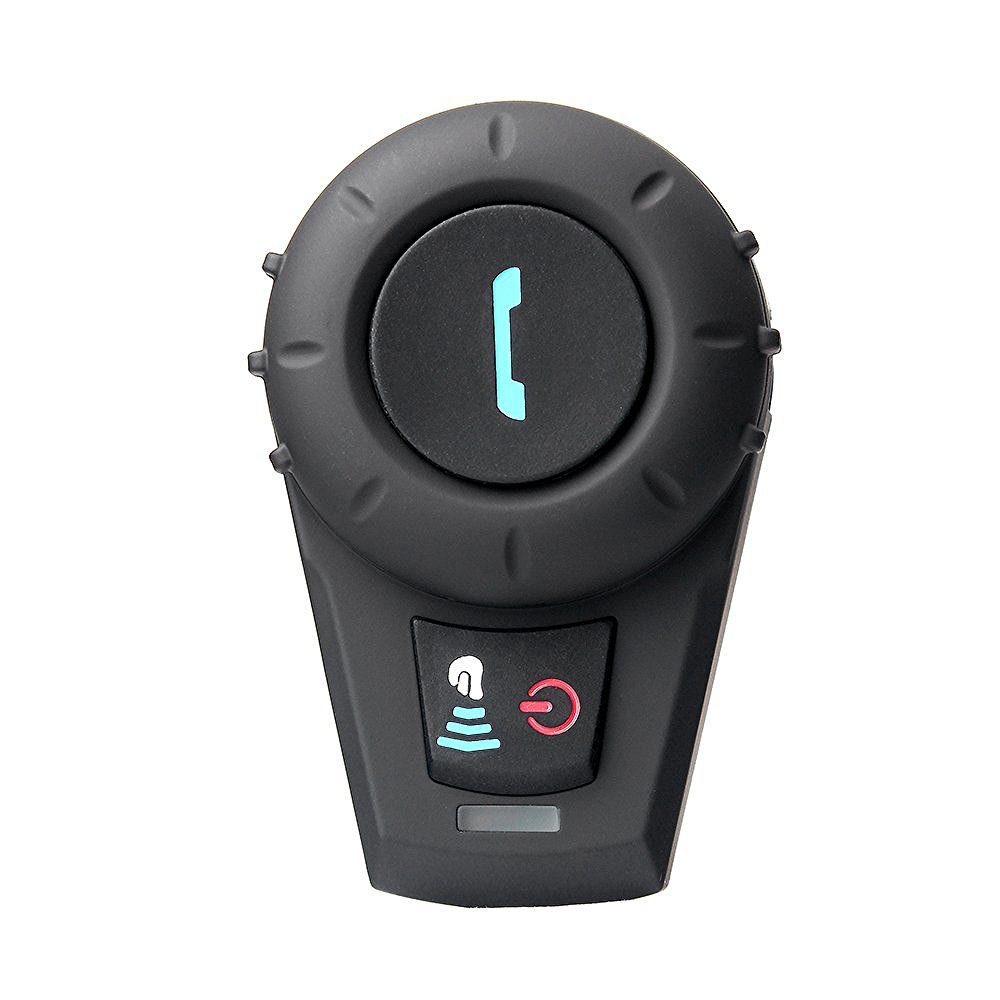 Good to look at, light on the pocket and extremely functional, this bluetooth intercom headset is one of the best ones available in the market. Don't believe us? Read on.
Features
Can be paired with 3 riders, and out of that 2 can use it simultaneously.
Audio multi-tasking technology means you can answer a call while enjoying your music.
The Hi-Fi speakers with the Bluetooth A2DP connectivity means crystal clear sound.
Pros
The hands-free feature means that it is safe for the rider while riding the motorbike.
Provides efficient and convenient communication.
Cons