Tirox Motorcycle Chain Cleaner
wBW World Exclusive First Product Report!
by "Mad Dog" Earle for webBikeWorld.com
wBW Reviews Home | Owner Comments (Below)
Summary: Interesting combination of kerosene based chain cleaner and patented brush makes the job about as easy as it gets.
---
See Also: Tirox Speed Wax Detailer Review
Scroll back a couple of years and the number of motorcycle chain cleaning products stood at roughly zero.
Motorcyclists were basically on their own; WD-40, kerosene, Motul chain cleaning spray (in Europe) and maybe a Grunge Brush were about the only tools available for the job.
I'd like to think that the webBikeWorld articles that brought this problem to light had something to do with the recent emergence of several new motorcycle chain cleaning products...but more likely a couple of smarter-than-me entrepreneurs and the "free" market are responsible for filling the gap.
So in yet another forehead-slapping "Why didn't I think of that?" moment, we now have the Tirox Chain Cleaner -- a "system" actually, consisting of a kerosene-based spray chain cleaning solution and a unique spiral or screw-shaped nylon brush system that gives 360-degree agitation around the chain for thorough cleaning.
The "360 degree" part is important -- as much as I like the Grunge Brush, it has only 3 sides. It can be flipped over to clean the fourth side of the chain, but the Tirox Chain Cleaner gets all 4 sides at once.
The Tirox Chain Cleaner system is brand-new to the marketplace and distribution is very limited at this point, but the product is available at motorcycle dealers in Canada through the Parts Canada and Drag Specialties (Canada) distribution network.
Hopefully it will be available at U.S. dealers soon, and Tirox will be selling the product(s) directly online via their website (see below) as soon as production gets cranked up.
Most motorcycle manufacturers recommend using kerosene to clean a motorcycle chain; this topic has been covered many times in various webBikeWorld articles (see the right-hand column for links to all of the articles). But not everyone has a can of kerosene in the garage, and the stuff is stinky and messy.
I've always wondered why someone didn't put it in a can and sell it as a chain cleaning solution, and now we have it. I'm sure there are some other secret ingredients in there, but the spray smells just like kerosene and Tirox did a good job at designing the sprayer and the right amount of pressure to get a fine mist to cover the chain without a lot of overspray.
The directions call for spraying the chain with the cleaner and allowing it to soak for a few minutes before using the brush, and this does seem to be the best method.
The Tirox Chain Cleaner system works great with the Chain Drain chain cleaning system recently reviewed on webBikeWorld. I now use a Chain Drain whenever I'm doing any chain maintenance, as it catches all the overspray and drips and prevents the spray from soaking the wheel, tire (dangerous), swingarm and the ground. Put a few sheets of newspaper underneath just in case and you're all set.
The guy in the video that Tirox sent us sprays the cleaner over the chain without anything protecting the wheel -- I guess you can get away with that in a minimalist marketing video, but best not to try that at home. He doesn't wear any gloves when he's handling the stuff either, but we know better than that, right?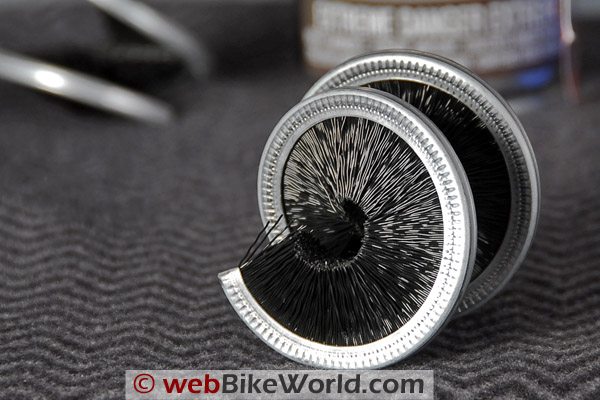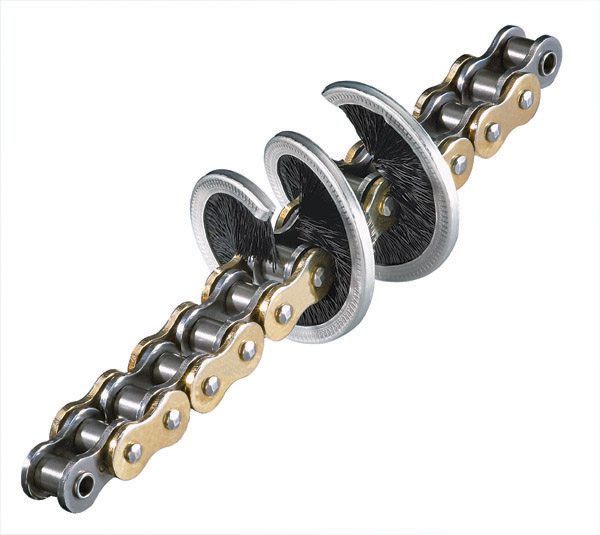 Photo Courtesy Tirox
The "heart" of the Tirox system is the brush, which is stored in the extended cap on the can. The bristles aren't as thick as those used in the Grunge Brush, but they're pretty stiff and slightly more flexible. The bristles are embedded in a metal spiral, twisted into 2.5 turns. The metal is malleable, so it can be bent and twisted into the desired shape.
This flexibility helps in two ways: first, the brush mush be stretched and bent before it can be threaded on to the chain; and once it's on, it can be stretched to fit different sized chains and also to force the bristles closer to the links.
Threading the brush on to the chain is slightly tricky at first; it's best to thread it on at about a 45-degree angle. The trick is to not be afraid of stretching, bending and pulling the metal to get the brush into a configuration that works for threading on to your chain, whether on the upper or lower run.
It took me several tries to figure out the best way to get it on and off, but after you get the hang of it, it's pretty easy. Don't forget the rubber gloves though -- as you probably know, messing around with a motorcycle chain is dirty business.
After the chain has been sprayed with the chain cleaner and left to soak for a few minutes, thread the brush on the chain and slowly rotate the wheel as you're holding the brush in place.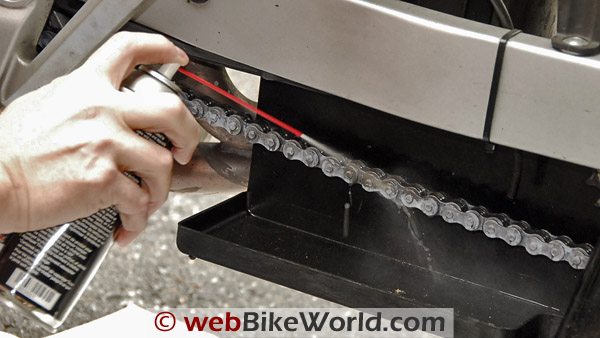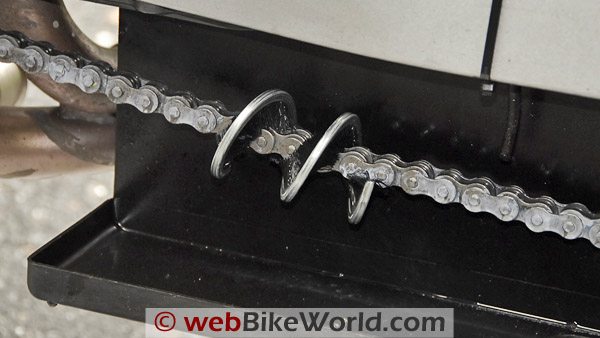 Don't forget there's a lot of leverage when turning the large diameter motorcycle rear wheel, and it's easy to spin it too fast, which causes the chain to go through the bristles too quickly. A steady pace seems to allow the bristles to stay closer to the links and spring back to the next link as the chain moves through, and this provides better results.
The tension of the bristles on the chain can be adjusted somewhat by stretching the brush out on the chain, which brings the bristles closer to the links.
We've gone through so many different chain cleaners and lubes recently that none of our chains are totally loaded with grunge, so I can't tell how the Tirox Chain Cleaner system will work on a really foul-looking chain, but it works great for regular maintenance cleaning.
And that's really the key when you think about it -- regular chain cleaning and lubing (and adjustments) can make a real difference in chain life. The Tirox Chain Cleaner system makes it just that much easier to perform this often-forgotten or ignored chain maintenance, and that's a real benefit.

wBW Video: Tirox Motorcycle Chain Cleaner
Conclusion
The Tirox Chain Cleaner system makes a difficult job easier, so no more excuses about not cleaning your chain! The system is easy enough to use that it can be done before every chain lube or whenever the chain starts looking icky.
The brush itself is also easy to clean, using either the Tirox Chain Cleaner spray or, less expensive, soak it in some kerosene or other degreaser. Just remember to dispose of these chemicals in a responsible manner!
See Also: Tirox Speed Wax Detailer Review
wBW Product Review: Tirox Motorcycle Chain Cleaner

Available From: Tirox (Here is the Tirox list of worldwide retailers).
Suggested Retail Price: $16.95
Colors: N/A
Made in: Cleaner - Canada. Brush - U.S.A.
Review Date: September 2008
More wBW chain maintenance articles and reviews:
Motorcycle Chain Lube Comparison Reviews: 2010 Chain Lube Comparison | 2008 Chain Lube Comparison
2008-2011 Chain Lube Reviews: Liquid Performance Chain Lube | Castrol Chain Wax | Elf Moto Chain Lube | Elf Moto Chain Paste | Gel Lube | Klotz KLR | Klotz Extratac | Maxima Chain Guard | Motorcycle Stuff Chain Lube | Repsol Moto Chain Lube | TS-801 Dry Film Moly | TS-804 Chain and Cable Lube With Moly | Motorex Grease | Maxima Grease | Torque Tight Torque Grease
Motorcycle Chain Lubes: DuPont Chain Saver Motorcycle Chain Lube (includes DuPont Multi-Use Chain Lube Update) | Alisyn Synthetic Chain Lube | Permatex Chain Lube | DuPont Teflon Chain Lube | Motul vs. Motorex vs. Kerosene Chain Cleaners | MFR Motorcycle Chain Lube | PJ1 Blue Label | Motorex Chain Lube 622 Strong | Mr. Moto Chain Lube | Bel-Ray Chain Lube | Mr. Moto Cleargoo Chain Lube
Motorcycle Chain Oilers: NEW! Scottoiler vSystem California Spec Chain Oiler | Scottoiler eSystem Motorcycle Chain Lubrication System | Scottoiler Review and Installation on a BMW F800GS | Cameleon Chain Oiler
Motorcycle Chain Cleaners: DuPont Motorcycle Degreaser | Tirox Chain Cleaner System | Chain Drain Chain Cleaning System | Grunge Brush | Chain Cleaner Redux: Motul vs. Motorex | Motorex Chain Cleaner 611 | Kettenmax Chain Cleaner | Moose Chain Cleaner - Scrubber
Motorcycle Chain Maintenance: How to Clean and Lubricate a Motorcycle Chain | Ducati GT1000 Chain Adjustment | Replacing a Motorcycle Chain Sprockets | Motorcycle Chain Adjustment - Triumph Tiger
More: Motorcycle Oil Page

Note: For informational use only. All material and photographs are Copyright © webWorld International, LLC - 2000-2011. All rights reserved. See the webBikeWorld® Site Info page. NOTE: Product specifications, features and details may change or differ from our descriptions. Always check before purchasing. Read the Terms and Conditions!
Please send comments to
Comments are ordered from most recent to oldest.
Not all comments will be published (
details
). Comments may be edited for clarity prior to publication.
---
From "T.H." (5/10): "Just wanted to let you know based on your site and review of the Tirox chain cleaner that I purchased a can for cleaning a very grungy chain on a 2004 RC51. The chain is original and has 4,770 miles on it.
The previous owner had the chain lubed at the dealer, which uses some sort of nasty stuff that collects grime and doesn't feel very lubricated at all.
Following the directions on the can and the website, I rode the bike about five miles to warm up the chain. Then I sprayed on the Tirox and let it set for about five minutes (didn't want the chain to cool down too much). The brush was threaded on and then I ran the chain about four cycles in one direction and then four cycles in the opposite direction.
All the crud turned to a liquid and I sprayed it off with a lower power pressure washer. Quickly air-dried the chain with low pressure air and rode it again for five miles to heat it up. The whole process was completed with a chain lube using the DuPont Multi-Use Teflon spray also reviewed on your site. I can now see the gold side plates on my chain!

This Tirox stuff works and it's probably the best route for cleaning your chain on a bike! Thanks for the review!"
Editor's Note: Take care when using chain cleaner and cleaning up afterwards with a pressure washer or other cleaner so that the liquid is captured and doesn't get into the environment.
---
From "A.N." (7/09): "Based on your review, I purchased the Tirox Chain Cleaner. This stuff works! My chain had about 700 miles on it since the last lube. I followed the directions printed on the label.
Threading the spiral brush onto the chain was not a problem thanks to your excellent video. Removing it was a little trickier but also not a big problem. The all around nylon bristles really cleaned the chain after just two complete revolutions. The rubber gloves are a great advice as it quite messy. I'm quite happy with the results and the ease of use."