Fieldsheer Aqua Sport Gloves Review
Fieldsheer "Aqua Sport" Waterproof Motorcycle Gloves
by "Burn" for webBikeWorld.com.
Summary
A cheap way to stay dry. Three-season warmth or for temperate winter use.
Well made, comfortable and with a couple of surprising features. At this price, keep a pair in your tank bag just in case.
Part 6 of a 9-part series.
Background
The Fieldsheer Aqua Sport gloves are the ringer in this 9-part series.
There's nothing on the Fieldsheer website to indicate these are winter gloves, but the "Aqua Sport" name is a hint.
It tells us enough to know that these gloves are designed for rainy or wet conditions in cooler temperatures.
So what are they doing in a comparison review of winter motorcycle gloves? Two things: first, the price definitely caught our attention.
At a list of $44.95, the Fieldsheer Aqua Sport gloves are a good deal.
Second, for some motorcyclists, winter doesn't necessarily mean below freezing temperatures. Not everyone needs a pair of Held Freezers or plug-in heat and the Fieldsheer Aqua Sport gloves may fill the bill.
These gloves have a lot in common with the Shift Torrent waterproof gloves we reviewed last summer, but the Fieldsheer Aqua Sports have a more conventional gauntlet that may be more versatile. They also have a couple of surprises that add up to a lot of value for 40-odd bucks.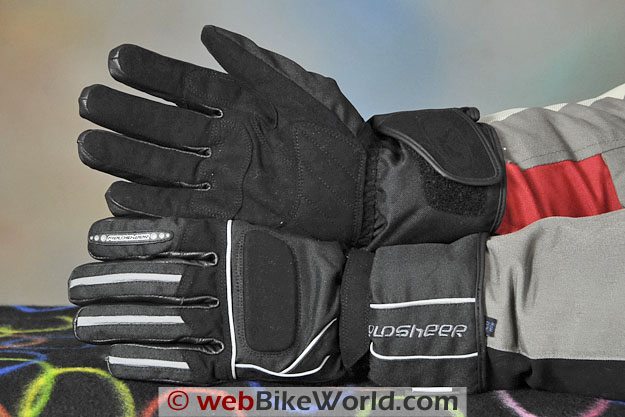 Fieldsheer Aqua Sport Features and Technology
Based on my experience wearing the Aqua Sport gloves over the past few months, my feeling is they're designed for riding in temperatures down to around 7 C (45 F), but each rider's cold tolerance levels are different.
The gloves are definitely waterproof, because this pair passed the "bucket test" without a hitch, which was surprising to me anyway. I'm usually rather skeptical of gloves of this type so I didn't think they'd meet Fieldsheer's waterproof claims, but they certainly did.
The gloves have a mid-weight layer of 3M Thinsulate "Supreme" for insulation, which does give the Aqua Sports slightly more bulk than your average street/race glove, but not by much. And they're certainly not as bulky as the Held Freezer gloves or others in this comparison.
The less bulky lining means that the Aqua Sports provide a better grip feel than just about any other glove in this comparison, other than perhaps the electrically heated Firstgear Carbon gloves (I'm getting to those, I promise!).
The Aqua Sport gloves also have a waterproof membrane, called "Rainguard" and designed by Fieldsheer, according to the company's information.
Buried on Fieldsheer's website is a page with technical information on some of their technologies, which is pretty interesting. I didn't realize Fieldsheer had developed some of this technology, but it's not clear if they did it themselves or partnered with others. No matter...
Fieldsheer says that the Rainguard membrane is an "exclusive product of Fieldsheer Inc." with the standard claims for waterproof membranes; i.e., waterproof, breathable, allows perspiration to escape, etc.
"The way Rainguard works is quite simple", according to Fieldsheer. "The pores are 650 times larger than water vapor, so evaporated water can easily escape. On the other hand, the pores are 15,000 times smaller than a small drop of water, so rain and snow canít possibly penetrate."
Fieldsheer also states that Rainguard "has been designed and tested to be: 100% waterproof, breathable, resistant to cold, flexible, dexterous and pleasing to the touch".
As I mentioned, the membrane does keep out the water and it also seems to breathe rather well. It also is windproof, but when the temps start to drop, even a windproof lining can't keep the cold from penetrating the insulation in the Aqua Sport gloves.
The same thing happens with all the non-electrically-heated gloves in this comparison, but at different temperatures and wind speeds.
The Aqua Sport gloves also incorporate another Fieldsheer textile called "Carbolex" in 500 Denier weight. "Carbolex" is not to be confused with "Carboflex", which is another type of fabric developed by Fieldsheer.
The gloves also use Clarino leather on the palms, a suede-like material that provides a decent amount of grip and is comfortable.
But here's the real surprise and probably the most unique feature of the Fieldsheer Aqua Sport gloves: they have an abundance of Fieldsheer's "Phoslite" retro-reflective piping on the outside of the gloves.
I didn't even realize the Aqua Sports had this feature when they were ordered, but these babies really light up the night, as you can see from the photo below.
Most of the gloves in this comparison have bits and pieces of reflective material here and there, but nothing like the Aqua Sports. Pretty impressive, eh?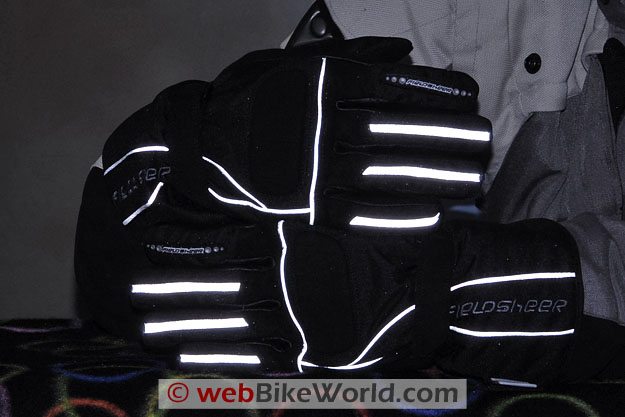 Phoslite retro-reflective piping on the Fieldsheer Aqua Sport gloves.
BUY YOUR
▪
MOTORCYCLE GLOVES
Macna, Klim, Gerbing and More!
With This Link and Support
w
BW
!
Fieldsheer Aqua Sport Glove Fit, Comfort and Warmth
This pair in size large fits slightly tight, and I probably could have used a size XL instead. Fieldsheer's size chart says the size large will fit a men's palm with a 10" circumference, but my right palm measures 9.75", so I'd say the gloves run about 1/2 size small, give or take.
It's important to make sure that winter or waterproof gloves fit correctly because, as many webBikeWorld visitors have told us, if the hands gets wet or sweaty, the glove liner can turn inside-out when you pull your hand out of the gloves after a ride. So be warned and be careful, because if that happens, it's very difficult to get the liners stuffed back into the fingers correctly.
Otherwise, the finger length on the Aqua Sport gloves seems proportional to the size, with neither the thumbs nor fingers feeling too long or too short. So other than the slightly smaller than expected overall size, the gloves fit comfortably with no other issues.
The circumference of the wrist also seems proportionally smaller on these size large Aqua Sports. No one would ever accuse me of having beefy hands, but it takes a bit of a push to work my hand into the gloves, even with the wrist closure wide open.
All this is not intended to sound negative; it's just an observation. I'm still wearing these size large Aqua Sports, just that now that I know how they fit, I think I'd probably have been better off with one size larger. Now you know too...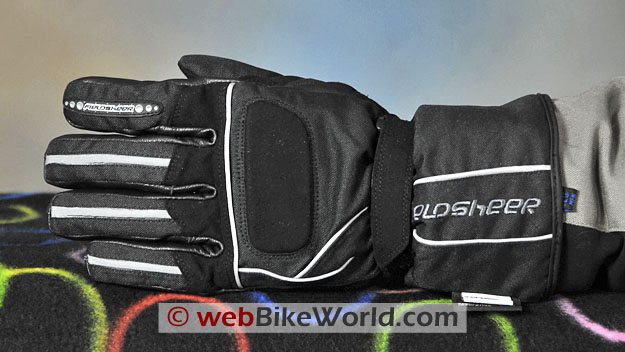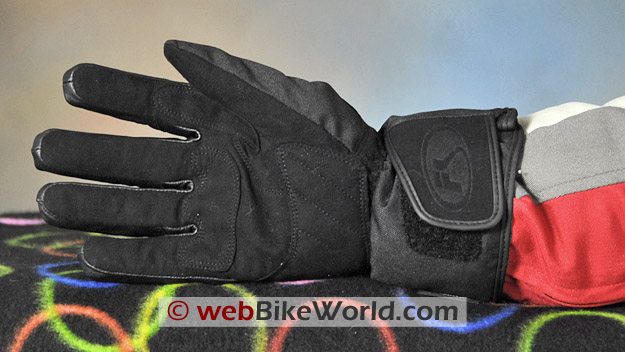 BUY YOUR




▪

MOTORCYCLE GLOVES

With This Link to Amazon.com (

w

BW

Amazon Affiliate)

And Help Support

web

BikeWorld

!
Finger, Thumb and Overall Construction
The Aqua Sport gloves do not incorporate hard armor and almost no extra padding. The softer materials may bias some rider's opinions regarding the overall construction, but the gloves are actually put together quite nicely, especially for the price.
It's been mentioned several times before in various webBikeWorld reviews, but we think that the level of quality in modern motorcycle clothing at just about any price point is really amazing, especially when compared to the quality of the products available when webBikeWorld was started in 1999.
This is where the economists are proved correct, with their theories of competition and the "survival of the fittest" as it applies to motorcycle gear manufacturers. As for these Fieldsheer Aqua Sport gloves, the quality of the stitching around the fingers and pretty much the entire glove is very impressive, regardless of price.
Of course, I can't comment on the ability of the stitching to hold up under the stress of a crash, but it sure looks good -- everything is neatly lined up, no loose threads anywhere to be found, and the blind stitching around the fingers is especially impressive: very neat and tidy.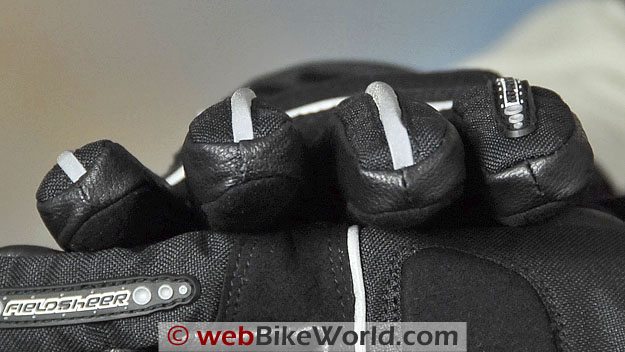 Fingertip construction of the Fieldsheer Aqua Sport gloves.
The box-construction fingers feature an interesting design, with leather used on the sides of the fingers, from outside the forefinger and on the sides of each finger, forming the "wall" of the box, all the way around the outside of the pinky finger.
It's not a single piece of leather obviously, but very nicely constructed and they even avoided placing the seam at the base of the fingers, instead moving it up about 15 mm on one side of each finger so that the base at the "Y" between fingers is seamless.
The top of the fingers and the glove is the Carbolex material, which feels somewhat like a cross between a very light Cordura and nylon.
The palms are completely covered, right up to the fingertips, with the soft suede Clarino leather. So the finger "box" consists of leather on each side forming the "walls"; Clarino suede leather on the bottom, or "floor"; and Carbolex on top, forming the "roof". All of this is blind stitched with an appearance of high-quality.
Both the right and left forefingers have a rubbery-feeling "Fieldsheer" logo sewn on; I'm not sure if this is supposed to be a visor wipe or not (probably not). The other fingers include a slash of the Phoslite reflective material described above.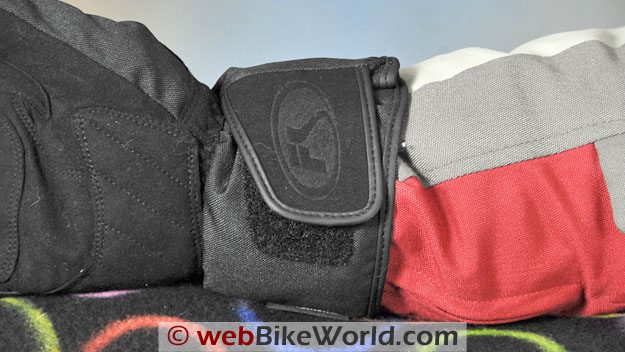 Gauntlet
The Aqua Sport gloves have one of the smaller-diameter gauntlet widths in this group, but because of the flexibility and light weight of the fabric, they actually fit over the heavy cuff of the Rev'it Cayenne jacket, as you can see in the photo above.
The gauntlet could be wider and it could be longer, as always, but these are comfortable and the Aqua Sports work very well if you're an under-the-cuff type, as you can see in the photo below.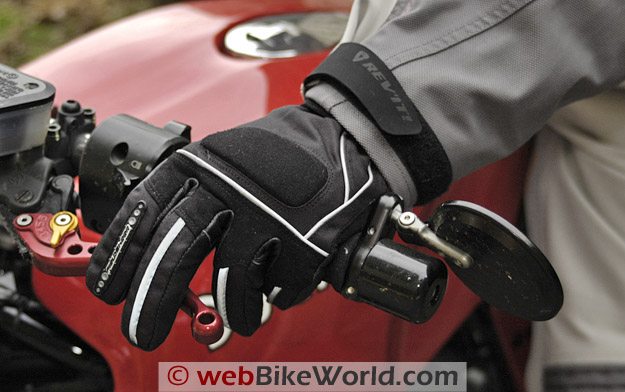 Fieldsheer Aqua Sport gloves with gauntlet worn under jacket sleeve.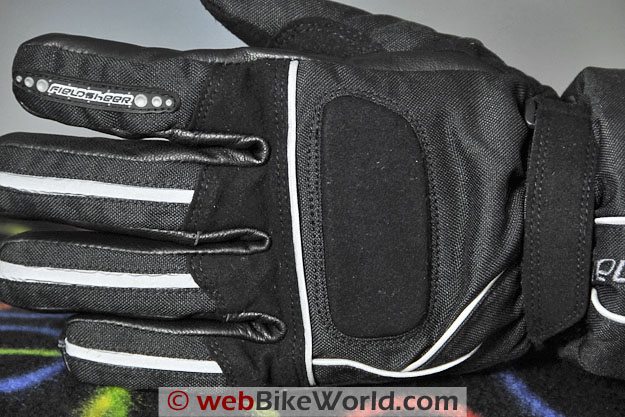 Clarino-covered main knuckle padding.
BUY YOUR




▪

MOTORCYCLE GLOVES

With This Link to Amazon.com (

w

BW

Amazon Affiliate)

And Help Support

web

BikeWorld

!
Security and Protection
The hook-and-loop fastener on the gauntlet, combined with the wrist fastener of the same material, allowed the Fieldsheer Aqua Sport gloves to pass the security test; that is, I can't pull the gloves off my hands after both fasteners are secured.
The ability for gloves to remain on the hands is crucial and important to ensure that the gloves will stay on the rider's hands during a get-off.
The only additional padding on the Aqua Sport gloves is over the back of the hand, where a Clarino suede leather section covers a soft pad. So you'll have to depend on the abrasion resistance of the glove material only for protection.
Water Resistance
As described above, the Fieldsheer Aqua Sport gloves passed the "bucket test". The evaluator wears the gloves and puts his hand in a bucket of water for 5 minutes or longer, and if no moisture leaks in, the gloves pass.
Conclusion
It could easily be argued that the Fieldsheer Aqua Sport gloves don't belong in this comparison of winter motorcycle gloves, but we're glad we found them.
They're waterproof; warm when used with discretion (down to spring/fall temperatures in our geographic area); they're very comfortable (mostly by virtue of the materials, construction and absence of armor); and they're inexpensive.
The Phoslite reflective material is a real plus. These are keepers -- one of the least expensive, fully waterproof gloves we've found. Definitely something you'd want in your tank bag, even in summer. Be careful of pulling the liner inside-out and make sure you size them correctly though.
w
BW
Review: Fieldsheer Aqua Sport Motorcycle Gloves
List Price (2009): $44.95
Made In: Unknown
Colors: Black with Blue, Red or Grey.
Sizes: XS - 3XXL
Review Date: January 2009
Note:
For informational use only. All material and photographs are Copyright © webWorld International, LLC since 2000. All rights reserved. See the webBikeWorld®
Site Info page
. Product specifications, features and details may change or differ from our descriptions. Always check before purchasing. Read the
Terms and Conditions
!
Please send comments to
---
From "J.W." (6/10): "I recently finished a 2-week motorcycle trip to the Pacific Northwest and encountered rain for four days. The Fieldsheer Aquasport gloves soaked through to the point where at the end of the day I could literally wring them out. They are not remotely waterproof.

I suggest that your bucket test does not simulate real world riding conditions. How about substituting a high pressure hose test which might more closely approximate water hitting your gloves at highway speed."
Editor's Reply: Unfortunately, no single test for water resistance is conclusive. Also, production quality, especially with less expensive products, can vary quite a bit. Also, the supplier may have changed since we reviewed the gloves; this happens quite frequently as the companies are always searching for lower-cost manufacturing options.
Since most garments are not 100% waterproof, despite the manufacturers' claimes, we usually suggest carrying a pair of truly waterproof rain gloves, such as the Rain Off Gloves (review), for anything other than light rain.
---
From "S.C." (9/09): "Nice cool weather glove. Not very waterproof. I rode in a heavy rain for about an hour and a half and the gloves where soak through, took 3 days to dry out."
---
From "T.W." (1/09): "I bought a pair of these for commuting here in Albuquerque New Mexico. They work great (for me) down to 35 degrees, no problem. Good feel on the controls, good fit, I'm buying a second pair to have for when these wear out."