Sidi Vertigo Lei Boots
Sidi Vertigo Lei Boots Review
by M'Clark for webBikeWorld.com
More:
▪ wBW Reviews Home
▪ Owner Comments (Below)
▪ wBW Motorcycle Boot Reviews
In This Series:
▪ TCX Sunray Gore Tex Boots
▪ Frey Daytona Lady Star GTX Boots
▪ Sidi Vertigo Lei Race Boots (This Page)
Editor's Note
The Sidi Vertigo Lei are identical to the Sidi Vertigo boots, so guys, don't turn the page!
Summary
Sidi has not forgotten the woman rider!
The Sidi Vertigo Lei boots are not a frou-frou-fashion woman's motorcycle accessory designed by men who think they know what a motorcycle riding woman should look like.
These are the real thing -- just as high-tech, strong and safe as the best Sidi men's motorcycle racing boots, but with just a hint of the woman's touch!
Introduction
When I first heard about the Sidi Vertigo Lei boots, I thought the word "Lei" in the title was a nod to the "softer" side. After all, these are not your average-looking women's motorcycle boots!
So using a cutesy term that refers to the flowery necklace placed around a tourist's neck in Hawaii was OK, if that's what Sidi thought it would take to sell me a pair.
Or maybe the only way anyone might really know these boots were designed for women and not men is if they happened to notice the flowery red embossing on the sides -- which is so subtle that it probably is missed by many.
Maybe Sidi's use of the "Lei" word was in reference to that design?
But as I was doing some research on the specifications of the boots, I discovered that the word "Lei" is also Italian for the word "she", according to Sidi.
Speaking of words, I'll have to take theirs for it, because my knowledge of Italian can be summed up in two phrases: "ciao" and an unprintable term that is a pretty nasty way for basically saying "take a hike"!
One thing is for sure: I will give full props to Sidi for being very serious about the design of the Lei boot.
This is a no-compromise, full race boot (that's also great for the street) designed for women, but using all of Sidi's knowledge and background in motorcycle racing boots for men.
This is much unlike some of the other manufacturers who I won't name, who think that high-heeled boots that came off the feet of Mistress Veronica are what women need or want.
They must be joking -- I've never seen a woman wearing something like that and couldn't imagine wearing a pair on a motorcycle, as either a passenger or a rider!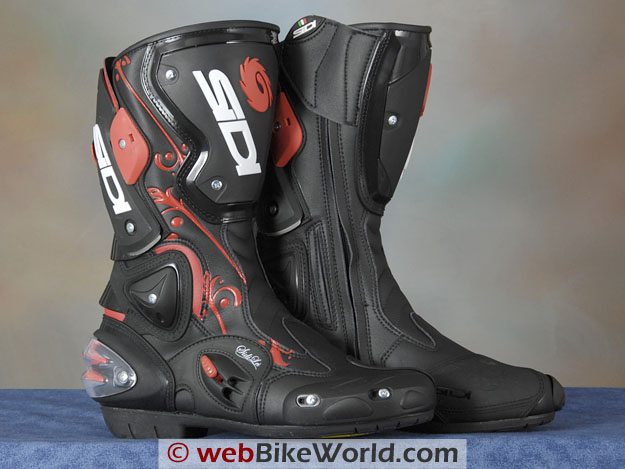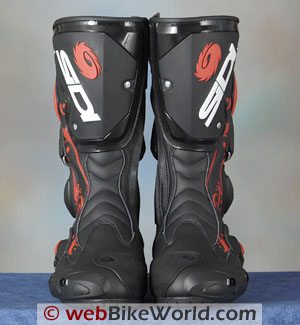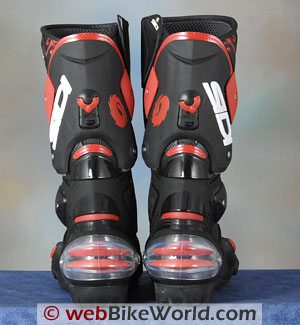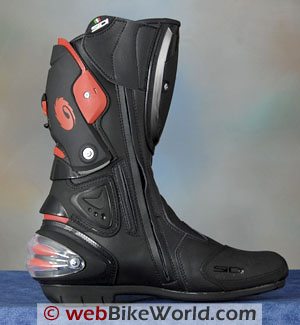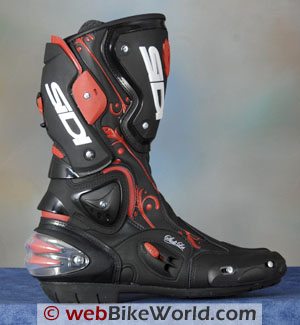 Sidi Vertigo Lei Boots
As far as I can tell, the Vertigo Lei women's boots are nearly/almost/are identical with the very famous and long-lived (and loved) Sidi Vertigo boots for men.
I looked at the Vertigo boots in the local moto shop and compared them to these, the Vertigo Lei boots I was wearing at the time and again, other than the red flowery imprint up the sides, I don't think there's a difference -- that you can see, at least.
Sidi's website says that the Lei boots were built using a woman's foot mold, and I do think that's correct, because these do not feel "sloppy" like when I try to wear unisex or men's sized boots.
They do feel like they have been proportioned for women's feet and these size 8 fit my 7.5 feet with just the right amount of room to spare.
The Sidi Lei boots so seem to come in a limited number of sizes, with only 39 to 42 (Euro) listed on the American distributor's website (Motonation), which correspond to limited U.S. sizes of 7, 8, 8.5 and 9.5.
The no-compromise part means that the Lei boots are definitely built for serious motorcycle riding, but that can certainly include either serious street riding, touring and, of course, track days and even racing.
I'm what you would consider a serious rider and my current ride is a tricked-out Suzuki SV650S and I've recently become an avid track day rider also, so the Sidi Vertigo Lei boots are perfect for me.
I've been waiting for something like this and I'm so glad there here, and they are new for 2009.
But I will also suggest that any woman rider, no matter how casual or serious, definitely needs to think about safety and you won't find a better boot than these for riding protection.
It doesn't make sense to me to go for style rather than substance and besides, men and car drivers will have a great deal more respect for someone dressed the part with these serious boots!
The slight downside of all this seriousness is that the Lei boots are race-hard inside. The lining looks identical to the other Sidi race boots, including the Vertigo and Vertigo Air, that I've either tried on or have seen in the stores.
It's a thinly padded mesh but it's actually pretty comfortable.
The foot bed is also covered in a similar mesh, but keeping with the race orientation of the Sidi Vertigo boots, the soles are thin and there isn't much padding at the bottom.
The foot bed uses the same Sidi hard material used in all their race boots, to help and keep the sole from flexing too much or breaking when riding or when it's needed for protection in a crash.
Another reason for these hard and thin soles has been discussed in other webBikeWorld boot reviews -- the idea is to give the rider a maximum amount of feel at the feet, to tell what the bike is doing.
That's also why race bikes do not have thick rubber foot peg covers -- they're all metal, with nubs for traction but hard as...metal...to make sure that road feel is transferred to the rider.
So these Sidi Vertigo Lei boots, like the other Vertigo boots, are definitely not made for walking! But once they get broken in and once you're on the bike, they feel just right.
These have an area in the front, at the front of the ankle, that is designed to flex while you have your feet on the foot pegs or for the limited walking you might do.
This padded and flexible section works nicely right from the start to make sure the thick leather around the rest of the boots at least feels somewhat reasonably soft.
The thick leather means that the boots will take some time to get that "old boot" feel, but even then, there is enough plastic sliders and other protection on the Lei boots that these will always feel stiff, as they should.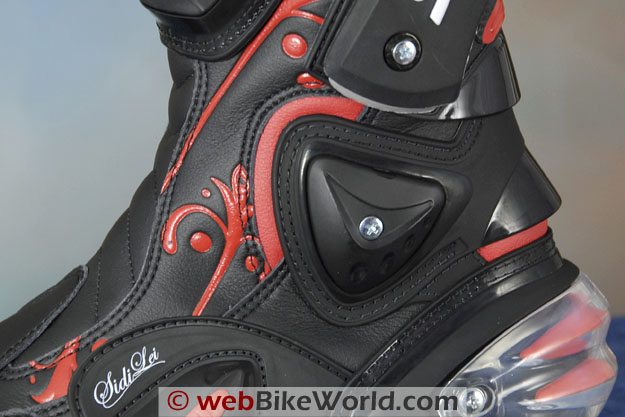 Sidi Vertigo Lei Boots - Replaceable Ankle Protector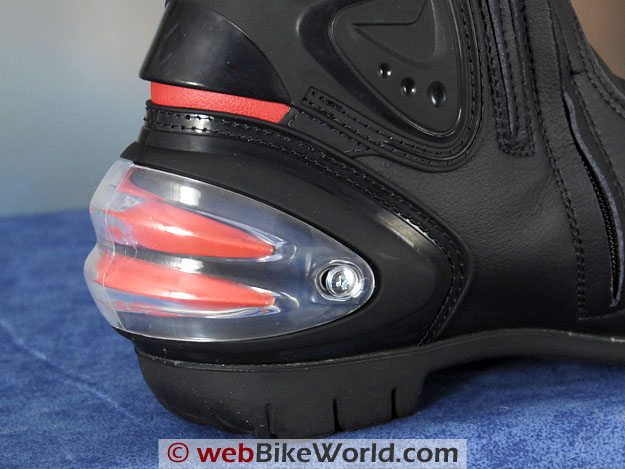 Sidi Vertigo Lei Boots - Replaceable Heel Protector and Shock Absorber
Sidi Vertigo Lei Protective Features
Speaking of protection, the Lei boots have better and more protective features than the much more street oriented Sidi B2 boots reviewed on webBikeWorld not too long ago -- and any of the other boots reviewed that are designed more for street than sport use.
The protection includes replaceable toe sliders (which I have not yet had to do!) and replaceable ankle sliders on the outside.
Also an attached slider or ankle protector on the inside; replaceable heel protector in the rear and the full sized (and replaceable) shin protector in the front.
This is serious protection for sure -- I can think of no other women's motorcycle boot that has as much, so if you need a pair for racing or track days, this is it.
For example, that heel cup protector has a certain amount of flex (Sidi says 3 mm) and is backed by some kind of air cells to absorb the shock if you land on the back of your heels, as you might if you landed flat on your back!
(You are wearing a back protector, right?)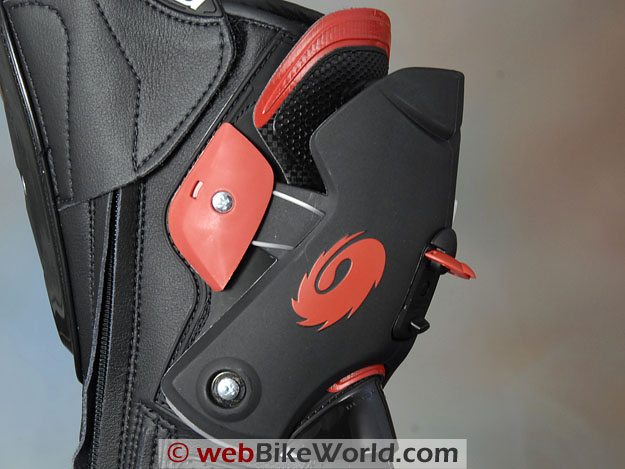 Sidi Vertigo Lei Boots - Techno VR Calf Expansion System
Techno VR Expansion System
Now that might be enough, but the Vertigo Lei boots also have the special Sidi "Techno VR" expansion panel and Achilles tendon protection in the rear.
This is Sidi's invention and the system lets the (also replaceable) rear plastic protector in the back of the calf to be adjusted; Sidi says up to 50 mm and it took me a few tries to get it pulled out that much because the system is a bit stiff at first.
This allows the entire rear plastic protector to move in and out to sort of "custom fit" the boots to a specific calf size, allowing the boot to be tightened at that area to keep the boots on the feet.
It is a little more complicated than a simple slip on boot, and once I set them (all the way in) I didn't have to touch them again.
I'm not sure many women riders have the problem some men do with calves that are too big, but the feature is there anyway and it not only shows Sidi's commitment to bringing high-tech to their women's boots, it is definitely unique and, by the way, the system can be easily released to help put the boot on or take it off.
Since the Vertigo Lei boots were designed specifically for women, the calf is what I think definitely proportioned for a women's leg profile.
That means they are probably slightly thinner in the calf area than other types or brands of boots.
I have what I guess are pretty skinny legs, but the "Techno VR" adjusters on these should help for women with bigger calves.
Rick and I did some measuring and measured the distance at the top of the boots at a minimum of about 115 mm front-to-back with the Techno VR all the way in (looking down into the boots they are sort of oval shaped) and a maximum of 150 mm with it all the way loose.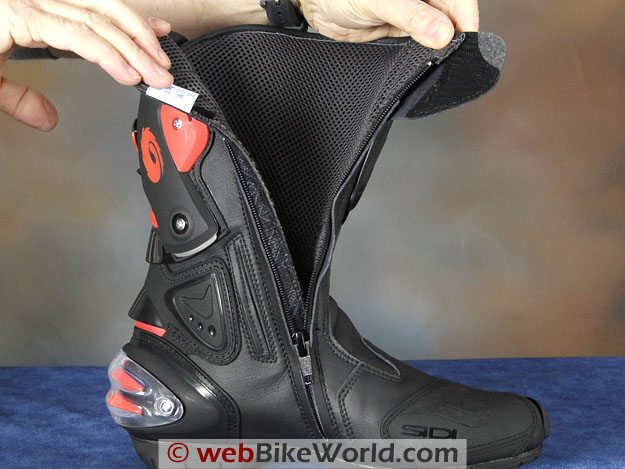 Sidi Vertigo Lei Boots - Lining and Zipper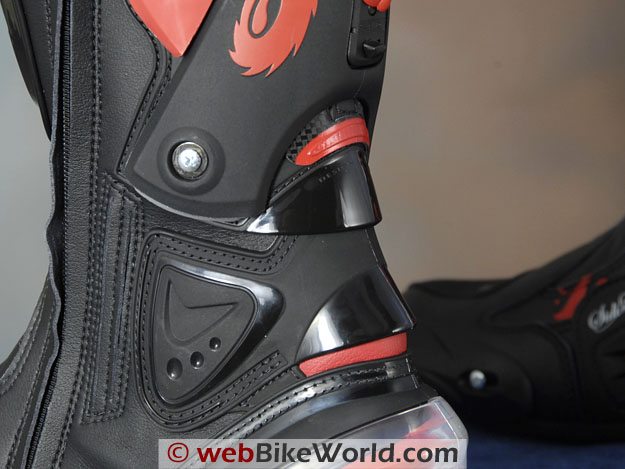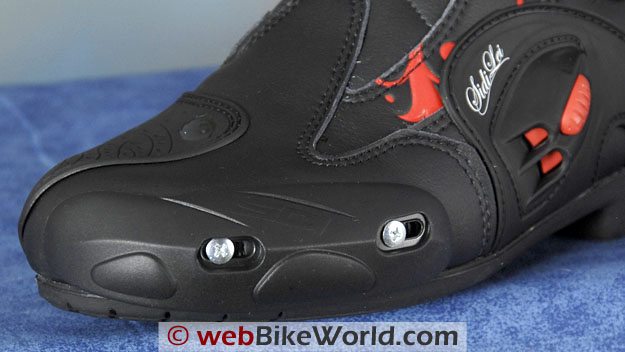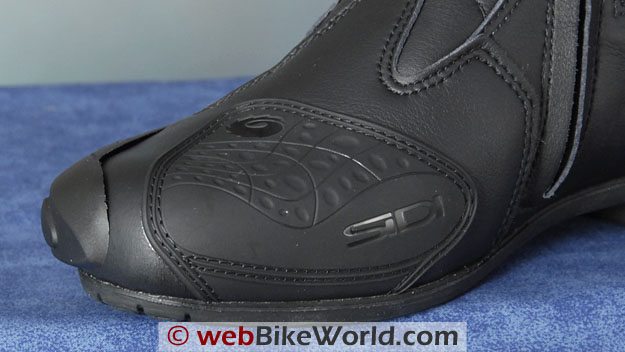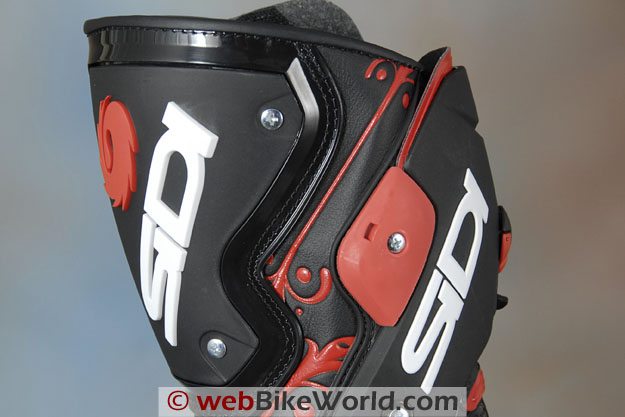 Vegan Boots?
The Sidi Vertigo Lei boots (and I think all the other Vertigo boots) are made from Lorica, a type of synthetic leather substitute that looks, feels and acts so much like leather, you'll never know the difference.
I'm not sure if there is any leather used in the Lei boots -- I don't think so -- thus I can't say they are "Vegan" boots, but they must be close to it. Anyway, Lorica may even be better than leather, which, as I have certainly discovered, can get old, creaky, rotten and dried out.
Sidi says that the Lorica has many advantages, and once I read them, it made me a believer:
"Lorica is a composite micro fiber material created from strands that are so fine, each one is less than one thousandth the thickness of silk. We inject it with special resins, so these fibers act like natural leather skin, but with the advantage of better strength, softer texture, lighter weight and better moisture protection.
Lorica is also highly resistant to abrasion, yet it still breathes with more than three million pores per square centimeter. Easy to maintain, Lorica doesn't stain, can't be scratched and offers reduced weight, more flexibility and a better feel than leather racing boots."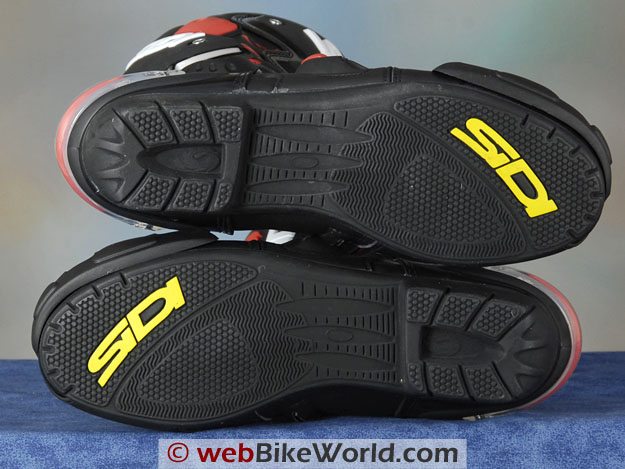 Zippers and Other "Cool" Features
The zippers go all the way down to the sole or foot bed of the Lei boots, which really helps when putting these on.
There are two vertical slits just to the rear of the zipper, and at first I thought they were vents, but they are actually what I think you could call a "relief", which elastic underneath, that allows some give room at the ankle, helping to make the boots more comfortable.
Since this type of full height boot can get pretty hot inside, or has the potential to do so, Sidi gave the Lei boots their very nice "air scoop" ventilation system on the outside, which can be opened or closed to let in fresh air.
These definitely work -- you can put your hand down there and blow into the open vents and feel the air come through.
They are nicely positioned on the outside as air scoops to catch the wind going by and they give a kind of forced air ventilation to the boots that is very welcome.
The boots also have a thick extra shifter protection pad on either side, and looking at this feature is to me what sums up the care that Sidi has taken with these boots.
The shifter pads are double-stitched on to the toe of the boots, but that wasn't enough -- Sidi actually recessed the stitching below the surface, to help protect the stitch material from wearing through.
And the surface of the shifter pads is slightly more slippery than the rest, because you don't want this part to grab too tightly and get caught on the shifter.
Also, the surface of the shifter pads is dimpled and lined with what looks like a computer generated or certainly a scientific pattern that either helps make faster shifts or disperses water! It looks like the surface of a race or rain tire!
Finally, the sole of the Lei boots is slightly "greasy" feeling at first, and I understand this may be due to the mold release that they use when they make the sole.
But once that's worn off, the soles feel like they have more grip, although probably not as much as I'd like still, like the grip that is sometimes found on softer rubbery types of soles.
But the soles should last a long time, and they have plenty of channels and a strong definition before the heel, to allow me to keep my feel firmly planted on the pegs.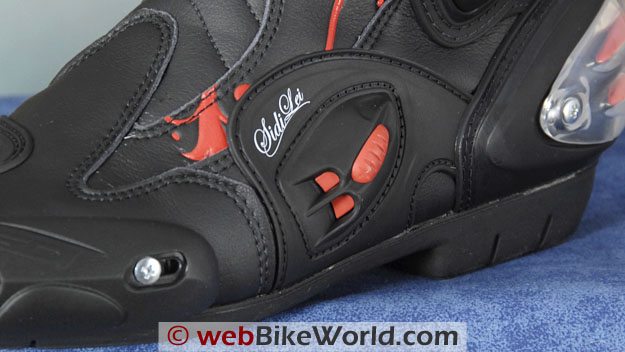 Conclusion
It just doesn't get any better than this, as I guess you can tell from my enthusiasm! The Sidi Vertigo Lei boots are really the only and best solution for serious women motorcycle riders.
I definitely commend Sidi for making these boots and for their serious consideration that women riders want more than those all-style boots that really don't make sense from a functional (or even practical) viewpoint.
This is probably one of the reasons why Sidi really is the number one motorcycle boot manufacturer in the world, along with the superb quality of the Lei boots, I am definitely in heaven!
w

BW

Review: Sidi Vertigo Lei Boots
Manufacturer: Sidi (Italy)
U.S. Distributor: Motonation
List Price (2009): $300.00
Colors: Black
Made In: Italy
Sizes: 36 to 42
Review Date: July 2009
Note:
For informational use only. All material and photographs are Copyright © webWorld International, LLC since 2000. All rights reserved. See the webBikeWorld®
Site Info page
. Product specifications, features and details may change or differ from our descriptions. Always check before purchasing. Read the
Terms and Conditions
!
Please send comments to
---
From Motonation, the Sidi Distributor in the U.S.A. (July 2009): Motonation sent this information regarding the Techno VR Expansion System on the Sidi Vertigo Lei:
"It does help with bigger calves (but) its true purpose is to be micro-adjustable for use with different track suits and pants. Most track suits have a knee and shin guard that goes all the way down to just about top of your ankle, but some do not.
This system gives you the ability to open your boot to accept a tucked in pant leg with a shin guard, or tighten to go under your jeans or riding pants thus serving double duty as a track boot or a street boot."
---
From "G.R." (7/09): "Iím a male rider but I just wanted to say I agree wholeheartedly with MíClark. I own the menís version of the Vertigo and they look exactly the same, except for the floral graphics as she states.
I have always been a huge fan of Sidi and I honestly think they have the best and most thought-out designs for motorcyclists. I also own a pair of Sidi Way Rain boots and they are my favorite street boots ever; very comfortable, waterproof, protective, and not too hot.
I have the Vertigo Air model and can say beyond a shadow of a doubt they are the best-designed and most protective racing-style boot Iíve ever owned. I can only imagine how amazing the top-of-the-line Vortice must be (review).
I canít believe Iíve never purchased a ventilated boot before. If the Lei model comes in an ďAirĒ version, I highly recommend that over the standard model. Once you own a ventilated boot, you will never go back. I wish I had these when I was racing.
Thanks for the great review and great pics! Guys looking at Vertigos should read this review as well because they seem to be the same boot without the few design changes for the female foot."