Givi Luggage - EICMA 2011 Live Report
Givi Luggage for the Kawasaki Z1000
by Rick Korchak for webBikeWorld.com
Reporting From EICMA 2011
---
Background
November 19, 2011 - Here's a quick one, we passed by the Givi Luggage booth with this Kawasaki Z1000SX on display.
The luggage looked very nice and well made and it turns the bike into a respectable sport-tourer.
I picked up a Givi brochure that I thought described this luggage set but the top box on the bike isn't shown on the brochure, and I don't recognize it from the Givi USA or Givi European website.
Can anyone tell me the stock number of the top box? I think it might be the B47 "Blade".
[UPDATE: "M.D." pointed me in the right direction; it's the Givi B47 Blade].
I have always found the Givi website to be difficult to navigate and to find the products. The Kawasaki motorcycle product finder wasn't working today and I got a "Page not found" error when I click on the B47 top box link. It's not always clear which products will fit which bike and I can't locate some products I know should be listed.
Then, once (if) you find the desired luggage, you have to sift through to try and figure out which mounting racks and plates will work. It's enough to give me a headache and, frankly, has discouraged me from actually buying any of their products, even though I admire the quality and styling.
The tank bag shown on the Z1000 is a 2011 model, as I discovered. It's the TPH02 "Tanklock" Tank Bag, a semi-hard thermoformed piece from the Givi "3D" range.
It looks good and this tank bag fits with the Givi "Easylock" and "Tanklock" systems, which I think are the mounting plates that fit on the fuel filler assembly to keep the bag off the paint? I can't find the Tanklock system on the Givi Europe or USA website however... [UPDATE: They are in the "Kit Fissaggio" section; here's how to install a Tanklock].
The TPH01 Easylock saddlebags or panniers are also very nice; they are a semi-hard construction and they fit the styling of the Kawasaki very nicely I think. I don't know which mounts are used for the bike.
So, that's a quick look at a nice luggage system from Givi, perhaps you can figure out what it all is and how to get it ordered online! I'd hate to drop a few hundred on all of this and find out the pieces don't work together. Surely they can do a better job at making sense of it and providing a logical way to get the product information without having to travel to Milan to talk to them at the EICMA show!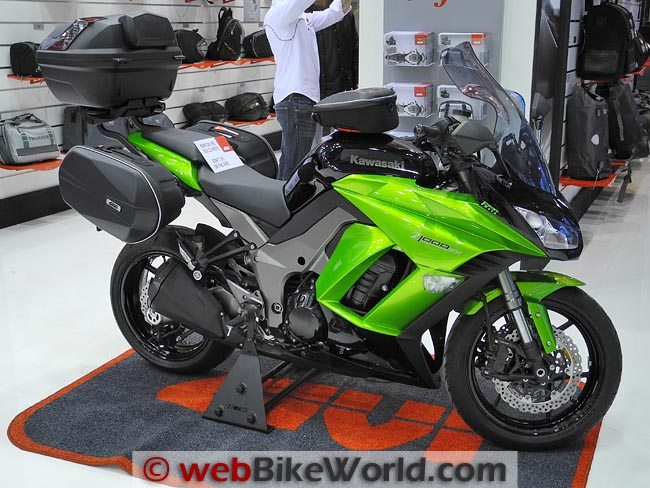 Givi luggage set on a Kawasaki Z1000SX.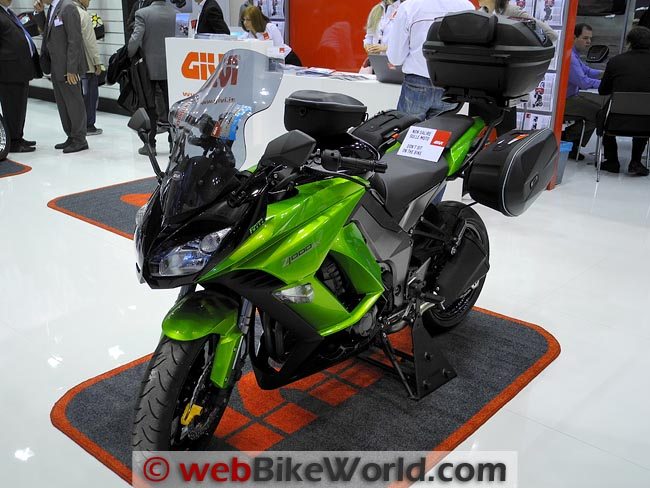 The windscreen is also from Givi; I believe it's the 4100D.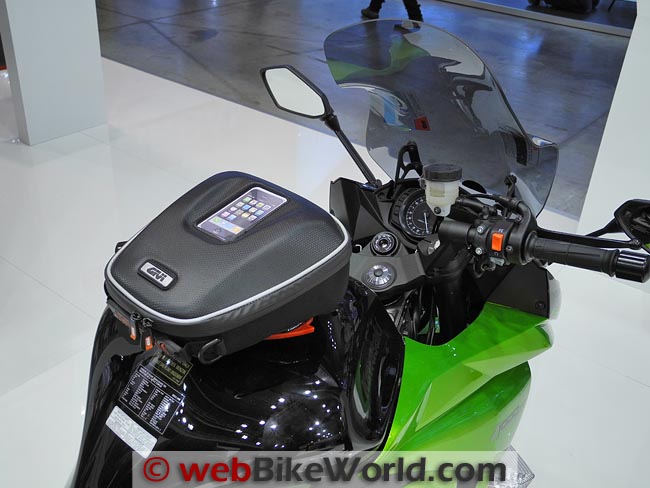 TPH02 tank bag with (I think) BF04 Tanklock mounting adapter.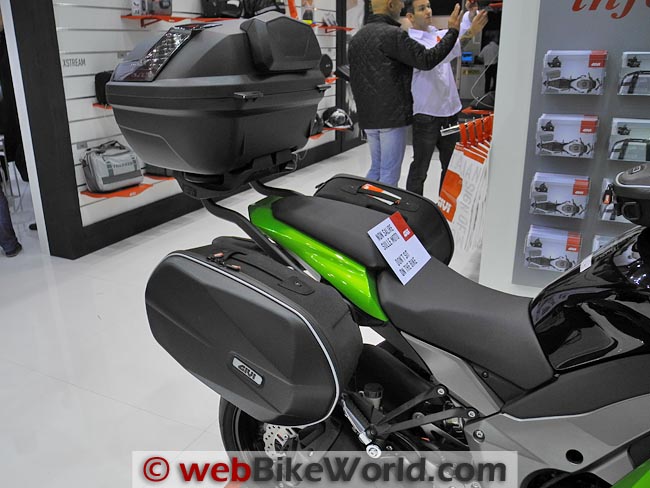 Anyone know which top box and mounting system this is?
Publication Date: November 19, 2011
Note:
For informational use only. All material and photographs are Copyright © webWorld International, LLC since 2000. All rights reserved. See the webBikeWorld®
Site Info page
. Product specifications, features and details may change or differ from our descriptions. Always check before purchasing. Read the
Terms and Conditions
!
Please send comments to
Comments are ordered from most recent to oldest.
Not all comments will be published (
details
). Comments may be edited for clarity prior to publication.
---