Zox Azuma R Helmet Review Summary
Zox Azuma R Helmet Image Gallery
Surprisingly good helmet for the money with high quality throughout.
The build quality seems way better than it should be at this price point and, in fact, rivals some helmets costing 3-4 times as much.
It's quiet, it has a nice, solid, clear visor, good air flow and relatively light weight.
The visor has tighter tolerances than many other higher priced helmets we've seen recently.
Here's a screamin' deal for you folks: this Zox Azuma R helmet is DOT safety standard and the list price is $99.95. And guess what?
The darn thing is actually pretty good. No, scratch that: it's more than just pretty good. It's nearly great when you factor in the price.
I kind of feel silly saying an 89-dollar helmet is "great". In fact, I've been scratching my head, thinking there must be a catch somewhere.
Because in this price range, the chances of finding a good or even a wearable motorcycle helmet is about the same as finding an honest politician, and you know what the chances of that are…
We first ran into the Zox folks a couple of years ago at the 2005 Powersports Dealer Expo (see our report) in Indianapolis. Their helmets looked pretty good and we had some communications back and forth but we never did get around to ordering a helmet to try.
Meanwhile, a few webBikeWorlders wrote to ask us about Zox helmets so we figured it was time to get serious.
One of the problems with launching a new helmet line in the U.S.A. — or anywhere, for that matter — is trying to cut through the massive amounts of marketing noise and pique consumer interest.
The other problem is breaking through the huge barriers that form the antiquated distribution monopolies in the U.S.A.
Believe me, there are plenty of good products out there that you will never see, only because the distribution czars have decided for us that the products aren't worthy.
Oh, and one more uniquely American problem that faces motorcycle helmet manufacturers: the cost of insurance. It's huge and the chances of litigation are high, which means it's going to take some very deep pockets indeed to get a motorcycle helmet company off the ground.
All this means that finding a Zox helmet retailer is about as easy as finding a 3/8BS Whitworth bolt in, say, Glasgow.
North Dakota, that is.
No fear: I've done your homework for you tonight and I found this Zox Azuma R at Classic Cruiser (see table below). I actually ordered two Zox helmets; the Azuma R shown here in Matte Red and a Zox Nevado Illusion flip-up.
The Azuma R was quickly dispatched, but the Nevado Illusion … well, that's another story.
Suffice it to say that one of these days, we're going to start a webBikeWorld vendor rating page and give Gold Stars to retailers who do everything right. Believe me, there won't be many.
Gold stars, that is.
We're continually amazed at how many manufacturers, distributors and retailers are incapable of doing simple things like, say, answering an email.
We've said this before and unfortunately we have to say it again: the Internet is absolutely, positively, without a doubt the greatest invention that was ever bestowed on retailers, bar none.
It cuts out the middleman and provides them with a direct communication link to their customers. Yet it's now 2007, 14 years since I first logged on and they still don't get it. They just don't get it…
Oh, yeah — back to the helmet. Last time I looked, this Zox Azuma R in the matte finish shown here was selling for $89.95 and, get this, with free shipping! OK, so what does that get you?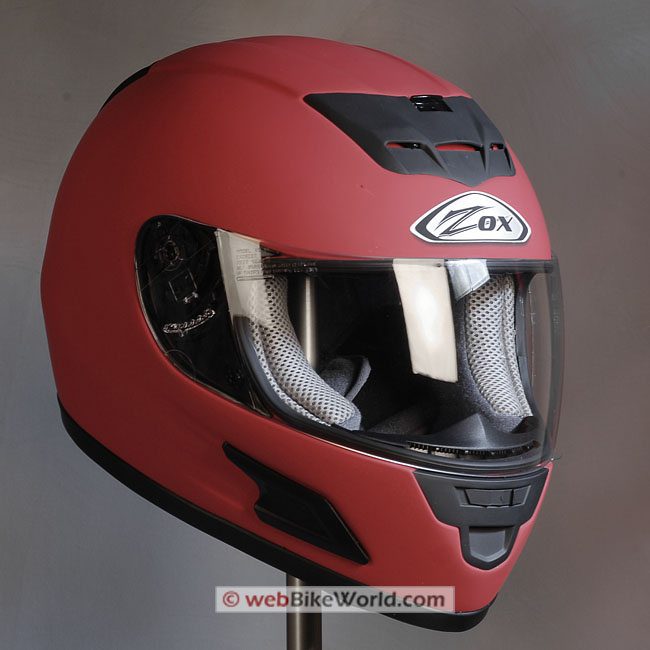 Paint and Finish
Zox makes a variety of helmets, most of them with the "R" designation in the name. What this means, I have no idea. The Azuma R is available in glossy or matte, graphics or solids.
I've taken a liking to some of the matte "rubbery" feeling surface finishes lately, sometimes called "Rubatone", a name, I think, that was first coined by Icon.
It's difficult to draw any conclusions from a solid color helmet, especially if the finish is matte (i.e. "flat"), instead of glossy. But our Azuma R is about as good as they get, with no flaws, no dust specks imprisoned in the paint, no runs and no nicks, dimples or craters.
We've ranted about the lack of quality control with some higher-priced helmets, such as the (KBC Force RR (review) and others, and this proves the point.
If Zox can do this for 90 bucks, well… some of the other manufacturers should be embarrassed. Granted, we've only seen one Zox helmet so far, but we've seen three KBC's, all with problems.
And it's not just the paint on this Zox that does it for us; the vents are very nicely lined up with small and even gaps, the decals are perfectly applied and nearly flush with the surface (how did they do that on the matte finish?) and the liner looks wonderful and feels very nice.
Also, the gasket around the bottom of the helmet is perfectly aligned and applied.
That's not an easy feat; a perfectly aligned gasket is what separates the pros from the nimrods and even the clear visor forms a nearly perfect seal to the eye port gasket, unlike some very expensive helmets we've seen lately with sealing problems.
Of course, the price/quality paradox is in play here; that is, a less expensive helmet with very good quality adds to the Subjectivity of Goodness factor, while an expensive helmet will always get a much closer eyeball and even the tiniest flaws will become magnified as problems.
Also, remember we're talking about a 90-dollar helmet here, not a $700 Schurberth S1 (review) so the law of relativity is at work. Nevertheless, everyone who's seen the Zox is impressed.
Therefore, I'm giving the Zox Azuma R an outstanding rating for fit and finish (see rating descriptions in table below).
Helmet Fit and Internal Shape
The fit of the Azuma R seems to include a round-ish top but slightly narrow sides.
The liner isn't quite as comfy as, say, the Arai Quantum II (review), which is the benchmark for liner comfort, and the Azuma's liner is slightly short at the bottom, which can put the squeeze square-jawed riders (like Rick).
It's hard to compare helmets with a fit like this, sort of a "light bulb" internal shape, but I think the narrower sides should accommodate some not-too-long-oval head shapes in addition to those with rounded craniums.
The helmet shown here is a size XL, but my feeling is that it runs about 1/2 size small, maybe more like a 60-61 cm, rather than the claimed 61-62 for an XL.
The Zox Azuma R is available in sizes XS to XXL and Zox is one of the very few motorcycle helmet manufacturers who actually lists the shell size of their helmets. The XS, S and M use their small shell and size L, XL and XXL use a larger shell size.
For more information on motorcycle helmet internal shapes and selecting and fitting motorcycle helmets, see the wBW Motorcycle Helmet FAQ page.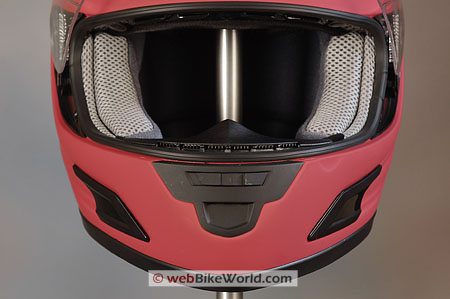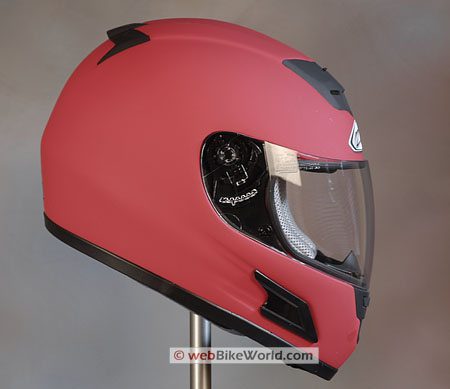 Face Shield
The Azuma's face shield opens and closes with a nice, solid "thunk" and it actually has 8 separate and distinct detents that can be felt and used as the face shield is opened.
This is unusual, even on helmets costing two, three and four times more.
Recently, many helmet manufacturers seem to be trending towards offering only two or three detents to hold their face shields open, so the Zox system is a definite plus in our book.
The Azuma loses points, however, for the face shield removal system. It may be just our helmet, but the "easy on/off" face shield isn't. We discovered that the trick is to not raise the face shield to its topmost position, like most other helmets, before removing it.
Raise it to the penultimate notch, then pull the lever and eventually, with some patience, the face shield comes off.
It's not intuitive, not only because of the decremented position of the face shield, but there are actually three different plastic tabs that have to be released, making it tricky to remove or replace.
It can be done, and it is easier than some, but be careful, because the clear plastic tabs on the face shield seem like they would be easy to break. Fortunately, face shields aren't removed that often.
Other than that, the face shield seems very clear — noticeably more clear than most — and although it doesn't feel as stiff as the best when it's opened or closed, it's better than some of the flimsy specimens we've used recently.
One other bonus is that the eye port opening seems slightly larger than normal, especially in the east-west dimension.
Overall, the face shield gets good marks for function but loses points for the fussy removal system. I give it a "good" rating but I'd probably give it an excellent otherwise.
Helmet Liner and Ventilation
The Zox Azuma R liner is relatively comfortable. It seems very well made and, believe it or not, the stitching is mostly hidden, giving it a sleek look. The liner is also claimed to be removable, but we almost never do so.
The padding could maybe be a touch thicker, and as I mentioned above, the lower part of the cheek pads seems to be a touch short, so it can put some pressure on the lower jaws of round-headed or square-jawed owners.
The upper part of the liner over the rider's head does not have any vent holes, but the rest of the top of the liner is an open mesh, and the helmet actually seems to have higher than average air flow, especially on top.
So go figure — some helmets have liners that look like a colander but don't flow air, and this one has a solid section of lining on top and feels cool.
Also, the ear pockets are nice and big and open right back to the shell wall, which could make the Azuma R a good candidate for speaker installation.
The top vent is pretty straightforward; pull the tab back or push it forward to open or close the top/brow vent.
There are two channels along the top and they give the appearance of working with the rear exhaust vent, but my close inspection with the fantastic Gordon $4.99 LED flashlight (review) tells me that the rear plastic spoiler is just for show.
I don't see any evidence of actual vent holes back there. Nevertheless, the system seems to work.
The chin vent is a simple back-and-forth slide switch that opens or closes a "reverse" vent on the chin bar. And get this: the inside of the chin bar has not one, but two vents, directing air on to the rider's face!
Most chin bars have zero air flow directly through, so this is another surprise.
There are sliding doors on either side of the chin bar that allow air into the sides of the helmet and, theoretically, through a vent located between the cheek pads and the rest of the liner, near the lower jaw.
It's hard to tell if these actually do anything, but the Azuma R seems to flow a decent amount of air, so who knows?
The vents are relatively easy to find but could be better. Overall, I'll have to rate the liner as a borderline very good and I'll give the venting a very good.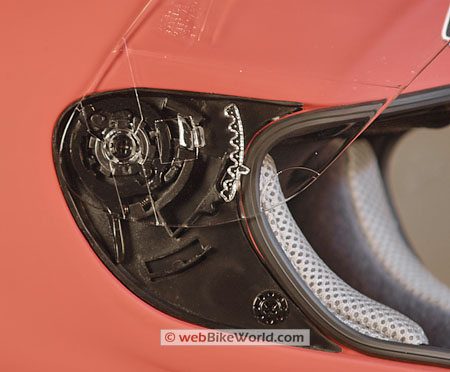 Noise Levels
The Azuma R surprises yet again with its relatively low noise levels. There's a slight whistling from the top vent when riding upright if the vent is open. The noise disappears if the vent is closed or if the rider leans forward slightly.
Overall, the helmet is surprisingly quiet, helped, I think, by the tight fit of the face shield to the eye port gasket.
Don't forget, we always wear correctly inserted earplugs when we ride — see the wBW Earplugs and Hearing Protection page for more information on choosing and wearing ear plugs.
For more information on helmet noise, visit the wBW Motorcycle Helmet Noise page.
I'll give the Azuma R an excellent rating for its low noise levels.
Helmet Weight
Our Zox Azuma R in size XL weighs 1578 grams (3 lbs., 7-5/8 oz.). This puts it in the bottom third of helmet weights when compared to the 66 helmets we've reviewed so far.
Good company indeed; it's neighbors are the AGV Ti-Tech Rossi (review) at 1582 grams for a size XXL and the Suomy Extreme Spec-1R (review) in size XL at 1570 grams.
See the wBW Motorcycle Helmet Weights page for a chart that compares the weights of all of the helmets we've reviewed.
Other Features
The Azuma R loses a few points because although the helmet uses a D-ring, Zox got stingy and did not use a snap to hold the loose end of the chin strap.
There's a little cheesy rubber band around the short side of the strap that can be used to secure the longer loose end, but c'mon — spend the nickel and add a snap!  I hate when they do stuff like this…
Conclusion
Overall, we're amazed at how much helmet you can buy for 89 bucks. Too bad it's so hard to find the Zox brand; hopefully motorcyclists will catch on and if Zox can keep up the good work, they should be golden.
We'll report back after — if — we get our Zox Hi Quest R flip-up.
That should give us a better indication as to whether or not our experience is an aberration or normality for Zox.
w

BW

 Review: Zox Azuma R Helmet
Manufacturer: Zox Helmets
List Price (2007): $99.95
Colors: Variety of solids and graphics.
Made In: China
Review Date: April 2007

Rating Scale is subjective: Unacceptable, Poor, Neutral, Very Good, Excellent, Outstanding.
Note:
 For informational use only. All material and photographs are Copyright © webWorld International, LLC since 2000. All rights reserved. See the webBikeWorld® 
Site Info page
. Product specifications, features and details may change or differ from our descriptions. Always check before purchasing. Read the
Terms and Conditions
!
Owner Comments and Feedback
---
From "R.G.": "First of all let me congratulate you for the great review you publish on the web.
Reading your reviews on the Zox helmet, I think you would be interested to say to your readers that the helmet is also sold as a Nitro and as a Givi helmet.
I have a Nitro one, I like the build quality but I found it noisy."
---
From "D.": "I was looking for helmet reviews on your website (my first port of call for reviews these days) and I saw your review of the Azuma R.
I was looking for a blue helmet to go with my new Ninja 650R so I figured I could afford to risk $90 on a new helmet considering your good review.
I eventually ordered a Medium (your sizing assessment was spot on too) Matte Blue Strobe helmet from Competition Accessories for $59 plus shipping and handling (Just over $70 total).
What a steal!
I have a Suomy and a Roof Diversion but the Zox is already my first choice, it is better vented than either of the other two (important here in Phoenix, AZ!) and lighter. How can anybody sell a DOT fiberglass (sorry about the spelling, I'm a Brit!) helmet for $60?
I'm going to buy another one before they run out of stock!  Thanks for the great and accurate review."
---
From "J.S.": "I would like to submit the following information for you to chew on: the Zox and Nitro Helmet brands seem to be made by the same Chinese manufacturing facility.
I am a Canadian who first saw Nitro in the U.K. and Zox being distributed by Motovan Canada, Inc.
If you compare the N1200-vx with the Zox Azuma you will find several similarities: face shield latching system, side chin vents, lining materials and quality.
I have bought both a Nitro N1200-VX (review) and an OGK FF-4 (review) on your recommendations and have found your observations about both helmets to be very accurate to my experiences.
I am very pleased with both, they have unique qualities that I really enjoy, ie; price, quality, weight and graphics/style.
I own other helmets, SHOEI and ARAI, finding that the they are both comfortable well made lids, but, in my estimation Nitro, Zox, and OGK have the edge on value, functionality, and edginess (great styling).
Thanks for your due diligence in providing well thought out, unbiased information regarding new M/C products/accessories. Well done."
Editor's Reply: The Bell Sprint (review) also has some features that are very similar, including the "soap-like" smell inside!
We also received an email from a visitor who said a Vega Helmets representative claimed that Vega helmets, Zox and Nitro are made by the same manufacturer. If any one has more information on this, please send it to us at the address above.