Zeus ZS-3000 Helmet Review Summary
Zeus ZS-3000 Image Gallery
The Zeus ZS-3000 is the first Snell certified flip-up helmet in the U.S.A.
It has excellent quality, a solid-feeling helmet shell and a comfortable liner that is removable and washable.
The helmet is also convertible to an open-face "Jet" style.
The ZS-3000 is Snell M2005 certified in the small shell size (XS to M).
The helmets are also available in a wide array of colors and graphics not often seen on a flip-up.
Combine that with some of the lowest prices around for a flip-up helmet and our prediction is that Zeus won't be able to make these fast enough!
We wanted to get you our impressions of the new ZS-3000 as fast as possible, so this review is a slightly condensed version of our normal full-length motorcycle helmet review format.
This review references both the ZS-3000 and the ZS-3000B because they are virtually identical, other than as described.
Just two short months ago in May of 2009, we reported on the return of Zeus helmets with the Zeus ZS-3000, the first Snell-approved flip-up motorcycle helmet to be sold in North America.
Motorcyclists have been waiting for a Snell-approved flip-up for as long as webBikeWorld has been online — 10 years! — and the wait is over.
This is our report on the actual production version of the ZS-3000 and the ZS-3000B, a slightly different flip-up helmet with an internally rotating sun visor that meets DOT safety standards only.
The ZS-3000 is also available in Europe and it has met with acclaim with the European motorcycle press, and it has also met or exceeded various safety standards testing in Europe and the rest of the world.
Zeus also sent samples of the other new helmets they're introducing, including the ZS-806 full-face helmet; the ZS-608 "Jet" styled helmet with a fiber shell; and the ZS-210C "Demi-Jet" or "Retro" helmet with an ABS shell.
All but the ZS-210 have an internally rotating sun visor and we'll be reporting on each of them soon.
We have two videos ready also.
One is a quick overview without narration, showing brief clips of various features of the entire Zeus helmet lineup and the other is a video showing the Snell-approved version of the ZS-3000 and the DOT-only ZS-3000B in a couple of different colors and graphic designs.
We always knew a flip-up helmet could be made to meet Snell standards and the question to motorcycle helmet manufacturers was "What took so long?".
How did we know it could be done?
As we reported in our Zeus ZS-3000 Preview, the original ROOF Boxer (review) had passed the Snell testing regime at a Snell-approved testing laboratory on July 3, 2003.
We have a copy of the paperwork to prove it. But unfortunately, the Boxer was never sold in the U.S.
The "What took so long?" question remains but now becomes moot.
The new question is this: "If Zeus can do it, why not everyone else?". It sometimes takes a smaller competitor to leapfrog the establishment, and Zeus had done it.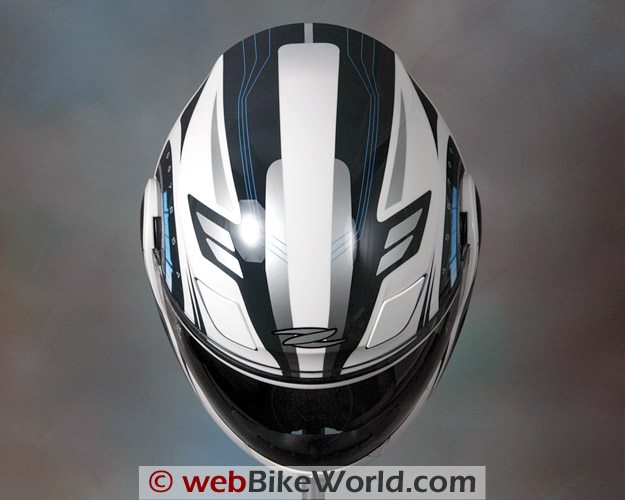 The Zeus ZS-3000 and Snell M2005
So what makes the ZS-3000 so special and allows it to become Snell certified (Report)?
First, the ZS-3000 has a specially designed shell that subjectively feels to us to be much stiffer than probably any other flip-up helmet we've reviewed (and indeed, stiffer than many full-face helmets).
In addition, Zeus also designed a special rotating visor that is sturdy enough to add strength to the helmet.
And a new dual-locking mechanism that apparently provides enough strength to allow the helmet to pass both the DOT and Snell testing regimes.
Zeus told us that the key to passing the Snell tests is in the chin bar locking system.
They said that the entire helmet needs to work just like a full-face and since a flip-up is always weak in the chin bar area, they developed the new dual locking system for the rotating visor.
Zeus said that the first lock is a hook to close the chin bar and the second lock is a slot to fix the position of the hook to help prevent it from coming loose during an impact.
The rotating visor also incorporates various special materials, including "PC Alloy", which is a blend of polycarbonate and ABS (Acrylonitrile Butadiene Styrene).
PC Alloy is commonly used in components that require strength and durability, such as automobile bumpers.
DOT and ECE Standards
In addition to the DOT and Snell standards, the Zeus ZS-3000 meets ECE 22.05 (Europe and UK), NBR (Brazil), AS 1698 (Australia) and CNS (Taiwan) motorcycle helmet safety standards.
The ZS-3000 A and B versions meet all applicable safety standards except Snell 2005.
It is important to note that at this time, only the smaller shell size of the ZS-3000 (head sizes XS to M) meets the Snell 2005 standard.
The larger shell size for head sizes L to XXL is currently undergoing testing to meet the Snell 2010 standard, which will be released soon, on July 15, 2009.
The smaller shell size will then also undergo re-testing to meet the new Snell 2010 standard and Zeus hopes to have all ZS-3000 helmets in both shell sizes meeting the Snell 2010 standard as soon as possible.
Zeus ZS-3000 Helmet Availability
UPDATE: July 11, 2009 – Note that we have just been informed by Zeus that due to an unspecified issue, at this time the Snell approved helmets are available in very limited quantities by special order only.
Zeus said that a small number of Snell approved ZS-3000 helmets will be shipped to the U.S.A. possibly in September of 2009. In the meantime, all other Zeus helmets sold in the U.S. will meet DOT safety standards only.
And That's Not All!
One more thing: As if meeting the Snell standards wasn't enough, the ZS-3000 and ZS-3000A and B is also a true modular helmet, because it can be converted to an open-face "Jet" styled version!
This is demonstrated in the ZS-3000 video (below), and once you know the trick — and practice a few times — it's actually fairly easy.
And the best part is that you'd never know the helmet was a flip-up once it's converted!
The internally rotating sun visor on the ZS-3000 A and B models also continues to function normally when the helmets are converted to the open-face style.
The the two side pods and a full-sized face shield for the conversion are an extra cost option (corrected from original posting which said the parts came with the helmets), and the helmets also continue to meet applicable safety standards in the open-face format.
Differences Between the Zeus ZS-3000, ZS-3000A and ZS-3000B
Some of what I'll write in this section is a repeat of our ZS-3000 Preview. The ZS-3000 series uses an ABS helmet shell. It is a flip up and modular helmet which has received very positive feedback in the European market.
The Zeus ZS-3000A and ZS-3000B helmets meet DOT and ECE standards only, but they are otherwise very similar to the Snell-approved ZS-3000. We have two of the ZS-3000B helmets but not an "A".
Zeus says that the "A" version has only a slightly different venting system.
The A and B otherwise seem to have the same construction and they have the same double-locking visor mechanism, with the major difference being the internally rotating sun visor that is standard on the A and B versions.
Apparently, the cavity and mechanism for the internally rotating sun visor prevents the A and B versions from meeting the Snell standards. We're not sure if this will be resolved in the future or for Snell 2010 testing, but the sun visor isn't missed.
The ZS-3000A and B is known as the "ProBiker" in Germany. It was featured in a comparison test of flip-up helmets in a June 2009 issues of  "Motorradfahrer", a German motorcycle print magazine.
The ProBiker KX4 is the helmet known as the Zeus ZS-3000 in the U.S.
My German is pretty rusty (i.e., non-existent), but the article indicates that the ProBiker KX4 received a "Buy" recommendation and it received the second best impact test recording, transmitting forces lower than the ECE 22.05 standard in all 6 tests.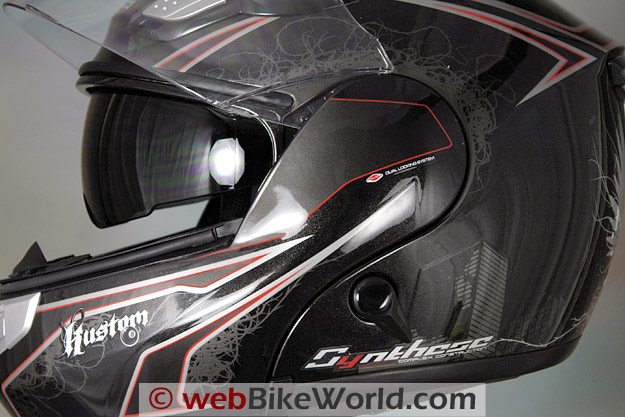 Zeus ZS-3000B with internally rotating sun visor.
Paint, Graphics and Overall Quality
Another barrier broken by Zeus is the issue of graphics and colors on flip-up helmets.
For some very strange reason, most of the helmet manufacturers have given their flip-up helmets some of the most somber, sleep-inducing colors imaginable.
It's no wonder flip-up helmet sales have never reached the heights everyone thought they would.
There is no reason for this, other than some notion that helmet manufacturers think that flip-ups are only purchased by touring riders, who, they assume, don't want a dose of style with their rides.
Zeus has shattered this notion, no doubt about it.
The ZS-3000 series of helmets is available in a very nice array of colors and graphics, up to and including the pretty wild versions shown in our Flash slide show and the video.
We have 9 different Zeus helmets in this batch of 2009 models, and all of them have excellent quality, especially considering the price point.
The paint and graphics are perfectly applied and the helmets appear to have a relatively thick clear coat, giving them a feel and appearance that is definitely a step above what you might think.
There are a few quibbles here and there, like the top vent covers that are probably too smooth to feel when wearing gloves and slightly wobbly chin vent levers.
But overall — and again, thinking about the list price — these are very nice helmets and probably equal to or better than just about all the other flip-ups we've reviewed — which, it must be said, don't usually seem to have the quality of a good full-face helmet.
So what is that price?  Well, the current list price for the ZS-3000, ZS-3000A and ZS-3000B runs from $180.00 for solid colors up to $213.00 for the all-out graphics. That's the list price, mind you — a veritable steal in our opinion!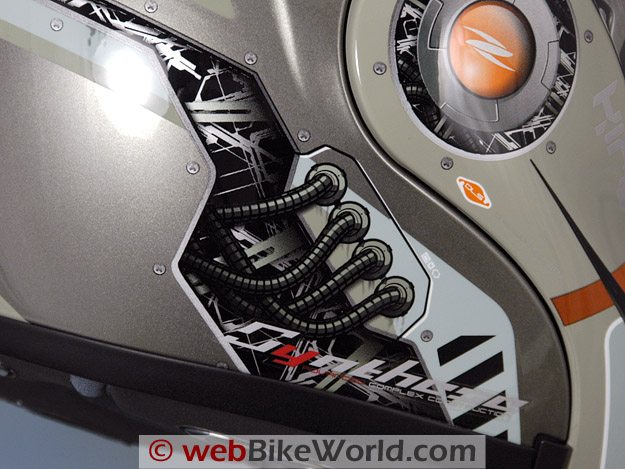 Helmet Fit, Comfort and Internal Shape
The ZS-3000 has what we'd consider to be a narrow to neutral fit.
This is unusual for a flip-up helmet, most of which tend to run neutral, but it will be good news for the many webBikeWorld visitors who have inquired about narrow fitting or "long oval" flip-ups.

The ZS-3000 feels narrow on the top and at the sides above the temple, then rounds out towards neutral down around the cheeks.
True round-heads may have a problem with pressure points towards the top of the helmet, but probably the vast majority of riders with neutral to narrow head shapes will find it comfortable.
Fit and Sizing
The helmets seem to run about 1/2 size smaller than expected; the XL fits slightly tight for the size.
The Zeus size chart says an XL should fit a 61-62 cm head, but we think it's more like a 60.5 to 61.5, depending on how narrow the owner's head shape is.
The removable liner is very comfortable and feels thick, and it is very well made with excellent quality of materials and stitching.
It also includes mesh-covered sections for ventilation, but the EPS foam in the helmet has only a single direct exhaust hole in the rear and indirect holes for the front vents, which drops our rating for ventilation, as you will see below.
Also, the liner does indeed seem to be "suitable for eyeglass wearers", as we initially reported.
Overall, the ZS-3000 has surprising quality for the money; much better than the original Zeus ZS-508 we reviewed many years ago. These are definitely not the Zeus helmets of old!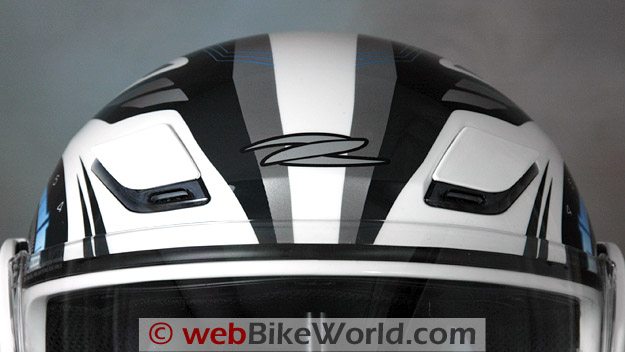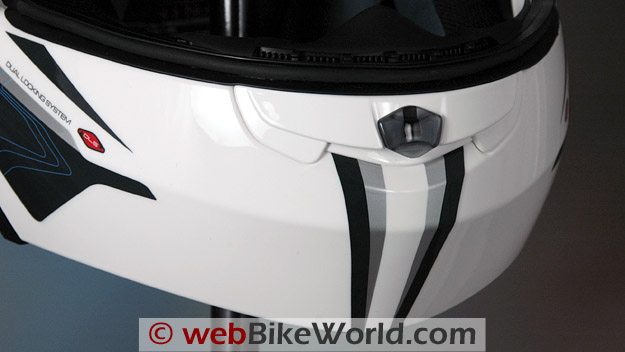 Zeus ZS-3000 Rotating Flip-up Visor and Face Shield
To repeat, the Snell-approved ZS-3000 does not have the internally rotating sun visor included on the A and B versions — and we don't miss it.
But, I will say that the Zeus sun visor rotates down farther than most and the bottom edge of the visor remains virtually out of the rider's line of sight, which is a definite plus.
The visor rotates by moving a lever on the left-hand side of the helmet shell, and a reverse twist pops the visor back up into the shell.
The clear face shield is excellent, and it is claimed to be anti-fog and anti-scratch coated and it features seven positions from fully closed to fully open.
It opens and closes with a secure feel and it also has a nice initial opening for defogging or ventilation.
The face shield can be removed and replaced without tools and it has a nice lifting tab just to the left of center.
The face shield seems very nice and wide and tall; it provides excellent visibility from top to bottom and very good from side to side, with only a slight bit of the tapered sides of the lower part of the chin bar visible in peripheral vision.
The flip-up rotating visor operates via a centrally-located release button under the chin bar, which is slightly recessed and is pushed up to release the rotating visor.
The visor feels very solid and it does not have much flex; i.e., it flexes much less than most/many other flip-up helmets we've reviewed and the shell feels sturdier than many full-face helmets also.
When the rotating visor on the ZS-3000 comes to the top of its travel, you can hear a solid "thunk" and another very solid "click" when it is closed and locked.
Visor Conversion to "Jet" Style
The ZS-3000 series can be converted to open-face helmets with relative ease. The helmets come with side pods marked left and right, along with the full-sized face shield. We have illustrated the process in our video.
When converted, the helmets lose all of their flip-up persona.
That is, they look like they were originally designed as a "Jet" helmet, which is pretty amazing actually, because other modular or convertible helmets we've reviewed don't quite look exactly right after the conversion.
You'll end up with a rotating visor to store somewhere, but otherwise, the Zeus implementation of the conversion process is fairly straightforward, although it does take some practice.
As of the date of publication, the price for the conversion kit (two side pods and the larger face shield) was not set.

ZS-3000B Ventilation
Overall, we think the ventilation in the ZS-3000 could be better.
The small chin vent has a flimsy-feeling lever, but the vent does provide surprisingly good ventilation for the small amount of surface area it covers.
The chin bar does not have direct openings for air; the air instead is directed in back of the breath guard and on to the back of the face shield, but the air can be felt on the rider's face. So the chin ventilation does seem to work.
The top vents are a different story.
The sliders are very slick and they are both difficult to locate when riding and to open and close, so it's best to anticipate the riding conditions and open or close them before putting on the helmet.
It can be done when wearing the helmet, but it would have been much better we think to have coated the surface of the sliders with some type of rubberized material or raised dots or something that could be felt by the rider when wearing gloves.
The vent openings are also slanted at a unique angle, and the vent covers must be pushed at that exact angle or they won't work.
The front top vents do not have a direct opening through the helmet liner EPS. The holes are covered by a separate piece of EPS, which was probably set in that position to help the helmet meet the Snell standards.
So overall, we rate the ZS-3000 air flow as below average.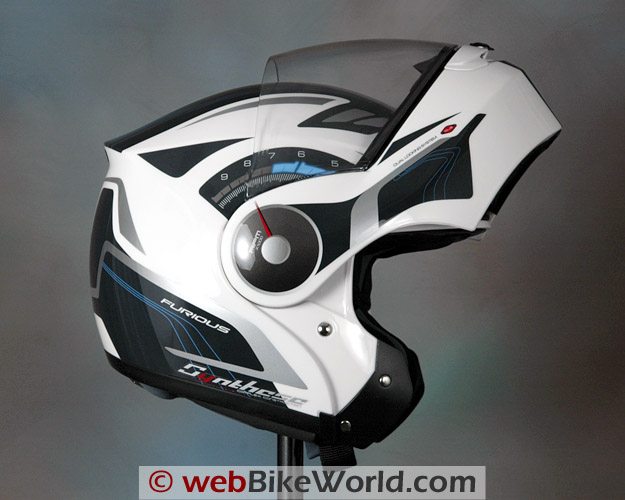 Noise Control
The ZS-3000 features a removable chin curtain and breath deflector.
We're starting to see chin curtains as standard equipment on many helmets in 2009, and they usually help reduce turbulence-induced noise from the under the helmet.
But they also can sometimes decrease ventilation, because most of the ventilation in a helmet comes from up under the chin bar anyway, in our experience.
The helmet also comes with "exchangeable elements for noise reduction on the ears".
These consist of a pair of small fabric covered foam ear pieces that I think can be inserted in the ear pockets inside the helmet. We haven't removed them from the package, so I'm not sure.
The helmets are relatively quiet; about average, in our opinion, with one exception. There is an issue with the helmet liner — the liner is split at the rear in the bottom, as you can see in the photos.
This allows a lot of noise to creep in at the split. We found that by covering this area, the helmet noise drops dramatically. The helmets also feel like they sit slightly higher in the rear than normal, which doesn't help.
Note that our helmet evaluations are a combined effort of several riders over time on different types of motorcycles with and without windscreens.
Evaluators wear correctly fitted, high quality ear plugs (even when evaluating motorcycle intercom systems).
Always protect your hearing when riding a motorcycle. See the wBW Earplug Reviews for more information on choosing and wearing earplugs.
Note also that perceived noise levels will vary, depending on the individual.
Noise can be caused by many factors, including helmet fit, the type of motorcycle and windscreen, wind speed and direction and even the rider's clothing.
For more information on helmet noise, visit the wBW Motorcycle Helmet Noise page.
Helmet Weight
The ZS-3000 series are not light weight helmets. We assume the thickness or stiffness of the helmet shell and visor to meet the Snell standards have added some mass.
The ZS-3000B in size XL weighs 1842 grams (4 lbs., 1.0 oz.) and the ZS-3000 in size medium weighs 1924 grams (4 lbs., 3-7/8 oz.).
The added weight of the size medium ZS-3000, even though it does not have the internal sun visor (which usually adds weight) probably comes from the extra strength added to meet the Snell standards.
The good news is that at least the ZS-3000B feels well balanced when riding.
For comparison purposes, see the wBW Motorcycle Helmet Weights page for a listing of all of the helmets we've reviewed along with their weight and internal shape.
w

BW

 Video: Zeus ZS-3000 Helmet
Miscellaneous
All of the Zeus helmets for 2009 sold in North America have a double D-ring attachment system. The padding under the chin strap is plush and thicker than normal.
Zeus offers a one-year warranty on both North American and European helmets. The European helmets are nearly identical, other than for slight sizing differences (they have a tighter fit).
Conclusion
We're really excited about the new Zeus helmet lineup for 2009, and we think all of these helmets will shake up the industry.
Now that Zeus has proven that Snell standards can be met with a flip-up, will the others be far behind?
It's difficult to tell, but one sure bet is that they won't be able to offer this much quality, these features and colors at Zeus prices!
At the time of publication, Zeus is setting up North American distribution for the helmets.
Zeus ZS-3000 Helmet Availability
UPDATE: July 11, 2009 – Note that we have just been informed by Zeus that due to an unspecified issue, at this time the Snell approved helmets are available in very limited quantities by special order only.
Zeus said that a small number of Snell approved ZS-3000 helmets will be shipped to the U.S.A. possibly in September of 2009. In the meantime, all other Zeus helmets sold in the U.S. will meet DOT safety standards only.
w

BW

 Product Review: Zeus ZS-3000 Motorcycle Helmet
Manufacturer: Zeus Helmets
List Price (2009): $180.00 to $213.00  Jet conversion kit extra.
Colors: Various.
Made In: Taiwan
Sizes: XS-2XL Shell Sizes: Two
Review Date: July 2009

Rating Scale is subjective: Unacceptable, Poor, Neutral, Very Good, Excellent, Outstanding.
Note:
 For informational use only. All material and photographs are Copyright © webWorld International, LLC since 2000. All rights reserved. See the webBikeWorld® 
Site Info page
. Product specifications, features and details may change or differ from our descriptions. Always check before purchasing. Read the
Terms and Conditions
!
Owner Comments and Feedback
---
From "J.D." (November 2012): "Disappointed with this helmet! First of all the so called owners manual was clear as mud as to how to convert from the chin bar configuration to flip up up shield only. Once I mastered that chore it was easy after that.
But, my major complaint is the inner sun visor does not clear my glasses when I try to put it in position!
This is a major issue for me, I am used to an N42 Nolan with the sun visor on the outside of the clear shield, a configuration that suits me fine.
Otherwise the helmet fits well but I am reluctant to even wear it with the visor issue it has.
This one also came with a quick release, a plus in my book. I much prefer that than the "D" rings you love so much. I'm off to buy another N42, now discontinued, before they are all gone."
---
From "B.H." (March 2012):  "I wear a Zeus ZS 3000 when riding. I have various makes of helmets in the past including a BMW flip front and like the Zeus better than another helmet I have owned."
---
From "D.B." (12/10):  "After reading your test, I ordered a Zeus Z3000A helmet after contacting the US importer.
Found that this model comes in highly visible yellow and ordered one.
Helmet arrived only 2 days before a road trip and I was hesitant to wear an untested helmet on a ride of any length, but a short ride convinced me to give it a try.
Very pleased with this helmet. Much, much  quieter than my Nolan N102 and no undue pressure points to take away the pleasure of the  ride – unlike both Nolans I have owned.
For the money, this has to be the best helmet bargain out there and the internal sun shield works just fine – unlike the noisy external one on the Nolan N102."
---
From "M" (8/10):  "So my Zeus ZS-3000A arrived today and I just returned from a 15 mile ride at freeway and surface street speeds. I was riding my DR-650, which is (unfaired) except for a SpitFire windshield.
The webBikeWorld review in part steered me towards this helmet. My helmet is identical to the pictures shown except mine is a bright lemon yellow.
My biggest concern was fit and size. I have never seen a Zeus helmet in the flesh and could not try one on.
However, because of my head size, most shops do not stock helmets that fit me, so I have only been able to buy two helmets in my life after trying them on. The other three I have bought off the Internet.
I am pleased to report that the XXL helmet fits me nicely. I have so far noticed no pressure points or sharp spots.
I am very pleasantly surprised by the finish and quality of construction. This is one nicely-made helmet. The sun visor is darker than the HJC helmets and comes down far enough over my eyes.
The sun visor is either fully down or fully up. There is no intermediate setting. The clear front visor feels thicker than my other helmets and has several detents to open the visor.
I clicked it up about four notches and the visor stayed open at freeway speeds.
I could not get a good sense of the ventilation at speed. I had the vents open but could not feel a whole lot of air moving.
I have no real opinion on noise at speed, since I have a severe bilateral hearing loss, so I am not the best person to comment on helmet noise. It seems no noisier than my HJC modular.
The overall impression this helmet gives is one of solidity. The chin bar swings up and latches down with authority and does not move when it is latched down. There is no play in the chin bar.
By the way, even with my large head, my chin did not touch the chin bar although I don't have much in the way of a protruding chin.
The chinstrap is nice and broad, has padding underneath it and has a snap above the double D-rings to secure the excess strap. The liner feels nice and cushy, although I always wear a Nashbar sweatcap on my bald head.
The helmets in the small size helmet shell had been Snell certified and the large size helmet shell is supposed to be in progress for Snell certification.
My helmet has a DOT but no Snell sticker. The XXL size sticker also shows a weight of 1780 +/- 50 grams.
I will be interested to test this in the rain, but so far, I have to say this is a better helmet than my other modular, the HJC CL-Max.
PS: I forgot to mention that the helmet came packed in a nice soft-fabric helmet bag."
---
From "J.F." (4/10):  "I just bought the Zeus ZS-3000A (not the Snell version) helmet. I Bought it via email (PayPal) from the US distributor ("Elvis" at Fins Pro), with an extra face shield, and the Jet conversion kit. Matte silver in color($143.98).
Your review talked about needing to get a half-size to full-size larger for proper fit. I used that strategy (it's always hard to buy a helmet sight-unseen) and am still thinking about the fit.
I normally take a size small, but went to the medium for this helmet, based on your review. It seems to be just slightly larger than my older HJC Symax (Harley version), size small. It seems to be okay so far.
It cinches down nicely, and doesn't move around when I try to pry it off.
As far as the build, this helmet is superior to the other products I have bought and used, and those that I tried on in the stores. I can't say enough about how well it's built. Superior quality materials and workmanship.
I do need to say that when I first put the helmet on, I noticed that the inner material that covers the ears caused me some discomfort on my first ride.
But when we stopped later, I pushed-in the hard foam around that area, and for the rest of the ride it felt better. You can tailor-fit the helmet a little by pushing in on the foam where you need to, just like other helmets.
I've used a spoon on other helmets before to shape the foam to get a more comfortable fit.
As far as noise goes, in my opinion, it is no louder of quieter than any other helmet I've worn. I don't have an extra-loud set of pipes, but they aren't quiet either, and I wasn't bothered by the noise in the helmet.
Wind noise is not an issue for me. I like to hear what is going on around me. Don't let the reviews of "noise" prevent you from looking at this helmet – it's a great piece of riding gear.
The visor works great, and the internal sun-shade visor works great too – so good is the tinting and the field of view in it that I don't need to wear sunglasses in the helmet.
My wife just bought the new HJC Symax II with the internal sun-shade, and she says it needs to be darker. The Zeus's tinting is spot on.
I do need to figure out how to make room for helmet speakers, as I'm wanting to use the radio, etc.
This is one of the best cycling gear purchases that I've made so far, and for me, that's saying a lot. I couldn't be happier with the helmet."
---
From "C.S." (2/10):  "I completely agree with T.T. (comment below) on his review of the Zeus Helmet.
The noise is unbearable at speeds above 40 m.p.h. I understand that noise levels might differ from rider to rider, but several of my friends have tried the helmet and they have all complained about the noise.
If you need a helmet just to zip around town, then consider the Zeus Flip up, buy if you're buying a helmet for any other purpose, do not buy this helmet. You'll end up buying another one, as happened to me, 6 hours into your trip.
Editor's Reply: We did not notice any unusual noise other than what was noted in the review.
It is possible that the if the helmet doesn't fit correctly or if it is not an exact match for a head shape, the split seam that was discussed may cause higher than average noise levels.
Also, I'm assuming you are wearing high-quality, correctly inserted ear plugs — which we do on every ride and to review the helmets. If not, all bets are off, as we are fond of saying…
---
From "T.T." (9/09):  "On the strength of the recommendation in webBikeWorld, I bought a new Zeus ZS-3000A flip-front helmet.
I had tried it on in the bike shop and it was immediately comfortable, which is more than I could say for many of the helmets that I'd tried on in recent months.
I always wear a balaclava with my helmet (it keeps my ears in and keeps the fabric of the helmet clean). I was planning a big inter-state trip and needed a helmet that was both comfortable and reasonably quiet.
I hoped that the Zeus would fit the bill. To enable me to hear the directions of my GPS unit, I had the speakers transferred from my old helmet to the new one before I went for its first test ride.
Well, I was only a short way up the road before I realised that the helmet was much noisier than my previous helmet.
In fact, the noise was so great that I couldn't hear the directions coming from the GPS. I even stopped to check that the unit was working and the volume was turned up (it was on max).
I have been in the habit recently of wearing earplugs to protect my hearing, but even with the earplugs installed, the whistling coming from the side pods where the visor enters the helmet is ear piercing.
But, the worse was to come, within about 30 minutes, I not only had an aching ear from the speaker was rubbing on my right ear, but I had developed an aching forehead from pressure coming from the foam of the helmet.
No amount of pushing and pulling and wriggling of the helmet could give any comfort. Eventually, I had to stop and remove my helmet to relieve the pain.
After I had a 30 minute break, I tried to adjust the balaclava and the helmet to enable me to get home without suffering too much. Unfortunately, I wasn't very successful.
There has to be a better way of buying a motorcycle helmet. It is really a case of buyer beware. I thought I had done everything right:
1. I had tried the helmet on, not once, but three times on three different occasions.
2. I had surfed the web to find reports on the helmet, both good and bad.
3. I had asked my motorcycling mates their opinion. But in the end, I bought a dud helmet that is, to all intents and purposes un-wearable.
I rang the bike shop where I purchased the helmet to see if I could return it; while sympathetic, the answer was no. They were all care, and no responsibility.
So, it's $300 (Australian) down the drain. But remember, Buyer Beware!"
Editor's Reply:  I completely understand the problem and your frustration. However, this is more an indictment of the entire helmet industry than it is of Zeus.
We have written about this issue many times. Unfortunately, helmet noise is highly variable; as we have mentioned over and over, it very often depends on factors beyond just the design of the helmet.
Issues like the fit of the helmet to the rider's head; windscreen or fairing turbulence (which can greatly increase the noise); and even the collar on the rider's jacket can greatly affect noise levels.
That's why we always discuss this in the helmet reviews, and in the case of the Zeus ZS-3000, we noted in the review that we did find it had an issue with the way the liner is split in the rear, which can cause increased noise levels from up under the ears.
Also, we have discussed the helmet fit problem so often because that's another issue that is just too hard to resolve. Out of the 120+ helmets we've reviewed, I can honestly say only one fits my head shape perfectly.
So the average consumer is taking a big chance that any one particular helmet purchased off the shelf will fit them perfectly also.
Flip-up helmets in general are louder than full-face helmets — one of the reasons I don't normally wear a flip-up.
You did all the right things and still had problems, and unfortunately, I'm not surprised. It's much too difficult to buy a helmet that will fit and perform as expected, but I don't know what the answer is."
---
From "N.D." (8/09):  "Wow, I took delivery of my new "convertible" a few weeks ago and I just have to say that it is money well spent. I waited about 6 months for this helmet to come available and am not disappointed.
The fit and finish is beautiful. It has a comfortable liner with optional cheek pads, and, the mechanical bits all snap smartly and feel secure.
The only negatives are a chin strap retaining snap that is a bit too large to quickly and easily fish through the D-rings. This is a small complaint considering the overall quality for the price they ask.
The other negative is the noise level which is as you've reported, "about average".
It's strange to me because while there is a wind rushing noise that is not tolerable for long without earplugs, the outside noise, as in that that emanates from my exhaust, is quite measurably deadened.
Take note folks, my better half can be much more annoying than just some wind rushing noise.
Anyways, the thing that impresses me the most about the purchase was the quick attentive responses to my email inquiries by Mr. Mak at FinsPro. He attended to me as if I was his only customer.
As a matter of fact, I just received an email from him explaining that there will be another months delay before receiving the Jet conversion accessory for my helmet as their manufacturing facility in Taiwan was recently hit by the large typhoon that recently blew through there.
Let's hope they can get right back up and running as I know they will because they have a great product that is priced right!  By the way, I went for the "SpaceRacer" graphics in silver/black/red real cool!"
---
From "J.M." (7/09):  "I am so glad you guys are reviewing this helmet. I picked up this helmet in August of 2008 when I was visiting Taipei, Taiwan last year.
The helmet was sold to me as a great helmet and given the looks, fit and finish I had to agree so.
Soon after my purchase of the helmet (which cost about $120 USD, and included an extra shield) I started to get paranoid that the helmet was too good to be true, and couldn't possibly be safe.
It is very reassuring to hear that this helmet in fact meets SNELL safety standards, and I'm not walking around with an egg shell.
Over the course of the year the helmet has held up well, the fit and finish have been great. I'm not extremely delicate when it comes to handling my helmet and I ride almost daily.
The only thing that broke off was the plastic covering the air vent, but a little crazy glue and it fixed it up.
It's a little bulky and perhaps a tad heavy but I'm very much used to it. On the other hand because of its size and heft I would say that it is also relatively quiet, and well ventilated I might add.
The exterior has hardly a scratch, the paint and finish are top notch. I've had two other modulars both Nolan, and I can honestly say that I feel that this is a better quality helmet, and I know now its safer.
Thanks for the great review, keep up the great work."
---
From "R.S." (DEU) (7/09):  "I am writing from Germany. Thanks for your review of the ZS 3000. You mention the "German version" and I think, there are more differences than you noticed.
Detlev Louis Motorradvertriebs GmbH, who sells the helmet in Germany ("Probiker" is their home brand) writes the weight is about 1680 g (which is much lighter than the ZS 3000).
I have not checked this, because I don't own this helmet, but there must be reasons for this difference.
The Probiker KX4 has unfortunately no D-Rings but a "Klick-System" for the chin-strap. The German price is 120 Euro and the (Jet) conversion kit is 40 Euro.
In relation the conversion kit should be something around 60 Dollars in the USA."
Editor's Reply:  We weigh all of the helmets we review on two different very accurate scales. Eery helmet we have reviewed weighs more than what the manufacturer's claims.
They usually take their weight from a stripped-down size XS or smallest size shell, usually the smallest and lightest helmet in the model lineup, an XXS or XS.
The bottom line is that the weights claimed by the manufacturers generally can not be relied upon for an estimate of helmet weights for any one particular helmet size. Trust webBikeWorld instead!
---
From "C.P." (UK) (7/09):  "I just spoke to the chap who is to distribute Zeus Helmets in the UK and he so far hasn't had any come into the country (he was expecting them to start arriving a couple of months ago).
So, at the moment, there is no availability of Zeus Helmets in the UK. A pity!"