If you're a Victorian rider and want to support a young, skilled and energetic motorcycle workshop, try Platinum Motorcycles in Keilor East, Melbourne.
Director and owner Louis Grech started off in the motorcycle industry as a 13-year-old helping out Slipstream motorcycles in Sunbury after school and on weekends and a little over a decade later he is running his own business.
"We are a passionate workshop that stands by our expertise with pride and all in our 20s," he says.
"The motorcycle industry is a rocky one and it's never easy. I want to encourage young people to do what I've done; to chase their dreams."
Louis has been chasing his dreams and working hard since he started part time at 13 and says he has "loved every minute". 
"At the age of 15 I scored an apprenticeship at Action Motorcycles when they where in North Melbourne, catching a train to work every day and working seven days a week. 
"In my third year they closed down so I moved on to Redwing Honda and then joined one of the owners who opened up Evolution motorcycles in Epping as a mechanic.
"At this stage I was 20 years of age, I was qualified and had massive dreams for a workshop of my own. My parents garage was full of bikes to repair and the word was getting out that I was doing a great job."
In 2007 Louis was approached by Honda in the UK to help finish the world motocross season as American Mike Brown's team mechanic, so he left his job and hopped on a plane.
He returned in 2008 and his old job was waiting for him.
But pretty soon he started up Platinum Motorcycles, leaving Evolution and contracting as a mechanic to various companies such as Yamaha Motor Australia, Yamaha City, Whinner Motorcycles and Sjay Motorcycles.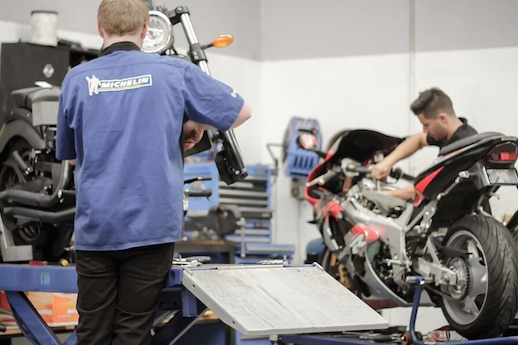 "In 2011 a warehouse space was available for rent and I opened my workshop for business to the public," he says.
"I employed a first-year apprentice and a bookkeeper to keep the ball rolling, purchased a dyno and attended as many training courses on suspension and electronics I could to keep up with the times," Louis says.
"In 2014 we were the official Pirelli tyre service, we moved to a bigger factory and now Liam ( the first-year apprentice) is qualified and I have employed another mechanic named Jake."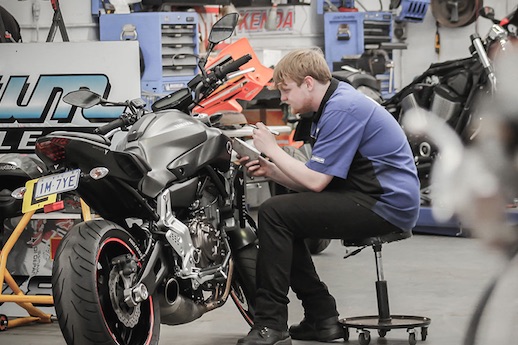 Louis says they work on all road and dirt bikes, and riders can "rest assured" they will keep their factory warranty.
Services include log book servicing, accident insurance quotes and repairs, roadworthy inspections, engine and suspension building dyno tuning, electronics, race and track bike setup, tyre fitting and even a breakdown towing service.