Yamaha YFZ 450 In-Depth Guide
The Yamaha YFZ 450 ATV is one of the lightest and most powerful sport ATVs ever manufactured(YFZ 450 Specs below). Countless magazine reviews, race titles and GNCC and quad-cross championships say so. A stock YFZ 450 ATV has a top speed of approximately 75MPH (see top speeds list). It was crowned world four-stroke champion in 2005 and 2006 and was named sport ATV of the year by ATV Illustrated in 2007. Yamaha continues to produce the YFZ 450 to be just as potent and it continues to dominate the industry well into 2020.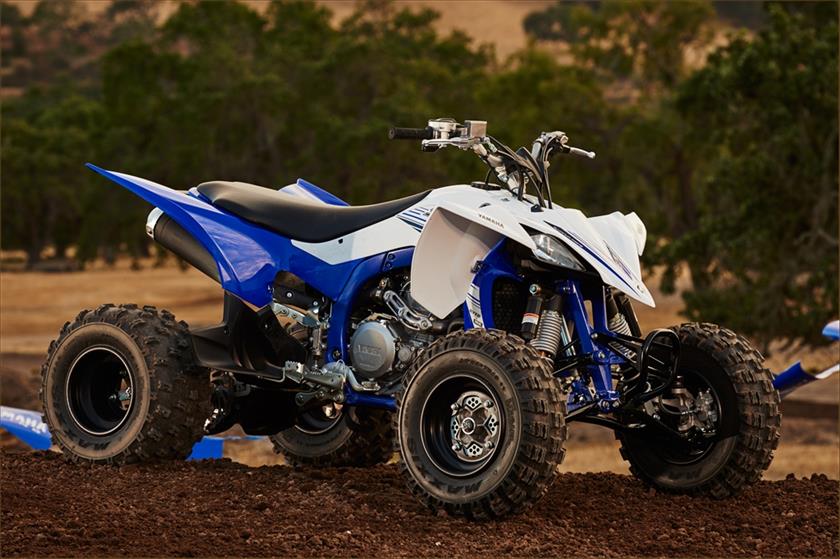 Bringing the Yamaha 450 to life is a 5 titanium valve engine upon a 350 lb total dry weight setup. With the industries best power to weight ratio out of any stock ATV on the market it's no wonder that the YFZ450 is highly competitive in every race. It's lightweight high-tensile steel frame with fully adjustable suspension provides exceptional handling. The YFZ450 was born to race and an extreme selection of high performance YFZ 450 parts are available.
The Yamaha Motor Company is offering a special edition YFZ450SE for 2008 with black and orange graphics. If you prefer red and gray graphics on your YFZ 450 you can chose those as well beginning in June 2007. Of course, the blue and white signature graphics kits are always an option too. Yamaha ATV enthusiasts will be styling into 2019 and beyond, check out this rooster tail.
YFZ 450 specs for most years incl 2004-2011
Transmission: 5-speed, wet multi-plate clutch
Drive Train : 2WD, sealed O-ring chain, eccentric adjustment
Front Suspension: Independent double wishbone, with piggy back High and Lo speed compression, rebound and threaded pre-load adjustment, 9.1 inches of travel.
Rear Suspension: Cast aluminum swing arm with rebound, High and Lo speed compression threaded pre-load, 10.6 inches of travel.
Front Brakes : Dual ventilated hydraulic disc, twin piston
Rear Brakes : Ventilated hydraulic disc, twin piston
Front Tires : AT21 x 7-10 radial
Rear Tires : AT20 x 10-9 radial
Overall Dimensions : L x W x H = 72.4 x 46.1 x 42.9 in
Yamaha YFZ 450 Seat Height : 31.9 inches
Wheelbase : 50.4 inches
Ground Clearance : 4.5 inches
Tie rod end torque specs: ball joints 18 ft/lb, tie rods 18 ft/lb, shock bolts 32ft/lb, Upper A-Arms 27 ft/lb, Lower A-Arms 40 ft/lb
YFZ 450 Engine Specs and oil change info
Engine : 449cc liquid-cooled with fan, 4-stroke, DOHC, 5 titanium valves
Bore and Stroke : 95.0mm x 63.4mm
Compression Ratio : 11.4:1
Carb: Keihin 39mm FCR with throttle position sensor
Ignition : DC – CDI
Starter : Electric
YFZ 450 oil type: 10w-40 is recommended
YFZ 450 oil capacity: 1.96 US Quarts (1.85 Liters) with filter change
YFZ 450 horsepower: 38-40HP stock
YFZ 450 backfire: see carb adjustment
Fuel Capacity : 2.6 gallons
yfz 450 valve adjustment : .15mm(.006) intake, .20mm(.008) exhaust
yfz 450 hp : 39 Horsepower stock officially, 30-35HP on the dyno depending on conditions.
YFZ450r Weight and Dimensions
L x W x H 70.7 x 48.8 x 41.9 in
Seat Height: 31.9 in
Wheelbase: 50.0 in
Ground Clearance: 4.5 in
YFZ 450 Weight: 350 lbs dry, 405 lb wet
2009 was a good year for the Yamaha YFZ 450R
The Yamaha YFZ450r is brand spanking new for 2009 the Yamaha YFZ450r is already making a big splash in racing circles. Dustin Nelson, winner of the 2007 ITP Quadcross Championship, says "The throttle response on this thing is amazing!". Yamaha has upgraded several performance parts for 2009 and the early feedback from racers and fanatics is two thumbs way up. Take a look at more YFZ450r pictures…
The Yamaha YFZ450r is almost three inches wider than last years YFZ450 ATV and stance is motocross ready from stock. The Yamaha yfz450r frame is made from lightweight aluminum with a steel bottom frame that lets the engine sit lower to the ground resulting in a lower center of gravity. The suspension parts have been given more travel and upon closer review a Kashima coating covers the front shocks.
The YFZ450r Engine has also been beefed up in 2009 with an enlarged throttle body, a 42mm Mikuni vs last years 39mm, and a 12 hole fuel injector system. An ISC (Idle Speed Control) is also included for easy starting and warming up. The end result is the same torque, rpm and power we've come to expect from the YFZ450 but with improved response and better overall performance.
The Yamaha YFZ 450r has also made some improvements to comfort levels while riding. Not only will it take longer for you to get 'throttle thumb' from the more responsive intake system you'll appreciate the softer plastics and new seat design. The YFZ450r seat is slightly narrower in the front while being wider in the rear to help keep you on the ATV while riding all out. You do plan on riding this quad all out right? Good, that's how it's built to be handled!
Yamaha's YFZ450r ATV sits on Dunlop tires with steering handled by ProTaper handlebars under 4-way clamps. Huge 65mm foot pegs scream for you to get on them when you thrash the front KYB shocks over their full 9.8 inches of travel. The rear end travels a total of 11 inches in stock form thanks to equally sturdy and fully adjustable KYB 46mm piggyback system.
The YFZ450r swing-arm is made of ultra strong gravity fed aluminum to keep it light and rear stopping power comes from a trick looking wave type rotor. 2009 Yamaha YFZ450r specs are as follows…
*The YFZ 450 is one of many ATV brands manufactured by Yamaha and is similar in popularity to the Yamaha Banshee.
Used YFZ 450 Buying Tips
Buying a brand new ATV isn't an option for everyone in tough economic times, and it's tough to do when you're still in school and working part time, so what's an ATV rider to do? Simple, buy used and plan to replace parts over time as your budget allows.
When you buy a new sport ATV you're likely going to upgrade a lot of the parts, eventually. The first step is to find a good deal on the make and model of ATV you're wanting to build. If I was about to start building yet another low budget ATV project the 2006 Yamaha YFZ 450 r would be high on my list of possible choices and here is why…
The 2006 Yamaha YFZ 450 signaled the start of a new trend in which sport ATVs were capable of *gasp* racing stock. Stock Yamaha YFZ 450 OEM parts were high performance by design which is a good thing when you're going to be keeping many of them during your ATV project build. A quick check of several popular ATV for sale hot-spots shows that there are a lot of used 2006's available right now which is also a good thing because you'll be able to negotiate a better deal if you're patient.
The planning stages – know what you're going to buy before you buy anything at all and make sure to research your specific model in advance. Your first purchase will be a complete ATV, hopefully at a great price, and there is an art to saving money when choosing the right ATV. You'll be buying the specific parts you want later on so don't waste money by paying more for the core frame/ATV just because the owner made his own upgrades to the YFZ 450 before selling it. Set a price you're willing to pay and stick to it even if it does have bells and whistles already.
Your two concerns when buying the core of your project should be a) is it complete so that I can have fun with it right away and b) is everything in working order. When planning a low budget ATV project there is nothing worse than ending up with an ATV you can't enjoy because a certain part is broken and too expensive to fix without needing to save first.
If you're able to ride the ATV as is you may also find yourself wanting to make changes to your build plans. A 2006 YFZ 450 with only new pipes as an upgrade has been a common scene in many riding areas and you might find yourself willing to spend a bit more on a new ATV exhaust system at the expense of leaving out other fancy upgrades.
How to save money on a used yfz 450
Sometimes two is better than one, consider buying two separate ATVs if you find that together they have all the parts on your wish list. You can swap parts and re-sell the ATV you don't want and maybe even turn a profit on it.
Be patient and negotiate like a pro by ignoring the good parts of an ATV and focusing on the negative. Sometimes a seller will accept a lower offer just to get rid of an ATV, especially if it doesn't have the parts a buyer is looking for.
Since you have a very specific wish list and your goal is to cross everything off that list while spending the least amount of money possible it makes sense to avoid taking your list to a dealer who will charge top dollar, browse the for sale by owner listings and again, be patient!
Did I mention be patient? Since keeping the ATV project build as low budget as possible is the goal you're going to want to spend time just watching the Yamaha YFZ 450 for sale listings. You can't get a good idea on what a great price is until you've seen enough sales close to create the ballpark value for you.
Other popular places to get a good idea of real price values (real = what the market is willing to currently pay) include Craigslist, your weekly Pennysaver, the local newspaper classifieds and perhaps even your favorite forums. I can't stress how important it is to be patient if you need to stretch your dollar buying power in order to build the ATV of your dreams. You can save thousands by watching the market closely, people do it every day. If you know of other good sources of used ATVs for sale let me know.
The 2009 YFZ 450R SE is truly a Yamaha Sport ATV for the ages. Just looking at it sends shivers down my neck and somehow it reminds me of Will Smith's Men in Black movie. The YFZ 450R special edition Yamaha ATV comes with a unique black and silver color scheme and the plastics can be taken off quickly without tools, perfect for ATV racing use.
Research your target ATV and learn it's top features and selling points well. The YFZ 450R SE is all new for 2009 and is 3 inches wider than the non special edition YFZ 450R ATV sport. A wider stance, aluminum and tension steel frame that bolts together to reduce metal fatigue caused by welding and an engine that sits lower in the frame are all welcome additions if you enjoy ATV racing. ATV fuel injection technology from Yamaha offers precise fuel delivery through a 42mm Mikuni throttle body and 12 hole injector.
Once you've selected a type of ATV within your price range make sure it's not a stolen ATV, read my guide on how to avoid buying stolen ATVs. For help in figuring out what an ATV is worth read my ATV values guide.
Related Posts