Being a communist, Grant Roff (aka Spannerman and Groff) found the original 1978 Yamaha SR500 had great appeal.
"They only cost about $750 for a rough one at the time and about $1500 for a good one," says the Motorcycle Trader editor. "They were a good working man's bike. But in recent years demand has grown and the price has risen to about $8000," says Groff at the press launch for the new SR400 which hits the market at $8999 plus on-road costs.
He says the new kickstart-only Yamaha SR400 is a "sweet thing", but he wonders if Yamaha has the price right, especially with strong competition from the Royal Enfield Continental GT that comes with electric start.
"The new model is a very sweet ride," he says. "The fuel injection means it is not as hard to start, it idles smoothly and evenly, and it's so easy to ride around town."
Groff says the original SR500 was keenly awaited by the Australian motorcycle community back in the '70s. "There was strong demand for a reliable Japanese thumper. People were expecting a Manx Norton, but reliable. However, what they got was a little underwhelming."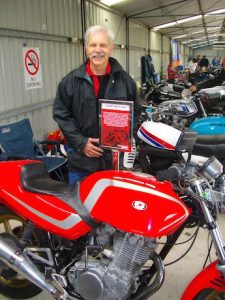 The Yamaha SR500 sold in Australia from 1978 to 1982 and only a few thousand hit the streets. Since then, small volume importers have shipped in grey imports to satisfy the demand for SR bikes to customise into cafe racers.
Groff, who was one of the original members of the Australian SR500 Club and has served as president and secretary, says the bike has been reliable over the years. However, he warns buyers that many of the SR500s have had a hard life beyond their capacity and could develop terminal spiral fractures in the cylinders.
"They are easy to maintain, they are not complicated and if ridden sensibly they are very reliable," he says.
His SR500 was specially modified by tuning legend Rod Tingate and is possibly the only one with the complete Tingate kit including alloy tank, fiberglass seat and tail, rear sets, clip-ons and megaphone exhaust. "Rod saw the potential with the SR500 long before Deus and the others had even been a thought in the back of someone's mind," Groff says. "SR500s weren't always ridden by hipsters."
To prove the point he sent in a photo of the "traditional welcome" offered by the police to the SR500 club as it arrived in Bethanga for its annual rally. "The back story is the police asked us to pose the shot so they could submit it to their magazine, Police Life," he says.
Meanwhile, he can't wipe the grin off his face as he trundles around the streets of Melbourne on the new Yamaha SR400.