Yamaha has unveiled Motobot, a motorcycle-riding robot at the Tokyo Motor Show, sparking concerns about electronic intervention for "rider safety".
The robot was one of several interesting displays on the Yamaha stand including electric bikes and even a car powered by a motorcycle engine.
Why would Yamaha build a car and a robot? Maybe it's to show Honda that they can also build cars and robots like their Asimo.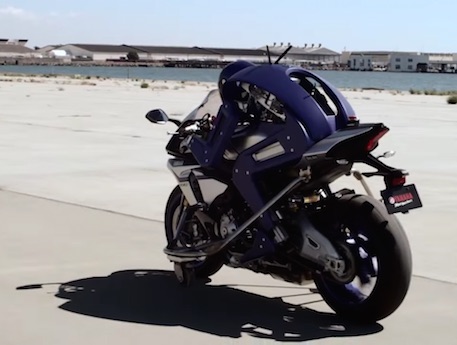 Yamaha says their goal is for Motobot to be able to ride an unmodified motorcycle on a racetrack at more than 200km/h.
They also say they want to apply some of the technology to safety and rider support systems and "pioneer new lines of business", which could mean they are planning to follow Bosch and Continental into electronic rider safety systems.
This may cause concern among riders that technology will take some of our skills away.
We already have ABS, traction control, automotive braking and other "safety" aids being introduced in bikes.
What's next, a robot that takes over the riding in difficult or emergency situations?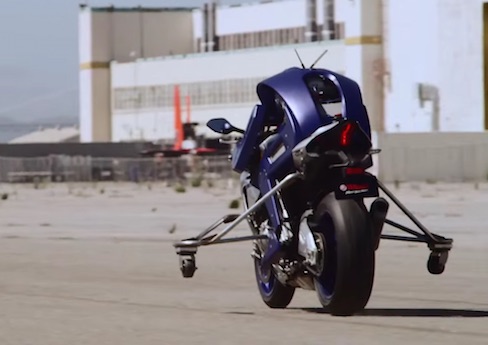 Meanwhile, Yamaha's concert car, the Sports Ride Concept, is similar to the Honda track day car powered by its MotoGP-derived four-cylinder engine from the exclusive RC213V-S sportsbike and unveiled at the Frankfurt Motor Show in September.
It shows Yamaha is also serious about "new lines of business" after earlier this year announcing plans to make small cars for the European market from 2019 featuring 1000cc motorcycle engines.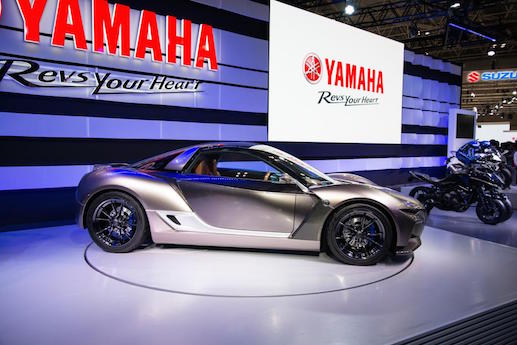 It's not their first foray into four wheels having developed engines for Toyota, the Lexus LFA V10, Ford's SHO V6, Formula One racers. In the early 90s, they also made the 335kW V12 OX99-11 supercar.
In 2013 Yamaha exhibited a prototype 1000cc engine car and an electric-car battery at the Tokyo Motor Show. This time it's a mid-engined sports car.
Yamaha has also released updated versions of its electric motorcycles which they plan to put into production in 2016.
Last year Yamaha unveiled their Passion Electric Street (PES) electric street bike and Passion Electric Dirt (PED) electric off-roader, promising to go to market with the bikes.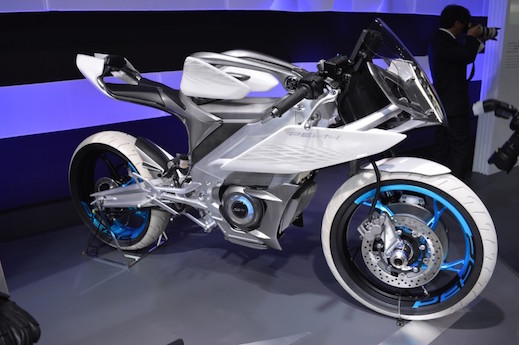 However, they have now released the PES2 and PED2 with cosmetic and technology updates ready for production.
The street bike is now two-wheel drive with a second motor in the front wheel, although a two-wheel-drive dirt bike would be more useful.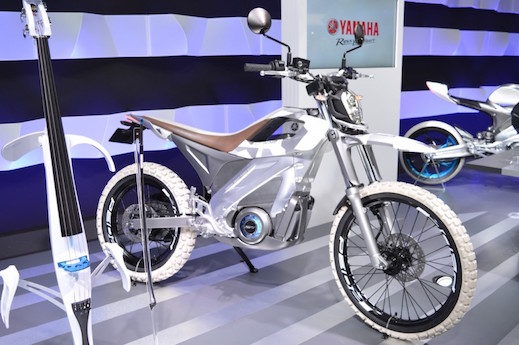 They have a new powertrain named Yamaha Smart Power Module fastened to a monocoque structure that functions as the bike frame.
Yamaha also seems intent on developing their tilting three-wheelers with the introduction of the 850cc sports three-wheeler MWT-9 concept.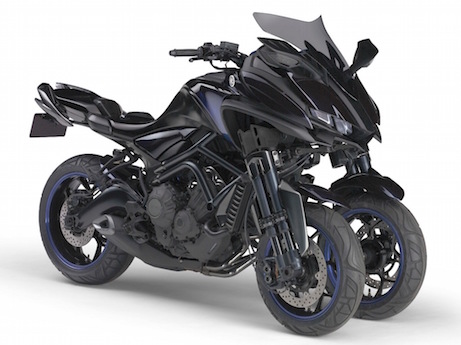 The bike is expected to extend the existing three-wheeled 125cc Tricity scooter into an entire family of three-wheelers.
Yamaha also unveiled the YPJ-MTB electrically assisted mountain bike concept. It is powered by a 400-Wh lithium-ion battery and a DC brushless motor that produces 250W.