Yamaha Big Bear 400, 350 and 250 In-Depth Guide
The Yamaha Big Bear is an all-terrain vehicle manufactured by Yamaha and used for hunting, farming and enjoying the great outdoors. Notable features include rugged handling without compromise to load capacity and a class leading 264 lbs rack system. Winch mounts and ITP Mud Lite tires are standard equipment. Full floor boards and marine spec electrical parts are also standard on the Big Bear 400. For comparison jump ahead to the Big Bear 250 review below.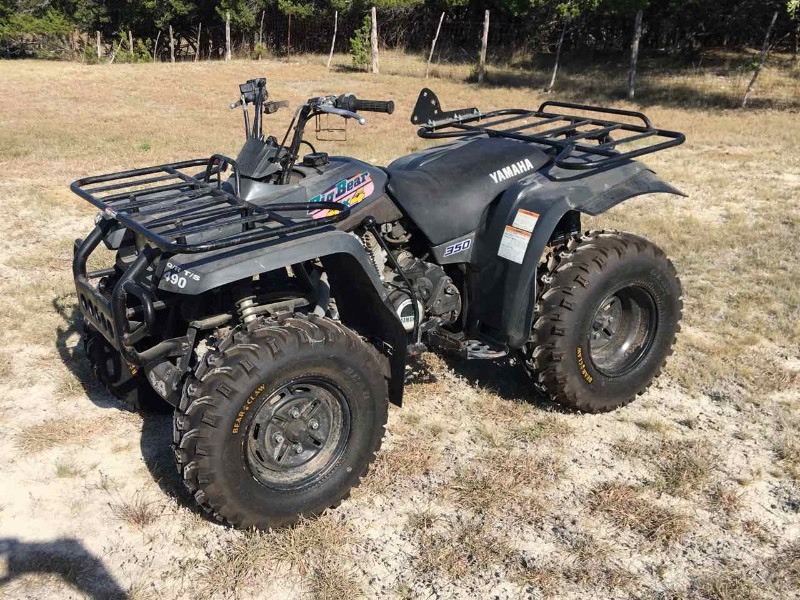 How Much Does The Yamaha Big Bear Weigh?
The Yamaha Big Bear 400 weighs 556 lbs without fluids(dry weight) in factory stock condition. The Yamaha Big Bear 350 4WD weighs 564 lbs and the Big Bear 250 model weighs 456 lbs. With fluids included and a full tank of fuel add another 30lbs to these weights. Figures were taken directly from their owner's manuals. Weight changes slightly based on model year but not by very much.
About the Yamaha Big Bear 400 ATV
Yamaha Big Bear 400 ATVs were built in Newman, GA, USA and feature a large capacity fuel tank with a built in fuel gauge as well as a great turning radius. Blazing a new trail while hunting is made easier with Big Bear features, you will appreciate being able to maneuver around obstacles in tight areas.
Yamaha Big Bear 400 Specs
Cylinders: 1
Engine Stroke: 4-Stroke
Valve Configuration: SOHC
Displacement: 386cc
Carb Type: Carburetor
Yamaha Big Bear Top Speed: 62MPH
Transmission Type: Manual / Automatic Clutch
Number Of Speeds: 5
Big Bear 400 oil capacity: 3.2 quarts (3.6 Liters)
Primary Drive: Shaft
Reverse Gear: Yes
Front Tires: AT25 x 8 – 12 ITP Mud Lite
Rear Tires: AT25 x 10 – 12 ITP Mud Lite
Front Brake Type: Dual Hydraulic Disc
Rear Brake Type: Sealed Oil Bath
Wheelbase: 48.4 inches
Fuel Capacity: 4 gallons
The Yamaha Big Bear ATV featured the longest wheelbase in its class. Integrated floor boards protect the rider from dirt and road debris. The Yamaha Big Bear can carry 165 lbs of cargo and tow an additional 728 lbs on a tralier connected to it's bumper hitch. A strong 230cc, 4-stroke, air-cooled single over-head cam engine and 5-speed transmission with reverse give the Big Bear a high performance rating.
About the Yamaha Big Bear 250
Yamaha offers optional Big Bear 250 accessories including a front brush guard, front brush plate, front A-arm skid plates and a rear differential skid plate and over fenders. Talk about taking care of business! The Big Bear 250 is the 'little brother' of the Grizzly but it is ready to take you, and all your gear, into hard to reach areas. Big Bear seat height is 30.7 inches.
Yamaha Big Bear 250 specs
MSRP: $4,099
Engine: 230cc, 4-stroke, air-cooled SOHC
Bore and Stroke: 71.0mm x 58.0mm
Compression Ratio: 8.7:1
Big Bear Carburetor: Mikuni 33mm BSR
Ignition: DC w/ CDI
Starter: Electric w/auxiliary pull
Big Bear Transmission: 5-speed w/reverse; automatic clutch
Drive Train: 2WD; shaft drive
Front Suspension: McPherson strut, 4.9-in travel
Rear Suspension: Swing-arm; 5-way preload adjustment, 5.3-in travel
Front Brakes: Dual hydraulic discs
Rear Brakes: Fully sealed drum
Tire / Front: AT22x7-10
Tire / Rear: AT22x10-10
L x W x H: 75.4 x 40.9 x 44.0 in
Yamaha Big Bear Seat Height: 30.7 in
Wheelbase: 46.1 in
Turning Radius: 114 in
Ground Clearance: 5.9 in
Fuel Capacity: 3.2 gal
Weight: 476 lb
Rack Capacity: 66 lb Fr./99 lb Rr.
Towing Capacity: 728 lbs
Instrumentation: None
Lighs: Dual 30W Krypton multi-reflector headlights and 21W/5W brake light
Warranty: 6 Month (Limited Factory Warranty)
Yamaha Big Bear 250's had a suggested price of $4,099 in 2009. Compare them to the Yamaha Raptor 250 for additional insight.
Yamaha Big Bear 350 Specs
Yamaha began production of the Big Bear 350 all-terrain vehicle in 1987. The Big Bear 350 was exclusively a 4×4 ATV until 1997 when a 2×4 version became available. Production of the Big Bear 350 was halted in 1999 when Yamaha re-focused on other ATV models. The Yamaha Big Bear 350 has a load capacity of 175 lbs and notable features include an odometer, electric start and reverse gear.
The Yamaha Big Bear 350 Engine is of four-stroke design with a single overhead cam(SOHC). The engine is 350 cc in size with a total displacement of 21.3 cubic inches. The Big Bear's transmission is a five-speed with reverse. The Big Bear has a compact frame design with a 47.6 inch wheelbase and 7.1 inches of ground clearance.
The Big Bear's top speed has been recorded at 62 MPH, it is designed for work, not speed. Full fenders and inner splash guards are standard equipment on the Big Bear and protect the rider from mud and debris. A parking brake is mounted to the handlebar of the Big Bear which should be used when operating a winch.
Related Posts