Xpeed XF-705 Helmet Review Summary
Xpeed Helmet Image Gallery
The Xpeed XF-705 has the features of a much more expensive helmet.
And it can usually be found at a hefty discount from its list price, making it a super deal.
We first discovered Xpeed back in February at the 2008 Powersports Dealer Expo in Indianapolis.
It's now September and we're still reporting on some of the interesting motorcycle gear we discovered at the show.
I guess that means it was a very good year!
Xpeed had a small display in one of the back alleys of the Indianapolis Convention Center, and their helmets looked very interesting.
But it must have taken them longer than anticipated to get the distribution kinks worked out in their apparent re-introduction to the North American market, because we tried to buy an Xpeed helmet several times since then without success.
But Xpeed helmets are finally working their way into the pipeline and we were finally able to acquire this XF-705 in the blue "Spider" graphics shown here.
The XF-705 is apparently the top of the Xpeed range for 2008.
A model called the XF-706 is identical except for chrome plated vent covers, and they also offer an XP-507, which appears to be the same basic helmet but with a different top venting system and slightly less flair to the overall design.
The company also had a very interesting carbon fiber helmet on display at the show that felt very light, but it doesn't show up in their 2008 catalog, and I'm not sure if it will.
Xpeed also makes a flip-up helmet called the X-Tech and they also have a couple of motocross helmets in the current lineup.
My guess is that they're testing the waters with some of their basic designs to see how well they are accepted in what has become a very crowded North American marketplace for motorcycle helmets.
webBikeWorld readers are constantly asking for more reviews of "cheap" motorcycle helmets. Personally, I'm not too keen on using the word "cheap" in the same sentence that includes the phrase "protection for my head".
"Bargain" may be a better term; i.e., let's find a helmet that offers class-leading comfort, safety and performance, and if it costs less than one from the Big Boys, then we have a deal.
Just for the record though, we have evaluated several helmets over the last couple of years that meet the definition of "bargain".
Now we have the Xpeed XF-705, which also fits the bargain description. It has a list price of $169.99, but like the sticker on the window of a new car, that price has been rendered meaningless by market forces.
We bought the XF-705 shown here in the "Spider" graphics for an incredible $79.99.
And if you can get by with solid red, silver or white, you can save another 10 bucks!
But if you want one, you better act fast, because the XF-705 helmets are on an end-of-the-year clearance sale and last time I checked, they only had about 50 left!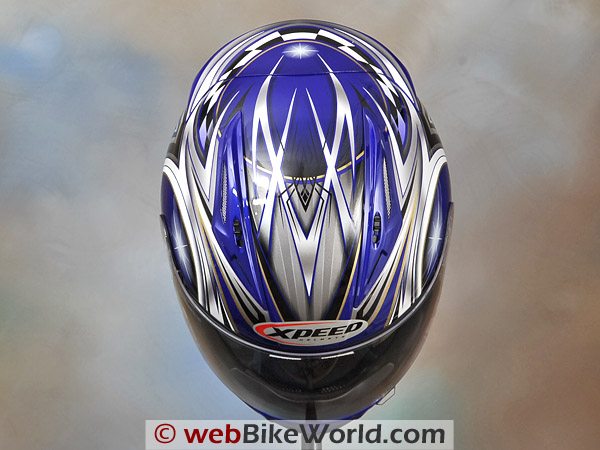 Paint, Graphics and Overall Quality
While the finish on the Xpeed XF-705 isn't up to, say, Shark RSX standards, it's still pretty decent, with a thick-feeling clear coat over somewhat complex and slightly outdated looking (at least in the Spider version shown here) graphics.
The graphics have been applied as a type of decal, as they usually are on most helmets, and I can feel a bit of unevenness where the patterns overlay each other. But that's not a big deal at all, just a nitpick, and you can overlook quite a bit for 80 bucks.
But the overall finish and the quality of this helmet is very good.
Everything fits well and the gaps and seams are tight. The gasket fits tightly to the bottom of the helmet and the chin and top vent assemblies feel about as tight and robust as these things get.
One of the really impressive features of the XF-705 is the visor, which fits very tight to the gasket that surrounds the eye port. This isn't always the case, even with some very expensive helmets, and it's definitely a sign of good quality.
In fact, my guess is that the visor on the XF-705 will be about as watertight as they get, although I'm pretty certain water could leak into the top vents, as it does on most helmets. More on the visor in a minute…
The liner is fully removable and washable, and it fits perfectly into the helmet shell — again better than some of the helmets we've reviewed that carry a list price two or three or even four times higher than the XF-705.
The liner material is claimed to be made from Coolmax.
It does have a slightly rougher or more scratchy feel than, say, an Arai Quantum II, but I have noticed that the liner on the XF-705 wicks moisture from my head much more efficiently than most other helmets I've worn in this summer's hot and humid weather.
Score:  I'll give the Xpeed XF-705 an "Excellent" rating for its finish and overall quality, which is especially good considering the price.
See the ratings scale in the summary table at the bottom of this page for more information.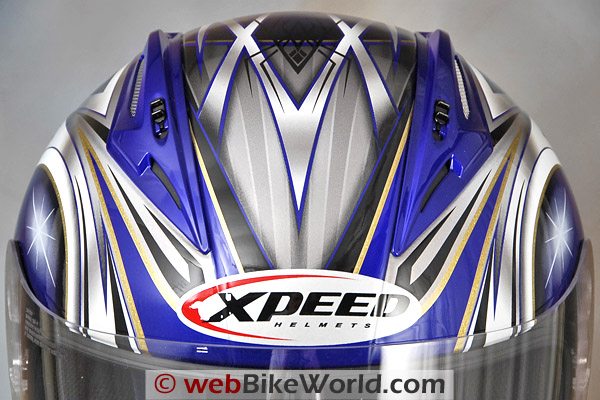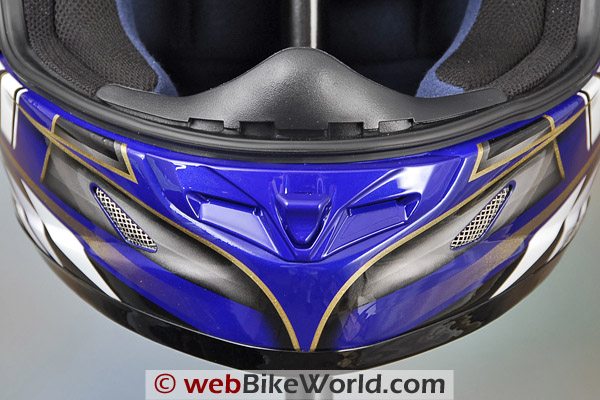 Helmet Shape, Fit and Sizing
We normally order a size XL for all of the helmets reviewed on webBikeWorld, which allows us to standardize on the internal shapes and weight comparisons.
So we ordered the XF-705 in XL, and when it arrived, the box said it was an XL, but I tried it on and it seemed tight. I looked inside the helmet and sure enough, the label said it was a size large, so there must have been a mixup somewhere along the line.
I can and do occasionally wear a size XL but I actually measure for a size large, so that's why I ended up doing the evaluation of this particular helmet.
I think the internal fit of the XF-705 tends slightly towards round on top, and neutral on the sides — rather like an HJC or KBC fit, if I can generalize. So this one should fit a large majority of head shapes.
The XF-705 is not as "long oval" up top as the Shark RSX or the Icon Airframe, both of which tend very slightly towards oval around the top of the helmet.
But it's also not as "round" as the Arai Quantum II. It fits similar to a Suomy Extreme that I wear occasionally, if that helps.
The Xpeed is pretty comfortable actually; the shell feels just slightly shorter in the top-to-bottom dimension than I'd like, but as the padding wears in, it should be fine. The Coolmax lining does feel just a bit rougher than normal, but not enough to bother.
Actually, I think the more open weave of the fabric probably serves to lift the material slightly from my face, which helps keep things cool.
It has been very warm and humid here lately, and the lining in the XF-705 definitely feels noticeably better at transporting moisture away from my skin than some other helmets I've worn this season.
By the way, the XF-705 also includes a large and tight-fitting wind block under the chin.
So I'd say that the size large XF-705 should fit a neutral/round head shape ranging from about 59.5 to 61 cm, which is just about on target for the industry standard size large. I couldn't find specific sizing information on the Xpeed website, which is a bit strange.
The XF-705 also has generously sized ear pockets that are lined at the "bottom" towards the shell. And, I can fit my regular eyeglasses with no problem when wearing this helmet.
See our Motorcycle Helmet FAQ for more information on internal helmet shapes, head shapes and choosing and fitting a motorcycle helmet. Remember also that proper fit is crucial for both comfort and safety.
Score:  I'll give the Xpeed XF-705 an "Excellent" for its internal shape and comfort.
Helmet Liner
I guess I stole my own thunder on this one as mentioned above; the liner in the XF-705 is well made, fits tightly to the shell and does a better than average job at wicking moisture. It's fully removable and washable, and Xpeed claims that it's made from Coolmax.
The fabric is slightly rougher than average — it's not that smooth/shiny stuff that some of the helmet manufacturers seem to be using lately.
But on the other hand, the smooth fabrics may feel good but my experience tells me that in general, they're not as good at absorbing moisture.
The padding in the XF-705 is generous and it's slightly on the firm side, which is an indicator that it should hold up over the long run.
Score: The XF-705 gets an "Excellent" rating from me for the comfort, padding, ear pockets and quality of the liner.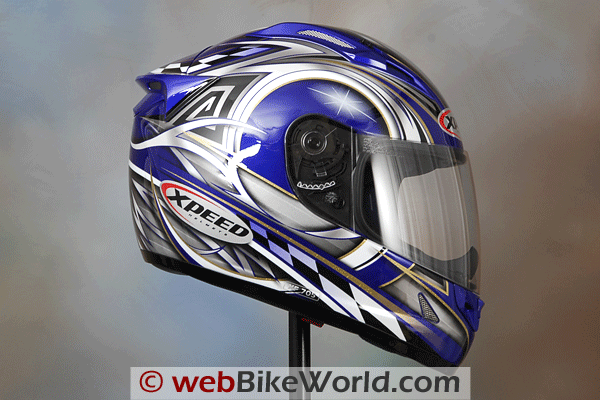 Ventilation – Top Vents
This is the one area where the XF-705 puzzles me. The top vents seem like they should do a good job of directing air down on to the rider's head, but the helmet's top ventilation isn't very good.
Which, in reality, means that it's about average for a motorcycle helmet, most of which have terrible top vents.
It's a shame really, because I think there's potential here.
The vent switches work are easy to find and work well, and I can look inside the helmet liner and see the large vent holes right through the EPS liner.
But the problem I think is that the holes are canted towards the front of the helmet, pointing towards the brow, rather than back towards the rider's head, where they might flow more air down and back.
Also, the EPS foam is covered with some mesh fabric on top of the rider's head, which is nice, but probably blocks a bit of air.
And the liner itself has adequate spacing, but the vent hole that goes through the EPS is located directly above one of the solid sections of the liner's webbing, which effectively blocks any air that does find it's way through.
And there's one more feature that may not help: the top vent assembly has a mesh screen just in back and to the side of the vent opening. So any air that comes in to the vent is probably directed right back out the sides.
The mesh screen may have been added as a sort of negative pressure device, but whether it helps the overall air flow is questionable. You can look through the vent and see right out the mesh towards the back of the helmet.
Score:  I'll have to give a "Poor" rating to the top venting system on the XF-705, although if an owner felt creative, there may be ways to modify the liner slightly to make it better.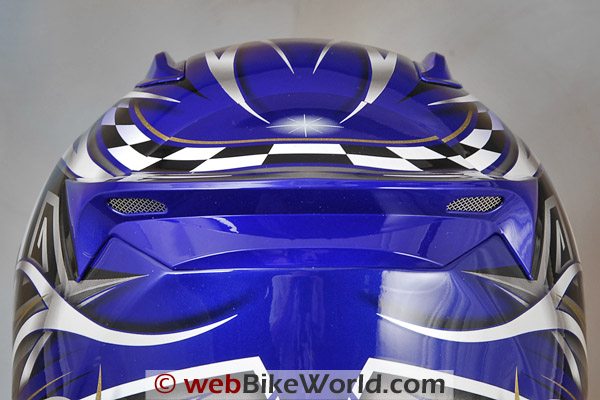 Ventilation – Lower Vents
The XF-705 does have a nice chin vent; it opens easily with a two-position slider in front that's easy to find.
The helmet has a large chin wind block underneath as mentioned above, and at slow speeds, it does feel a bit close inside the helmet around my mouth.
But once the air pressure builds on the outside of the helmet, the system does provide good air flow through the front.
Another impressive feature of the XF-705 is that the padded chin bar actually has two air vent openings built in, and — get this — they're adjustable!  Very unexpected on an 80 buck helmet…
The vent channels are covered by very nice quality fittings with round covers that can be rotated to open and close to adjust the amount of air that flows in.
Between this feature, the chin wind block and the tight-fitting visor, the XF-705 may be the helmet of choice for cold weather, when you want to decrease the amount of cold air flowing through.
Score:  I'll give the XF-705 "Outstanding" rating for chin venting, air flow and features.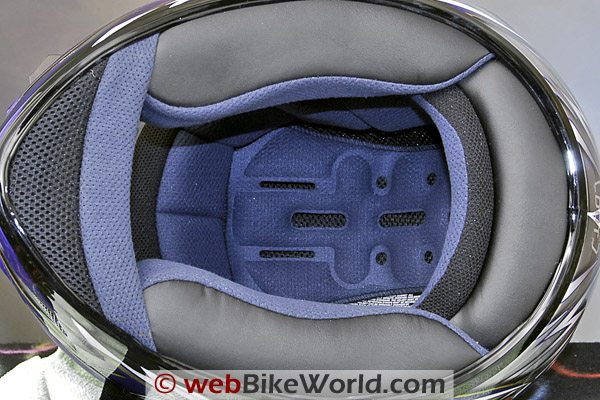 Noise Levels
Nothing extraordinary to report here; the XF-705 is about average when it comes to noise levels. If the top vents don't flow much air, at least they don't contribute much to the overall volume.
The tight-fitting liner and overall shape seems to do a good job at controlling noise; I'd say it's about average, and actually it's probably better than most at controlling the lower frequency "booming" noises that can be caused by air turbulence around the bottom of the helmet.
Note that our helmet evaluations are a combined effort of several riders over time on different types of motorcycles with and without windscreens.
Evaluators wear correctly fitted, high quality ear plugs (even when evaluating motorcycle intercom systems).
Always protect your hearing when riding a motorcycle. See the wBW Earplug Reviews for more information on choosing and wearing earplugs.
Note also that perceived noise levels will vary, depending on the individual.
Noise can be caused by many factors, including helmet fit, the type of motorcycle and windscreen, wind speed and direction and even the rider's clothing.
For more information on helmet noise, visit the wBW Motorcycle Helmet Noise page.
Score: I'll give the XF-705 a "Very Good" rating for noise control.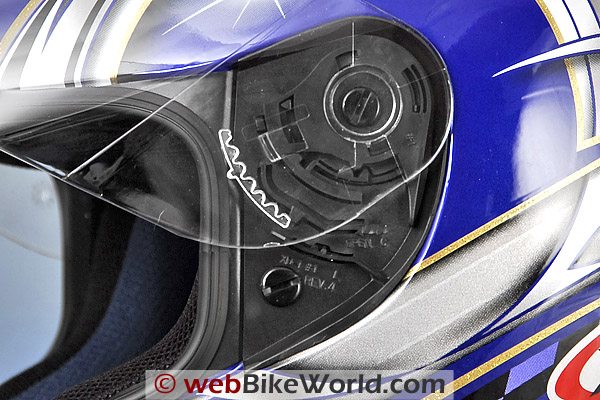 Face Shield
The XF-705 has a very nice face shield that fits very tightly to the shell and seals perfectly to the eye port gasket, which is a surprise at this price range. Many of the expensive helmets we've reviewed don't fit as well.
The face shield also has excellent detents with an amazing 8 distinct detents. It can be cracked open just a touch for demisting, and each detent is strong and solid all the way to fully open.
Also, the face shield is very easy to remove — it's amazing at how simple this can and should be, yet some manufacturers get it so horribly wrong.
Open the shield all the way, pull the lever forward and the face shield pops out. Simple! See our video for a demonstration.
The face shield has about average top-to-bottom and side-to-side visibility, and the optical quality is good, so no complaints here. Xpeed claims it is treated with an anti-fog coating, but it's been too warm lately to evaluate that.
We measured the face shield thickness at 2.18 mm, slightly thicker than average. It's not clear (pun!) whether Xpeed offers tinted face shields for the XF-705; they have a photo of them on their website but when you click for more information, nothing shows up.
However, they do have some tinted face shields in stock for Xpeed helmets.
Oh, and by the way, the XF-705's face shield also has a nice, big tab on the left-hand side that's easy to find when lifting or closing the face shield.
Score: I'll give the XF-705 an "Outstanding" for face shield quality, strong detents with a large range of adjustability and a very easy-to-use removal system.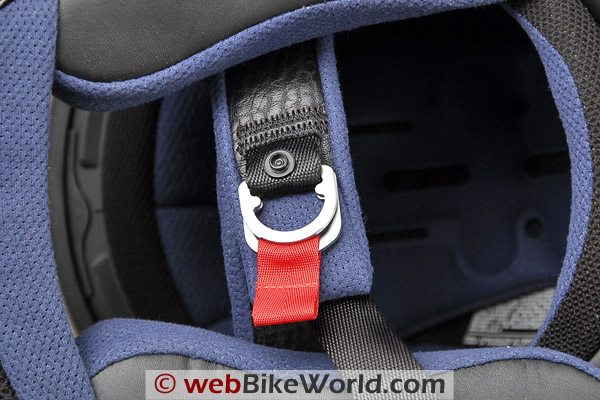 Helmet Weight
The XF-705 has another great feature — it's weight, or lack of it.
In a season where we've been complaining about the ever-expanding weight issue with many motorcycle helmets lately, the XF-705 weighs in at only 1611 grams, which puts it at a little less than half of the average weight of the 102 helmets we've reviewed as of the date of publication.
Xpeed says the XF-705 is available in two shell sizes, and we're guessing that the large shell size is used for the size L and XL, which then should be about the same weight.
The shell is made from a fiber reinforced plastic, not the polycarbonate normally found in helmets of this price range.
The XF-705's 1611 grams puts it in good company, around the weights of the HJC CS-R1 (review) at 1605 grams or the Shoei TZ-R (review) at 1606 grams.
Also the Shoei RF-1000 (review) at 1610 grams and it's even lighter than the OGK FF-5 (review), which weighed in at 1614 grams. All of those helmets are size XL.
Be sure to visit the wBW Motorcycle Helmet Weights page for charts listing the helmet weights and internal shapes of all of the helmets we've reviewed.
Score:  The XF-705 gets an "Outstanding" rating for its weight and balance.
w
BW
 Video: Xpeed XF-705 Helmet
Miscellaneous
Here's another surprising feature of the XF-705: it meets both DOT and Snell safety standards!
It also uses the double D-ring attachment system, and it has a comfortable and cushy amount of padding underneath. The extra length of chin strap is secured with a snap.
web

BikeWorld

 Overall Opinionator – Xpeed XF-705
Picks…
…and Pans

Very good overall quality.
Reasonable price.
Lower ventilation.
Fit face shield fit, detents and removal system.
Meets DOT and Snell safety standards .

Slightly scratchy liner.
Upper ventilation.
Conclusion
The Xpeed XF-705 is the definition of a bargain. Now don't forget that this helmet actually has a list price of $169.99, and if it could only be found at that price, things may look a little different.
But Xpeed must be discounting these pretty heavily to get established in the market.
An XF-705 can be found for as little as $69.99 in solid colors, but I just checked and they're sold out on some sizes, so if you want one, better act fast.
w

BW

 Review: Xpeed XF-705 Helmet
Manufacturer: Xpeed Helmets
List Price (2008): $169.99
Colors: Solids and graphics.
Made In: Korea
Sizes: S-2XL Shell Sizes: Unknown
Review Date: September 2008

Rating Scale is subjective: Unacceptable, Poor, Neutral, Very Good, Excellent, Outstanding.
Note:
 For informational use only. All material and photographs are Copyright © webWorld International, LLC since 2000. All rights reserved. See the webBikeWorld® 
Site Info page
. Product specifications, features and details may change or differ from our descriptions. Always check before purchasing. Read the
Terms and Conditions
!
Owner Comments and Feedback
---
From "J.S." (October 2011): "I've used this helmet for a good month now, and I have some pros and cons about this helmet that I thought people should know.
Pros: Very comfortable liner, vents bring in cool air, very wide angle of view, graphics look great, and quiet at slow speeds.
Cons: Extremely loud at highway speeds even with ear plugs, a lot of buffeting, tons of lift at 60+mph, terrible seal on visor (lets water in).
So over all, it was a great around the city helmet, it's very comfortable and it doesn't break the bank. But, they have some issues to take care of before they should upgrade their line-up.
Customer service is wonderful, that's if you get the right phone number and you can hardly find where to buy their helmets online or at a dealer.
So from a scale 1-10, 1 being a piece of paper for a helmet providing no protection and 10 being the most protective, I would rate this XF-705 to be a 6 or a 7. There are places that need improvement, but this is a good helmet for a beginner like me."
---
From "G.T." (1/09):   "Unfortunately, I got an opportunity to test my recently purchased XF 705 helmet. A Ford Excursion pulled directly in front of me while I was traveling about 45 mph.
Luckily, I hit the SUV at the front wheel well and was ejected over the hood of the vehicle and onto the road.
Thanks to my armored gear and this helmet, I escaped with some bruising, a little rash on my leg, and no broken bones. I loved the helmet and I own 8 other helmets to compare it with.
The helmet sustained very light damage, despite my hitting the pavement hard enough to knock me out for a few minutes.
At 61 years of age, I came out if this with very light injuries; however, I shudder to think about what the extent of my injuries would have been if I had hit the SUV at the driver's door.
My family and the emergency personnel at the scene were startled that I had escaped with such little damage.
Unfortunately, my greatly beloved ZRX 1200 did not fare quite as well and is probably totaled. Thanks for helping me make a purchase that helped save my life."
---
From "E.W." (11/08):  "I really have a Polaris Cyclone Snowmobile helmet. Guess what; it is virtually identical to the Xpeed 705. The two air vents in the padded chin bar are where the breath deflector plugs in on the snow model.
The helmet is quite good at keeping cold air out as recognized by "Burn" and is likely why the visor fits so tight.
GGood review."
---
From "Sanka" (11/08):  "Just wanted to thank you for reviewing the Xpeed 705. I read the review and thought for 80 bucks why not?  I just rode with it on to work this morning and it rocks!
The liner is a little rough, but fit is excellent, the visor is sold and the optical clarity blew me away.
The next thing I noticed is that unlike my KBC RR there is no buffeting at all to experience. I love when I read a review, buy a product and it works exactly as described….you know what SHOULD happen but not always does. Thanks."
---
From "S" (10/08):  "I received my size large XPEED 705 Euphoria in red this past weekend. I found a great deal on EBay and got the helmet AND a dark smoke visor for $101.00 delivered.
The box was not packaged inside a shipping box, just the manufacturer's helmet box which had the hand grip holes in it. This SCARED me immediately!
When I opened the box the helmet was inside the included helmet bag. The smoke visor was well protected in its own thick plastic sleeve. The helmet was not damaged from the poor shipping method. I breathed a sigh of relief.
I wore the helmet to work on Monday and it rained slightly. I put the smoke visor on it the night before.
Very easy to swap out, as you said. I ride a Honda Interceptor to give the readers an idea of the fairing height.
Dirty air hits me right above the shoulders and below the neck roll. I was surprised that the water that hit the visor wicked off the sides immediately.
Visor – You're not kidding about tight fit! This thing SNAPS down like it's got a death grip on the gasket! Has to be the tightest fit I have ever experienced in all my life, and I have some VERY expensive helmets in my arsenal! Totally airtight!
Optical clarity was very good, no distortions. I don't know if the smoke visor has anti-fog coating, but it did seem to fog up on me on the morning ride, and it's 74-78 here in Florida in the morning with pretty high humidity.
Crack the visor open though and the fog disappears.
The detents on the visor are crisp… a bit too crisp. When you go to crack it open it flexes and the left opens first. If you want to use the first detent you have to run your left thumb to the right side and ease it up to the first detent.
I am hoping that with use they will relax a bit, or that I will acquire a more deft touch with it. Or maybe, as you so often say, it could use a center tab and not a side one. That would make this visor remarkable!
I tried all the detents up to 80mph and not a quiver. This thing STAYS in place!
Liner – Yep, spot-on again!  A bit of a rough feel, but I bet it wears in nicely. Very snug fit!
I put my glasses on and was amazed at how easy they slipped through onto my ears. There was no fidgeting the ear stems to get them to squirrel past obstructive pads.
This was by far again the easiest I have ever put on a pair of glasses!
Although your ears are bathed in padding it seems to me that a comm setup would fit in here no problem. I had my iTouch on for the morning ride and there was room to spare.
The neck roll is snug as is the previously reviewed chin guard.
This is a very airtight feeling helmet, and that makes it a bit warm at a traffic light. When I took off the helmet at home though, my head was dry and the helmet was a comfortable lid, for the most part.
I say for the most part because I experienced something I have never experienced with any other of my helmets. The wind seemed like someone was pushing on my forehead with their hand!
I later discovered that what was really happening was that when I would lean my head back a bit, the back of the base of the helmet was not allowing air to flow up the back of my head, and in fact acted like a spoiler to push my head back forward!
I found this slightly annoying, but after a few miles I didn't notice it. Maybe it put my head in an aerodynamic slot and I didn't even know it after a while.
The helmet is reasonable noise-wise as stated before. I rode home without my iTouch on so I could judge external noise better. There was no forceful pull when I looked hard left or right, but there WAS a noticeable wind whistling noise.
Not from the vents whistling, but the shell itself. You can hear the wind rush past the shell when you look to the sides.
It wasn't LOUD, but it was there. Like the sound you make when you purse your lips and blow, not quite trying to whistle, but letting out a faint one now and then.
Weight – I rate this as light as the Shark RSX and the fit similar to the RSI. Very nice.
Chin Strap – very nice… In fact, it's nice to have such a solid and easy to find snap for the end of the strap. No fumbling, it's just there at a touch, even with gloves on.
I was surprised that when I go to loosen the strap to take off the helmet, the fabric strip is wider than any I have had and easy to find as well. It also does not bind.
So many times I pull on the tabs on other helmets and then fight to loosen the strap with my thumb and forefinger to undo the strap.
Not so with this one. It loosens the strap, and must give at least an inch and a half of a loop for you to pull on and release the chinstrap… KUDOS!!!
Venting – I rode to work with the vents initially closed, then opened the top vents to find a light breeze hitting me just below the brow portion of the helmet visor… Again, very nice. They DO work!
It's not blowing as much as an Arai Corsair, but hey, it's a thin vent!
The bottom vent I opened and found it to give a gentle breeze again. The adjustable inner vents have to be opened or closed before you put the helmet on.
There is no room for your fingers to get into it with such a wide chin guard, plus you have to twist them, they are not an up/down slider type vent control, but they DO work!
I didn't feel like it was short top to bottom at all. The cheek pads were high and the padding very firm.
Overall??? DAMN!!! This is a nice fitting, comfy helmet. The graphics remind me of the Shark RSX Intense, in design only. The finish is that of a $150 lid, but the Euphoria graphics are very nice. /p>
I think I'll put a good coat of wax on it tonight. I am disappointed that it's hard to find. I think this company has something they need to get out to the unknowing public. God forbid they start making money and raising their prices!
Yes, if I paid $200 for this lid I would not be disappointed.
Again, for the most part your review was dead accurate. This helmet fits great and true to size. I'm going to wear it for a while and see if my mind changes on anything, or if I have more to add.
Thanks guys, another bull's eye!  Great bargain!  Great helmet!"
UPDATE from "S" (10/08):  "I talked to a reliable source that informed me that the XPEED product is actually made by HJC.
As far as my opinion after wearing this helmet for the past couple of weeks?  It hasn't changed.
I love the fit, feel, weight, low noise level (low neck boom), overall construction quality, and price!  This should be your best buy of 2008 in my opinion, IF you can find them!
I took the chin block off and with vents open and visor closed I noticed NO more air making its way up into my face whatsoever.
I found it a bit strange, but then again it is a snug fit and I figure there really is nowhere for the wind to make it's way up into your face with the other vents open.
Those vents force the air down in my opinion and cancel out the updraft that many helmets suffer from.
I did notice though that the air felt really nice on my neck and under my chin though, so I would say that it does add to the overall venting effect of the helmet if you remove the chin blocker.
For some weird reason though I put mine back on and really don't care, BECAUSE….
If you crack the visor to the first detent the helmet is VERY well vented without ever being overbearing. It diffuses perfectly and bathes your face evenly with a smooth, gentle breeze.
In first detent the air flows gently into the helmet at ANY speed. It never gets too forceful inside the helmet that it causes any eye irritation. It never made me blink.
This is the perfect way to ride with this helmet all day long. I only recommend closing the visor if it's cold out.
Tilting your head down makes the breeze feel like it comes from the top of the visor and the wind sheers down the forehead and you can feel it split down the sides of your nose.
But as I said previously, that wind is gentle and constant and never bothers your eyes!
I still say it's a warm helmet if you have the vents open and the visor shut. but that should make for a great helmet when the weather gets nip out.
Conclusion: I am still impressed with this helmet! Right now it's my favorite lid! I'll buy another just in case they disappear!"
Editor's Reply:  Not sure about HJC making these — perhaps the same factory that makes HJC makes XPeed?
From what I understand, it is a separate company, there are many helmet companies but few factories – many of the companies design their own helmets but subcontract out the manufacturing, which I believe is the case here…
---
From "S.A." (9/08):  "I recently purchased this helmet. It's a perfect fit around the top of my Round/Neutral head. I don't feel as squeezed as I do in an Arai Quantum although the Xpeed is also for a fairly round head.
There's more room around the ears (I guess I don't have a full globe shaped noggin') than I am used to with my KBC-VR-1.
The only minuses that I have so far is that the paint (in the red/white Euphoria graphic) was not as good as I was hoping, there are three or four bubbles that I found easily and wear the top of the shell wraps around into the eye port there's a weird paint spot.
Additionally there's a graphical element that looks like it disappears under the rear vent piece instead of continuing on top of it.
I have not seen in the flesh any other helmets in this price range so I can't say for sure if this is bad or good and it's my first sub $225 lid. What I can say is it was on sale with free shipping for $89.
I haven't ridden with it yet so can't attest to the seal around the eye port but the chin bar ventilation looks like it should be stellar.
The lining is very nice. Changing the visor should be straight forward but I found the mechanism on my VR-1 to be easier and require less practice. All in all very nice and a steal of a deal at this price."
---
From "M.G." (9/08):  "Just thought I'd throw in a comment about the Xspeed brand. Cycle Gear recently started adopting them and relabeling them as "707" or "Seven Zero Seven" helmets. I mention this because people seem to believe they're KBC helmets.
So far they've incorporated the XP-507 and X-Tech models. They're marked up about $20 with the rebranding, but the quality is still remarkable for the price."
---
From "J.D." (9/08):  "Just a note on Xpeed helmets. I bought my Xpeed back in 2002, solid black for $50, DOT and SNELL rated.
It looks like the new helmets bear little resemblance to my old bucket, but I wanted to note that the helmets have been available for some time.
In my uneducated, uncouth opinion, my Xpeed was worth every penny.
Keep up with the great reviews!  Thanks!"