XM Sirius Radio Motorcycle Mount Image Gallery
I'll be first to admit that I hate doing things twice.
I will plot and plan and scheme about a project until my head hurts, just so I don't have to do things over.
I guess I'm bearing my sins when it comes to satellite radio and my motorcycle.
If you do a considerable amount of riding or touring, and your music options get tired, you might wind up like me, trying to add a satellite radio system so you can always have music no matter where your ride takes you.
I've gone through two iterations of XM Radio units trying to choose one that works easily with my riding style.
I've made modifications to my tank bag, and even considered a "wearable" XM unit to allow for easier functionality.
Ultimately, all of my mad scientist experiments produced flat results and I was never satisfied — until yesterday.
That's when I came across Premier Cycle Accessories.
They've created a simple yet highly effective satellite radio mount that works with the vast majority of receivers, no matter which provider you've chosen to go with.
It's modestly priced at $31.95 and provides me the best value for any product I've purchased to date.
The design is extremely intelligent, incorporating features such as integrated cable management for your power and antenna, multi-position adjustable mounting points and a flat platform for attaching your satellite antenna. Brilliant, truly brilliant design.
The kit includes all the mounting hardware, and even the "Allen" wrench you'll need for the new screws. You can choose to mount the plate on either the left handle clutch lever reservoir, or on the right hand brake lever reservoir.
You simply remove the existing screws and use the screws and spacers provided in the mounting kit. I chose to use a smaller than normal XM radio for my installation, a "Sportscaster," although the manufacturer shows a variety of options available.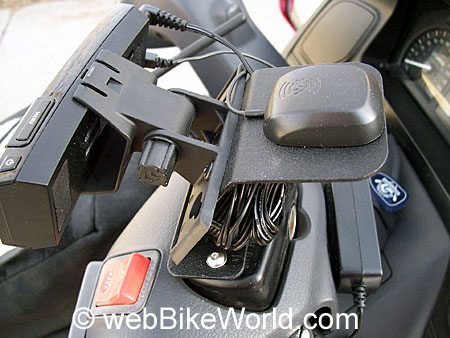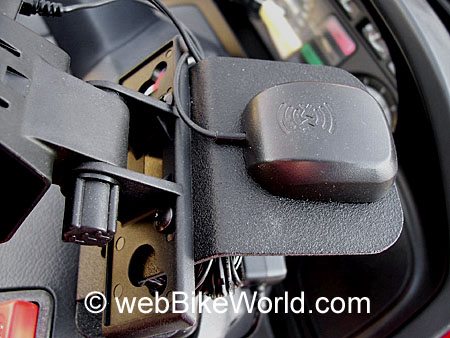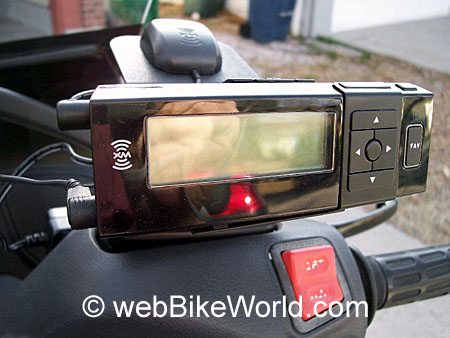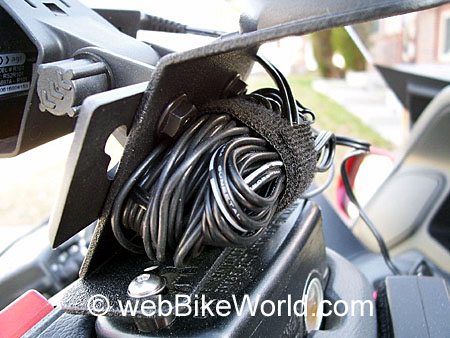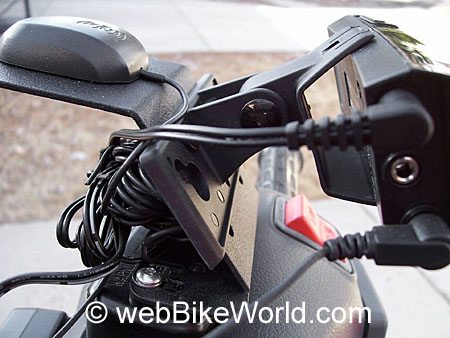 According to the manufacturer, this universal holder works with many different satellite radios. What you'll wind up with is a neat, clean installation for your satellite radio. The amount of mounting options gives the rider a considerable amount of flexibility with regards to viewing angles and ease of operation.
The unit is made of steel with a durable black powdercoat over the entire surface. They even predrilled the face to accept virtually any radio mount — and the package includes the screws for the mount as well.
Premier also offered an integrated power supply for the radio that attaches to your bike's power. I located a circuit that was switched, enabling me to keep the XM radio permanently mounted and not draining the battery. The power adapter sells for $29.95, and is worth every penny. Instead of using the "cigarette lighter" style power adapter, you'll have a more refined implementation.
If you don't like dangling wires or extra bulk hanging on your body and satellite radio is something you'd like to have blaring in your helmet as your ride, then this mount is an excellent way to bring those elements together. It's lightweight, functional and affordable.
If you add the cost of the Premier Cycle Accessories mounting bracket and power supply with an entry-level XM radio unit (about $40.00 at most retail stores) you'll wind up spending somewhere just over $100.00.
The combination gives a lot of music and a professional looking installation. Oh, and you've got another reason to extend the ride!
w

BW

 Review:  XM Sirius Radio Motorcycle Mount
Available From:  Premier Cycle Accessories (As of May 2010, apparently no longer made)
List Price (2006):  XM Mount (PCA1001) $31.95; Power Adapter (PCAPWR) $29.99.
Colors: Black
Made In: U.S.A.
Review Date:  November 2006
Note:
 For informational use only. All material and photographs are Copyright © webWorld International, LLC since 2000. All rights reserved. See the webBikeWorld® 
Site Info page
. Product specifications, features and details may change or differ from our descriptions. Always check before purchasing. Read the
Terms and Conditions
!
Owner Comments and Feedback
---
From "L.J." (05/11):  "We are experiencing problems with the XM antenna mounted too close to the GPS units on the Garmin Zumo 665. The manufacturer suggests that the antenna be at least 4 inches and better 10 inches away from unit."
---
Note From Premier Cycle Accessories:  "The article was very accurate … (Note that) the satellite radio holder tested in this article was from Premier Cycle Accessories and their holders have significant improvements over the Hoon Hardware holder. The Premier Cycle holder has viewing angle adjustment capability and the antenna cable holder system has been improved. They also apply a textured powdercoat finish which is less prone to scratching."
---
From "D.C.":  "Great review, I've used the same bracket along with a Ram mounting system and couldn't be happier.
Word of caution on the XM Sportscaster, the supplied mount from XM does not hold the radio securely. Check it carefully before you ride. Just pushing the buttons caused mine to fall off the plastic mount. This would have been disastrous at 70 mph. I've returned mine and went to a different model with a sturdier mounting system from Sirius (has an option to bolt to the mount). Also, most of the Sirius radios use a 12 V power supply and doesn't require a converter to hardwire to the bike."
---
From "D.N.":  "I was just reading your review of the Premier XM Mount and was surprised to see that it is pretty much exactly like the one (from Hoon Hardware) that many of us at Venturerider.org have been using for a couple of years. I wonder who came out with it first?  I agree with your review. They are well designed.