Take a Honda Fireblade, add Volvo-style safety technology and what do you get? The stunning but ultra-safe Molot.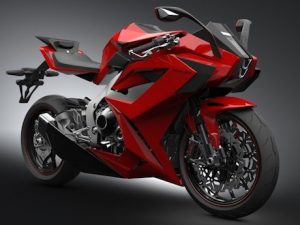 Russian company Chak Motors has packed the Molot (Russian for sled) with such hi-tech car safety features as blind spot warning, rear and front HD cameras, predictive emergency braking and lane departure warning. The Petersburg-based company started with an ABS version of the 'Blade, stripped it down and added lightweight carbon fibre bodywork, a lithium battery and LED headlights. There is no word on pricing or when it will be available, except some time in 2015.
CHECK OUT THE PINTEREST PAGE OF PIX HERE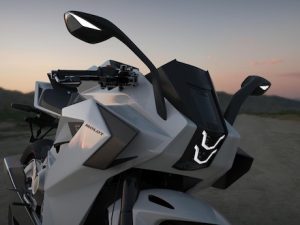 Most of the technology in the Molot is already available in luxury cars. It required fitting two HD cameras, proximity sensors, gyroscopes, and two radars. While these are now very small and light, they do add to the weight of the bike, hence the need to move from plastic to carbon fibre fairings and lithium battery to keep a lid on heft.
The cameras and various monitors sense and detect road situations and prepare the bike for a response. If a vehicle looms up in the blind spot, they detect it and a visual warning is sent via a blinking light on the instruments. In the case of the lane departure warning system they monitor the white lines on the road and detect if you are about to cross them without indicating or are about to cross when there is a vehicle in the blind spot. The predictive emergency braking system uses radar to sense if you are about to hit an object in any direction.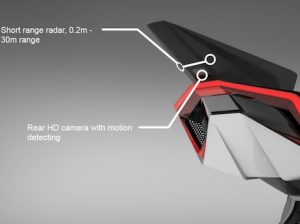 In both off these cases, the bike not only sends a visual warning to the rider via the blinking light but also a light vibration in the grips. If the rider fails to respond by slowing down, the vibration increases until it reaches a critical level and then the throttle is cut and the Honda's ABS brakes are applied with full force.
I've used Volvo's City Safe system in their cars and SUVs and it works. However, it is only operative for slow-speed crashes in urban environments up to 35km/h. We suspect the same applies here.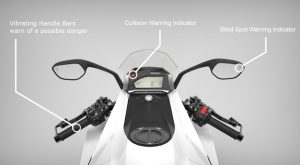 While nothing will ever replace the attentive and well-trained rider, safety net systems like these can help to reduce and avoid crashes. The drawback is that they are expensive and relatively heavy for motorcycles, although they are getting cheaper and lighter all the time. The other drawback is that safety systems such as traction control, ABS and these hi-tech safety devices can make us to complacent about our safety. But don't dismiss them. As they become more accessible in mainstream products, governments will move to make them mandatory as they did with seatbelts, ABS and, more recently electronic stability program in cars.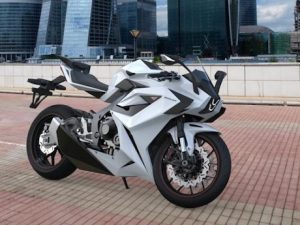 Meanwhile, at least this Russian company hasn't made an ugly bike. Regardless of the safety technology, it still looks like a mean machine. There are also a couple of handy hi-tech features such as HD cameras recording the fun as well as providing valuable evidence in crashes, plus a USB charging port in the rear cowl for your phone.
Chak Motors was founded by Russian-born American designer Igor Chak and specialises in designing and producing custom motorcycles.