The world's most expensive motorcycle, the "Cosmic Starship" Harley-DavidsonV-Rod, has returned to the marketplace at $US10 million ($A13m).
The bike was painted in 2009 by famous American painter Jack Armstrong with acrylic paint and 37 coats of clear coat.
It was unveiled at Bartels' Harley-Davidson dealership in Marina Del Rey, Los Angeles, in 2010 and sold to the Moran family of California for $US3m in 2012.
The Cosmic Starship Harley-Davidson is one of three foundation pieces of Armstrong's art, along with two of his seminal paintings, "The Cosmic Firebird," and "Warhol Naked," also listed at $US10m.
Cosmic Extensionalism
For those who haven't heard of Jack Armstrong, he founded "Cosmic Extensionalism" a new style of modern art.
He painted with New York pop artist Andy Warhol and Jean Michel Basquiat who recently sold a painting for an American record auction price of $US110m.
Armstrong invented Cosmic Extensionalism Art in 1999.
Three years later, Harley-Davidson introduced the V-Rod developed in a joint project with Porsche Engineering and Erik Buell.
"The style of the 2002 Harley V-Rod was revolutionary, and it was the most futuristic creation in motorcycles I had ever seen," Armstrong says.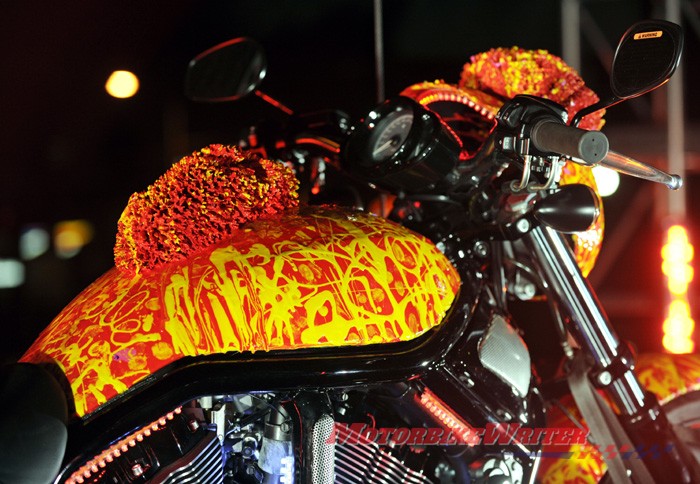 Unfortunately, the V-Rod was retired from production this year.
Riding career
Armstrong has had motorbikes in his life since first riding motocross in Omaha on a Kawasaki 250 at the age of 14.
He began riding Harleys at 16.
"For several years between 2003-2004 when I lived in Switzerland I rode V-Rods with seven-time F1 World Champion Michael Schumacher," he says.
"So the V-Rod was my only choice for the most expensive motorcycle in history."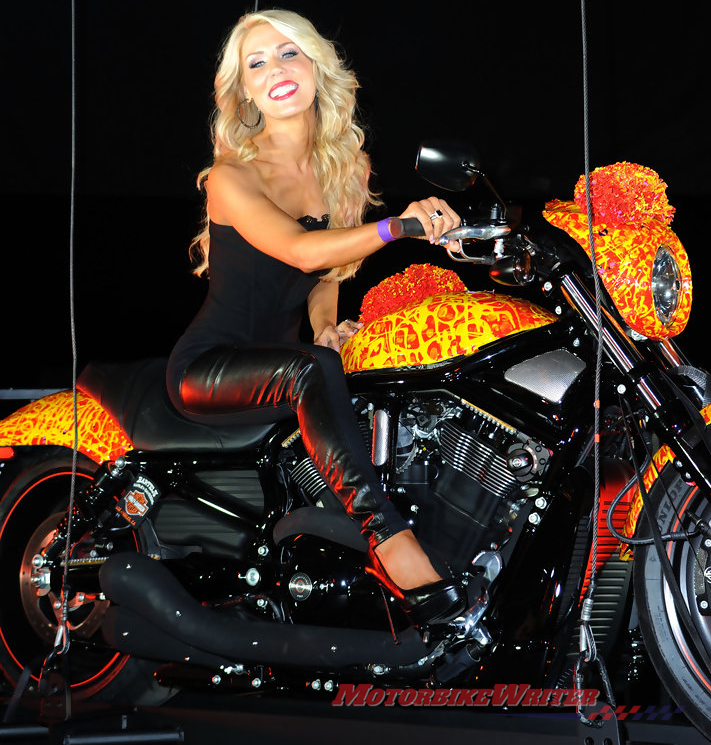 Armstrong was a good friend and associate of Warhol and is noted for doubling him on his bike.
"After he was shot in 1968 and nearly died, I was the only person to get Warhol back on a motorcycle and it was on a black 1982 Harley Sportster 1000, in NYC," he says. 
Armstrong still owns several 1200 Sportsters, one in classic black and chrome, and another in "cosmic" yellow paint.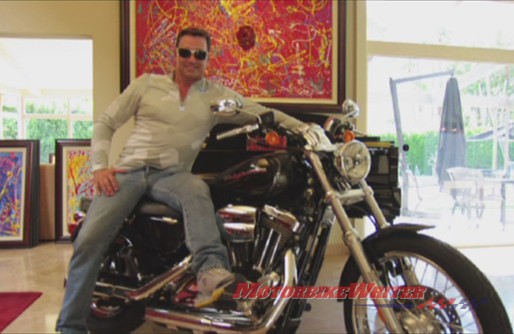 He also worked for a short time at Campbell's Soup, which coincidentally made Warhol famous when he painted them.
The Last Wizard
Warhol referred to Armstrong as "the Last Wizard of modern art" and an upcoming biopic film of the painter's life called "The Last Wizard". It will premiere at the 2019 Cannes Film Festival.
Here's a pre-production trailer.
Damian Chapa will direct and play Armstrong and Eric Roberts will play Warhol, with actress Bella Popa as Armstrong's wife. 
Armstrong is also working on a $6 million "Cosmic Star Triumph" art motorcycle to be unveiled in 2019. The model of Triumph has not yet been revealed.
He says the bike will be painted in Cosmic Extensionalism style, in "purple and cosmic turquoise, with extreme yellow, gold and green florescent colours and with a touch of Armstrong-Basquiat style graffiti".
"It will be as dramatically unique as the Cosmic Harley," Armstrong says.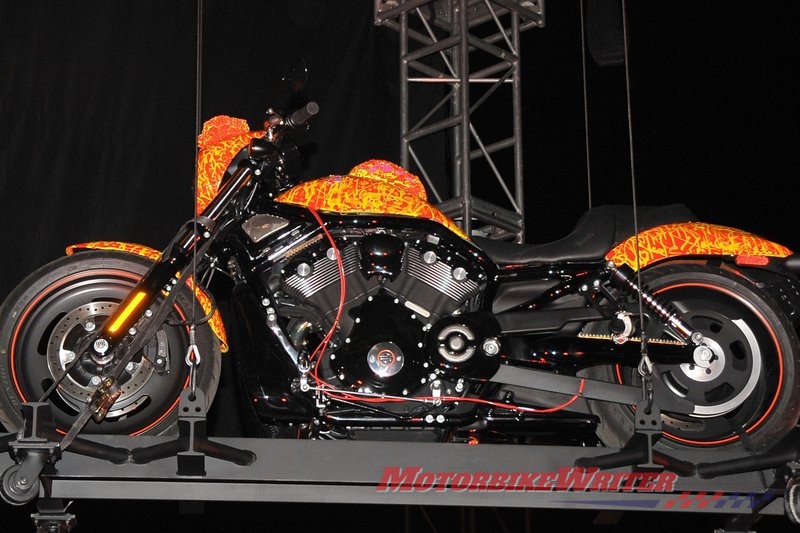 He believes the Cosmic Harley and Triumph artworks could break the Basquiat auction record in 20 years as his cosmic extensionalism becomes recognised alongside cubism, and pop art.
Armstrong says nothing he will create will ever give him more satisfaction than seeing more than 100 international photographers photograph the Cosmic Starship on the Red Carpet in Los Angeles with himself and film star Lorenzo Lamas at the controls.
In 2020, Armstrong will exhibit the world's most expensive car, a Rolls Royce "Cosmic R.R.", to be unveiled in Dubai where his $US3 million "Cosmic Star-Cruiser" art bicycle was sold in 2014.
The Cosmic Starship Harley-Davidson is exclusively represented by Bobby Adams Classics in Arizona, Star Global International Art and Family Office Magazine of London and Monte Carlo.