If you think you're pretty good at popping wheelies, you will have to practise to keep up with the competitors in the 10th annual World Wheelie Championship.
Up to 30 top competitors from the USA, UK, France, Holland and Ireland will travel down a North Yorkshire airfield runway at over 305km/h (190mph) on August 15-16.
The winner and world record holder will be the fastest to complete a kilometre in the wheelie position.
Riders will have to rely on their skills as no electronic or mechanical aids can be used. The participants will ride powerful customised motorbikes with some turbo models rated at 335kW (450hp).
The event was conceived by Dave 'Dodge' Rogers the previous World Wheelie Champion who will compete for the UK.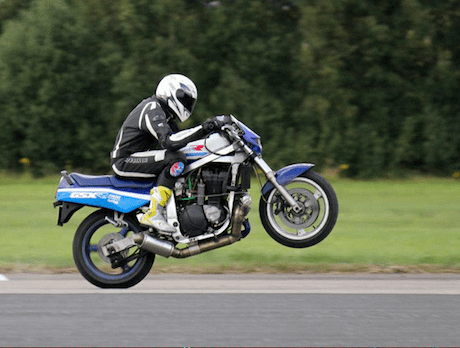 Other top wheelie riders at the event at Elvington Airfield will be current record holder Egbert Van-popta from Holland who achieved a 320km/h (199mph) wheelie in 2015 and second-placed Ted Brady from Ireland.
One of the more interesting competitors will be 71-year-old ex-motorcycle racer Trevor Duckworth, who has been involved in the sport for 50 years.
He is the holder of 21 world records and more than 30 British national records for motorcycle riding over all distances riding two and three-wheel motorcycles.
Trevor still competes at the very top in motorcycling events on the Silver Bullet three-wheeler.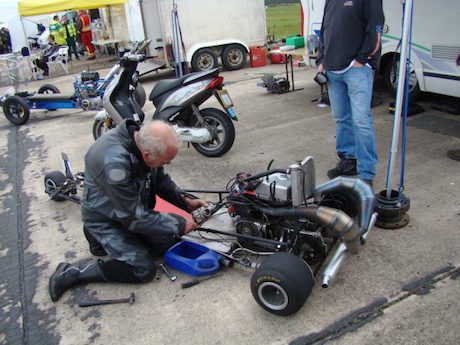 He is also a UK drag-racing champion and organiser of major motor sports events where he is chief marshal and time keeper.
Trevor has been building machines for racing more than 50 years. Some of the unusual projects he has been involved with include:
Part of the team that helped actor Idris Elba break Sir Malcolm Campbell's 1927 mile record for Discovery Channel;

Helping with blind Scotsman Stuart Gunn break the speed record for disabled motorbike riders;

Supervised an event in which a bus powered by biomethane via cow manure set a land speed record in conjunction with Reading Buses;

Built the world's fastest toilet in conjunction with Paul Cumpstone; and

Helped a funeral director smash the world land speed record for a motorcycle with side-car hearse.