Women's Motorcycle Boots
I liked the looks of the men's Specter Road Motorcycle Touring boots as soon as I saw them, so I jumped at the opportunity to try the women's version.
The webBikeWorld crew claims that the men's touring boots are some of the most comfortable they've tried.  Rick wears them both on and off the bike, and I've even seen him typing away at his desk wearing the boots instead of slippers!
Comfort is great and necessary, but it's also nice to know that the boots have the "right stuff" for protection while riding, just in case.
The Specter Road Women's motorcycle boots are similar in design to the men's version, but they are cut specifically for a woman's foot shape and they're available in women-specific sizing from size 5 to 10 (half sizes from 5.5 to 8.5).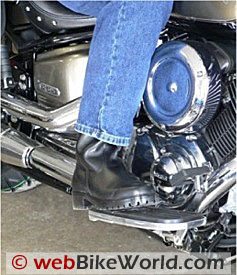 The boots have the same protective features as the men's touring boots; the molded heel, the Kevlar lining and the protective toe cap.
They also have the same "Bucktex" lining – I'm not sure what this stuff is, but it is very comfortable and absorbent.  It's hard to believe that a high boot like this can be so comfortable and cushy and keep my feet dry at the same time.
I was just about out the door for a trip to New York City to attend the Westminster Kennel Club dog show when the boots arrived.  Rick couldn't believe it when I grabbed the box, slipped them on, said "Ah, these are great!" and took off.
He wouldn't think of running off in a brand new pair of boots without breaking them in first.  But I know boots, because I've had lots of experience through the years with all different types of horseback riding boots.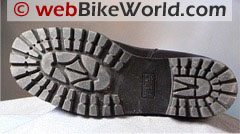 The Specter Road boots felt comfortable right out of the box, so I had no problem giving them the acid test.
I wore the boots throughout the entire trip, back and forth on the train, the subway and the airplane with no problems.  My friends were jealous, because the boots look great!
The women's version of the Specter Road touring boots have a slightly different and thicker sole, but otherwise they look identical to the men's version.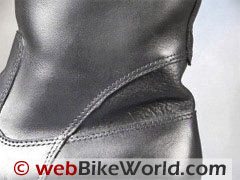 The photo of the women's boots on the Specter Road website doesn't do them justice – the boots are sleeker looking than they appear, and the sole isn't as thick as it looks in the photo either.  The soles on both the men's and women's versions are resistant to vibration.
As with the men's version, the toe is designed to fit under the shift lever, but they don't have a leather shift patch.  My feeling is that the shift patch would immediately mark these as motorcycle boots and would hurt their looks as street wear.
The boots are very comfortable and my feet feel nice and warm when I have them on, but they don't sweat.  But they're also very functional.
---
Where to Buy Women's Motorcycle Boots
Check Reviews & Prices on Amazon
Check Reviews & Prices On RevZilla
Also: Leather Motorcycle Boots, Touring Motorcycle Boots, Women's Motorcycle Boots
---
Starting from the inside out, the boots have the special Bucktex lining, then a layer of Kevlar for protection.
Next is a layer of ballistic nylon felt, which is designed to protect the foot from the severe heat that can be caused by road friction.  The men's version uses Kevlar.  The felt padding is covered by the special heel and toe cups, which are molded under high heat and pressure to maintain the shape of the wearer's feet and the boot to keep them comfortable.
Finally, the outer layer of leather is nice and soft and feels broken in right out of the box, as I proved with my "acid test".
Specter Road boots are made in Canada, and they offer an additional service that very few other boot manufacturers can match.  They will repair all of their boots when necessary, and they will also work with you to make a custom fitted boot.
This is especially important for women.  I have experienced many problems finding riding boots for fox hunting (fox chasing actually!), because the calves are usually way too narrow.  The Specter Road boots fit me perfectly, but it's nice to know that you can get custom made boots if you need them.
Conclusion
I really like these Specter Road women's motorcycle boots.  They're so comfortable and I wear them all the time, whether I'm on the bike or off.  Now I hope I can convince them to make riding boots for horse owners!
Product Review:  Specter Road Women's Motorcycle Boots

Available From:  Specter Road  NOTE:  As of May 1, 2008, Specter Road is no longer in business.
Suggested Retail Price:  $299.00 USD
Colors:  Black
Made in:  Canada
Product Comments:  Very comfortable. They have a special panel in the back that makes them flexible and they are comfortable for walking.  The boots are water resistant.  They have the same anti-vibration soles as the men's version.  Ballistic nylon fabric and padding is used to protect the foot, but they are available without this feature also.  Specter Road will repair their boots if necessary and will also work with the customer to make special sizes if desired.  Review Date:  February 2005
More:  

w

BW

 Motorcycle Boots Page  |  Large sized photo (412×549 pixels) taken after my trip!
Note:  For informational use only.  All material and photographs are Copyright © webWorld International, LLC – 2000-2011.  All rights reserved.  See the webBikeWorld® Site Info page.  NOTE:  Product specifications, features and details may change or differ from our descriptions.  Always check before purchasing.  Read the Terms and Conditions!
---
Where to Buy Women's Motorcycle Boots
Check Reviews & Prices on Amazon
Check Reviews & Prices On RevZilla
Also: Leather Motorcycle Boots, Touring Motorcycle Boots, Women's Motorcycle Boots
---
Owner Comments and Feedback
Comments are ordered from most recent to oldest.
Not all comments will be published (
details
).  Comments may be edited for clarity prior to publication.
Other WebBikeWorld Boot Posts