The "bikie chicks" from BikieChic are selling up to enjoy more travel, fishing and surfing.  Selena Thurbon and Diane Scaysbrook are icons of the Australian women riding scene who have forged the foremost women's motorcycle clothing brand in Australia over the past eight years.
Selena acquired Silverhorse Clothing 10 years ago which was a predominately a men's clothing range. Very early on she saw the opportunity to satisfy the need for women's clothing and particularly catering for biggers sizes.
"Most women's motorcycle clothing was small sizes when we started, but now we have sizes 8 to 26," she says.
Selena and Diane met through riding. Selena had started the Girls Ride Out for new female riders in NSW and Diane was president of the Ducati owners Club NSW.
"It was like I'd just met someone I had known all my life," Selena says.
"Diane has a fashion background so it was just natural that she should join the business as an equal 50-50 partner." Together they have grown the women's range to over 50 different designs and styles.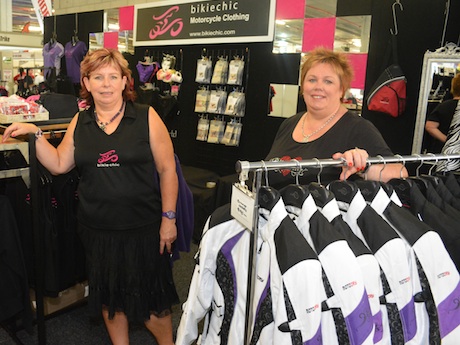 Now the girls are planning a new future – one with more riding together and travel with their husbands. "We're looking to slow down, not speed up," Selena says. She is selling Bikescape Motorcycle Rentals, a company she owns with husband Terry. "We're selling for the lifestyle. We want to do something different and start travelling around Australia ourselves. Having a business can tie you down,'' she says.
Selena started to ride at 37. "It was something I never imagined I could do, but one day I sat on the front of Terrys bike and said, "it is much more comfortable up the front!"
The couple bought Bikescape nine years ago as an established business and have seen it grow from eight bikes to a fleet of almost 50, mainly BMWs, but all types from scooters to Harleys. They provide rentals and tours, catering for national & international riders including learners.
Diane is selling because her husband, Howard, has retired and she wants to spend more time with her family and do more fishing and surfing. But she doesn't plan a complete break from the motorcycle business.
She plans to rebrand her BikieChic Adventures business into Women on Wheels Adventures, organising womens motorcycle weekends and tours full of fun and adventure with about five or six trips a year out of Sydney. "It's just Sydney for now, but you never know; it could be expanded. There are a lot of opportunities, as more women are getting their licences, especially women over 40. That is a growing market."
While the icons of women's motorcycling in Australia are keen to wind down their business ventures, they are also a little sad. "This is what I call our fun business," Selena says. "The friends and community we have established is what we love and will miss." "There is a lot of potential in BikieChic if someone wants to take it further, the key ingredient is being passionate about women and motorcycling."
If you are interested in either business, contact them at sales@silverhorse.com.au