You could do a lap of Australia on your bike and never have to bother about oiling the chain with a Cameleon Chain Oiler.
The handy little device costs about $A230 plus postage.
Oiling your chain is messy, it's a nuisance having to carry chain lube with you and it's something easily forgotten after a long ride when your chain is hot and best suited to oiling.
The Canadian-made Cameleon Chain Oiler will take care of all these problems with its perpetual chain lubrication system.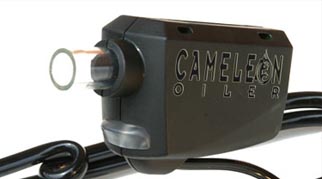 But even better, the system will save you money by lengthening the life of your chain by up to four times and avoiding leaving you stranded with a seized link or broken chain.
The oiler basically consists of a reservoir containing enough oil to last for 6000km, an electronic pumping system and a tube to gravity feed oil on to your chain.
It takes less than an hour to install and the only visible part is the clear tube running down on to the chain guard. The rest fits neatly underneath your seat.
The only maintenance is to fill up the reservoir tube with Cameleon Chain Oil every time you do an engine oil change.
The price from Australian Motorcycle Headlight Protectors, now situated in East Gosford on the Central Coast of NSW, includes freight within Australia's major cities. Freight to remote areas will cost more. Their website is currently being upgraded and if you have any technical difficulties with ordering, contact them by email.