There are many products on the market that try to save the annoying problem of tangled helmet hair that plagues so many riders, not just women.
American rider "Anna" contacted us to tell us about her new Raci-Babi products which have been three years in the making.
"I loved riding, but I couldn't stand the tangles and knots," she says.
"Every time I got off the bike I'd spend 20 minutes or more fighting to get the tangles out of my hair without doing more damage."

So she tried to find a solution online and tried several different products before deciding to develop her own.
The problems are that most hair nets and scarves create bulk, are laborious to fit, uncomfortable to wear for long periods, they allow your hair to fall out of the scarf or they simply don't fix the problem when you take them off.
She says she realised she had finally found the solution to the problem when she was ready to go on her bike before her fiance.
While she had only designed the stretchy scarf for personal use, she says she was besieged by other women who wanted one, so she has now gone into business selling her "Diva-Do Do-Rag Helmet Liner" as well as a standard short-hair helmet liner and neck warmers.
Her "scarf" is different to other designs we've seen.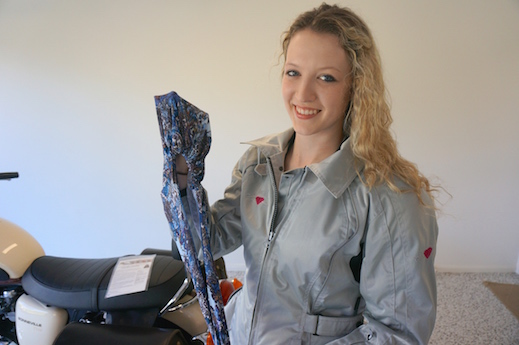 It features a stretch section that goes around the back of the head under a bun of hair, and long arms that wrap around the head and tie in a bow at the back.
Anna says there is no bulk and no seams to make it uncomfortable under a helmet.
It's also made of stretchy active wear and charmeuse materials that wick away sweat in summer.
(Note: It should actually sit lower on the forehead than in these photos so that the pressure point of the helmet on your forehead sits on the material and not any seams or bare skin.)
The helmet liner for short hair – or even baldies like me – is like a bathing cap but made of the same active wear material as the Diva-Do Do-Rag. It stops you sweating and making your helmet liner smell!
They come in a wide range of colours and patterns and cost $US$44.95 each for the scarf and the helmet liner is $US16.95 (plus postage costs).