Summary
The Wiha Magic Ring is a special tip that holds socket head cap screws.
This set is Wiha Part Number 36795.
It includes 3 mm, 4 mm, 5 mm and 6 mm sizes.
Each tool has the special Wiha cushion grip and "Magic Ring" patented end.
The tools are well made if slightly delicate. They are of good quality with an excellent feel and gripping surface.
The Magic Ring feature comes in very handy with socket head cap screws on motorcycles.
Background
I'm a big fan of Wiha tools.
We've reviewed Wiha screwdrivers and bit drivers, and I made the mistake recently of visiting the Wiha Tools website again. If you're a tool fetishist like me, you won't be able to leave their website without buying something!
They make all sorts of interesting tools that you never knew you needed.
I feel the urge to go back there soon — they have a new type of torque screwdriver that uses bits and measures down to 1 inch pound!  You never know when you'll need one, and if you do, and you don't have it, it's too late!
What drove me to the Wiha site this time was a recent oil change I did on my new (to me anyway) 1984 BMW R100RS "Last Edition".
I had no idea what I was getting in to — the oil filter is hidden behind the fairing and involves removing the thermostat for the oil cooler.
Maybe it's just me, and my Airhead-riding friends tell me that "you'll get used to it", but it was definitely the hardest oil filter change I ever attempted.
Part of the problem was, of course, not having the right tools (at least that's the excuse I gave to my wife after spending 4 hours in the garage)!
I only have about a zillion dollars worth of tools, but I was shocked — SHOCKED — to find that I didn't have a long enough hex wrench to do the job!
The stretch in and around the right-hand exhaust pipe, fairing and thermostat to reach the one single 5mm socket head cap screw that was holding me back from getting the thermostat housing off.
So as soon as I finished the job, I went online to see what Wiha offers to help solve the problem. I was originally looking for a set of long hex wrenches (see below), but I found the Wiha "Magic Ring" series of hex wrenches, and they looked like just the ticket.
Wiha Magic Ring Hex Driver Set
The so-called "Magic Ring" is a patented Wiha invention ("Wiha" is from Willi Hahn). The Magic Ring hex wrenches have a ball end surrounded by a very small spring steel ring.
I'm guessing that these hex wrenches are made using the electrical discharge machining (EDM) process, because they appear to be of high precision and the curvature is of a type that I don't think a normal machine tool could process.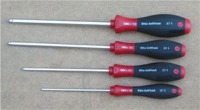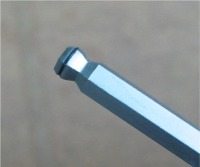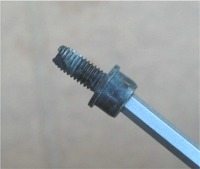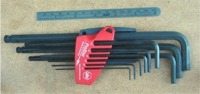 The Magic Ring feature is available on a number of hex wrench types.
They include the Wiha "SoftFinish" drivers shown here; ball-end T-handle; ball-end L-keys; ball-end hex bits and standard hex wrenches. Each Wiha tool is available individually and in various combination sets.
The set shown here is from the 367-series, part number 36795. It includes a 3, 4, 5 and 6 mm driver.
It was only $17.46, and I figured I'd be better off with the smaller hex sizes, as the larger socket head cap screws are usually more accessible on a motorcycle.
There's also a 6, 9 and 13 piece set, in both metric and inch sizes. The Wiha "SoftFinish" grips on these drivers are really nice.
They are not too soft, but give a great tactile feel and the curvature of the handle makes them a pleasure to use.
The Magic Ring feature works great; snap the end of the driver into the screw, and it really holds tight.
This isn't just a loose friction fit — the Magic Rings hold the screw with a nice snap fit, and this comes in very handy when working on a motorcycle.
It allows you to get the screw lined up in those nearly inaccessible places deep down inside the bike, and knocking the driver around won't let the screw fall off until it's seated.
The business ends of these drivers measure from 100 mm on the 3 mm driver to 150 mm on the 6mm size, which is a bit longer than normal and provides that extra length to reach into those tough spots.
The bottom line is that it's like having three tools in one: a hex wrench with the capabilities of a ball-end and also the holding feature of the Magic Ring.
Wiha Ball End Hex Wrench "Long Arm"
While I was on the Wiha Tools site, I couldn't resist also buying this set of "Long Arm" hex wrenches (see bottom photo).
This 9 piece set from the Wiha 369-series of tools was only $10.98, and includes 1.5, 2, 2.5, 3, 4, 5, 6, 8 and 10 mm ball-end hex wrenches.
That's a 150 mm (6″) scale shown in the photo for comparison, so you can see that these wrenches are nice and long.
The set includes the Wiha "ProStar" hex wrench holder also shown in the photo. This holder is designed to allow the selected hex wrench to easily slide in and out when you need it.
The grip is rather tight at first, but it loosens up with use and this holder offers up the tools with less effort than the Sears Craftsman plastic holder on another set of hex wrenches that I own.
These ball-end hex wrenches are made with the same high quality attention to detail that is a feature of all Wiha tools.
More wBW: Wiha Bit Drivers Review  |  Wiha Micro-Finish Screwdrivers Review
w

BW

 Review: 

Wiha Magic Ring Hex Wrench and Ball End Hex Wrenches

Manufacturer: Wiha Tools
List Price (2007): Set of 4 is $17.46; "Long Arm" set is $10.98.
Colors: Black/red.
Made In: Germany
Review Date: January 2007
Note: Item provided by a retailer, distributor or manufacturer with these Terms and Conditions.
Note:
 For informational use only. All material and photographs are Copyright © webWorld International, LLC since 2000. All rights reserved. See the webBikeWorld® 
Site Info page
. Product specifications, features and details may change or differ from our descriptions. Always check before purchasing. Read the
Terms and Conditions
!
Owner Comments and Feedback