Have you worked out your route for the weekend ride?
A few minutes spent on a Friday night with a beer looking over maps is a great way to start. Try to find roads you haven't ridden before, seeking out the narrow and curly lines which always indicate something interesting.
A bit of this type of "work" recently uncovered a road I had ignored on several recent trips to Toowoomba via Flagstone Creek Rd.
I simply followed the picturesque road up the steep and wriggly incline to the Garden City on many occasions just like a lot of other bikers. (Unfortunately with the massive range roadworks in progress more and more cars are also taking this route.)
Recently I discovered there is an alternate route indicated on the map with a smaller, wrigglier line. It's called Upper Flagstone Creek Rd.
But first, stop off at The Barn which is on the left at 1709 Flagstone Creek Rd.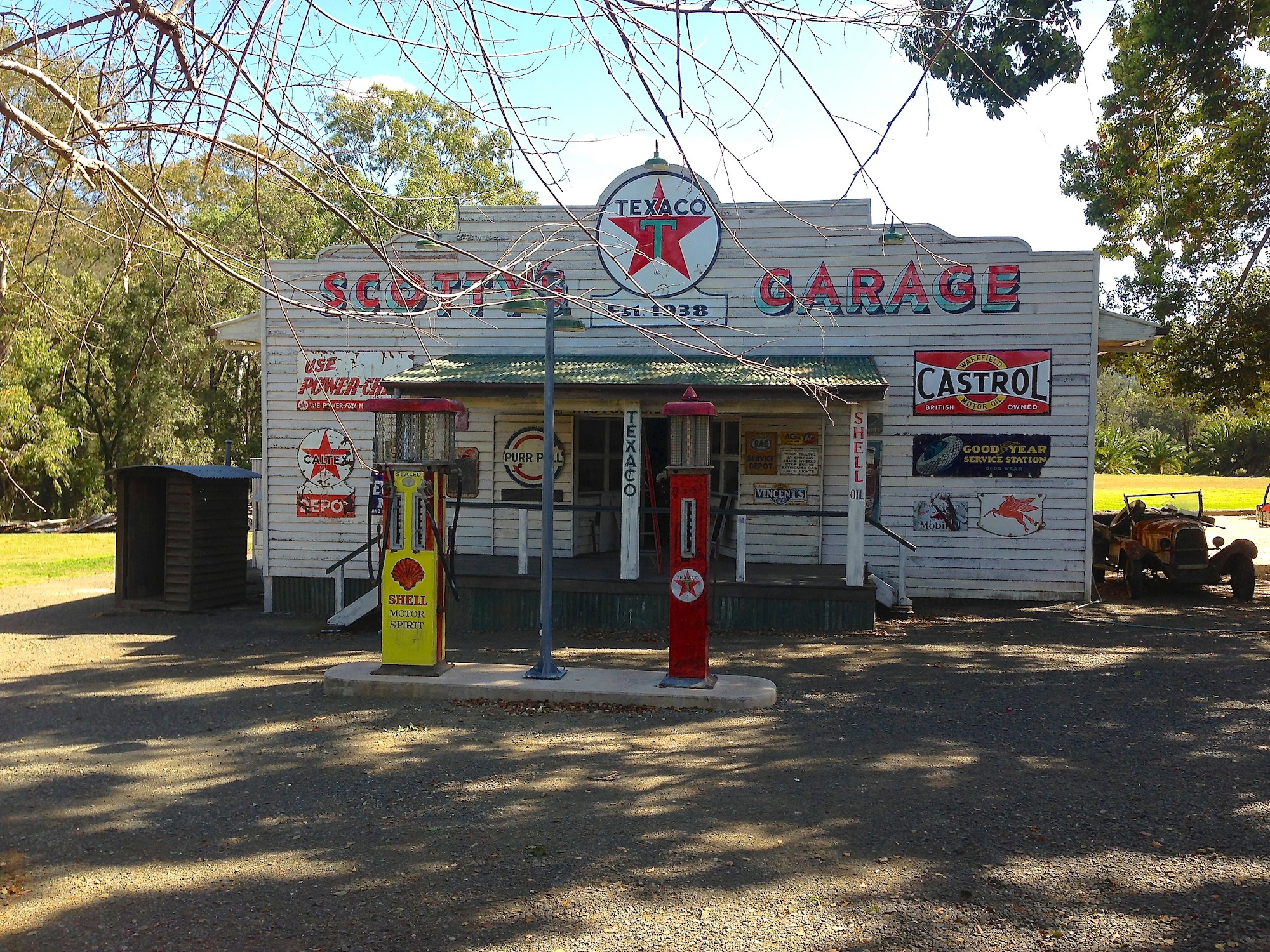 We noticed it recently as we buzzed past too quickly, missing the sign, but seeing a large "Indian Motorcycles" logo painted on a massive tin shed to our left just a little too late.
We went back a few days later to check it out and it's well worth a stop.
The shady grounds of The Barn are littered with farming and motoring relics.
The cafe is literally an old barn where they serve lunches and bottomless $2.50 cuppas from the urn (they also serve real coffee) on Fridays, Saturdays and Sundays or by appointment. We tried the BLT which was fantastic for just $12.
Next to it is Scotty's Garage (pictured) which is a nostalgic treat for $10 entry. It is chock full of  service station memorabilia, plus a few of old cars, a 1960s BSA and a 1948 indian Chief.
Owner Scott Wright says he loves the style of the old Indians and will provide interesting tales on all the exhibits.
Out the back of the garage is a '50s-stye cafeteria just right for a Ulysses club function.
Scott says they've already held a wedding there.
He built the old shed with a modern steel structure but used recycled corrugated iron and old floorboards so it looks authentic.
Nostalgia and tummys filled, continue west on Flagstone Creek Rd, deeper into the valley, crossing the creek on several occasions with big dips and recently constructed concrete causeways that flood quickly in a storm.
A hairpin sign indicates the start of the tight and winding climb up the range into Toowoomba.
However, there is an alternate route to the left just before the hairpin, called Upper Flagstone Creek Rd which used to have a short section of dirt but is now bitumen all the way with a very steep climb at the end.
It's a riotous romp of small crests and "S" bends over single-lane concrete causeways. It's all over too soon, so dip back down and do it all over again.
Otherwise, you can turn left at the top of the range on to the New England Highway and follow the signs to nearby Cambooya, just five minutes down the road.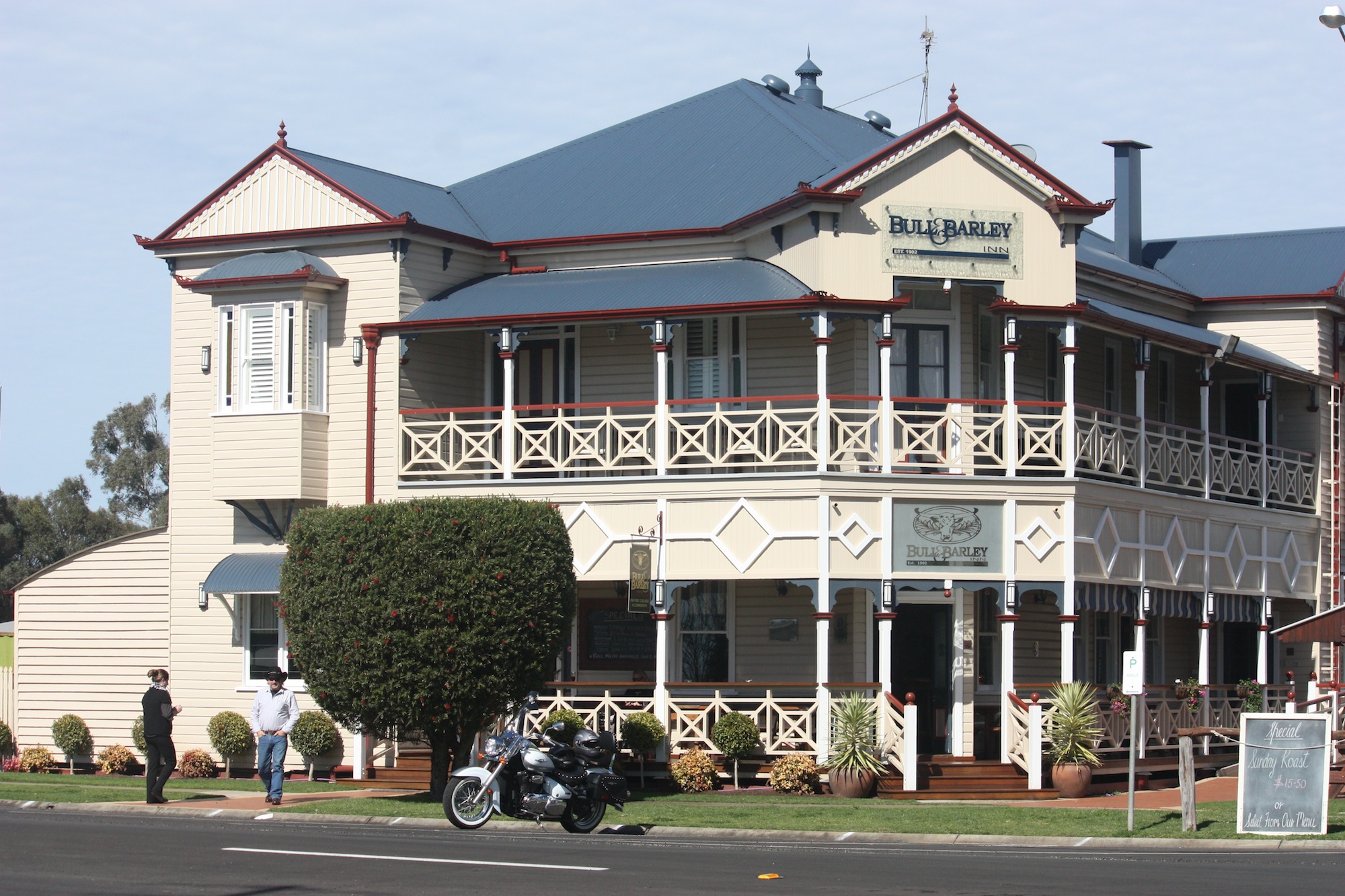 You ride in under a massive canopy of deciduous trees into a charming little settlement dominated by two large silos, a train line and the recently renovated Bull & Barley Inn.
This is a popular lunch spot seven days a week for Toowoomba, Brisbane and Gold Coast daytrippers and on weekends the parking bays out in front are dominated by motorcycles.
Licensee Bruce Dell says they get quite a few bikers coming up from Brisbane and the Gold Coast with their eight rooms upstairs often booked out. Prices range from a reasonable $60 for a king single to $100 for a family room.
"We don't have big groups, but we get a lot of them coming in for lunch. Some stay over and park their bikes in the back yard where we can lock them up; but it's a safe country town," he says.
Bruce came from Gympie about six years ago and fell in love with the lonely little town nestled on the rolling downs and bought the pub, built in 1902.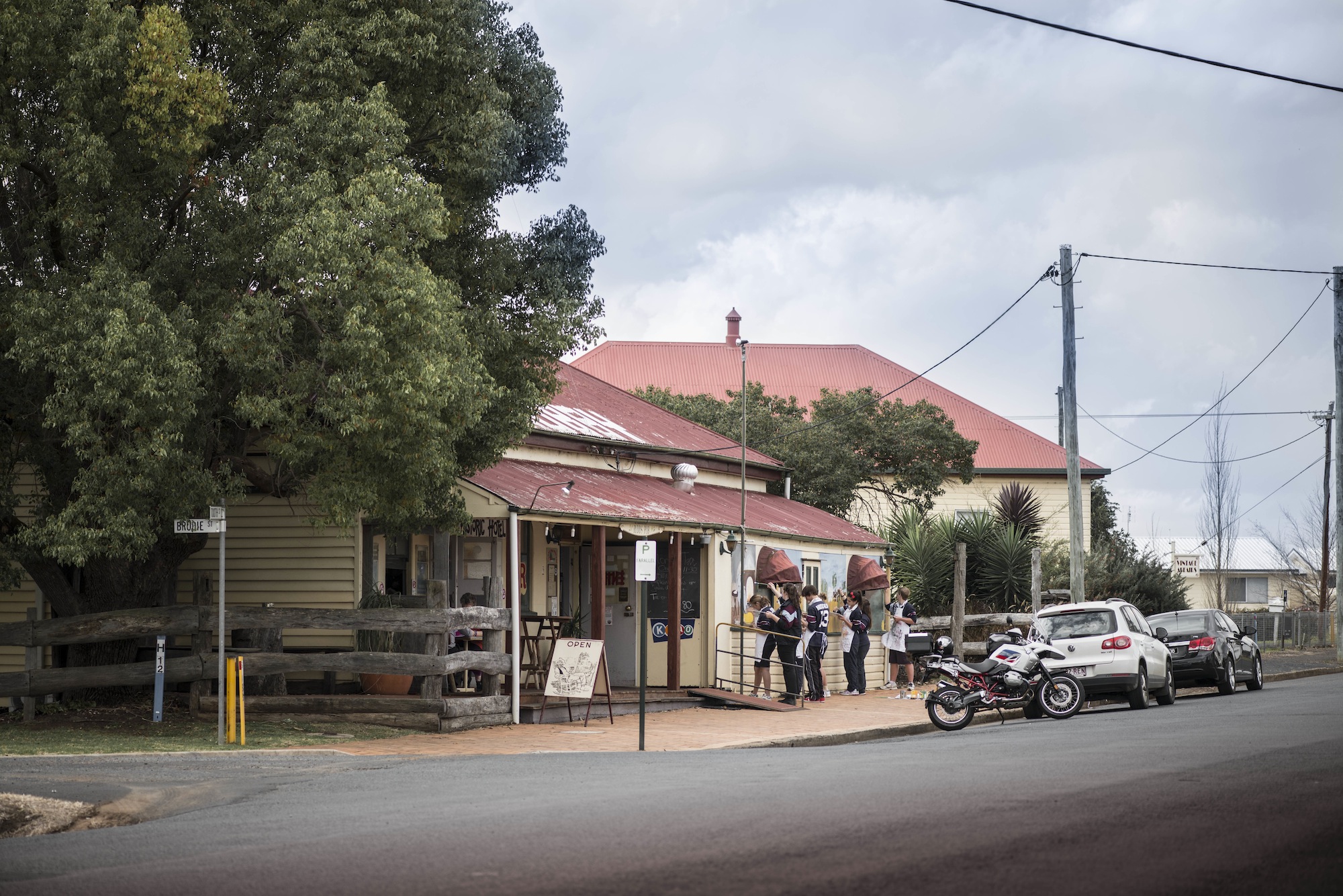 It had been renovated, but Bruce spent more money to bring it up to its current grandeur.
The rooms look more like museum displays than country pub accommodation, while the meals are hearty and capital city restaurant standard.
From here, you can make it a round trip by heading down to Rudd's Pub at Nobby and then back down the Ma Ma Creek Rd into Gatton.
However, don't be tempted to use the Warrego Highway at the moment. It is plagued by 40km/h roadworks.
That's my tip for SEQ riders.
Enjoy your weekend ride, wherever you are.
THE BARN
Address: 1709 Flagstone Creek Rd, Flagstone
Phone: (07) 4697 5334
Email: thebarn1887@yahoo.com.au
Click here for their website.
BULL & BARLEY INN
Address: 61 Eton St, Cambooya
Phone: (07) 4696 1235
Email: info@bullandbarleyinn.com.au
Click here for their website.
RUDD'S PUB
Address: 45 Tooth Street, Nobby
Phone: (07) 4696 3211
Email: info@ruddspub.com.au
Click here for their website.