Australian smart helmet start-up Forcite Helmets, has released exciting world-first, racer-perspective video from their Forcite MK1 helmet with an integrated camera, bypassing the usual racing restrictions on body-worn cameras.
The Forcite MK1 helmet retails for $A1299 and the next limited batch will be available for Australians this summer.
ASBK competitor Giuseppe Scarcella on board his Forcite Racing Ducati 1299, filmed his race with an integrated camera contained within the chin of the Forcite MK1 smart helmet at the recent NSW Championship race meet at Sydney Motorsport Park.
Watch this video which will make you feel like you are really there.
The film of Giuseppe coming from the back of the grid to finish third overall captures the daring and skill needed to handle a Ducati 1299 at race pace.
From being tucked in down the straight at just a few clicks under 300km/h, to leaning over millimetres from the tarmac, the POV helmet footage gives the viewer an exhilarating experience that on-board cameras cannot.
The video was made as part of the European certification (ECE 22.05) process.
Forcite's co-founder and CEO, Alfred Boydagis, believes this footage will be a game-changer for fans.
"The Forcite MK1's ability to capture every twist and turn of the race from the perspective of their favourite rider will give fans an unbelievable perspective on the action," he says.
"The race legal integrated camera is engineered to give the best view, whatever the position of the rider. Fans can expect this POV footage on their TVs soon – this is the cutting edge of live race action."
While testing the MK1 during the opening round of ASBK/WSBK at Phillip Island in March, Forcite Racing's Giuseppe Scarcella says he is happy with the way the helmet feels on the race track.
"Especially popping up from the bubble at over 300km/h to brake for turn one," he says.
"The helmet's just stuck to my head and just feels amazing. You realise the difference between a great helmet and a cheap helmet."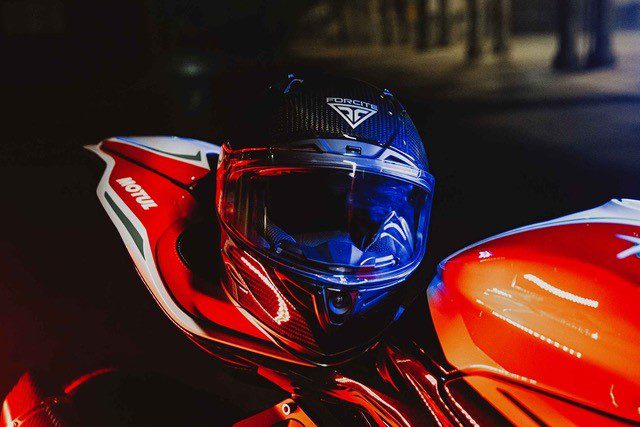 The Forcite MK1 shell is made of carbon fibre and the helmet is packed with AI such as Forcite's patented RAYDAR™ helmet system.
This server-based software system uses millions of data points through mobile applications, GPS, and cameras around the world that are currently inaccessible to motorcycle riders.
It also features LED technology inspired by communicative visual cues found on F1 car steering wheels, audio interactivity, military-grade camera recording and a fingertip handlebar controller.
A special app also allows the rider to control settings and use their phone for sat-nav, music and calls.
With all this tech integrated, it does away with the need for bulky click-on devices. That also means it passes race scrutineers who ban body-worn cameras and helmet attachments.
It would be the ultimate track-day helmet to video and relive your day!