We may very well take to the skies on a hoverbike one day, but it could be a while yet if this crash video of a Dubai Police Scorpion hoverbike is an indication.
Thankfully the rider was not hurt in the 30m fall, but you would have to worry about those spinning rotors!
The official video has been deleted, but here is a replacement.
The Scorpion hoverbike is the product of Russian startup Hoversurf and costs $US150,000 (about $A212,500), which is nearly twice the price of the MV Agusta limited-edition Claudio F4.
The first buyers were the cashed-up Dubai police force. Yes, pigs do fly!
Pilot's licence
The US Federal Aviation Administration has classified them as an ultralight which does not require a pilot's licence, the Scorpion is available to the general public.
However, don't get too excited because in some countries ultralights (or microlights) require a special pilot's licence or at least registration.
It would depend on how the Scorpion is classified based on their weight: ultralight, microlight, helicopter, etc.
The original Hoversurf Scorpion could fly with a rider/pilot for up to 25 minutes, move up to 70km/h (43mph) and carry up to 300kg of weight. Without a pilot it could cover up to 6km.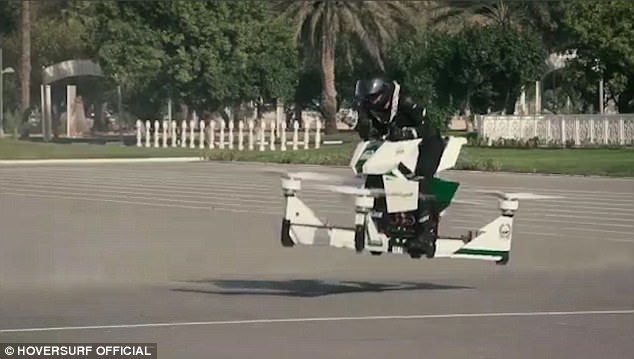 It has been stripped down to 114kg for a maximum speed of 96km/h. But it can only fly for 15 minutes at a time with a pilot and 40 without.
Hoversurf says their Scorpion hoverbikes will be delivered between 2-6 months after an order is placed.
Hoverbikes
"Hoverbikes" have been around for a few years now from various tech companies as well as BMW Motorrad whose Hover Ride is currently a toy, but may be considered for future production.
While BMW says their Hover Ride is a futuristic concept, the appearance of the Scorpion on the market may compel BMW and other motorcycle manufacturers to consider to fly rather than ride.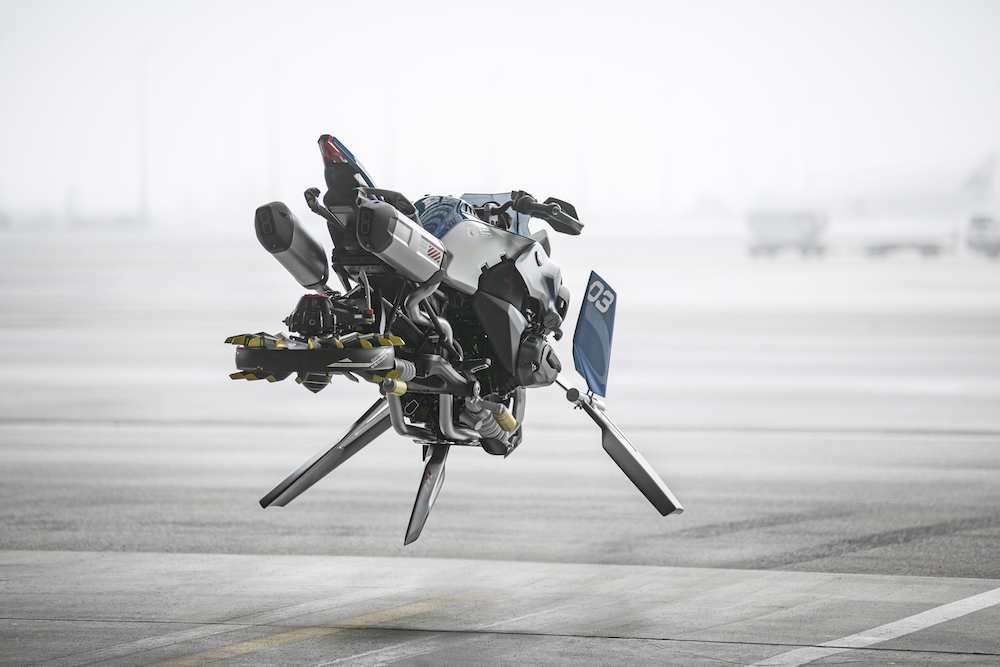 BMW Motorrad Vehicle Design boss Alexander Buckan says the Hover Ride, made in collaboration with lego, is "full of emotion and creative energy though not laying claim to technological plausibility".
"Our concept not only incorporates the BMW Motorrad design DNA with typical elements such as the boxer engine and the characteristic GS silhouette, it also draws on the LEGO Technic stylistic idiom."
Meanwhile, French motorcycle designer Ludovic Lazareth has produced the LM496 or "La Moto Volante" (the Flying Motorcycle).
Their jet-powered motorcycle failed to take off at the launch party in January 2019.
A few months later the company released a video in which the LM496 hovered about a metre above a platform.
It's not really flying and the bike is tethered on each corner to prevent an accident.
Only five are be built and if you have to ask how much it costs, you can't afford it.
More importantly, what happens when power fails?