Watch all the fun, dust, hipsters and beards flying in the Dust Hustle 2015 video from Ellaspede on Vimeo.
The second annual Dust Hustle on September 5, 2015, was a sellout for riders and a spectator-friendly event.
Ellaspede spokesman Hughan Seary says it's a fun event where riders race flat track on a variety of suitable and not-so-suitable machines is on at the North Brisbane Junior Motorcycle Club's Mick Doohan Raceway.
Most get into the fun by dressing up, including this guy who dressed as Evel Knievel.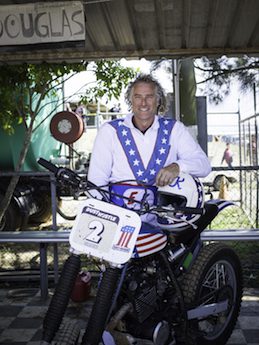 Spectator entry was free and 1500 turned up to see a sold-out field of 120 novice riders having a go at recreating the fun of the cult 1971 movie On Any Sunday!
The event is inspired by the famous Dirt Quake event made popular by Sideburn Magazine. "It is a flat track fun day open to all the weird, wonderful and woefully unsuitable motorcycles that could possibly be ridden on the dirt," Hughan says.
He confirms they will run the event again next year.