Warn HID Lights Image Gallery
Who knew Warn Industries made motorcycle lights? Not me.
There are usually dozens of ATV displays at the Powersports Dealer Expo each year; after all, the word "Powersports" is shorthand for ATVs, snowmobiles and "jet skis", aka PWCs or "Personal Watercraft".
I usually don't pay much attention to the ATV-related displays, athough there are certainly more than a few crossover products that are relevant for motorcycling.
But while strolling by the Warn winch display, I was surprised to see a new BMW F800GS on the floor.
Wait a sec…Warn…they're the winch guys, right? The farkled-out Jeeps all have a big Warn winch on the front bumper, right?
Which, by the way, I always thought strange.
If you're a serious off-roader with a tricked-out Jeep, you should know enough to never need a winch, right? Oh wait — I know — It's to pull out those other rubes who get stuck!
In any case, the F800GS looked sweet and for two reasons. First, the Warn WXT200 HID lights on the front look awesome. Who knew Warn made auxiliary lights for motorcycles? Not me…
Then there's that big (relatively speaking) Warn XT15 winch on the back.
Believe it or not, it looks perfectly at home on the rugged Beemer and gives the bike an even more workmanlike look. Warn has a special adapter plate (photo below) and it's supposed to be used for temporarily carrying the winch only (wink, wink!).
The mounting plate and mounting system is built like a brick, uh, outhouse. Forget the winch — you could probably pull a Jeep out of the Grimpen Mire with the Beemer, just by hooking the tow line to the mounting bracket.
Actually, if you get stuck…uh, I mean if your friend gets stuck…you're supposed to remove the winch (pull the pin and it releases from the mount) and attach tow lines with the winch hanging in the middle.
I guess you power it from the bike's (or the Jeep or the stuck vehicle) electrical system.
Motorcycle products are new to Warn — so new that the staff admitted they weren't sure how to market the stuff. Here's a suggestion: send it to us for a full webBikeWorld.com review! Whether or not they do, we'll "acquire" some of the gear for sure.
Warn WXT200 HID Lights
Everything Warn makes look like it was designed to survive the December 21, 2012 apocalypse. And beyond.
The Warn WXT200 lights are no exception. The housings are made from forged aluminum. Forged? Yep.
They're anodized and have an impact-resistant glass lens. The seals are made from silicone and the mounting hardware is hefty stainless steel (see the photos).
Mounting brackets are usually the problem with auxiliary lights, especially the no-name brands. Warn has a selection of a few different types and hopefully more on the way to fit a pretty good selection of motorcycles.
A quick look through the Warn website found no information about the mounting options for different motorcycles, either for the lights or the winch.
The light housing is about 4″ long by about 3″ in diameter. It is claimed to be "three times brighter than halogen". HID light is very "white" at 5,550K color temperature, which is about equivalent to noon on a bright sunny day.
Each WXT200 draws only 30 Watts but puts out 1,850 lumens in a focused 12 degree (spot) pattern.
The WXT200-S (S = Spot) puts out 650 lumens, also in a spot pattern. Warn also makes a WXT200-F (F = Flood) at 650 lumens with a 35-degree pattern.
If none of those suffice, they also sell a 4″ diameter WXT400 HID, with a retina-melting 2,225 lumens at 40 Watt draw and a 22-degree pattern. I'm not sure if all of those figures, taken from the Warn propaganda, are for one lamp or two; I assume they mean for each lamp.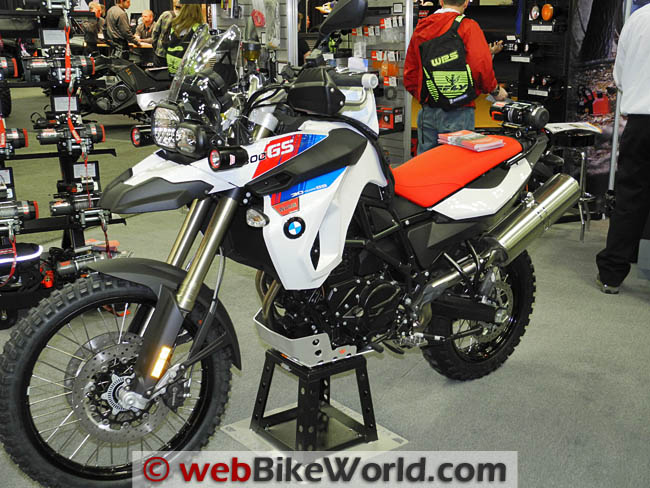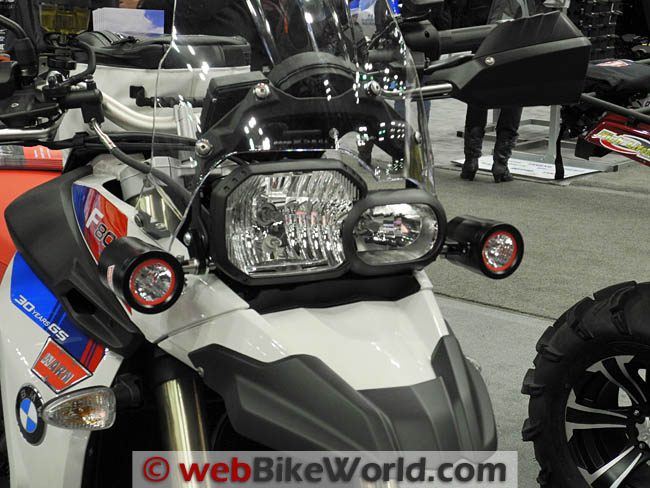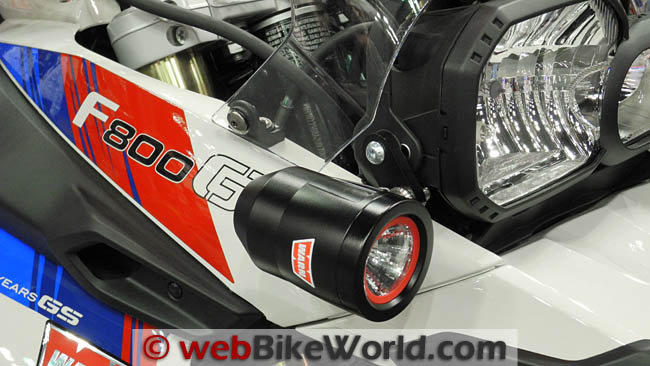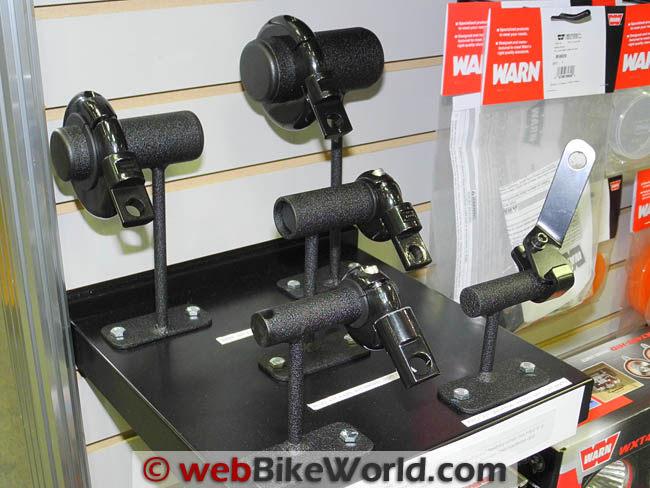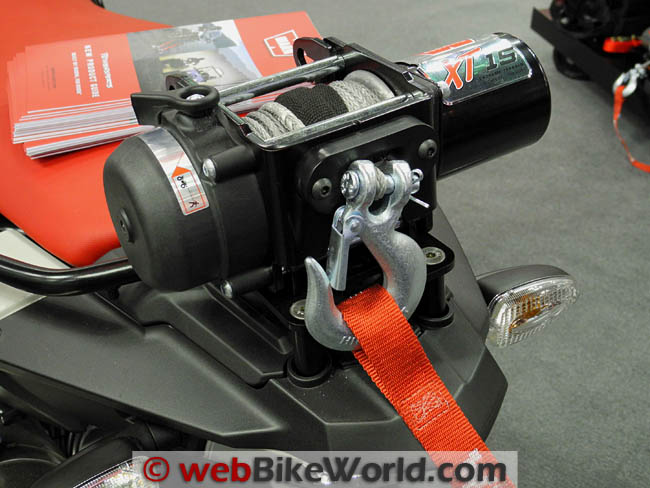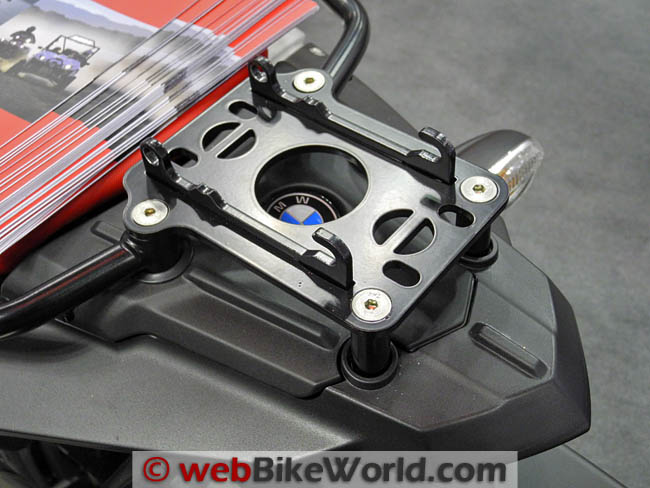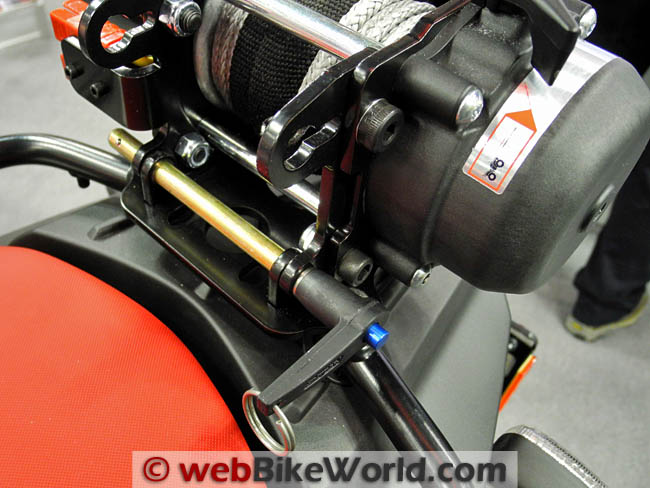 Return to 2011 Powersports Dealer Expo Home – Stay tuned for more!
Publication Date: February 18, 2011
Note:
 For informational use only. All material and photographs are Copyright © webWorld International, LLC since 2000. All rights reserved. See the webBikeWorld® 
Site Info page
. Product specifications, features and details may change or differ from our descriptions. Always check before purchasing. Read the
Terms and Conditions
!