Battery Heated Gloves Review Summary
Battery Heated Gloves Image Gallery
My safe prediction is that within the next year or two, motorcyclists will be freed from their wired heated vests, pants, gloves and who knows what else. Time — and technology — marches on, and as new generations of batteries get smaller, lighter and more powerful, the day will soon come when the wiring harness will go the way of the kickstarter and carburetor.
But not today…
We had such a great response to our review of the Jett battery heated vest that we went on a search and found a couple of other battery heated vests that we're currently evaluating. More on that coming soon (some preliminary thoughts are included on the Jett review page). But we also found these battery heated gloves, sold by Warmthru in the UK, along with their version of a battery heated vest and other garments, and we thought you might be interested in learning more.
Since I have the largest hands here, I was assigned the task of evaluating the size XL "Fingerheaters" gloves shown here. They're made from some type of lined Nylon-type fabric, and they're soft and comfortable with a fleece liner and some insulation as padding. I'd say that the Fingerheaters gloves have minimal specifications for motorcycle use.
They have a type of unnamed but apparently abrasion-resistant material covering the fingers and palms, but no armor, knuckle protectors or other safety features normally found on gloves designed for motorcycling. They also have a Velcro strap on the back of the wrist that provides some adjustment. The gauntlet is non-adjustable, and I had some difficulty fitting it over the wrists and cuff of a thick winter motorcycle jacket like the Rev'it Cayenne.
Nevertheless, the company says that the Fingerheaters gloves are waterproof and windproof. What makes the Fingerheaters gloves different is the small Lithium-ion battery that's stashed away in a small pocket on the back of each hand. The battery is 2-3/4″ long by 1-15/16″ wide and 9/16″ thick (69mm x 49mm x 15mm) and each one weighs 88 grams (3.125 oz.).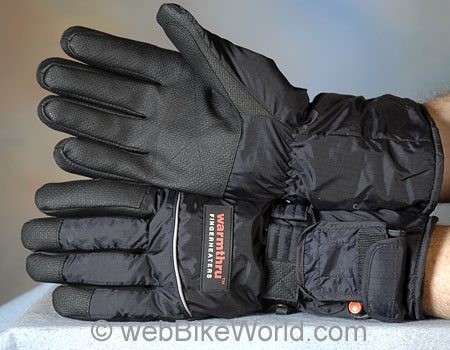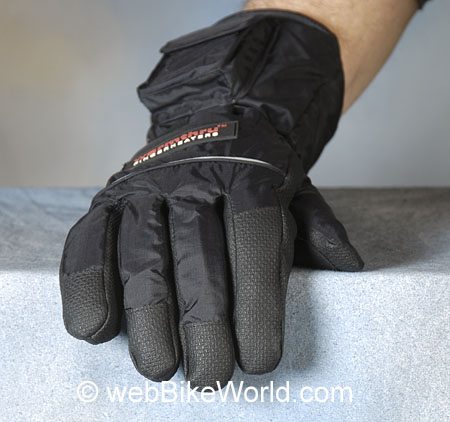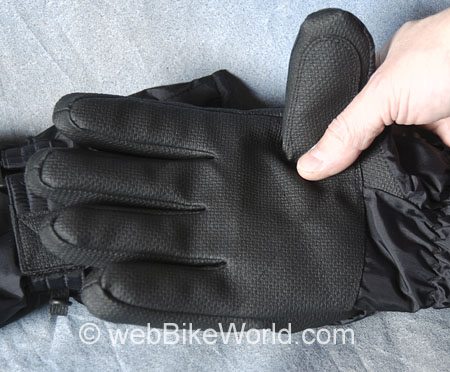 Batteries
The batteries are virtually unnoticeable on the back of the gloves, probably because the gloves are light enough that the few extra ounces balance out without a problem.
The batteries are claimed to heat the gloves to temperatures of 35C to 40C, which is only 95 to 104 degrees Fahrenheit, not very high actually. The batteries are, of course, rechargeable; they're 3300mAh at 3.7 Volts.
The claimed charging time is 4 to 5 hours and the batteries last about 3 to 4 hours. They have a claimed 500 charge lifespan.
The gloves come with a separate charger and UK adapter; European or U.S. adapters are available for an extra £6.00 (~$12.00) but you can use adapters found in any electronics store.
Simply plug the two wires from the charger directly into the batteries and wait until the red LED light goes out.
The Fingerheaters battery heated gloves sell for £118.50, which, at the outrageously ridiculous current exchange rate is nearly $230.00, making them pretty much out of reach for U.S. motorcyclists.
The battery heated gloves have elements in the fingers and thumb.
There's no temperature control other than the on/off button switch on the back of the hand. Push the button in to turn them on and out to turn them off.
This all sounds great and I wish I could report that the gloves put out an overwhelming amount of heat.
But the lack of a heat control knob should be a clue — the heat inside the gloves is very subtle and not something that I can really notice and say "Oh yeah, my hands are nice and toasty!".
In fact, I have a hard time determining whether the gloves are putting out any heat at all. I've been called cold-hearted, but I know for a fact that my body temperature is up around 98 degrees F.
The narrow range of heat in the Fingerheaters gloves just doesn't seem to be enough to really notice.
The fabric is windproof and the gloves have a decent amount of insulation, so they protect against the cold fairly well anyway, even without the battery powered heating elements turned on.
I have to really concentrate to feel any of the heat, and my wife says that if you have to do that, then I'm not feeling anything. I don't know… it's hard to say, as the gloves do keep my hands warm, but how much warmer the battery heated gloves are compared to other winter motorcycle gloves is up for debate.
Conclusion
The so-called "winter" weather here recently hasn't helped much with an evaluation of battery heated gloves.
Yesterday was December 23 and the temperature was in the 60's (F) and I went out for a nice, long ride with nothing but a pair of Roadgear overpants and the Rev'it Cayenne jacket over a cotton long-sleeved T-shirt.
Maybe if the weather gets really nasty, I'll discover that the heat really does make a difference. On second thought, with the way it's been going with global warming, maybe we won't need the wires OR the battery heated gloves any time soon…
w

BW

 Review: Warmthru Fingerheaters Battery Heated Gloves
List Price (2006): £118.50
Made In: Unknown
Colors: Black
Sizes: S to XL
Review Date: December 2006
Note:
 For informational use only. All material and photographs are Copyright © webWorld International, LLC since 2000. All rights reserved. See the webBikeWorld® 
Site Info page
. Product specifications, features and details may change or differ from our descriptions. Always check before purchasing. Read the
Terms and Conditions
!
Owner Comments and Feedback