VQuattro "San Remo" Motorcycle Boots
webBikeWorld regulars know we're big fans of VQuattro products.
In fact, we named the VQuattro Squadra heated gloves (review) as a 2012 webBikeWorld Product of the Year.
The award was given for excellent performance and build quality.
We've reviewed several other VQuattro motorcycle gloves (reviews)
And we have been equally impressed by the French company's blend of style and functionality.
This year, VQuattro released the Overlap brand of motorcycle jeans.
Those include the Overlap Imatra water-resistant jeans (review) and the Overlap Manx jeans (review).
Both of those jeans meet the new Level 1 safety standards developed in France and they include the "Overlap" and "Overhide" technologies.
"The concept of VQuattro Design is to combine "casual" style with protective features required in the CE standard for motorcycling shoes/boots", according to the company.
"We are aware many riders do not wear protection because they feel products are not "fancy" enough to match their life style. All VQuattro shoes pass the CE tests for abrasion, transverse rigidity, upper height and seam construction".
Next up is the new line of VQuattro motorcycle boots, with a focus on street/urban styling but without forgetting that important safety factor.
We have three production samples of these boots but not a lot of information, so we're presenting it in webBikeWorld "Quick Look" preview format and if we get more info, I'll be sure to pass it along.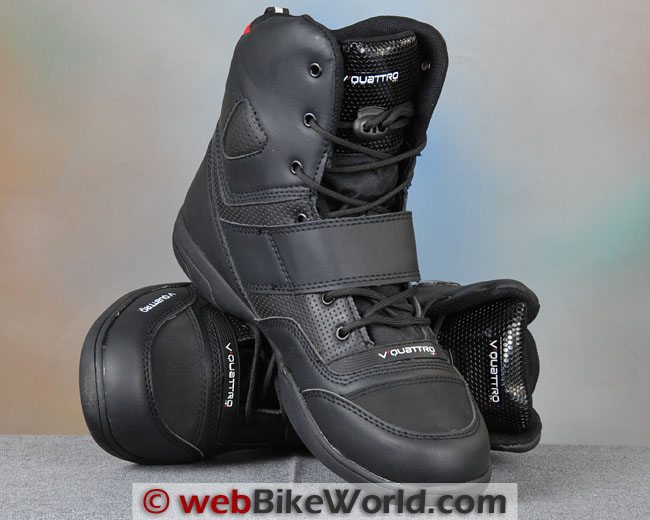 The VQuattro Design brand belongs to the AIXSTREAM group, established in 2009 in France, which also owns the Overlap jeans and Astone Helmets brands.
The VQuattro family of motorcycle gear is still difficult to find at retail, but the company is about to launch a new eCommerce website that should be online "any day now".
VQuattro has recently introduced 10 different types of motorcycle boots for both men and women in a variety of colors and sizes, making for a huge collection of boots to choose from.
We have three different boot models and colors to review, which are a good representation of the new lineup, but there just isn't a lot of technical or background info on these boots.
The three pair we are reviewing here run from mild to semi-wild.
These include the black VQuattro San Remo "Original" boots, the VQuattro Milano Paperboy boots and the VQuattro Milano Academy boots.
All of these look good on and off the bike and are a nice match for the Overlap jeans.
I've noticed just recently a new trend in motorcycle clothing, the "urban" or "street" style.
We'll be reporting on this in some upcoming webBikeWorld reviews, with a look at some of the new Rev'it and Tucano Urbano urban clothing line.
This type of motorcycle clothing is sharply styled and looks good both on and off the bike without sacrificing safety, because the protective features are nicely camouflaged or hidden.
This makes sense when you think about it; not everyone wants to look like "Boy Racer" when riding the bike to work.
Wouldn't it be nice to wear one set of clothing that protects you while riding and then looks stylish when you arrive at your destination?
In the most basic sense, this describes motorcycle jeans, but we think you're going to see a blossoming category for urban styled motorcycle gear of all types coming soon.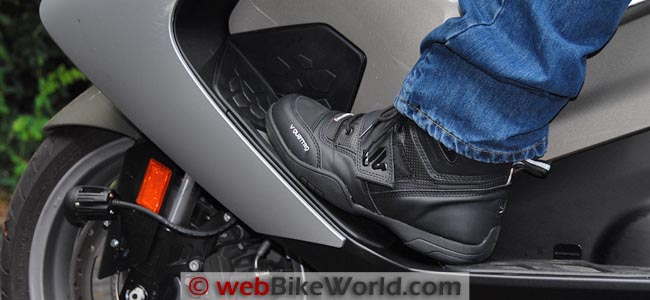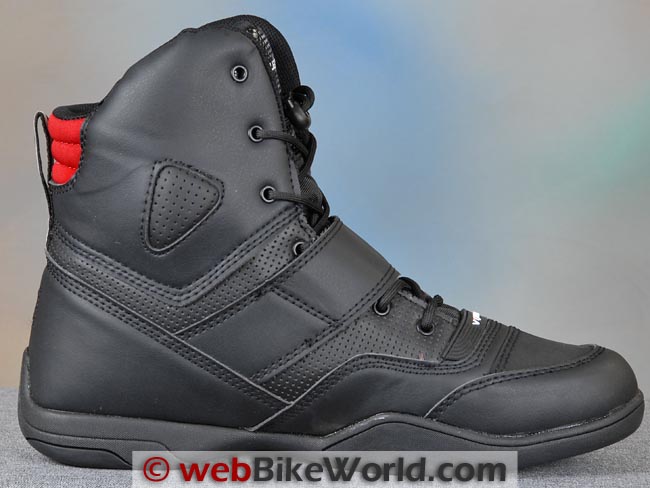 VQuattro Boot Types
VQuattro has introduced so many new boots that it's a bit difficult to keep up with the naming conventions.
We don't have as much detail as we'd like on any of the VQuattro boots and the company's websites are in a transition.
The VQuattro website was once available in English but a brand-new version was placed online this week and it appears to be in French only.
I was hoping to have more information available by now, but in the meantime, our coverage will be limited to a webBikeWorld "Quick Look" or preview.
It doesn't take much looking through the photos though to realize that the San Remo branch of the VQuattro boot family tree probably has the most traditional styling of the bunch.
Our San Remo boots are all black, but just this week the only photos showing up on the revised VQuattro website show the San Remo in black and white, so who knows?
Hopefully, the transition will be completed soon and the new VQuattro "Rider Valley" eCommerce website will also be ready for worldwide customers to purchase their VQuattro gear.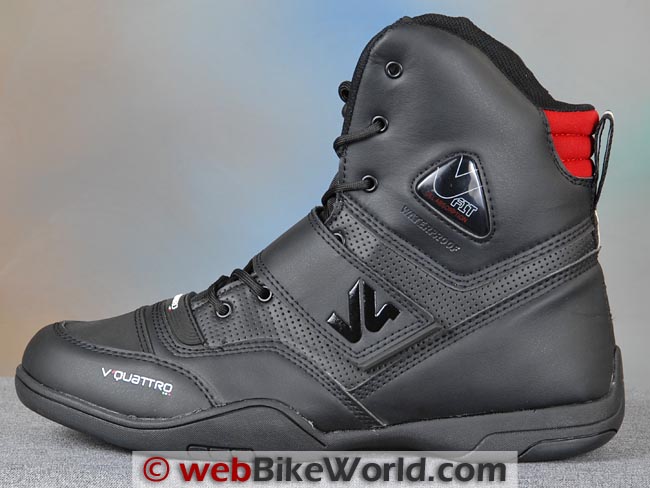 ---
Where to Buy VQuattro San Remo Boots
Check Reviews & Prices on Amazon
Check Reviews & Prices On RevZilla
Also: Leather Motorcycle Boots, Touring Motorcycle Boots, Women's Motorcycle Boots
---
VQuattro San Remo Boots
I can probably best describe the San Remo boots as a sort of hiking or work boot with subtle motorcycle-related features.
There just isn't a lot of detailed information available on these or any of the VQuattro boots and the labels inside the tongues doesn't reveal much, but the San Remo boots appear to be made from some type of synthetic leather.
A synthetic upper makes sense on the San Remo boots, because the VQuattro "V-Rain" waterproof and breathable liner  so a synthetic upper makes sense.
The soles are the one-piece molded type and they provide good traction.
The laces are traditional but include a spring-loaded keeper at the top so you can quickly tighten the boots and stuff the extra length of the laces into the tops of the boots if you're in a hurry.
If not, make your double bow and cover it with the hook-and-loop strap that goes across the instep to keep the laces from fouling the pegs.
There's a cutaway at the rear of the boots at the top, which provides a lot of comfort for riding a motorcycle. The red fabric you see at the back isn't quite as soft as I'd like, but it's form-fitting and works fine.
A large pull loop is also sewn on to the back of the boot, which helps when pulling the boots on.
The perforations don't flow air directly but help the breathable membrane transpire. It seems to work, because I haven't noticed the type of heat and moisture buildup one might expect in this type of boot.

Safety Features
The only real concession to motorcycle riding are the ankle protectors sewn into the lining on both the inside and outside of the San Remo boots.
The toes and heel cup are standard work boot or hiking boot fare and the soles aren't as stiff as some motorcycle boots, but all of this makes the San Remo boots much more comfortable for walking or working.
However, all of the VQuattro boots are labeled as meeting the CE 13634 standard of 2010 for protective shoes (see the webBikeWorld report on Motorcycle Clothing Safety Standards, which includes links to the various CE standards).
VQuattro said the "Protective Footwear for Motorcyclists" standard  is based on the 2002 standard but now requires a higher boot top for more protection; more robust seams and stitching; abrasion protection and transverse stiffness.
The CE 13634 standard has two levels of protection (similar to the two levels in the Overlap jeans). The zones are labeled as A and B.
Zone B is the most exposed area of the boot and it must resist abrasion for at least 5 seconds to meet the Level 1 standard and 12 seconds for Level 2. The less exposed areas require 1.5 to 2.5 second resistance.
Sizing, Fit and Comfort
These San Remo boots are size 44 and feel correct, so they should fit a size 10.0 to 10.5 US average width. The insoles have a firm padding and the sides of the boots, especially around the ankles, are nicely padded.
Overall, these are very comfortable boots that feel like they will provide good protection around the ankles.
Conclusion
The VQuattro San Remo boots are closer to a street/working/hiking boot than a focused motorcycle boot, but they're comfortable and offer a modicum of protection with a couple of motorcycle-centric features.
The waterproof capability is a plus in this type of boot and the price is reasonable.
Next: VQuattro Milano Paperboy Boots Preview
w

BW

 Quick Look: VQuattro San Remo Boots
Manufacturer: VQuattro (France)
List Price: €129.00
Colors: Black, Black/White
Made In: China
Sizes: 40-47 Euro
Review Date: September 2013
Note: Item provided by a retailer, distributor or manufacturer with these Terms and Conditions.
Note:
 For informational use only. All material and photographs are Copyright © webWorld International, LLC since 2000. All rights reserved. See the webBikeWorld® 
Site Info page
. Product specifications, features and details may change or differ from our descriptions. Always check before purchasing. Read the
Terms and Conditions
!
---
Where to Buy VQuattro San Remo Boots
Check Reviews & Prices on Amazon
Check Reviews & Prices On RevZilla
Also: Leather Motorcycle Boots, Touring Motorcycle Boots, Women's Motorcycle Boots
---
Owner Comments and Feedback
Other WebBikeWorld Boot Posts