Vox?  Zox?  You're kidding me, right?  Hey — you asked for it!  The el Cheapo crowd is always looking for the ultimate helmet bargain.  Does it exist?  Truth be told, I don't think they'll be satisfied until somebody pays them to take a brand new helmet!  And dollars to donuts, they'll still complain.
Everyone likes a bargain, but can the word "cheap" be used in the same sentence with "good"?  Yep — we've seen it before, when the Zox dudes turned out the pretty incredible (for the price) Zox Azuma R, which proves that 89 bucks and a little research can buy a lot of helmet.
Our Azuma review got us interested in learning more, but Zox helmets aren't easy to find — or to buy.  We ordered a Zox Nevado R flip-up, shown here in blue, on Valentine's Day 2007.  That's February 14th for all of you non-attached webBikeWorlders.  It was October by time we finally got the helmet and wore it for the first time, just as we started getting emails asking about the Vox flip-up, shown here in, uh, pink.
Pink??  Yeah, pink.  You gotta problem wit dat?
If we had to guess, we'd say that Vox helmets are probably being churned out of the same factory that produces theZamp JS-1.  But who knows?  As we've seen at the yearly Powersports Dealer Expo (see our 2007 report), there must be a zillion Chinese factories turning out helmets by the container-load, and they're sold under as many names worldwide.
If anyone can find a Vox Helmet website, please let us know.  In the meantime, the Vox can be found on eBay and at a few other online retailers.  We're not part the cheap-is-always-better crowd, having more than $100.00 worth of respect for our noggins, and the combination of eBay, $89.00 and no website is a real danger sign, in our opinion.
But that's just cautious ol' us; the Vox brand obviously has some fans who probably think we're wimps.  So we decided to put 'em both through the mill.  Two helmets enter — one helmet leaves in the webBikeWorld Vox vs. Zox Battle of the el Cheapo Flip-ups!  And guess what?  Yes — there is a clear winner!  BUT…both have a big problem!  Read on…
wBW Vox Helmet Review  |  wBW Zox Nevado R Helmet Review  |  wBW Reviews Home
Let us know what you think by sending your comments to 

 and we'll post them below.
wBW Video Tour of the Vox vs. Zox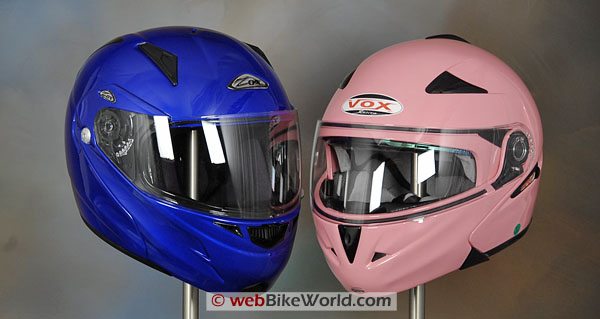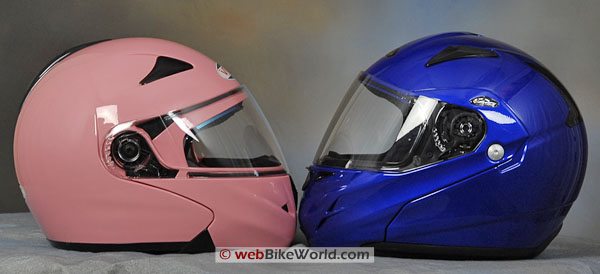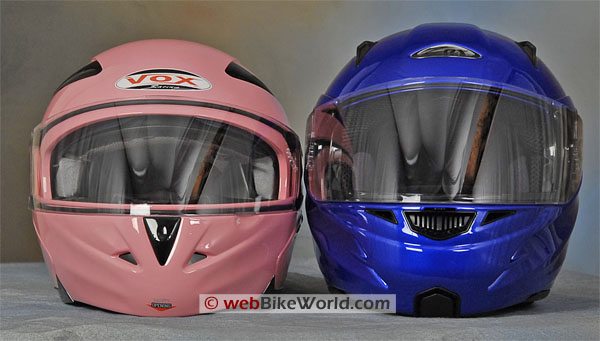 Owner 

Comments and Feedback

Comments are ordered from most recent to oldest.

Not all comments will be published (

details

).  Comments may be edited for clarity prior to publication.
---
From "J.F.":  "I purchased a Vox Modular helmet about 4 months ago.  I ordered it from Sterlingtek which seems like where they all come from eBay, or not. $99 from them, free shipping , or $79 from eBay, $20 shipping, you choose.
Two things I really liked about the helmet was the easy to use sun visor on long road trips, and the chin bar release is inside the bar not on the bottom, which I felt could open itself in a crash.
About a month ago I flipped my Vstar 1100.  It flipped three times end over end and I flipped twice.  The first time I landed directly on my head.  I was very impressed with the way the helmet stayed put.  The chin bar did not come up like some people say.  The only that happened was the clear visor came off and broke some of the plastic side gear that holds it on.
The biggest disappointment for me was that I can get a replacement clear visor for $10 but to replace the gear mechanism, held on by one screw, I would have to send it into the company.  I have examined the helmet thoroughly and there are no dents, cracks, gouges, inside or out that would worry me that this was unsafe now.  But to send it in for a repair that I could do myself in less than a minute.  I think it would cost more in shipping, part, and labor, than is worth when I could get another one for $99.
I will agree the chin bar is too high.  I can't see my speedometer, and yes it is very tight on the cheeks.  Other than that I was happy with it."
Response to "J.F." from "JR":  "It appears JF is going to continue to use his helmet after a crash that landed him on his head.  For anyone who happens through here, please do not do this!  It's one of the worst possible things you can do.
When your helmet is involved in an accident and you walk away, the helmet has done its job; it has destroyed itself.  The material inside the helmet will no longer provide protection to your head.  One hopes that any MSF class covers this.
When you have been in an accident, REPLACE YOUR HELMET!  Contact the company. S ome will provide a free replacement.  Either way, get a new one."
Follow-up from "J.F.":  "I did have to wear the helmet the rest of the way home, but I never wore it again.  I do keep it on the shelf next to my bike as a reminder of what can happen.  I replaced it with an HJC.  It is the right size but it is uncomfortable and I don't know what it is with the vents but I don't feel any airflow like I did the Vox.  I am going back to a Vox."
Other WebBikeWorld Helmet Posts