Victory Motorcycles Project 156 streetfighter seems set to target the youth market after tackling the challenging Pikes Peak hillclimb in Colorado in June 2015.
It's called Project 156 because that is the number of corners on the famous "Race to the Clouds" hillclimb and it's being developed with Roland Sands designs of California.
Check out the three videos above and below for the latest developments on racing to the clouds.
MotorBikeWriter is going to Pikes Peak to check out the Project 156 bike which is expected to be a naked streetfighter with a prototype Victory V-twin engine.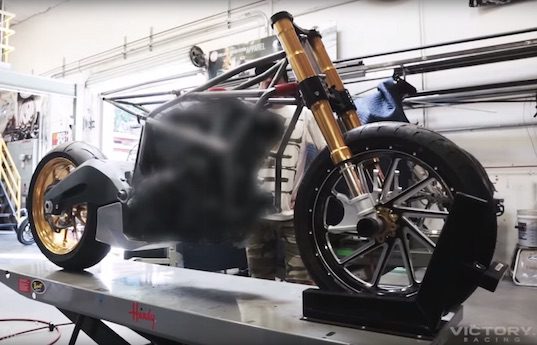 The engine casings are ribbed a little like the Indian Scout engine, but it's not exactly the same and Polaris has always tried to keep their two motorcycle companies apart.
It's difficult to tell whether it is water-cooled, like the Scout, but it doesn't seem to have a lot of air-cooling fins.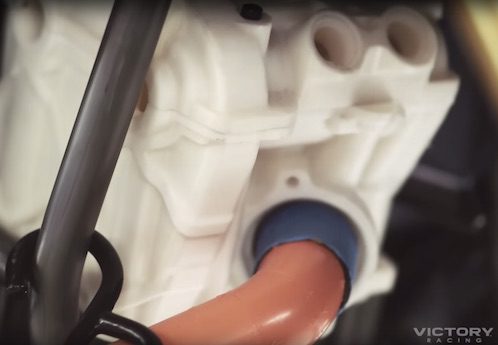 We can't imagine Victory would develop such a project with a totally new engine just to go racing. Surely they will go into production with something similar.
All Victory models use the 106 Freedom engine, so this would give the company a whole new model range.
It's certainly exciting times for Victory which is flush with R&D funds thanks to the economic powerhouse of its parent company.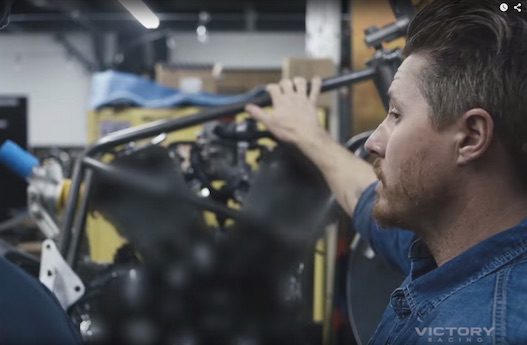 The above videos don't give away too much about the engine which is either blurred out or sheathed in white plastic. However, it looks like it could be a version of the Indian Scout 1133cc V-twin, although the top end looks a little different.
That would be a little unusual for Polaris who has kept Victory and Indian apart … at least up until now.
However, you can see the Proiect 156 streetfighter has a trellis frame, double-sided swingarm, fat rear Dunlop tyre, Ohlins piggyback rear monoshock, upside down wide Ohlins gold forks and chain drive.
The bike we see has no fairing and a street fighter handlebar, but at one stage Roland Sands puts his hand up over the triple clamp indicating perhaps a small bikini fairing or wind deflector.
When the final product is publicly unveiled we'll be there on Pikes Peak to broadcast the first images, so stay tuned.
It's not the first time Roland Sands has teamed up with Victory or Indian and maybe it won't be the last!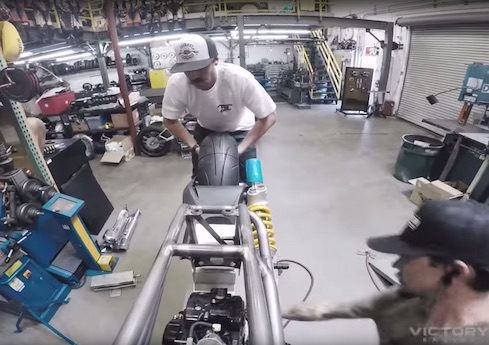 Americans who are either an active-duty U.S. Military Service Member or U.S. Veteran can enter a Victory Motorcycles competition to win a trip to the American Victory Rally in Colorado Springs, June 25-28, 2015. Included in the prize package is travel, lodging and spending money. Additionally, the winner will have access to the the Pike's Peak Fan Fest and Victory Owner activities on Friday, June 26, 2015.  

The culminating event of the weekend is the Pike's Peak Hill Climb where the winner will have exclusive Victory access during the race. Click here to enter.