Excuse the "magna cum laude" pun in the headline, but we couldn't resist now that Victory Motorcycles Australia is bringing back the loudest machine on two wheels, the Magnum X-1 with 200 watts of sound and 10 speakers.
Only 300 were available last year when they were released and they quickly sold out in Australia.
They return mid-2016 and orders are being taken now.
The even greater news is that this limited edition concert on wheels is the same price it was last year at $34,9995 ride away which is exceptional given the collapsing value of the Australian dollar against the US greenback in the past year.
That's $5000 more than the standard Magnum, but it comes with sights and sounds that set it apart.
Last year it arrived in an Electric Red over Gloss Black and Platinum paint scheme, but this year it's in a Stealth Grey suede monochrome style featuring colour-matched hinges, fender fillers, lower frame covers, dash, speaker grills and headlight bezel.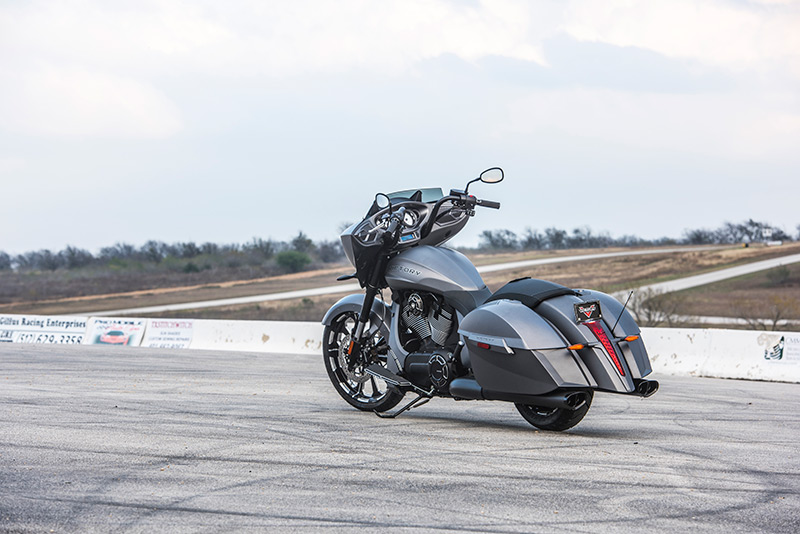 The custom bagger is highlighted by custom 21-inch Black Billet front and 16-inch rear wheels machined out of a single block of aluminium, smoke tinted LED headlight which is 74% brighter than on the Cross Country.
It's not just the sight of the X-1 that stands out from the "standard" Magnum, but also the sound with 10 speakers instead of six and 200 watts of power instead of 100.
There are two 6×9 woofers and two tweeters in the saddlebags, two 5.25-inch midbass speakers, two 2.5-inch mid-ranges and two more tweeters in the front fairing.
The audio system fully integrates into any Bluetooth capable device, and features an informational window for input and song selection.
It is the loudest standard audio system on a production bike in the world. The system is also available separately for $1375.