What started as a bit of a fault has turned this 2013 Victory Cross Roads Classic into a very special "hybrid".
Newcastle bus driver Geoff Camps, 60, has been riding bikes since he was 17, mainly sportsbikes, but he admits he's getting too old for them.
"It hurts my wrists and my back these days," he says.
So last year he took the cruiser route and bought a Suzuki CT50 Boulevard. He says it was "beautiful", but ran out of cornering clearance too soon for the long-tme sportsbike fan. "I just never felt comfortable on it," he says.
So Geoff went back to the drawing board, did some research, and found that the Victory Cross Roads had plenty of clearance.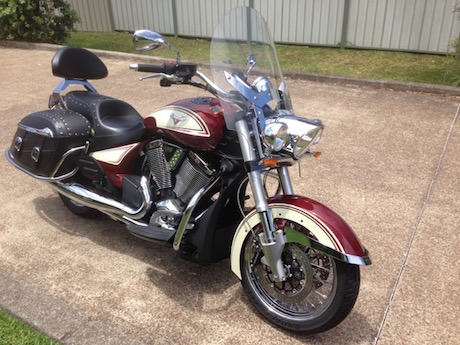 "I read up on it and did all the research," he says. "Everyone said they are a good bike and really reliable. Reliability made a big impression on me plus I like the looks of it."
Geoff says he sat on the demo bike at Brisan Motorcycles in Newcastle and thought it was the most comfortable seat he'd ever sat on.
"I bought it right off the showroom floor without even riding it," he says. "It was a demo only three months old and only had 222km on it."
But then he noticed the vinyl peeling off the soft bags.
"I wasn't too happy about that and asked Brisans if they would ask Victory to swap for the hard bags from the Cross Country," he says.
When his suggestion was knocked back, he ordered some new bags from the US, but says they were worse.
When he pointed out to Brisan Motorcycles that the same thing was happening to the soft bags on the showroom floor, a new deal was worked out.
In the end, Victory agreed to replaced the bag with Geoff paying the difference in cost and Victory paying for the new luggage attachment rails. Good deal!
But now Geoff's hybrid Cross Roads/Cross Country had a new problem … the bike and pannier paint didn't match.
So Geoff took the hybrid Victory to mate Luke Gallager who owns Gallager Smash Repair at Merewether.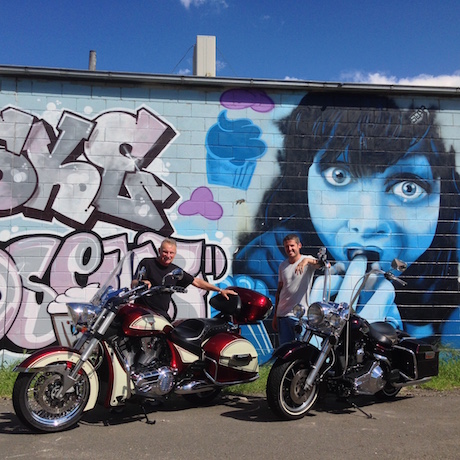 "I have known Luke since he was a teenager," he says. "While he was an apprentice he competed in Japan in the world trade apprentice completion where he came home with two first prizes and one second in his trade.
"He owns a Harley that was owned by his grandfather which he also painted, so knowing how good he is and the fact he understands that if you paint a bike you need to paint over the edges etc, I knew my bike was in excellent hands."  
However, matching the paint on the hard bags to the rest of the bike was trickier than expected.
"Bike manufacturers no longer give paint codes so Luke suggested that he paint the whole bike as he knew how anal I am about that sort of thing, and he is too, I might add," Geoff says.
"He mixed a few candy reds that I wanted and we used House of Kolor Brandy Wine over a silver base. I wanted to keep the cream so the bike still had a classic look. Luke painted the bike and did the pinstrips so the bike looked as if it was original.
"The reason we ran with the paint theme of the bike was that I wanted and loved the classic look of the bike and after we decided to paint the whole bike, it was a matter of working out what colour would work without loosing the classic look but also to give it a standout paint job that had the bling without being over the top.
"While the bike was there I asked if he could also paint the black chin spoiler and a Shad top box that I had to allow the bike to flow."
So what started out as a touch-up to match the Cross Country bags to the Cross Roads ended up in a total repainting of the bike.
But Geoff hasn't stopped there.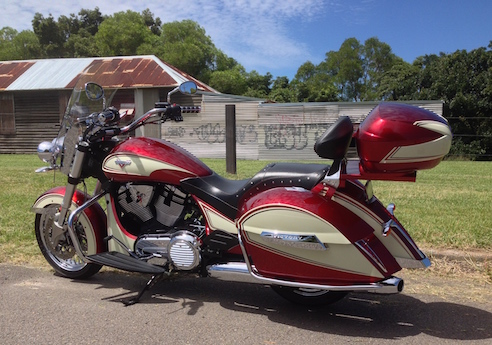 "While the bike was in Luke's care I ordered some bling such as Saber LED lights for the bags," he says.
But wait there's more.
"Because Victory leave the wires exposed behind the rear barrel, I bought some Kuryakyn chrome bits like a rear transmission cover that took care of the exposed wires and a chrome inner primary cover to finish the look along with a chrome clutch arm cover."
And more.
"I hated the fact that I damaged my shoes etc so I bought a Victory chrome heel shifter."
And more.
"Later on, I noticed that the clear coat was peeling on the derby and timing covers so Brisan Motorcycles did a warranty claim and we replaced them with Arlen Ness billet chrome fin covers."
And more.
Geoff stands 170cm tall and finds the reach to the bars a little long, so he has also replaced the Cross Roads bars with Cross Country bars which bring them about 5cm closer and make it even more of a hybrid model.
"It made the bike feel and turn so much better," he says.
And even more.
The bike also has a Victory stage one exhaust and air filter, light bars with twin lights up front and a rear passenger back rest. 
Geoff uses the Victory for "running back and forward to work and some weekend rides". He'd love to do longer rides but he's on a six-day roster.
But he's not quite finished with the bike yet.
"Future mods I plan to do are a Lloydz timing wheel and air filter, and a Power Commander 5 with a dyno tune to allow the bike to run smooth with a modest power increase. I am 60 so I don't want to do anything too crazy. The only other thing would be the cams way down the track. It is coming up to two years old and once it's out of warranty I'll worry about it then.
"It's such a reliable bike anyways."
UPDATE
Since this article was published on January 30, 2015, Geoff has been busy!
He has added the following: Victory 2 pull back handle bars, h
eated grips, Ness wind deflectors, custom seat and back rest to the trunk both custom painted in the candy pain with the cream and flow coated, forged highway bars, cam bolt adjuster covers, Cross Country alloy wheels replacing the wire wheels, Lloydz sports air filter, Lloydz timing wheels,dyno tuned Power Commander 5,  chrome clutch arm cover, chrome master cylinder cover, chrome rear master cylinder cover and has a trunk 
liner kit on its way from the USA.
"That will be the last mod," he says, then adds, "maybe down the track I will change and upgrade the cams with a freer-flowing true-twin exhaust."
It never ends!