It must be one of the most extensive test rides a Victory Cross Country Tour has undergone: three weeks and 4000 miles (6400km) from LA to the Sturgis Motorcycle Rally and on to Polaris HQ in Minneapolis.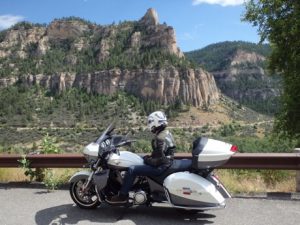 The result is – Victory! Not a scratch, not a blemish, not a hiccup.
The big, bold and beautiful CCT conquered 117-degree F (47C) desert temperatures, over 10,000 feet (3000m) altitudes, prolonged 80mph (130km/h) Interstate cruising speeds, "pigtails" and switchbacks around Mt Rushmore, strong prairie cross winds, and pelting hail and rain.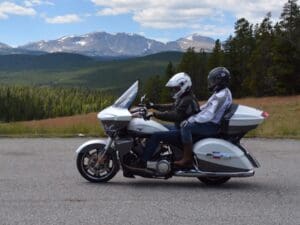 It is simply the most comfortable touring bike I've ridden. The seat is good for well over two-hour stints, the reach to the bars is easy, the big touring screen stops all buffeting and the massive, floating floorboards are not only vibration-free, but you can move your feet from a mid-mount position like on a Honda Goldwing to the standard forward controls, or put your heels on the ends of the floorboards and your legs straight with no need for accessory highway pegs.
I thoughtfully brought along an Airhawk seat for Mrs MotorbikeWriter and she ditched it, saying the standard seat and backrest were more comfortable. She reluctantly used it only when her souvenir, present and jewellery shopping meant we ran out of room in the luggage.
Speaking of which, the biggest accolade from Mrs MBW was reserved for the luggage space. At 41 gallons (155L) that's about 6 gallons (22L) more than Harley-Davidson Ultra Ltd and a couple of gallons (7.5L) more than the Honda Goldwing.
Thanks to Adrian at Victory Motorcycles Australia for setting up the test bike and to Robert, TJ and Kyle at Polaris in the USA for delivery and pick-up.
And thanks to the pearl white and grey CCT. We'll miss you.