Badass Venom Motorcycle Helmets
Who is Venom?
Anyone who has read the Spider-Man comics or seen the Spider-Man comics has heard about Venom. Venom is one of the most famed super-villains in the Spider-Man series. It originates from outer space—in the movies it was shown as coming to Earth on a meteorite. It is a symbiote—that is, it needs a host to survive. It has a gooey, fluid-like form.
In the Spider-Man series, Venom not only attaches itself to human hosts, but also gives them enormous powers, along with making their personality darker and more terrifying.
This vicious villain is an equal—if not more—match for all of Spider-Man's strengths and is considered to be Spider-Man's fiercest opponents.
5 Interesting facts about Venom that you did not know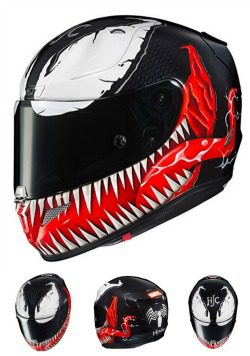 Here are some things that you probably did not know about Venom.
1. Idea for Venom was originally given by a fan
The idea for creating Venom actually came from a fan's letter showing the designs of a black suit for Spider-Man. The then editor-in chief Jim Shooter loved it so much that he bought the idea from the fan, Randy Schueller for $220. The idea was slightly modified and a backstory was added. In the comics, it was shown that Spider-Man actually got his suit from a machine belonging to aliens. Later, he realized that the costume was alive and was trying to mess with his mind and knowing its weakness for sound waves, he clanged the bells at a church to get rid of it. Venom then found another new host, Eddie Brock—the only Venom host that appeared in the movie—and the first of many of Venom's host. Thus this super-villain was born.
2. Hosts of Venom
Most of us know of Spider-Man's black suit and Eddie Brock—the journalist bent on revenge on Spider-Man for ruining his journalist life. Venom first becomes known as "Venom" after bonding with Eddie Brock. There are also other hosts whom Venom possessed as well. They are Angelo Fortunato, Mac Gorgon (known as Scorpion), Flash Thompson and Lee Price.
There are other less-known hosts of Venom as well, namely Ann Weying, who is Eddie Brock's ex-wife, Patricia Robertson, a U.S. army communication specialist and the much more well-known Deadpool, who is hinted to be a prey of venom's aggressive behaviour.
3. Powers of Venom
Though symbiotes generally need a host to survive, Venom can independently fend for itself at times. Venom has the power to shape-shift, camouflages itself as normal clothing, and helps its hosts escape from Spiderman's spider-sense. It can form spikes or expand its size as well. Moreover, Venom's abilities are not limited to its present host's powers. It can draw and mimic the abilities of its former hosts as well, which makes it a deadly super-villain. It also comes with unlimited webbing power and is a sentient being that can even control the minds of its hosts. Venom can also shoot parts of itself on to its enemy's body to kill them.
These powers make Venom a truly terrifying villain, more so because it won't stop if its current host is defeated, but will merely find a new host to bond with.
4. Venom's suit is powered by hatred
It was much more difficult for Spider-Man to defeat Eddie Brock than it was to defeat Mac Gorgon, aka Scorpion. This is because Eddie Brock hated Spider-Man even before Venom possessed him, and this hatred from the host further fuelled Venom's powers and made it stronger. On the other hand, Scorpion had no personal revenge vendetta against Spider-Man and hence his hatred was not as strong as Venom's former host, and thus it was much easier to defeat him.
This unique concept is one of the most remarkable traits of Venom—and shows how emotion can steer your actions.
5. Venom was originally going to be a woman
The first Venom host was originally going to be pregnant woman who witnessed her husband's death and lost her baby in an accident caused by a taxi-driver who was distracted while watching Spider-Man. This loss would focus all her hatred into getting revenge on Spider-Man, much like Eddie Brock.
However, the editor Jim Salicrup, didn't think that the woman would make a credible villain and hence she was swapped for Eddie Brock. Years later, Ann Weying would become the first female host of Venom.
When did Venom first appear in the series?
In the comics, venom first appeared as Spidey's black alien costume in the Amazing Spider-Man #252 (May 1984). Venom appeared as itself in the Amazing Spider-Man #300 (May 1988).
In the movies, people first caught a glimpse of Venom in Spider-Man 3 (where Tobey Maguire played Spider-Man) and its host was seen as Eddie Brock, the journalist with a grudge against Spider-Man.
Other appearances of Venom
Venom has also appeared in various TV-series, video games and also as a collectible toy figure from Marvel's game, Heroscape.
S.H.I.E.L.D considers Venom to be one of the greatest threats to humanity. It is ranked as the 22nd Greatest Comic Book Villain of All Times, in a top-100 villain list prepared by IGN. Over the years, Venom's characters also developed from a super-villain to more of an anti-hero. Venom is undoubtedly, one of the greatest created villains ever, and it helped in the development of the story of Spider-Man in a darker and more mature way.
Also see Spiderman Motorcycle Helmets
Venom Motorcycle Helmets
HJC RPHA 11 Pro Venom 2 Helmet

The HJC RPHA 11 builds upon the hugely successful RPHA 10, creating an even more finely tuned helmet for sport and track-day enthusiasts. A more aerodynamically refined shell, improved rear spoiler design, ACS "Advanced Channeling Ventilation System", an added forehead vent, greater field of view, a redesigned face shield gasket system and both clear and smoke tinted optically-superior Pinlock-ready 2D flat-racing shields round out the features of this helmet.\
Advanced P.I.M. Plus (Premium Integrated Matrix Plus) Fiberglass aerodynamic shell structure for extreme performance at maximum speeds
Fiberglass composite shell made from a blend of carbon fiber, fiberglass, and aramid to create a unique woven blend that is both strong and noticeably lighter
Wider eye port provides better peripheral vision for riders
Optimized shell design for air flow ventilation system
Max airflow top vent six-stage variable airflow is adjusted by glove-friendly dials on each intake vent
ACS Advanced Channeling Ventilation System full front-to-back airflow flushes heat and humidity out of the interior
MultiCool Interior advanced anti-bacteria fabric provides enhanced moisture wicking and quicker drying function than previous generation
Crown and cheek pads are fully removable and washable
Eye glasses and sun glasses friendly EPS shape
Rapidfire II Shield Replacement System is a simple and secure shield ratchet system that provides ultra-quick, tool-less removal and installation for efficient operation
DOT and ECE approved
Buy from a Badass Helmet Partner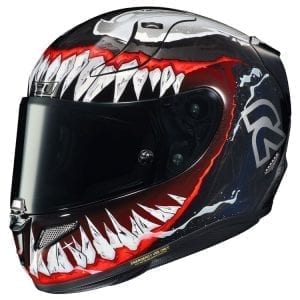 We have worked closely with RevZilla and Amazon over the years to provide our testers with products to review. They are both great partners and unique in their own ways, so make sure to check out their prices. Please don't forget we may get a commission if you buy from them.
RevZillaBuy
AmazonBuy
Venom (Symbiote) motorcycle helmet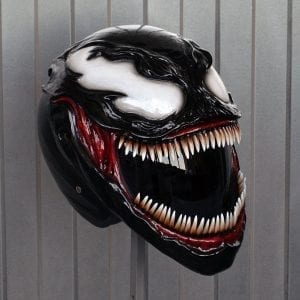 We are a manufacturer of unique motorcycle helmets. All our models have German Hizer DOT & ECE certified open face helmet inside. You can purchase this model in any size: from S to XXL.
FREE expedited international shipping!
We ship the helmets via EMS courier service. It is expedited courier service. For example the shipping to the USA takes 10-12 days.
For the buyers of our helmets we offer a wall mounts in the form of a skull with a $30 discount. You can see it by the link: www.etsy.com/listing/597524249
Its cost is $ 99, but if you buy the mount together with our helmet, then you will receive a 30$ discount and the final price of the mount with free shipping included will be $ 69.
The edge of the helmet has a soft decorative rubber band. Our colors are unique and correspond to the photos. We pack every helmet in a double box, strengthen the box with fiberglass and use several layers of foam and packaging film.
Over the past 12 months neither of our helmets has been damaged during transportation. However we recommend that you open the package at the post office, as in case there is any damage, it should be compensated by the carrier.
Every helmet is painted individually by our painters. The colors may vary slightly from what you see on the screen.
Buy from a Badass Helmet Partner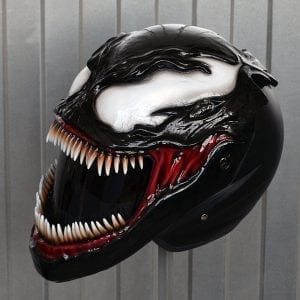 We have worked closely with RevZilla and Amazon over the years to provide our testers with products to review. Sometimes however smaller sellers focus on selling directly on marketplaces like Etsy. The team at Ghostbikernet can be found directly on Etsy, where they are rated highly.
Direct from Ghostbikernet on EtsyBuy
Venom Custom Airbrush Painted motorcycle helmet
Watch the heads turn, with this unique custom airbrush painted Venom full face motorcycle helmet and SEE THROUGH visor! Brought to you by Freshcoat Custom Paint.
All helmets will be brand new, unworn DOT approved HJC CS-R3 with tags. Ordering is easy. Take your measurements based on the sizing chart provided and choose your size.
Premium automotive paint is used on all helmets, sealed with high build urethane clearcoat. The helmet remains fully functional and visibility is compared to a tinted shield, not recommended for night or rain riding.
Once payment is received your helmet will be complete and shipped within a working week. Please inquire if you have your own custom helmet idea, or would prefer to use your own helmet.
To check out more custom paint, visit Freshcoat Custom Paint and "Like Us" on Facebook while you are there. Thanks and we look forward to your business.
Buy from a Badass Helmet Partner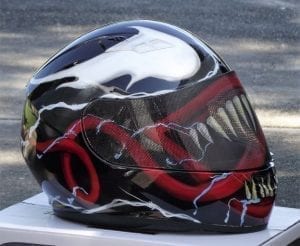 We have worked closely with RevZilla and Amazon over the years to provide our testers with products to review. Sometimes however smaller sellers focus on selling directly on marketplaces like Etsy. The team at FreshcoatCustomPaint can be found directly on Etsy, where they are rated highly.
Direct from FreshcoatCustomPaint on EtsyBuy