Vemar Kona Review Summary
Review Summary
Very affordable helmet imbued with lovely features found lacking in just about all comparably priced competitor lids. Flashy and alluring the Italian styling and graphics are reminiscent of a high-end Arai. Hybrid design suitable for on and off-road adventure riding in style. Performs poorly in stiff crosswinds due to medium oval shape and sun peak getting caught, lifted and cranking wearer's neck. Not built with Bluetooth communication installation in mind.
Pros
Looks expensive
feels expensive but is very affordable
Klima System venting provides excellent airflow
Snug
comfortable
washable
moisture-wicking internal padding
Lighter than many comparable helmets at 3.62 lbs
Great comfort features: internal sun visor
chin curtain
micro latch chinstrap
Pinlock ready visor doesn't fog up even without a Pinlock
Large eyeport size provides a good peripheral view
Rainproof vents don't let in water
ECE 22.05 and DOT compliant
5 year warranty (basically lifetime)
Cons
Very long front to back design catches in crosswind violently
Lacks pockets in foam to install speakers for BlueTooth devices
Matte graphics finish easily scratched off
Internal sun visor switch is stiff to engage or disengage
Dual Sport Helmet Reviews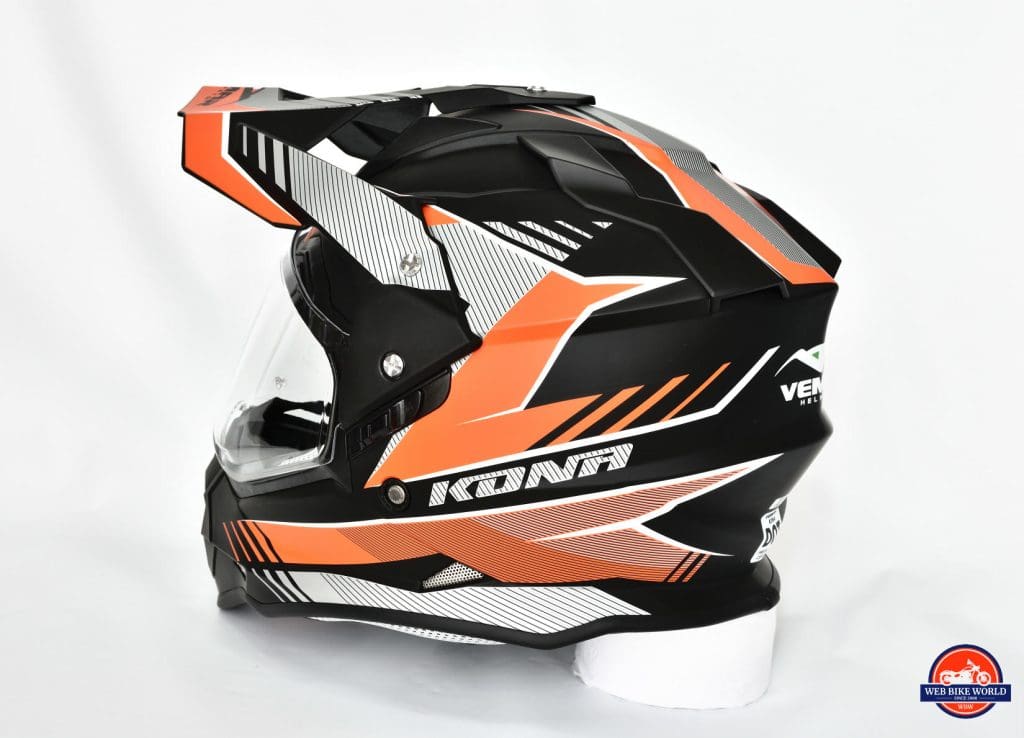 I appreciate the finer things in life, but I love a good bargain more. I especially love one that really gives back what I demand in the way of features and performance at a low price point. The Vemar Kona is right in my wheelhouse for that reason.
That penchant might stem from my 35% Scottish and 12% Italian DNA combining to make this Italian-made Vemar Kona Graphic helmet so appealing at first glance. Genetic ancestry manifestation at its finest eh?
If that wasn't enough, the orange and black graphics package adorning the R-3P, reinforced thermo-polymer external shell matches my KTM 1190 Adventure perfectly. It's got to be fate.
Some Specs
Here are the highlights of the technical data from the Vemar website on the Kona Graphic Helmet:
SHELL
Shell made in R-3P, reinforced thermo-polymers
SIZE RANGE
VISOR
Ultra-wide viewport
Pinlock ready
Scratch resistant visor
Inner sun visor
VENTILATIONS
1 adjustable chin vent
2 front vents
hot air exhaust system
SAFETY
Bottom shape designed to actively balance neck brace safety devices.
LINING
Removable and washable comfort padding
BUCKLE
Microlock (ratcheting chinstrap)
COLORS
5 graphics options and 1 matte black
First Impressions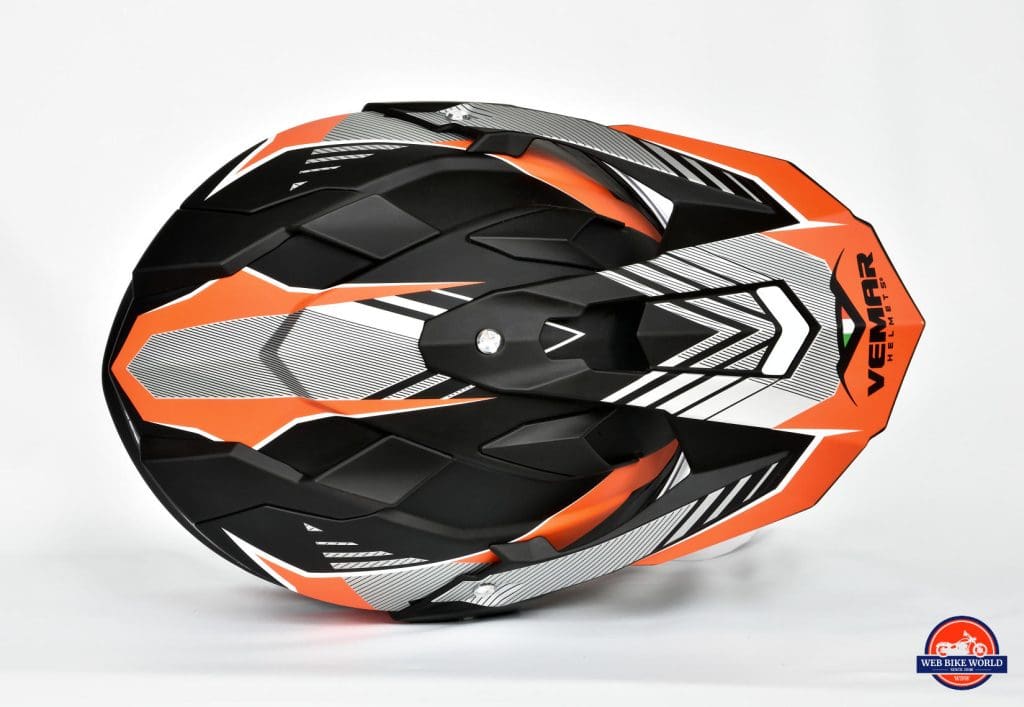 I picked up the Kona helmet and right off the bat the 3.62 lb weight shocked me. To me, this helmet is physically bordering on huge even in the Medium size recommended for my 23" head size and that may be why it seems so lightweight. The long nose design and sun peak borrowed from the off-road world has a lot to do with that.
It measures 16 inches across the longest part of the bottom and top of the helmet.
Graphics and Vents
The dazzling striped patterns mixed with flowing aerodynamic lines, V-shaped ridges and huge intake and exhaust vents I noticed next. I opened and closed the only vent you can by hand on the front face area and noted it felt really positive and grounded in all positions. The helmet has points in the back that are almost horn-like and deep grooves running front to back with decorative steel mesh openings on each side of the chin bar and side of the head in the back.
Airflow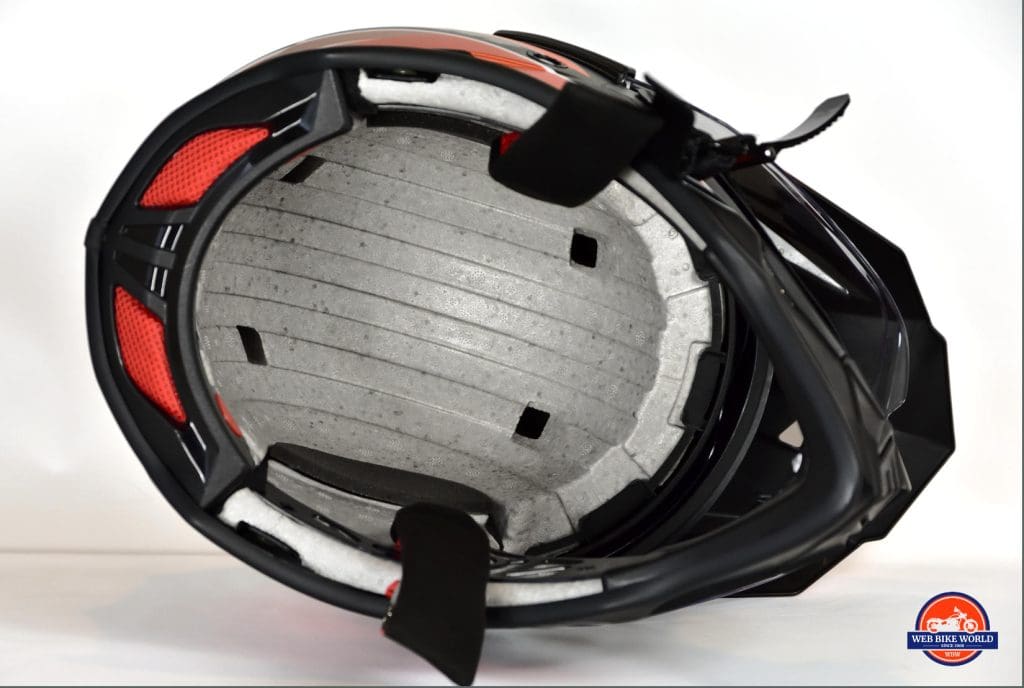 As I mentioned earlier the flow of air through the helmet is the best I've personally experienced to date. I could feel coolness all around the crown of my head while riding and I could control the degree of cooling by opening or closing the vent in front of my mouth. The Kona creates an awesome amount of venturi action because of the opening in the back I believe.
I think the removable chin curtain might have a lot to do with it. It pleasantly blocks turbulent air from entering while also focusing the stream of air from the chin bar vent up into the interior vent passageways around the eyebrow area. Man does it ever work!
Waterproof
Kona is Hawaiian winds that often bring rain with them. There are no manual opening or closing mechanisms on the top of the helmet making me curious as to whether any water could get in when riding in the rain.
I put the Kona through my waterproof torture test involving the garden hose in my backyard. No water came in other than a tiny stream down the front of the visor, which is actually quite impressive considering the sheer volume of water that hit it.
Visor and Internal Sun Shade
The visor action is smooth and has just the desired amount of resistance to leaving it in nearly any position you want. It folds up completely out of your view range, pretty close to the sun peak in top position.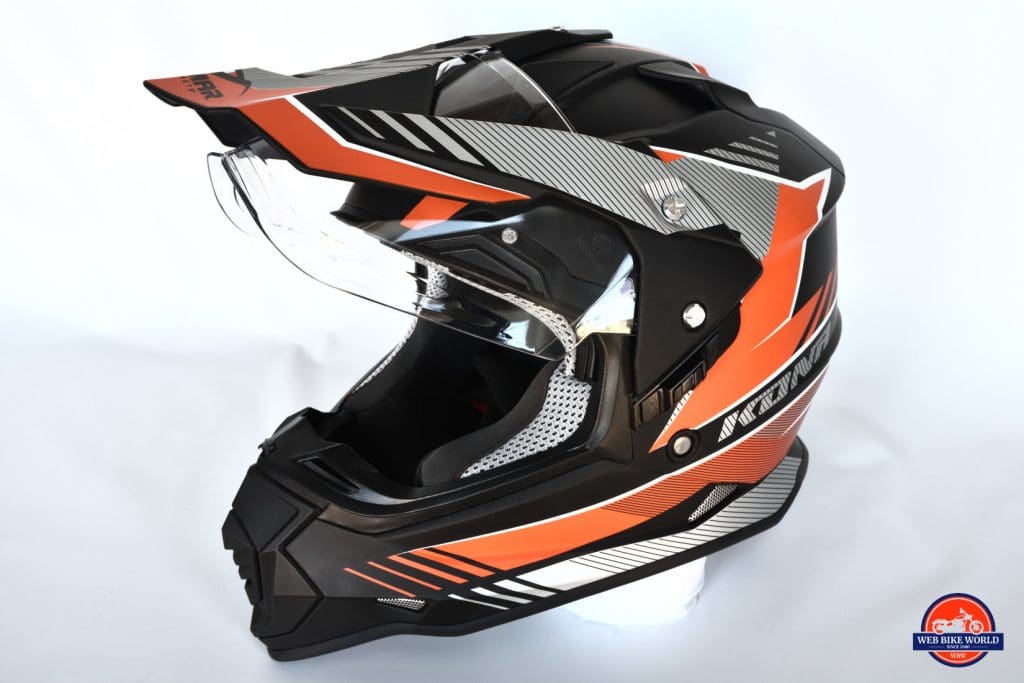 The distorted edge is hard to see through if it lands in your field of view but provides a good seal when fully closed. You need to push pretty hard on it to get it to close tight. You'll know it's really shut when you hear a loud, audible "clunk".
Conversely, opening it involves some muscle too, but the tabs sticking out on either side of the center of the visor are easy to hook with a gloved finger for flipping the visor open.
Internal Sun Shade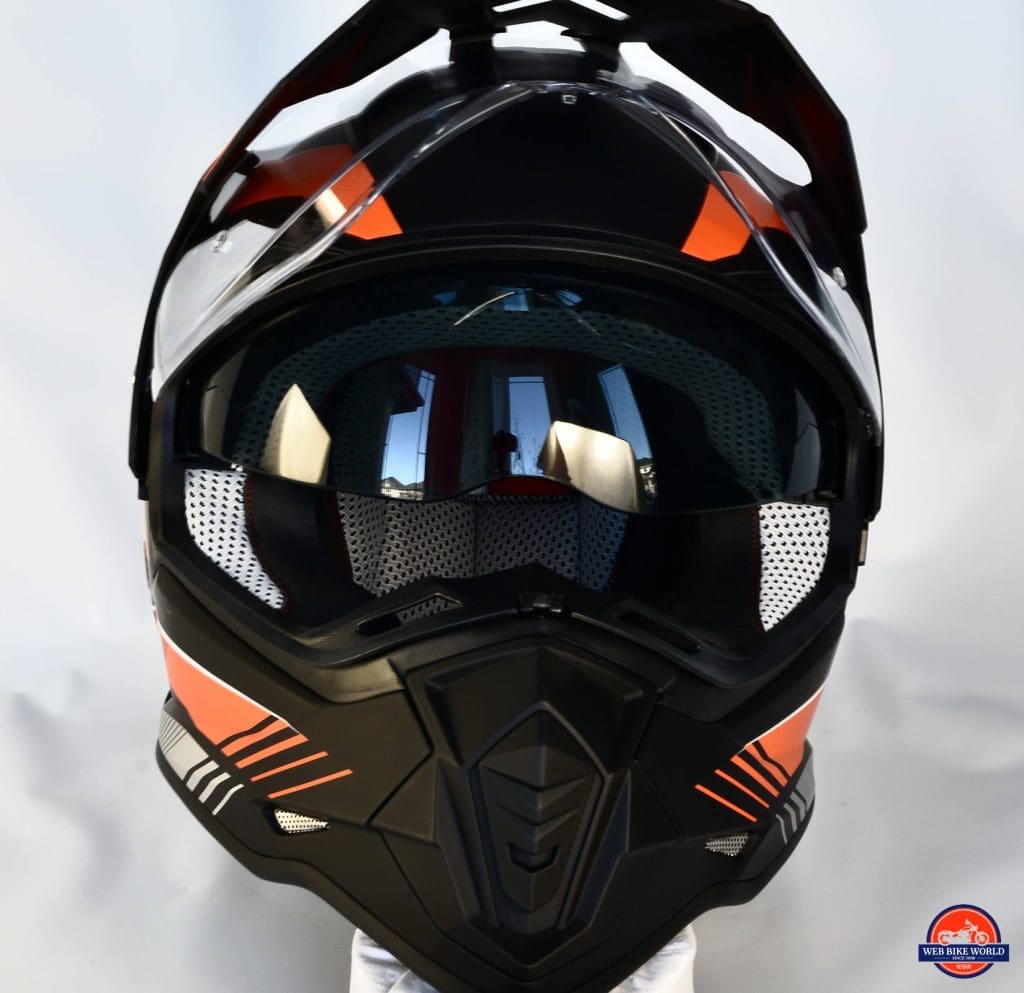 I love these things and abandoned sunglasses in favor of them long ago. The one on the Kona is a bit on the lighter side of dark for my liking when riding in bright sunlight.
As I already mentioned the switch to drop or raise the shade is stiff to operate and really only loosens up when you reach fully extended or retracted. I also find the switch on the small side to operate with gloves on.
Fogging
The visor has a spot for the Pinlock system if you want it, but honestly, I found it only fogged up a bit when I was doing the waterproof torture test and had my chin tucked tight against my chest to stop water from splashing off my chest and up under the helmet on my face.
No Pinlock system is required in the Kona from what I can tell.
Microlatch Chinstrap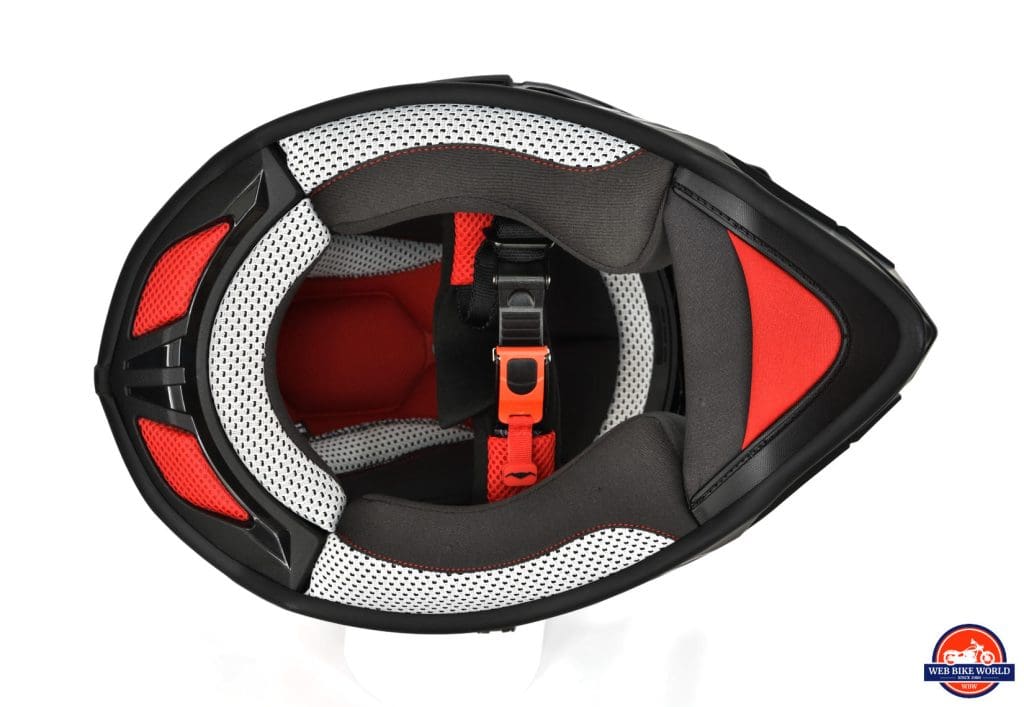 I'm a huge fan of a ratcheting chinstrap. It's easy on and easy off thanks to this feature.
I can easily tug on the rubber-tipped release latch even while wearing gloves and it's a mere two finger job to undo the helmet strap. Vemar totally nailed the design of this chinstrap. I give it 5 stars out of 5. Bravo! Bellissimo!
Padding And Liner
The liners come out super easy when you want them to thanks to plastic tabs and push pin type retainers. I had no issues of liners moving around or coming undone even after reinstalling them, thankfully. I think Vemar did a great job with it.
Emergency Removal
Vemar claims the padding is designed for emergency responders to be able to remove it quickly, but there's nothing on the padding indicating how to do it when you're in a hurry. If someone just grabbed it and tugged it would come out though, so perhaps there's no need to complicate things.
Padding Options
From what I can tell you only have one option for padding thickness in the Kona. Tags on my Medium pads were marked "M", logically.
I wonder about longevity after removing and installing them over time as plastic retainers tend to wear out fairly quickly with use.
The liner is made primarily of mesh nylon with some softer non-mesh sections and it all comes together nicely in the shell to buffer your head from the EPS foam layer.
Moisture Wicking
The liner wicking ability worked perfectly in hot or cold weather when I wore the Kona on the road. I tested it in temperatures as high as 80 degrees and as low as 50.
I found this helmet was warm in the cold weather and cool in higher temps. No complaints at all about it, in fact, it really shined when it came to head comfort.
The Bad News…
So far I've listed all the positives about the Kona and there are plenty of things to like about it. There are also two negatives to talk about and they both involve wind.
Lifting Pulling and Twisting
The wicked crosswind I rode home in yesterday exposed a flaw in the Kona's design. The wind grabbed a hold of the sun peak and attempted to wrench it off the helmet about a dozen times.
That didn't feel good on my neck at all.
I haven't tried other adventure helmets to compare them to this Kona, but I suspect any helmet peak would be easy prey for side winds, so I can't get overly upset about it.
The long nose on the helmet didn't help with this problem either though. It was also acting as a bit of a sail and beat me up pretty good overall.
Pretty Noisy
Yeah, the Kona despite all the grooves, vents and smoothness on the exterior are pretty noisy out on the road, sadly. I wasn't expecting it to be quiet bearing in mind all the holes in the sun peak and the tabs sticking out of the visor for turbulence to work on.
Exterior Finish Quality
The thin rubber coating covering the exterior of the Kona seems surprisingly prone to rubbing off in some circumstances.
In the photo above you'll notice a small patch has flaked off.  I believe this happened when I casually dropped the helmet onto the grass in my yard after waterproof testing it from a height of about 3 or 4 inches.  The grass was of the dead, yellow, Springtime variety so it did have some pointy-ish ends to strike the helmet and possibly cause the marks.
I'm not certain the spot didn't happen in transit, but I don't recall seeing the mark before doing the waterproof testing.  The grass incident stands out as the only time the helmet has remotely received rough treatment while in my care.
Final Verdict?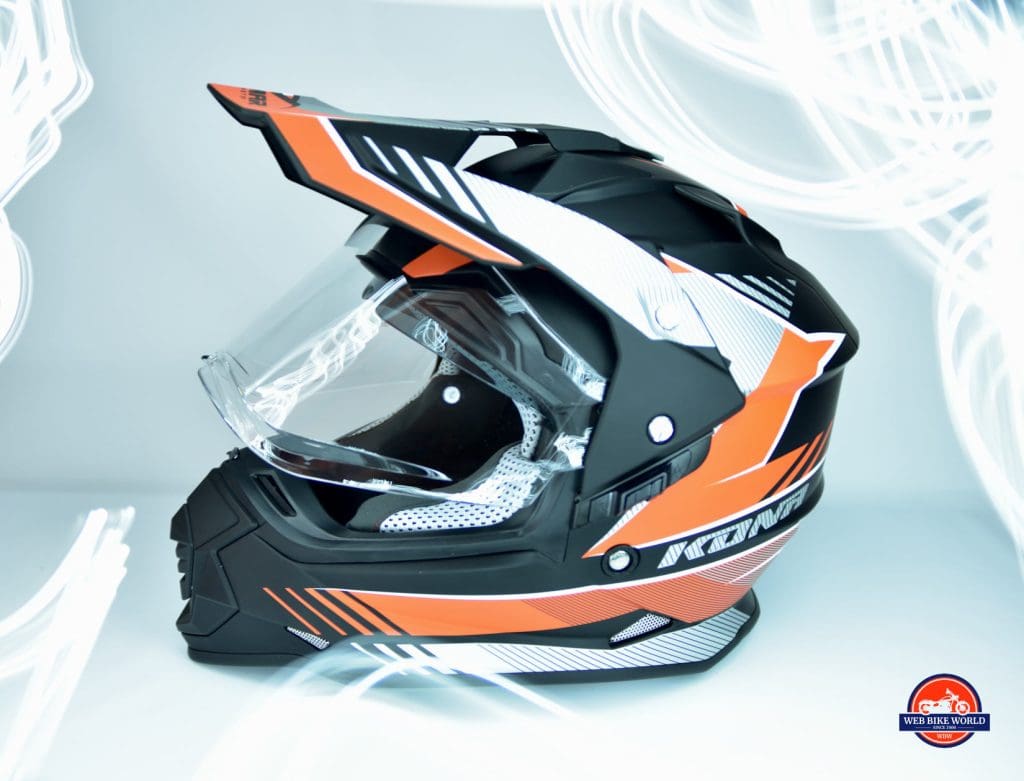 Did I mention this helmet costs $149 brand new and has a 5-year warranty?!!
Maybe I forgot to put that in until now for shock value, eh?  I should have also added that throughout all the testing I kept having moments where I would shake my head in disbelief and mutter under my breath "how can they charge so little for so much helmet?"
The features included and the quality of build is obvious with the Kona Graphic helmet. I'm willing to look the other way on the noise and lifting/pulling because it is just such a good deal overall and it's a helmet I could use in Europe and North America thanks to the dual ECE/DOT rating.
There's so much to love about it over a comparable helmet like the much heavier Bell MX-9 Adventure that also lacks the internal sun shade. Not much else is even coming close.
This Kona Graphic is a solid 4.3 out of 5, and maybe it should be higher.
Pros
Looks expensive, feels expensive but is very affordable
Klima System venting provides excellent airflow
Snug, comfortable, washable, moisture-wicking internal padding
Lighter than many comparable helmets at 3.62 lbs
Great comfort features: internal sun visor, chin curtain, micro latch chinstrap
Pinlock ready visor doesn't fog up even without a Pinlock
Large eyeport size provides good peripheral view
Rainproof vents don't let in water
ECE 22.05 and DOT compliant
5 year warranty (basically lifetime)
Cons
Very long front to back design catches in crosswind violently
Lacks pockets in foam to install speakers for BlueTooth devices
Matte graphics finish easily scratched off
Internal sun visor switch is stiff to engage or disengage
Specs
Manufacturer: Vemar Helmets
Price (When Tested): $149
Where to Buy: MotoNation
Made In: China, designed in Italy
Alternative models & colors: Solid Matte Black
Sizes: XS – XXL
Review Date: May 17, 2018
Vemar Kona Graphic Helmet Image Gallery